Kimberly Spead Photography
GO LONG: "Coaches and owners don't want their quarterbacks reading Aristotle and Socrates. They want you reading Sports Illustrated and Superman comics," says former Eagles QB Mike Boryla, whose one-man show premieres at Plays and Players this week.
Mike Boryla was not your average NFL quarterback. He graduated from Stanford, he read the Bible and classic literature frequently and—after his rookie season as quarterback with the Philadelphia Eagles—he bought a van and lived in it for six months. Boryla spent three seasons as an Eagles QB; he threw more interceptions than touchdowns in his time here but did make the 1976 Pro Bowl. There, he tossed two TD passes in the final minutes to give the NFC the win.
Boryla later retired and became a lawyer in Denver. But now he is back in Philadelphia for the first time in over 35 years to perform his one-man show, The Disappearing Quarterback, at Plays & Players theater. Running from Jan. 16 to Feb. 2, the show covers Boryla's journey through football. City Paper recently sat down with him to find out what life in, and after, the NFL was like.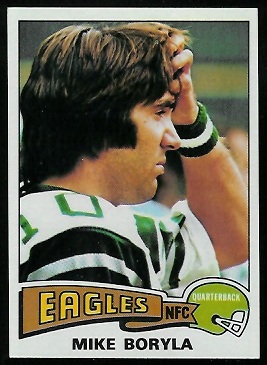 City Paper: You've called yourself a "long-haired hippie quarterback." What was life life for a hippie in the 1970s NFL?
Mike Boryla: I think what was an adjustment for me was I was actually an intellectual. I was a faux athlete. And I consider myself a scholar and a Renaissance man. The reason I call myself a "long-haired hippie" is I came from Stanford and California. I was the first rookie quarterback to win three games in a row in the NFL, and after that I bought a blue shell Ford van, and I went back to California and I lived in my van for six months. I was not involved in the drug scene at all, but I really was involved in the counterculture. Even to this day, I reject the greed here in the U.S. And I rejected the materialism, the houses, belonging to the country clubs. I rejected it then, I rejected it now. When I say "long-haired hippie quarterback," it's more along the lines of rejecting the materialism.
As far as an adjustment to the NFL, I had to keep my intellectual side secret. Coaches and owners don't want their quarterbacks reading Aristotle and Socrates. They want you reading Sports Illustrated and Superman comics.
CP: Was there an incident that made you realize you needed to hide your intellectualism?
MB: It was just understood. People wanted football players single-minded, totally focused on what they're doing. And they really don't like them having other interests. For example, no one on the Eagles team or the organization knew I lived in a van for six months after my rookie year. I don't know what they would have done with that. I was smart enough not make a big deal about it. The players were very aware I was from Stanford, and they knew I was different. They knew I didn't come from Oklahoma or Texas. They knew that I had actually gone to classes in college, and that I actually graduated.
Was the Stanford football team different than your average college football factory?
MB: Half my football team went on the medical school and law school after graduation. I was handing off to fullbacks that ended up going off to Harvard and Yale law schools on full rides. We had one guy named Jackie Brown — the Raiders wanted him, big time. I think they drafted him in the third round. And he goes, "No thank you, I'm going to Yale law school." They were really mad at him, because they spent a third-round draft pick on him.
My real mentor was the quarterback ahead of me, his name was Don Bunce. He was the MVP of the Rose Bowl his senior year when we beat Michigan. He was also one of the top rugby players in the U.S. And guess what he did after graduating from Stanford? He went to med school. Somebody drafted him and wanted him and he said, "Hey, I'm going to med school." And he became an orthopedic surgeon. [Editor's note: Bunce did play one year in the Canadian Football League first.] 
Why did you go into the NFL?
MB: I had already applied for law school my second year in the NFL. And I had actually been admitted to law school in New York my second year. And I actually bought the books and met with the dean when I got a phone call from the publicity guy with the Eagles that I was selected to play in the Pro Bowl. So I dropped out of law school, they gave me my tuition check back and I went to the Pro Bowl and I didn't go to law school until after [playing for] Tampa Bay.
You were the quarterback of the Philadelphia Eagles. That's not an easy job. How did you deal with it?
MB: I was a two-year starter at Stanford, and I called my own plays at Stanford and the first two years in Philadelphia. A few times a year, I had to remind myself, "Mike? It's just a game." When I got to Philadelphia, I was aware that people thought of it more as a religious cult. When I got out of Stanford, I considered football a game. Yes, I'm very aware people consider football one of the most important things that is happening in our western culture. I still thought it was a game. I was a lot easier for me to be a starting quarterback when I considered it a game.
How did you get into football in the first place?
MB: [Stands up and gets into character to perform a short selection from his show.] "I started playing football in the third grade. Little did I know that I'd be playing quarterback for the next 19 autumns. My mom, she helped me put in the uniform. The thigh and the knee pads, I didn't even know what they were. I was really confused about the shoulder pads. Thank God I figured out the jock strap by myself."
Do you have any after-effects from playing quarterback for those 19 autumns?
MB: I've been very fortunate, I have no after effects at all. I had three concussions. I had two or three knee operations. I was out going to lunch recently with one of the former attorneys I practiced with, and he was limping and I was not. He said to me, "Mike, this makes me sick! You played football all those years and I'm in worse shape than you are!" He has an artificial knee from a skiing accident. You have to realize, all these attorneys get fat and out of shape, and then they go up to Vail and blow out their knees.
I did not participate in that lawsuit [over concussions], because I wanted the money to go to the people who actually needed it.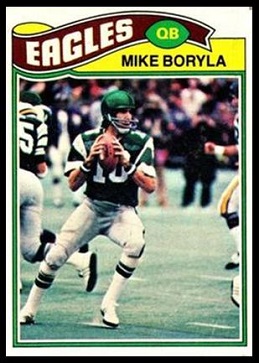 This is your first time in Philadelphia in over 35 years. How has it changed since the last time you were here?
MB: I absolutely loved it here. I absolutely love the down-to-earth, what-you-see-is-what-you-get, real gritty people here in Philadelphia. And all the guys I played with feel the same way about the city as I do. What happened to me was: I read the bible all the time, and when I left I felt the Lord wanted me to leave and not look back. He did not want me to be one of these guys talking about his heyday for the rest of his life. So when I left Philadelphia and pro football, I went to law school, got a masters in tax, and went back to Denver and never talked about it. I only recently started talking about it to my son.
Coming back after 35 years—this is Rittenhouse Square. When I was here you did not go out walking downtown at night. My hotel is a bed and breakfast down the street. The first time I was there I got here late, and I went to the woman at the front desk and said, "Is it maybe OK if I walk around outside and get something to eat?" And she looked at me and said, "Of course it is! This is Rittenhouse Square." This area right here is unbelievable. All the restaurants I walk to—I walk to the Prime Rib, I walk to Parc right there in Rittenhouse Square, I walk to Devon. People in Philadelphia like to eat, a bad restaurant doesn't last.
I try to walk as much as possible and I love this Rittenhouse Square ever. I'm just now trying to discover Old City. And I have my favorite South Philly coffee shop. I don't know the name of it, but all they play are the soundtracks to the three Godfather movies. [Editor's note: This would be Rim Cafe at Ninth and Federal.] The first time I was there, I go, "God, why am I feeling so agitated? Oh, it's the Godfather music!"
I love it. I like to stay there for like two hours, and I just sit there and listen to the voices of people. I love that Philly Italian accent. There were some guys yesterday, they were great. They had that Italian Philly accent that is just so unique.
What was life like transitioning out of the NFL?
MB: To me, the hard thing was transitioning into the NFL. The easy part was transitioning to real life.
How did you come to develop the idea for The Disappearing Quarterback?
MB: The reason why this is a one-man show is because Daniel Student was nice enough to ask me to convert the play that I emailed to him to a one-man play. I had never seen a one-man play. What I emailed him was totally different. We have been working on it for over a year.
What do you hope that people get out of this play?
MB: There are about four images that I try to create. I can't give you the last two because they're in the tension/resolution part of the play. But I can give you the first two. I consider myself a painter, and my paints are words and I'm trying to paint images inside the minds of my audience. The first image is of a young man who has been flown to Chicago to have his picture taken for Playboy magazine. He is put it one of the top suites in the Playboy penthouse towers. He goes with these other Playboy All-Americans to a nightclub. And it's so wild and crazy he takes a cab back to the hotel and spends the rest of the night studying the Book of Isaiah alone in a hotel room. And that's when I discovered the book of Isaiah.
My second image is blue. Think blue. [Stands up for another monologue.]
"I was pretty excited when my rookie season was over because I bought a blue shell Ford van and designed my new home. Yeah, I liked living in my van down by the river. It was great. Blue everywhere, of course. Blue carpeting, blue beanbag chair. Blue curtains. Blue sleeping bag inside the blue bench seat. Done. I was living large, living small and living blue. Blue was my color. As a quarterback, I was always under a lot of pressure, so I had to learn how to relax. And blue helped me relax. [Sits back down.]
My sons told me three or four years ago when I told them about the vans there's some show on about cribs. They used to watch Cribs. And they used to tell me about it and I'd go, "That's so stupid." There's this one guy, single, and he's living in a place the size of a hotel by himself.
[Plays & Players Producing Artistic Director Daniel Student sits down and joins the interview.]
When Boryla emailed you the play, what did you see it in it that made you want to turn it into a one-man show?
Daniel Student: There were these little narrator paragraphs that were in it, and they were clearly these individual, had-to-be-true stories that you couldn't make up. They were very much clearly experiences that a football player had. The most notable of which — and it's still in the script — is he had a linebacker buddy would take a bite out of a glass and chew it and spit it out to psyche himself up for the game.
I just read that and was like, "Holy hell!" How could you think of a better and more theatrical thing than that? I think if it weren't for the fact that he said he was a former Eagles quarterback—it was a decent play, but it wasn't a play that would have stopped me and said, "Oh my God, I have to do this." But when I knew who this guy was and what was in this play, and I realized the true story of the play was his story. As I've gotten to know Mike, I know that Mike would never, ever let anyone focus any attention on him. He wants to deflect any attention onto other guys and what they're going through. There was some core real value to his individual story. Particularly as a guy who hasn't had a full production, why not start with a basic story, why not start with your story by yourself on stage. Hopefully in future years we will be working on plays together that Mike writes.
Was the email unsolicited?
DS: Completely unsolicited. The thing of legend, I guess. I had to Google him to find out that he was a quarterback, I did not grow up here. And then when I did Google him I thought that this guy was trying to pull one over on me to get his play produced.
MB: I just randomly went on the Philadelphia theater list and saw this Plays & Players. And I thought, "Maybe there's a football player there." This is a national historic building—and I did not know this—but when I saw the picture of the theater I thought, "This looks like about the most run-down theater I've ever seen. So maybe they don't have anything else in there." If they would have had a really nice facade, I wouldn't have sent it to him. But it's such a nice, charming theater.
The Disappearing Quarterback, through Feb. 2, $25-$30, Plays and Players, 1714 Delancey Place, 866-811-4111, playsandplayers.org.