QUEUED UP: Thom Moore's The Secret of Kells
The visual majesty of kid flick The Secret of Kells will be just captivating enough to keep the hangover headaches at bay.
QUEUED UP: Thom Moore's The Secret of Kells
Movie critic (and the guy who compiles our weekly repertory film listings) Michael Gold reviews his favorite Netflix Instant flick of the week.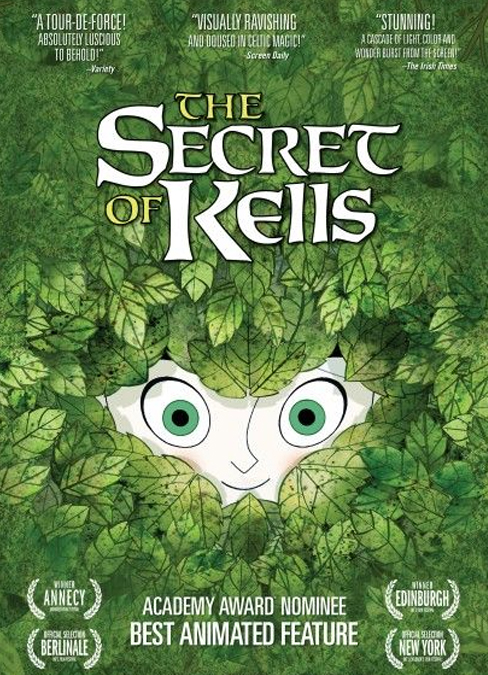 Between parades, pubs and the promise of spring, Saint Patrick's Day weekend typically erases the inertia of even the laziest couch potatoes. Given the dearth of shillelagh-themed fare (paging Garry Marshall) and the Irish film industry's struggle to register on world cinema's seismic scale, celebrating the holiday outdoors might be for the best. Still, after stumbling home from the local battle cruiser on Saturday, an Eire-born flick is bound to be the perfect spark to 24 hours of homegrown hangover restoratives.
Since Guinness and Jameson typically reduce mental faculties to a subadolescent state, earnest kid flick The Secret of Kells (2009, Ireland/France/Belgium, 75 min.) is the way to go. Young Brendan resides in the Abbey of Kells, a monastery threatened by frequent Viking raids, when he's tasked to assist with the completion of the legendary Book of Kells. Though the much-lauded manuscript is replete with Christian imagery, the Irish animators adopt the tome's vibrant patterns and clean geometry to portray more secular content. Characters' sharp forms stand out against an oneiric forest, while precise lines heighten the movie's suspenseful battles. The inebriated masses may struggle to follow a deceptively complex plot, but the flim's visual will be just captivating enough to stave off the headaches.
Read City Paper's review here.
(michael.gold@citypaper.net) (@migold)