SPORTY SPICE: Rollins fails to top Babe Ruth's record for longest batted ball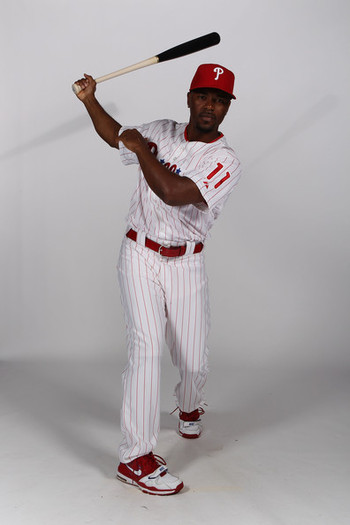 On Monday, Phillies shortstop Jimmy Rollins fell a little over 100 feet short of beating Babe Ruth's record for longest batted ball - but he did achieve a personal best!
SPORTY SPICE: Rollins fails to top Babe Ruth's record for longest batted ball
Two years ago, Jimmy Rollins teamed up with Red Bull in an attempt to break the record for the longest batted ball. That record was held by Babe Ruth for a 576-foot slugger. In 2011, it still is. Year after year, Rollins has stuck with this event even through injury, but the stars just haven't been aligned for the Phillies' shortstop. Many wondered why he had been chosen to pursue the Guinness World Record. He has no history as an epic slugger. Yet, Rollins' business relationship with Red Bull and his interest in the task landed him the spot. Jimmy currently holds three world records — including the most plate appearances in a season — so it comes as no surprise that he wanted in again. So, being no Ryan Howard or Mark McGuire, Rollins and Red Bull sweetened the deal with a souped-up bat for his latest attempt on Monday.
While the Guinness World Record rule book says you can't modify the ball, there were no stipulations on the bat. So sports and science were again asked to collaborate on a slugger that would help Rollins with the extra footage. Dr. Alan Nathan, a physicist from the University of Illinois with an interest in sports science, worked on the bat originally. According to Nathan, Rollins was aided with a composite bat that was hollowed out. The hollow bat produces a "trampoline effect" that propels the ball farther than normally possible. Nathan also looked at how Rollins' batted his homers and used that information to transform the bat. But even though Rollins was warmed up and ready for the challenge, there was only so much this team could do. The weather wasn't totally cooperating, with strong breezes pushing against Rollins and his task. And try as they might, physicists can do little to redirect natural winds.
In the end, though, Rollins walked away with a new personal best at 463 feet, showing that the technology did add to the play. While no records were broken, the 3000 fans who lined the Parkway on their lunch hour were pleased that he tried. The event also proved that science has a home in the sports world. Even if it doesn't enhance the game, it surely enriches it. "My primary goal is simply to understand the science of the sport," says Nathan. "New information [is] extremely valuable in enriching … [our] understanding of how the game is played." Whether or not Red Bull and Rollins will attempt to defeat the record again, they've shown us what can happen when science and sports collaborate.
(megan.augustin@citypaper.net)
See Also: