Mmm...Newark! Rock Steady Crew Anniversary Weekend 2008
The Web site for the award-winning alternative weekly, the Philadelphia City Paper.
Mmm...Newark! Rock Steady Crew Anniversary Weekend 2008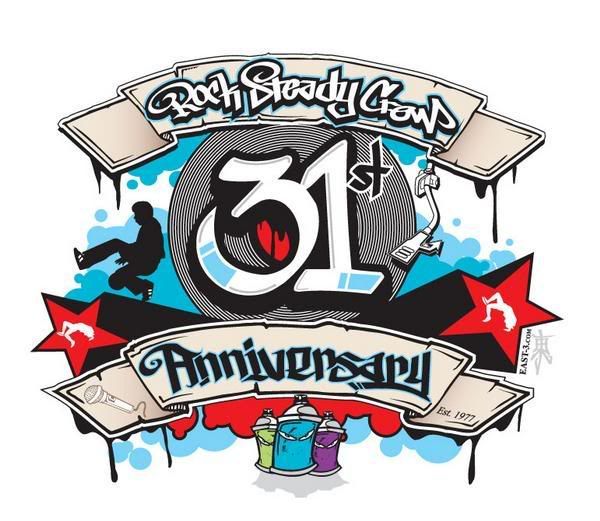 Once again it's on and poppin' (for reals)! The 31st annual Rock Steady Anniversary weekend comes correct with another four-day event filled with music, art, history and culture translated through the limbs of the BBoys and BGirls that flock to the East Coast every July. Organized by the famous hip-hop crew, Rock Steady (of which Philly's DJ Skeme Richards and BBoy YNot are members), the plethora of activities include a celebrity basketball challenge, dance battles and workshops, and of course, some fly ass parties. It all starts tonight. Another connection – in 2004, MC Reef the Lost Cauze won the End Of The Weak (EOW) Challenge at the RSC Anniversary.
As always, the crew will also honor the legacy of those RS members who have passed. This year they pay homage to classic BBoy Frosty Freeze. Seeing that Philly has a definite dope bboy scene (let's not forget homeboys Phresh Select who repped the 215 on MTV) and the fact that Newark (the spot for the all day FREE concert, jam, food drive) isn't that far away, I thought it appropriate to have a little chat with RSC president and original member, Crazy Legs about the 2008 festivities.
In the beginning:
The first one we did was Straight from the Heart. We put that together as a music seminar in 1991 and to honor members of RSC that had passed away. That on top of doing something that was a throwback to things in the park being free. There were the main reasons. Every now and then someone passes away and it makes it more important to honor them - brings awareness to those that may not have heard of them. This year's free concert is a food drive and we are donating it in the name of Frosty Freeze.
On the controversial move of the free concert to Newark:
It has been a rollercoaster road. When it was in NY, it was easier to pullout. At Lincoln Park in Newark the accessibility isn't the same. But if NJ is willing to show love and not put a block on us and give us a venue, we are happy to go out there and do what we do and do it to the best of our ability.
Still putting the CRAZY in Crazy Legs:
A couple of years ago you found me on the floor battling at these events. Although I throw the event, I can become part of it and have fun.
Crazy Legs
Virginia Gazette
Old School vs. New School BBoys:
It takes a lot to impress me. Just acrobatics doesn't do it. Just the fact that these brothers and sisters still come to our event is wonderful. We've been in the game for 31 years. it is impressive that we can achieve that. Relevance is that young brothers and sisters are going to add their element to the game. I won't say, 'back in my day'…I want them to feel accepted by us as well. We can guide them through our history.
Gettin' down with RSC:
Rock Steady family in the 80's, we had like 500 members. We were a big street crew, it was a different approach. Now, we want to go over quality over quantity. There has to be a vibe (between existing members and new members) over everything else. If you aren't vibin' with everyone else, I don't care how dope you are. If you do get into Rock Steady – you have to go through a Right of Passage, which is usually a random battle. The person has to be on their toes. Whatever element you are a part of, you support that and everything that makes hip-hop. RSC is a hip-hop crew, not just BBoy Crew.
RIP Frosty Freeze:
FF and I met in 1980 and I battled him randomly. FF played a big role in bringing other members from Upper West Side to RSC. He was a part of all those things we did like Wildstyle and Style Wars. He was a part of prominent battles. Not to mention he was the protector of the crew as well. It was that type of relationship.
What people can expect this weekend:
A meet and greet weekend. People come from all over the world. They come there to vibe with people, make connections. It is some what of a conference and a great way to bridge the gap between cultures. It is a great summer vacation. They get to see pioneers and different artists. Some people try to make things so elaborate that it ends up failing. We do what we do – present a good hip-hop week for people. This is not meant to be a commercial event that is so extravagant. It's in New York it is always dope!
Rundown of Rock Steady Crew 31st Anniversary Schedule