Singin' the praise of Cincinnati chili - Nathan Holscher
The Web site for the award-winning alternative weekly, the Philadelphia City Paper.
Singin' the praise of Cincinnati chili - Nathan Holscher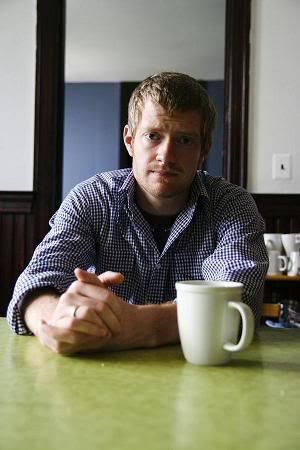 I know you are thinking who the hell is Nathan Holscher? Well....he's a musician who just happens to be the brother of a friend of mine. That automatically makes it seem like I just did this interview because of the personal connection. Which really...is kind of true. But, not 100%. Firstly, Nathan resides in the city of my college, University of Cincinnati. Secondly, he has a mellow writing style and wicked musicianship and lastly, I feel really bad that I'm skipping out on him to see George Michael this weekend. So, to make up for that - I want you to read a bit about him below and check out his sounds. If you like what you read and dig what you hear, go see Nathan at World Cafe Live on Saturday for free! Meanwhile, me and my leather pants will be sending some good vibes from the Wachovia.
Although I hate classifications, they are a part of the music world. Can you tell us a little bit about what your music sounds like?
I love being classified- it makes me feel safe. So I guess you could call it folk/pop or singer/songwriter. One writer said it was dark Americana. We've made use of traditional country instruments at times, but I wouldn't say that what we do is country or even alternative country or whatever it's called.

You are based out of Cincinnati. Why Cincinnati?
Come try our chili. You'll see.
Since launching your career, can you tell me about the changes that you've seen in the music industry, or in your genre and how that has influenced your music any - if at all?
The obvious change is the ease with which artists can record, promote and distribute their music. It used to be that a label was needed for all of this. Today, more and more people are bypassing labels and just hiring a good manager. It's tempting to say this shift has freed artists to make more authentic, personally- representative art, but I'm not sure that's the case. Whether it's an A&R staffer, or a random person on Myspace, the average listener still wants to hear stuff that's well-produced and has the capacity to move a person. That's probably for the best, as no one wants to hear the noise rock version of my diary entries.
What are the new things on the horizon for you?
Soon it'll be time to do another album. The last one opened up a couple doors as far as geography and writing are concerned, which should make this next one an interesting experience. I've got a band back in Cincinnati that is as good as I've had, and I' also have the chance to work on projects other than my own career as a performing singer or songwriter.
Comparisons suck - I know, but for those unfamiliar - do you ever get compared to anyone?
How does one answer this without sounding like a tool? The ones I do get the most are Damien Rice and Lyle Lovett. Sometimes someone will throw a Springsteen or Townes Van Zandt in there. They're all wishful thinking I am sure. For the purposes of Saturday night, can we just say George Michael?
What can people expect out of your show? Expect to hear, experience, etc.
It'll just be Chris- who plays bass- and myself. Playing as a duo is something we enjoy because there's really no way to half-ass a song. We don't have the option of just letting our drummer or instrumentalists carry us through the tunes. You can't really bring any intimacy issues with you to the performance, because there a few barriers between singer, song and audience. We've been writing a lot, so it will also be a chance to play some new stuff.
Is this your first time playing Philly? If so...tell me how you are feeling it? If not, tell me about playing in such a city so deep in soul music?
We've never played in Phildelphia. All we have to go on are the words of Spinal Tap's legendary manager Ian Faith: "A real rock 'n roll town."
Nathan's Official Site
Nathan's MySpace