Archive: March, 2012
Each week, Michael Gold breezes past those big-name theater companies to turn a spotlight on Philly's indie stages.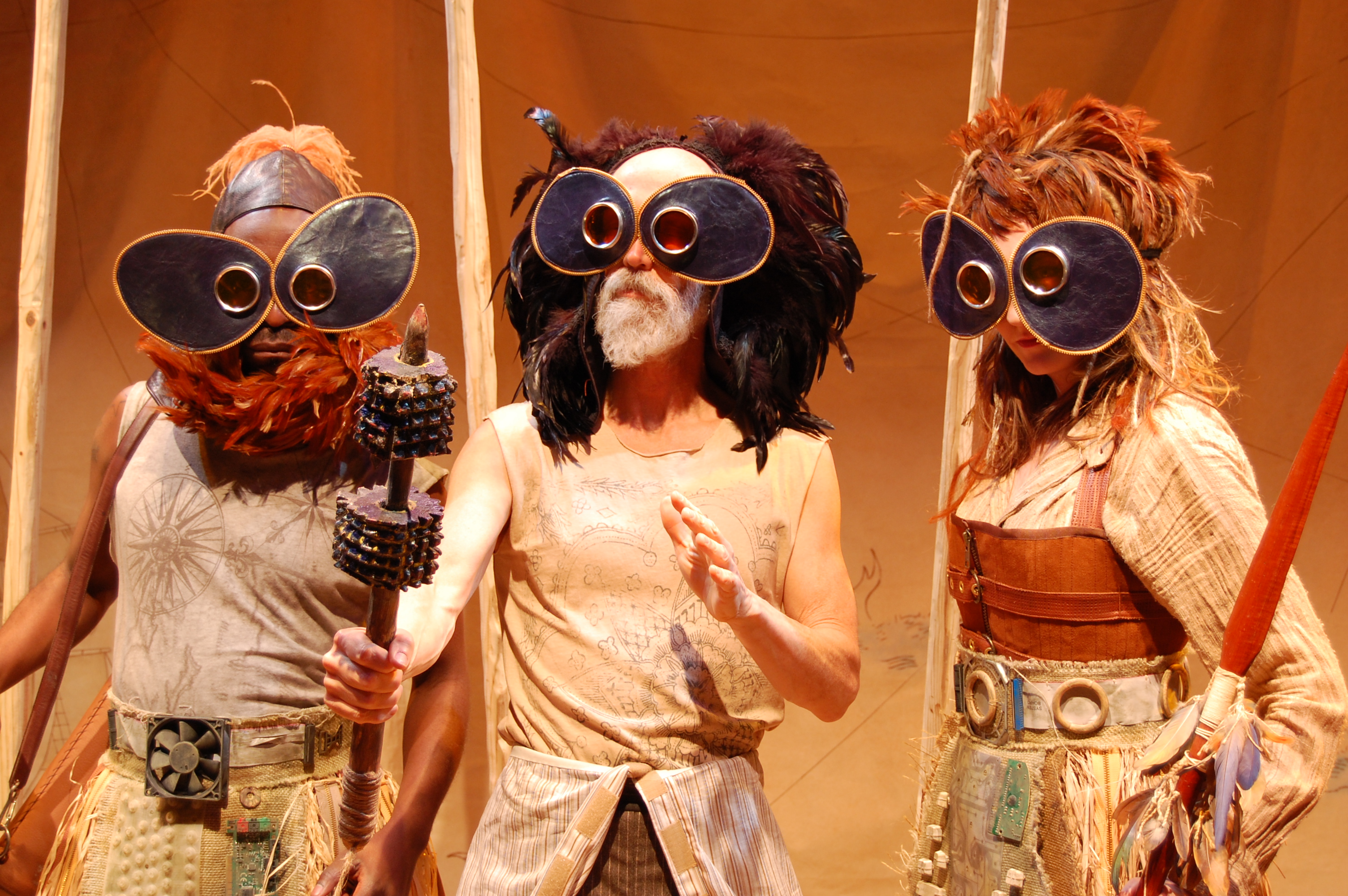 "Truth is often stranger than fiction," British mag The Wide World Magazine once wrote, "But de Rougemont is stranger than both." A Swiss fabulist, Louis de Rougemont regaled Victorian Britain with tales of false adventures in Australia that would have made Stephen Glass' hair stand on end. Still, de Rougemont's chronicles make for compelling fare, which is why Pulitzer-winning playwright Donald Margulies adapted the wannabe adventurer's picaresque into Shipwrecked! An Entertainment – The Amazing Adventures of Louis de Rougemont (As Told by Himself). Though ostensibly children's theater, Margulies uses de Rougemont's story to examine the essence of storytelling and the nature of authenticity. Besides, his grandiose tales are sure to bring out the inner kid in all audiences.
March 22 to April 15, $35, People's Light & Theatre, 39 Conestoga Road, Malvern, 610-644-3500, peopleslight.org.
Don't ask me how it's possible for this all to happen in a day. And don't even think of asking how little sleep I've had since Wednesday. What I want to know is: Why was I barely even tired?
Justin Townes Earle, 1 p.m., Austin Convention Center Day Stage
In the interest of taking some advantage of the industry "trade show" part of the conference — in the convention center, where only really special people with badges (like me) are allowed — I rushed to try to catch an interview session with Norwegian hitmakers StarGate (the guys behind "Irreplaceable," "Firework" and about half of Rihanna's hits). But it was cancelled. So instead I sat in on a couple of random panel sessions with assorted industry types talking about industry stuff (mobile apps, clickthrough conversions, the cloud, listening to N*SYNC in their car in high school...).
And then I wandered into a set by this Nashville songwriter guy — I'd heard the name, but don't they all have names like that? — which was phenomenal. Just, very obviously, the real deal: deft fingerpicking acoustic blues, richly gritty voice, witty poignant wryly observational songwriting, all that good stuff. Also, he has impossibly long legs. Put me in mind of Townes van Zandt (whom he reverentially quoted at one point) or a young Springsteen, but most of all Steve Earle. Come to find out, just now: Steve's his dad. Duh.
Beat Connection, 2 p.m., Hype Hotel
I came to Hype Hotel — magical blog-sponsored land of free vodka, free (well, for tips) chair massages and free weird, nasty Taco Bell tacos made out of Doritos (and also normal soft tacos, which I'm sheepish to report accounted for about 80% of my food intake today) — to see the super neat Canadian future-electro-pop duo New Look (one of six "New ____" artists listed in the booklet, though that's nothing next to the twelve "Young ___"s, plus three "Yung"s). But apparently they were never even in Austin. So I got this extremely young-looking Seattle band instead. About what you'd expect from a band named after an LCD Soundsystem song, if on the sunnier end of that spectrum. Ironically, their beats were kind of disconnected — there were some issues with drummer/drum machine sync. Also their lyrics were lame. Pass.
THEESatisfaction, 2 p.m., Scoot Inn
Way more like it. Two-woman hip-hop tag-team (how often does that happen? does that ever happen?) and Shabazz Palaces besties, from "the top left," as they said. Similar arty/smarty vibe to Shabazz, but much less psych-addled and esoteric; way more accessible, melody-conscious, and just plain fun — hitting a tricky sweet spot between way-cooler-than-you'll-ever-be, don't-give-a-fuck detachment and casual, off-the-cuff relatability. Sweet moves (and afro) too.
Roach Gigz, 2:30 p.m., Scoot Inn
Before I had a chance to slip out, this hoodied San Francisco rapper dude bum-rushed the stage and commanded my absolute attention for a solid 15 minutes (no small feat considering habitually ADD-prone SXSW mentality.) I don't think I've ever seen a rapper so dynamic in a literal, physically, kinetic sense — he didn't stop moving for an instant. And his constant, pro forma appeals for attention/energy/love from the crowd felt unusually deserved, and reciprocated.
SBTRKT, 2:15 p.m., Fader Fort
Just caught the tail, but then again it's just a couple guys with machines. Anyway, solid. "Wildfire" is a total jam. The "tribal" masks kind of looked like they were made from paper plates.
Mr. Muthafuckin eXquire, 3 p.m., Fader Fort
I don't know what the hell just happened, but suddenly he (and full entourage of maybe eight dudes) was in the middle of the crowd, about two feet away from me, inciting general ruckus and spilling whiskey all over the place. Got some sweet photos. I think this was like a 12-minute set.
Deerhoof, 3 p.m., 1100 Warehouse
Sure, why not! Who doesn't love a good Deerhoof? They bashed and popped and did their crazy, inimitable thing. They did that "panda panda panda" song, and then Busdriver jumped on stage and rapped really really fast on top of it. Delicious!
2:54, 3:30 p.m., 1100 Warehouse
"Dark" rock. "Atmospheric." Whatever. Maybe if it wasn't the middle of the afternoon.
Main Attraktionz, 3:45 p.m., Scoot Inn
More Bay Area hip-hop (Oakland, in this case), of a somewhat woozier, snoozier variety. There were a lot of people on stage but I think the actual Attraktionz were the two guys standing on top of something up front: one bearded, shirtless, skinny white guy and one black guy with a shirt on, who spent the whole time with their arms around each others' shoulders. Which was very sweet. They seemed to lack some self-confidence though… They kept asking the crowd who was coming on next (it was Kreayshawn), and then they asked "So, are we aiiight? … Or are we good?" Um. I gave the polite response, but the jury's still out.
Tanlines, 4 p.m., 1100 Warehouse
Tanlines are dears, and their new record is solid (or, at least, the single is). But Tanlines are all about treble (abnormally, for a dance act, but they pull it off well) and the acoustics of the Mess With Texas 1100 Warehouse is all about bassy bassy bass. So that's a fail. Plus, all their songs sound the same (or, at least, the one and a half that I stayed for did.)
Poliça, 4 p.m., Clive Bar
I guess these guys are even buzzier than I realized. ("Justin Vernon's favorite band!!") Well, they are good. Possibly much better than good, I couldn't quite tell. I wish I'd gotten here sooner, as it took a while to get inside (partly for shaved-ice-related reasons); what had sounded from outside like very pretty, mellow chill-out/trip-hop music emerged or developed into something much rockier and more energetic once I'd wormed up to the side of the stage for the end of the set. They have two drummers, for one thing. Basically it seemed cool, but I'm going to have to spend some time with the record to fully decide.
Polarsets, 5 p.m., Clive Bar
Only maybe the fifth entire set I've seen at SX, and the first time I got bored doing so. (Though not unpleasantly so.) This is a very nice-seeming young trio from Newcastle, England, who play sunny, tropical-ish indie-dance-pop — a la Friendly Fires or Tanlines or St. Lucia — but with more of a lyrical/song-based (though not necessarily melody/hook-based) focus. Not that I really caught any lyrics, though the song titles included "Tropics" and "Sunshine Eyes," so that probably gives you an idea. The lead singer has an improbably high, interestingly-textured voice that reminded me very much of somebody — Chris Martin, maybe?
Of Montreal, 6 p.m., Clive Bar
Felt some SX guilt for deciding to see this, and sticking around so long for it (other options included catching the awesome, food-obsessed rapper Action Bronson, or a maybe over-ambitious third attempt at Grimes) — since I have seen Of Montreal plenty of times, though not in ages. But whatever. It was great to be in a crowd full of fans, just there to see one of their favorite bands play a concert. This was a seriously Of Montreal-loving crowd — they sang along to every word, fist-pumped every beat, and half of them were dressed as crazy and colorfully as the band themselves. (Another half were of course wearing green for, as Best Coast called it later on, St. Party's Day.)
And it was a seriously crowd-pleasing set: nothing but hits, or more specifically, nothing from outside of their 2005-2007 apex of popularity. They kicked off with the two big ones from The Sunlandic Twins ("The Party's Crashing Us" and "Wraith Pinned To The Mist"), and the rest of the set was entirely drawn from '07's Hissing Fauna…, including set-closing epic "The Past Is A Grotesque Animal," which ended with, first, guitarist BP Helium crowdsurfing, and then his guitar crowdsurfing by itself, being "played" by the whole audience. Personally, I'd have loved to hear at least some of their more recent stuff, but I was probably a minority there. (Nobody does encores at SXSW, but it's hard to imagine a crowd more doggedly insistent in their clamoring for one. I pitched in with the mini-cowbell I had picked up earlier in the day — inventive swag this year!)
Rittz/Gangsta Boo/Stalley, 7 p.m., Fader Fort
Dinner might have been wise, but the mystery of the 8 p.m. Fader Fort "special guest" (the characteristically wild rumors swirling included Drake, which, basically, I would have died) not to mention my handy-dandy badge-carrying ability to bypass a monster line outside the bulging venue, were just a bit too tempting. When the outrageously red-haired speed-rapper Rittz (who sounded like an angrier Yelawolf) and former Three 6 Mafiosa/Yelawolf co-sign Gangsta Boo showed up for brief sets in the "TBA" slot, I was figuring it was gonna be Eminem (who'd turned up the previous night at 50 Cent's Austin Musical Hall show.) But then Stalley, the self-described "newest" member of Maybach Music took the stage, and stayed on the stage, and stayed on the stage — his beard may be, on a technical level, more impressive than Rick Ross', but it's nowhere near as lovably iconic or charismatic — and it became clear that, once he finally left, we would be graced with the presence of…
Rick Ross, 8:15 p.m., Fader Fort
Yep. This happened. Totally ridiculous, totally awesome. Couldn't see half the time because of all the cameras/phones in the air, but I had worked my way maybe three-quarters of the way to the stage by this point, and the energy in the crowd was just delirious. Early in the set, after a couple cuts from his recent mixtape, he whipped through four massive hits ("Hustlin," "All I Do Is Win," "B.M.F.", "I'm On One") in the space of 15 minutes. I guess, just because he could?
Devon Sproule, 8:55 p.m., Austin Java
I can't actually tell you about this set, because I wasn't there. What I can tell you is that Devon Sproule is a wonderful wonderful songwriter and one of the most endearing and talented performers I've ever had the pleasure to see, and that I biked 15 hilly minutes to a semi-remote part of town (well, far outside the SXSW hubbub anyway) to see her, only to learn that it was the wrong Austin Java location, and then, another 20-plus minutes and some bad directions later, to the correct Austin Java location, where Devon had just finished her set and was loading the car. And I chatted a while with her also-charming, also-a-songwriter husband, Paul Currerri, who told me that they'd just moved to Austin (from Berlin) this week. So hopefully they'll be playing some more, better appointed and better publicized shows at future SXSWs, and hopefully then the (impressively comprehensive, but nevertheless fallible) Austin Showlist website will list the address correctly. (And/or I will remember double-check their info.)
Django Django, 10 p.m., Latitude 30
Buzzy Brits, playing to a sardine-packed room of badgers. Energetic, danceable, slightly synthy rock, with plenty of texture and personality… made me think of Hot Chip, XTC, and other bands I really like. Also, for some reason, their vocal harmonies reminded me a lot of the Dandy Warhols. Not all of the songs made an instant connection, but a few of them did, and I bet their album (if it exists yet) will be very worth hearing. They also had a really big tambourine.
Fanfarlo, 10 p.m., Hype Hotel
I've reviewed two Fanfarlo albums now, and I'm not sure I could recall any of their songs if you asked me to. But they're always perfectly enjoyable when I'm actually listening to them, and they really sounded fantastic live. Epic, anthemic — but somehow not affected or overblown — indie rock stuff, with trumpet and saxophone and violin and big blue lights. Plus, they were adorably Scottish and polite. Nice one.
Best Coast, 11 p.m., Hype Hotel
Bethany Cosentino as a person is as refreshingly straight-shooting and pretense-free as her music, which as she performs it live doesn't even come off as cutesy, just matter-of-fact: She wishes her cat could talk, okay? She made no bones about being pissed off by lame, unenthusiastic SXSW audiences, and asked us if we could just be cool and party with her, for a change. The crowd responded by demanding that she chug the cup of white whiskey she'd been making skeptical remarks about throughout the set. (Meanwhile her guitarist, silent Bobb Bruno, was tossing back a handle of Jim Beam.) She was almost apologetic about playing new songs ("four in a row, is that okay?") but they were some of the highlights of the set, even sandwiched between all the first album faves. (The forthcoming Best Coast album shows, to me, a marked step up in her songwriting and sound — I'm expecting some good things for her this year.)
Wavves, 12:00am, Hype Hotel
Then I got a chair massage from the very cool Kate, which was great except for when Wavves started playing partway through it.
Jacques Greene, 12:40am, Barcelona
SXSW really does not do electronic music well. I guess that's the USA for you. Montrealer Jacques Greene is probably doing as much as anybody these days to underscore the shared fabric of bass music (dubstep/funky/house/whatever) and R&B, and this DJ set was a beautiful illustration of that connection, encompassing everything from Jackmaster to Burial to Moloko's "Sing it Back" and Storm Queen's masterful 2011 soulful house epic "It Goes On," right alongside Waka Flocka Flame, a funky Destiny's Child remix, and Drake/The-Dream's "Shut It Down" (with Greene grinning and singing along to every word) — all in a tight, seamless 40-minute set, pretty much the most exciting, energetic set of dance music you could ask for. (Though as far as I could tell he didn't drop any of his own excellent productions.) But the venue was a cramped, anonymous basement bar, and the crowd, despite several pockets of serious, enthusiastic dancing, seemed inappropriately diffuse and indifferent, mostly hook-up-seeking locals and St. Party's Day revelers who just happened to be there.
Toddla T, 1 a.m., Latitude 30
Around the corner, Toddla T seemed be on a similar tip in his DJ set, albeit more populist in his selections (while I was in there SBTRKT's "Wildfire" and Big Sean's "A$$"). Not quite the party I was looking for though.
XV, 1 a.m., Hype Hotel
Was on my way to check Flosstradamus but got distracted and pleasantly side-tracked by a prominent Pixies sample blaring out of ye olde Hype Hotel (and, okay, I was running pretty low on tacos). Such was my introduction to the very silly, young Wichita, KS (?!) rapper XV. Chipper, vaguely nerdy pop-rap, Chiddy Bang kind of thing. Mindless fun, and sure, why not, as his set-closing single has it, "Awesome." Or something.
Mujuice, 2 a.m., Hype Hotel
Never heard of this guy either — I didn't even know who it was when he was playing, as it wasn't listed or anything. But I was pretty impressed by his music, which I was having a hard time slotting into any of the usual electronic-music subdivisions. Subtle, stylish, danceable. Apparently he's "one of the cornerstones of today's Russian electronica." Okay, cool.
And that was SXSW 2012. Cruised around for awhile (both through the streets and on twitter) trying to track down an afterparty, but it seemed like things had pretty much wrapped up. Diplo was in New Orleans, Rick Ross was allegedly already back in Miami. And it ends, not with a bang, but at least with some well-deserved rest.
PREVIOUSLY:
SXSW THURSDAY: Aw, Austin, I missed ya.
Reporter Meg Augustin takes you inside some of Philly's most fab dwellings to showcase our city's unique grasp on design and architecture.
One of Philadelphia's most important contributions to the Industrial Age was textile manufacturing. By 1904, Philly housed the largest fabtics industry in the U.S. Its textile factories employed over a third of
the city's population. But today, even though we have Fabric Row and remnants of old factories like Sherman Mills, this booming industry is a thing of the past. Today, consumers are buying rugs, fabrics, pillows and clothing from box-store retailers that don't produce what they sell. Ann Roantree (pictured) of Roantree Weaves, however, is paving the way for a more personalized market in Philadelphia through her work-of-art home textiles.
Roantree's experience with textiles and home creations has quite a history. "Growing up, we had to make everything," says Roantree of her mid-century upbringing. "We were taught to make our own clothes and learned everything from crochet to how to operate a sewing machine." It helped that Roantree came from a long line of home-based textile makers. Her father and grandfather made everything for their female family members and taught them to do the same. However, it was Roantree's own exploration into weaving that led to her current business. "I signed up for a weaving class in central Pennsylvania … and the minute I touched my foot to the loom pedal, something clicked." Shortly after buying her first loom — a Colorado-manufactured, mid-sized piece that currently resides in her living room — she quickly realized her work was good enough to sell. After developing a business plan with her husband, Roantree Weaves was born.
Every Monday, James Friel rounds up the week's sure-bet live shows. This week: Ben Kweller, Dr. Dog, Grace Woodroofe and more.

Monday: Based out of L.A., Salva and Nguzunguzu, are two of today's most forward-thinking artists of house and bass music. Their jams get crowds on the floor with decadent and voluptuous beats covering instrumental R&B, dubstep and dance. 9 p.m., $8, The M Room, 15 W. Girard St., 215-739-5577.
Had some adventures today. Having fun, getting into the zone. Saw about twice as many bands as Thursday, too. Unintentionally apropos lyric quote of the day, from New Build: "It's not good for the body, but it's good for the soul." (At least, I hope that's true.)
Spoek Mothambo 12:30 p.m., Spin Party @ Stubbs
A friend hooked us up with passes to the hot-ticket Spin magazine party, killer lineup but also an ideal, archetypal way to start a Southby day: free BBQ, free beer, free vodka, free weirdo space-age sugar-water. The highly amusing MC for the event ("Make some muthafucking tweets!") described this Sub Pop-signed South African rapper/artist/guy as "way cooler than you," which I guess is true on a technical level — and he did have a pretty fly jacket — but between us I think you're actually probably cooler. His set bounced around from post-punk to rap to electro-ish breaks in rather haphazard fashion, and was decent to dance to in spurts, but didn't leave much of a musical impression, except maybe his funked-up version of Joy Division's "She's Lost Control."
Dionnevox 1 p.m., @ Stubbs
From Seattle, playing this party because they won some sort of contest, but anyway they earned it, without a doubt. Nothing short of baroque in their approach to costuming, with a sort of dark fantasy steampunk burlesque look (summarized by the aforementioned MC as "if the movie Blade Runner were two attractive girls.") Lead singer lady stripped through about four distinct outfits over the course of the brief set, including a sequined harlequin bustier and black leather bodysuit with assorted diagonal zippers (she had to sit down on stage to fully remove that one), not to mention her elaborately made-up/bejeweled face and black feathered headpiece, while the dead-eyed dancer was equally striking in black and white lace tights, garter, striped faux-fur legwarmers and platforms. For some reason they didn't make the DJ/producer guys dress up at all; totally lame. Musically they followed a similar aesthetic — dark industrial electro-goth torch songs with low, deadpan vocals and solid songwriting. The standout was probably "Spoken Like a Slave," during which the singer lady repeatedly cracked her mic cord like a whip.
Escort 1:30 p.m., @ Stubbs
Stone killers. Escort is a 15-piece (at this show anyway) disco orchestra, largely composed of NYC studio pros (the drummer happens to be my cousin.) And they're perhaps the most ridiculously tight live act anywhere, not to mention the most fun. They're fronted by lanky French-African singer Adeline Michele, who's a total knockout and a sweet-smiling charmer — but really the whole band are just gorgeous to look at; about as diverse a collection of musicians as you could imagine sharing one stage. Too bad they're apparently too big a band to make touring economically plausible; there's a lot of folks out there who could use some of their pure, unadultered joy.
New Build 2:10 p.m., MWTX @ 1100 Warehouse
The latest in a recent string of unreasonably excellent Hot Chip side projects (following Alexis Taylor's About Group and Joe Goddard's 2 Bears — who just put out probably the party album of the decade), this group is spearheaded by guitarist Al Doyle (also of LCD Soundsystem) and drummer (in this group, bassist) Felix Martin, joined here by a Stop Making Sense-ish full band, including a killer timbale/steel pan player. With his shock of red hair and big scruffy beard, Doyle's a friendly, familiar figure from Hot Chip and LCD shows, and definitely a likable bloke, but he doesn't quite have the charisma to carry a performance like his other bands' inimitable frontmen. Or maybe this was just an atypically low-energy set — he admitted that they were exhausted, which was pretty clear to see. (And not a great sign considering they still had a bunch of shows to play.) Set-closer (and my current brain-ruling jam of the moment) "Misery Loves Company" riled up some dancing energy from the crowd, but it pretty much took that long.
Purity Ring 3 p.m., @ 1100 Warehouse
Super cool, super hotly tipped electro-weird duo from Montreal (and Halifax, apparently); almost as fresh and original in their approach to performance as to their music. I.e.: very. Set against a simple. spare pink/green/orange backdrop, producer Corin Roddick triggered sounds by drumming on a complex arrangement of paper-lantern-like color-changing lamps, while Megan James twirled and whacked a mounted bass drum that lit up with every hit. As for the music — definitely done some sonic disservice in this overly loud and bassy setting, but potent nonetheless — it is deep; twitchy; voluptuous; alien; gorgeous. I normally hate this comparison, but I would describe James' vocals, particularly her way of drawing out and rounding her syllables, as legitimately Björk-like at points. Stunning.
Day One for me, Day Two-ish or more for the conference… The sloppiness has already set in. Aw, Austin, I missed ya.
"Torreblanca & Amigas" (Ximena Sariñana, Natalia Lafourcade, Javiera Mena), 3 p.m., Austin Convention Center
Much of my early afternoon was spent dealing with some logistical folderol around getting ahold of my badge — no major losses except for missing Bruce Springsteen's keynote speech (apparently he talked a bunch about his influences). I did see a few songs apiece by cheerful '80s-babies Chairlift, Italian hairdos A Classic Education and slightly poncy (in a nice way) surf-bouncers The Drums; all pleasant enough pop sorts — but my musical day proper really started with this loose "jam session" showcase of twenty-something Latina pop singers, including Ximena Sariñana and Natalia Lafourcade from Mexico and Chile's Javiera Mena, accompanied by the members of the band Torreblanca. Despite the sterile convention center setting, this was a loose and utterly charming affair; a sweet, low-key introduction to some very talented young ladies ("friends from a long time," explained Ximena, whose tiny frame — she looks like she's about 14 — hides a huge, brassy pop/soul voice) who happen to be major stars in their home countries.
Andrew WK, 5 p.m., Scoot Inn
A total maniac, in the best possible way. A highly wise, intelligent man who's selflessly dedicated his life to the noble cause of throwing a totally kick-ass party. To which end: While WK's performance — his mere presence, really — was plenty inspiring in itself, the truly awesome thing is what it inspired: a cheerfully hyperactive audience ready and willing, at the slightest provocation, to toss any and everything — arms, beer, t-shirts, multiple simultaneous crowd-surfers — up into the air, and dive into a mosh-pit maelstrom.
Danny Brown, 5:40 p.m., Scoot Inn
Just sick. For a rapper who goes to considerable lengths to present himself as a certified weirdo — today, in addition to his distinctively asymmetrical kinked shock of hair, he was rocking a sequined, camouflage Adidas jersey(!) and some totally befuddling plasticky "cow-print" sneaker/cowboy boot things — Danny Brown actually seems like a reasonably down-to-earth, relatable guy. Whose favorite topics of conversation just happen to be Adderall and cunnilingus. He enlisted us to chant the hook of "Blunt after Blunt" (that's pretty much how it goes, and goes, and goes) after an audience member passed him one, using the opportunity to partake of said item, contributed by an audience member. Then he slapped everyone in the room five.

Dinner: Brazilian Churrascaria (though actually I just stuck to the salad bar). with a couple of Swedish high school girl interns. Long story.
Fiona Apple, 8 p.m., Central Presbyterian Church
She opened with four spot-on favorites from When the Pawn… — rushing out and ripping into a furious, feral "Fast As You Can," then "On The Bound," "Paper Bag" and "A Mistake." Man, watching her notoriously stick-like frame and her uncomfortably frail, anguished-looking physical/facial mannerisms as she sang some of those lyrics really drove home the dark, dark pathos — self-hatred may not be too strong a word — that runs through those songs ("I know I'm a mess no-one wants to clean up"?), in a pretty powerful way. Almost chilling. Started to feel a bit less painfully vulnerable as she moved on to the self-righteous defiance of "Extraordinary Machine" and "Sleep To Dream" (holy shit…) and cracked a few weird but half-decent jokes (something about her hairband being the elastic from a pair of sweatpants she got out of the trash?) She still looked too nervous and fearful to really smile, though. Still, as a presence, a singer, and just all-around singular and uncompromising artist, she's impossible to deny. The new songs — especially "Valentine," a relatively straight, but pithy piano ballad number — sounded exceptionally promising.
Thinking of some acquiring some Irish recordings that have more roots than branches, heavier on the fiddles than electric guitars? We can hook you up with several suggestions all easily found online for your antidote to rockers affecting tough-but-tender urban Irish attitudes.
Altan's The Poison Glen (Compass) will please people who love the sound of traditional music very lightly arranged with traditional instruments and the sweetest of old-style sopranos singing Gaelic and a bit of Dylan. The latter seems a requisite for trad bands out of Ireland these days.
From the heart of Sligo, Dervish preserve the traditions for sure but also add a dab of the Dylan, one they worked up for one of his birthday bashes and the crowds made them keep it. Dervish's most recent is technically two years old, but is only now getting pushed in the US on CD Baby. It's a live one titled From Stage to Stage.
Finally The Chieftains, surely traditional, but after 50 years on the road, who can blame then for wanting to share the kind of hybrids that evolve from jamming at festivals around the globe. Voice of Ages (Hear) has many guests, from Decembrists to Carolina Chocolate Drops. Do some combinations work smoothly while others sound like The Boys were added as an afterthought? Well, yeah, but no collection is complete without, right?
Every Friday, Ryan Carey dishes on the people and things that are giving Philly the giggles.
Former Temple University student Bill Cosby is one of the top comedians of all time. Contemporary comedy big-shots Paul F. Tomkins and Tim & Eric attended Temple. Bob Saget won a Student Academy Award for his film Through Adam's Eyes, which he produced at Temple's film school. And Temple grads Pat House, Doogie Horner, John Kensil and Aaron Hertzog are among the most frequently seen local comics working at clubs all over the city.
"It's unbelievable the amount of Philly comics currently in the scene who
went to Temple," says comedian and Temple student Alex Grubard. "You can't major in comedy, but when it comes to Temple, there is an invisible comedy program: I can study Film Comedy in the Film department, I can take Humor Writing in Journalism, I can take Creative Writing in the English department, I can take Jewish Humor Past & Present in Jewish Studies."
This Sunday, you can see Temple U's comedy team rematch against Penn State in the Rooftop Comedy National College Comedy Competition. Last year the Penn State team went on to win the entire tournament, and its MVP, Brandon Scott Wolf, performed on Lopez Tonight.
Devoted poet/avid concert-goer/nerd-grrrl extraordinaire Jane Cassady's weekly horoscopes run in this space every Friday morning (and sometimes Thursday afternoon).
Pisces (Feb. 20-March 20): To the Pisces who just received the first copies of her first full-length collection of poems: when you send out your review copies, may you get back a million Valentines worth of praise. You are generous and dear, and you deserve it.
Aries (March 21-April 18): Like the couple in the season finale of Portlandia, look for a little extra adventure, even if it comes in the form of pancakes. You will fall in love with yourself all over again.
Taurus (April 19-May 18): Dear Taurus I can't stop writing to you. I miss you. I wish I'd have met you a few months later so I'd've known what to do with you. But then, if I wouldn't have met you, I wouldn't have known what to learn. If you knew where to find it, you could read a whole list of really specific thanks. Gonna try to make this the last note to you. I promise.
The most amazing aspect of The Roots Picnic is that the group and its executive decision makers have made certain to live up to its traditions while keeping the now five-year-old outdoor gig fresh. Certainly expanding the always sold out event into two days (June 2 and 3) with different acts on both days is way different.
The Roots themselves headline the Saturday event with newly retired LCD Soundsystem boss James Murphy doing a DJ set with the fest's alterna-act crown (every Picnic has a punk rocker!) going to St. Vincent. For the Sunday night event, oddball rapper Kid Cudi (whose new WZRD project is a rocking robotic treat) headlines with Tune-Yards as the top notch indie act and the Roots' Philadelphia bro Diplo playing/ spinning as both a solo artist and as part of his dancehall-dub ensemble Major Lazor whose own new album should be out be June. Also split between the two days is the gently funkyShabbazPalaces, the eerily electronic Flosstradamus and Wale, the hip hopping toast of the Maybach Music Group.
Where tradition is concerned, every year The Roots have found a rap master to collaborate with, to play behind. This year — and I have to say this is the most exciting act they've had in a minute — the Roots will back De La Soul, the hippy dippy Dadaist Native Tongues act whose 3 Feet High and Rising is a sampladelic classic. The De La/Roots teaming will happen on June 2. Surely, though you'll want tix for both days.
Tickets go on sale tomorrow from LiveNation.com, Live Nation Box Office (111 Presidential Blvd, Bala Cynwyd), TLA (334 South St., Philadelphia/ service-charge-free), Festival Pier (Columbus Blvd & Spring Garden St, Phila / day-of-show only) or by-phone at 800-745-3000.