Archive: April, 2012
Monday night, Brittany Howard of Alabama Shakes brought it all (except her shoes) to the stage to hit World Café Live's crowd — a mostly salt-and-peppered group — with a wallop of Southern rock. Howard's forceful delivery of "Hold On," the radio hit from their debut album, Boys and Girls, grabbed the entire room's attention. "You Ain't Alone," played on the Shakes' soulful side, took the crowd into the second half of their barely 80-minute set (it was live on XPN), inspiring some folks at the front to raise their hands up in praise — like worshipers at a church. They were brought back to the stage by screams of "Shakes! Shakes! Shakes!" for an encore that included the shuffling "Heavy Chevy," and even Led Zeppelin's "How Many More Times."
Lee Bains III and the Glory Fire's opening set was, well, true-to-form country rock. Their album, There is a Bomb in Gilead comes out next month.
Davio's on S. 17th Street had a spring menu tasting the other day that acted, in part, as a re-introduction to the Northern Italian steakhouse/ restaurant's finery both in dining and décor. The trip through Davio's was such a delight in every way it made you forget that the headache-inducing G Lounge was in the same building. While suave GM Ettore Ceraso spun us through Davio's physical amenities like its skyline patio area overlooking the city and its fireplace-lined private dining spaces (these rooms were originally a Provident Bank's offices) executive chef David Boyle concerned himself with our culinary needs. The braised lamb shank with white bean ragu and the sautéed branzino with white asparagus and mussel jus were both melt-in-yer-mouth tender. The grilled pork chop with Brussels sprouts and crispy pancetta were caveman-huge and tasty. And for anyone who dug the appetizer tray — stuff like the Philly Cheese Stheak Spring Rolls — they are now available as frozen food takeaways — no way. Plus Davio's has a killer celeb chef/author dinner series that starts April 30 with Andy Husband's talking and cooking from Wicked Good Barbecue (215-563-4810 to snag seats). Next up May 21 is John Mariani from Esquire mag who will chat, but hopefully not cook from How Italian Food Conquered the World.
Nearly as tasty, twice as sweet and certainly as complex is Philly's psych-pop dramatists Cheers Elephant who have cobbled together their first ever video, "Doin' It Right" which gets it debut courtesy The Owl magazine this week. See it here. Their debut disc, Like Wind Blows Fire, drops May 8 with two cool shows around it — a day-of-release gig at the Apple Store on Walnut Street (iTunes release show) and Kung Fu Necktie (with The Spinto Band) on May 29.
While the rumored chef Jen Carroll takeover of the recently-vacated Marathon at 13th and Chestnut for Concrete Blonde (see Icepack in print citypaper.net/agenda/2012-04-12-icepack.html) floats in mesquite-scented air, another rumor has found a very possible answer: the 344 South Street space that has been in its time several different clothing shops, is set to become an upscale whiskey, beer and wine spot — a swell addition to Copa Banana's already block-long monopoly. Apparently ownership says that every weekend, the Copa gets requests for good whiskies, wines, scotches, bourbons and beers so they grabbed the vacated spot and are currently orange-tag awaiting its "extension in premises" license. Word is the space is called Redwood.
Mistress Kiki Berlin is a doyenne of the burlesque and strip scene, a goddess of the peel-n-giggles. She's starting her new not-so-regular series with Drugbunny Booking, the Wet Panty Party, on April 18 at the home of burlesque, The Troc with a load of special guests. Get damp. Wear PJs. Also, it's nice to hear that Drugbunny's John Cecil Price's other gig, The Baptist Preachers, will soon be collaborating (on record, for shows) with The Roots' all-local mouthpiece rapper/rocker Dice Raw. They met up at that Whiskey Tango gig that Nikki Jean was to host two weekends back (then didn't show for, leaving Raw to fill in) and hit it off nicely.
Is Hal Real, owner of the two World Café Lives in West Philly, PA and Wilmington, DE looking to build a third sooner than later? We're hearing that the answer is yes and that the ink is slowly drying on a singular location.
THE COVER:
FEATURES:
COLUMNS:
EVENT PICKS:
AND MORE!
Photo by Neal Santos
It's a great week for Saturday Night Live fans even if Kristen Wiig winds up leaving. First comes news that the Not Ready For Prime Time Players' history will be celebrated by Comics: Saturday Night Live, a four decade-long journey in comic form. Then we find out that Joe Piscopo is hosting the 2012 Red Heart Variety Show to benefits the Variety Club of Philadelphia. Victoria Jackson, one of his many castmates, is the entertainment for the event. Then, at the last minute, their SNL teammate and former Upper Darby resident Cheri Oteri (pictured) just got announced as a special guest.
Fri., April 13, 6 p.m., $100, Vie, 600 N. Broad St., 215-735-0803, varietyphila.org.
Movie critic (and the guy who compiles our weekly repertory film listings) Michael Gold reviews his favorite Netflix Instant flick of the week.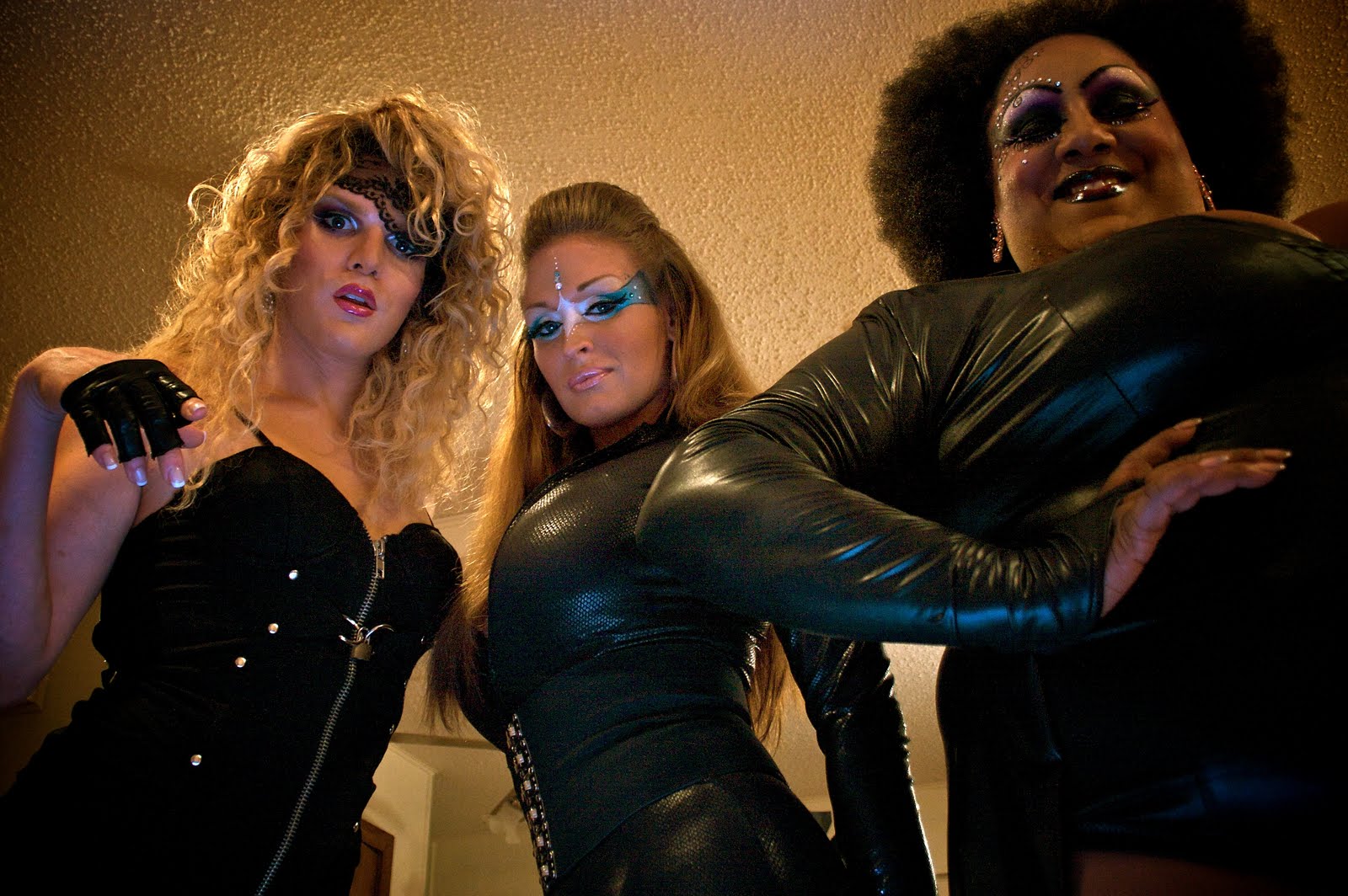 With mega-geek Joss Whedon at the helm, I can guarantee without reading a review that Cabin in the Woods will be hilariously meta (but still, check out CP's review tomorrow). And why shouldn't it be? The horror genre is nearly as old as film itself, and yet the tropes haven't evolved much: A grotesque monster threatens a hot gir­l until she can either be saved by hunky man-candy or work up the nerve to save herself.
Whether subtle or not, clever lampoons of scary movies are nothing new. But often overlooked is the inherent humor in the low-budget iterations that stretch the genre to its most absurd. Take Ticked-Off Trannies with Knives. Better known for the controversy it engendered rather than, say, stark cinematic genius, Israel Luna's slasher flick follows the standard rape-and-revenge exploitation formula so popular in the '70s. Yet Luna channels Roger Corman and Quentin Tarantino rather than Wes Craven, bringing violence and gore to an almost campy level. Even the central transgender trio's catty dialogue feels like a deliberate maneuver to make the movie seem appropriately inept. While Luna may lack the in-jokes so crucial to Whedon's oeuvre, Ticked-Off Trannies' reliance on old standards makes for an entertainingly campy romp.
(michael.gold@citypaper.net) (@migold)
Each week, Michael Gold breezes past those big-name theater companies to turn a spotlight on Philly's indie stages. This week: Temple Theater examines girl power, Nova D Arts Collective sends one across the pond, and beauty queens is the focus of one UArts student's senior directorial project.
Meryl Streep and The Iron Lady did a nice job softening Margaret Thatcher's reputation as a strong-willed (and occasionally soulless) leader. What the movie ignored, however, were the ramifications Maggie's tenure as England's prime minister had beyond 10 Downing Street. Chief among them: a debate over whether women had to adopt stern, cold personas in order to succeed in the workplace.
Set in the midst of the Thatcher era, Caryl Churchill's Top Girls explores the cost of sacrificing femininity for success. Churchill follows leading lady Marlene, who left a working-class home to become an affluent career-woman. As the play unfolds, however, Marlene's goal-focused life feels increasingly empty. Her cut-throat work seems anything but appealing, making her and the audience question whether a sacrifice-heavy road to the top was truly worth it. While Temple Theater's production comes 30 years after Top Girls' initial debut, the feminist drama is still bound to strike a chord with local audiences.
April 11-22, $15-20, Randall Theater, 2020 N. 13th St., temple.edu.
Every Monday, James Friel rounds up the week's sure-bet live shows. This week: White Denim, Bad Rabbits, Jezabels and more ...
Monday: Back with their seventh album, The Stars Are Indifferent To Astronomy, Nada Surf drums up more of the same big guitar, gorgeous harmonies and optimistic lyrics sung by the sweet voice of singer-songwriter Matthew Caws. It's an overall intoxicating sound that fans can always count on. 7 p.m., $20, TLA, 334 South St., 215-922-1011.
Art-geek extraordinaire Courtney Sexton presents a weekly selection of Philly's must-see gallery exhibits. This week: hotel lobbies, Bam Margera, nudes, and... more nudes. On tricycles.

Art at Le Meridien
If you live in town, you might not know that Le Meridien isn't just your average EconoLodge. It's part of a group of boutique hotels around the country that promote the arts through partnerships with cultural institutions. Here in Philly, Le Meridien teams up with the ICA for LM100, an initiative geared toward "transforming Le Meridien hotels into creative hubs." The building itself, a former YMCA, is a historic spot, and visual art decorates the rooms, hallways and common areas to "curate original experiences." (Even the room keys are mini works of art.)
This month, Le Meridien's hotel lobby space, one of its main viewing sites, is featuring work exclusively by Philadelphia artists so that "visitors from all over the world can get a taste of local talent." The pieces include Liz Goldberg's animated sequence Beat Box Philly, viewable at the hotel bar and embedded above. The animated short is set up between two of her paintings, which highlight Philly landmarks and attractions. Other artists featured in the exhibit are Bradford Carmichael, Lynne Filion, Benjamin Gonzales and Angela McQuillan. The series of large-scale abstract portraits installed on the wood paneling of the main seating area make you feel as if you are in Dr. Barnes's study.
David Olney
The Stone
(Deadbeet)
Quick, how many Easter-themed albums can you name that don't involve the Messiah? I thought so. Even if you can name some, none have David Olney's trade-mark hardbitten squint about them.
Olney is a empathetic interpreter of stories, but he does his best work when there is acid and sizzle in the retelling. This video, "Jerusalem Tomorrow" is how the EP starts, with an apostle just joining the team of a traveling healer. "Brains" rocks hard with blues harp wailing over the tough cop interrogating Judas, screeching over and over, "I wanna know who's the brains behind this operation!" Olney posits this as one more explanation of the legendary betrayal.
It occurs to me that I wish I had Olney's gift for inhabiting another creature's mind. Projecting yourself into Barabbas the thief or being the soldier guarding the tomb who has to man-up and report to his superiors that the stone has been moved and the body is gone, these are good concepts. But speaking as the ass that Jesus rode ("Brays")? That, my friends, is genius.
Every Friday, Ryan Carey covers the people and events that are giving Philly the giggles.
On Wednesday, Philly Sketchfest will present "Characters," hosted by Blangalangalang and DJ
Footie-Pajamas. The show will feature some of Philly Sketchfest's most notorious personalities, including Bing Supernova, Fastball Pitcher Bob Gutierrez, The Feeko Brothers, Rob Baniewicz and Hillary Rea.
Bing Supernova is especially excited for the event: "They will truly be able to call this Wednesday 'Hump Day' because I will be slaughtering a live camel onstage. Bring a tarp!"
Philly Sketchfest co-founder and Animosity Pierre half-ling Dave Terruso says about the fundraiser, "The one rule of the show is that everybody has to stay in character for the entire show. Nobody gets to be him or herself until the final bow. I came up with the idea when I realized no one likes me when I'm just being me."
iframe src="http://player.vimeo.com/video/39116203" width="400" height="300" frameborder="0" webkitAllowFullScreen mozallowfullscreen allowFullScreen