Archive: March, 2012
Al Harris on the week's top comedy shows. This week: Hang out with The Real Housewives of South Philly, Sarah Colonna visits from Chelsea Lately and Damon Rozier makes being paralyzed seem funny.
Comedian Sarah Colonna takes a break from cracking jokes as a panelist and writer for Chelsea Lately to do some standup this weekend at the Helium Comedy Club. A Last Comic Standing semifinalist, Colonna hits the road on the heels of her recently released, bawdy memoir, Life as I Blow It (Villard, Feb. 7).
Thu. March 8, 8 p.m., Fri-Sat March 9-10, 7:30 p.m. and 10 p.m., $16-$33, Helium Comedy Club, 2031 Sansom St., 215-496-9001, heliumcomedy.com.
Whether you're a lover or a hater (I'm looking at you, asswipe who cut me off this morning), Philadelphians share one important commonality: We can't get enough of the hilarious shit people submit to CP's I Love You / I Hate You column each week. So in the spirit of reminiscing about the giggles the column's inspired since its inception in 1999, we've put together a compilation of our favorite old-school entries.
Look for it stuffed (lovingly) into our issue this week to enjoy such goodies as:
Hot Produce Guy:
I've noticed you eyeing my melons, I'm curious about your cucumber. We should get together and smoke some herbs. How do you like them apples? —Not-a-celery-stalker
or
Bitch From Hell:
What is there to say? You ignored me. I fucking hope you rot in hell for the shit you have done. I wish I could kick your head with a tack on the heel of my shoe. I hope you get a paper cut on your vagina. I hope you use poison ivy to wipe, you bitch. Your cunt smells like tuna and you eat your own shit.
Plus, it's littered with adorable/evil bunny images by illustrator Alyssa Grenning.
My man pots and pans Jerry Blavat is celebrating the first anniversary of hosting his weekly Wednesday Sugar House dance jamboree and, last night, got Chubby Checker, the Trampps and writer Rich Podolsky (The Man with the Golden Ear, about the man behind Rock Concert, producer Don Kirshner) to join in the fun. Congrats on year one.
Surprisingly a small group of folk didn't get the connection between seeing Shola Olunloyo at the first-night test run of Hop Sing Laundromat, the vials of unknown content before him, and the fact that he's renowned for molecular gastronomical culinary marvels (amongst other things) and not drug running. I would've thought it was more of a hassle that there was a cell phone on his table (a no-no at HSL) and not vials. Whaddayooogonnado?
Saxophonist Bobby Zankel's large scale Warriors of the Wonderful Sound is gearing up to premiere a new piece written exclusively for his band by legendary pianist/composer Muhal Richard Abrams, who will conduct the ensemble during its April 28 premier at Montgomery County Community College.
Each week, Nina Willbach puts together a rundown of book-centric events. This week: A reading from CA Conrad's new book, a history of film disasters and a talk by Politico's chief political columnist.

Thursday, March 8
Los Lonely Boys
It's rare that a poet shares the inner-workings of his process. We'd like to think bursts of genius just befall him mid-sleep, urging him to grab a bedside pen and nearest scrap of paper before the moment passes. In Philly-based poet CA Conrad's newest book, A Beautiful Marsupial Afternoon, he uncovers some of the mystery and offers a kind of blueprint for aspiring poets. The book contains 27 off-the-wall literary prompts, each accompanied by Conrad's own creative answer. With a refreshing blend of poetry, textbook and conversation, Conrad delivers helpful guidance without losing any poetic authority. Tonight he joins writer Lonely Christopher, whose debut collection The Mechanics of Sexual Intercourse follows several relatable protagonists as they navigate the oceans of love and suffering.
5:30 p.m., free, Giovanni's Room, 345 S. 12th St., giovannisroom.com.
Movie critic (and the guy who compiles our weekly repertory film listings) Michael Gold reviews his favorite Netflix Instant flick of the week.
With the migration of the Phillies phaithful well underway, the promise of Madness now permeates the air in the City of Brotherly Love. Having five D-I teams crammed within city limits (and, despite what branding suggests, a sixth lurking just outside) means Philly routinely enters college hoops frenzy each March. It's been a hot minute since the NCAA trophy has been hoisted down Broad Street, but the dream of achieving glory on the pine still seduces many a Philadelphian.
Oddly enough, the basketball fever seemingly endemic to the streets of the 215 was best captured in a flick about high school b-ball in Indiana. Masterfully directed by David Anspaugh, Hoosiers (1986) offers more than a "kids from the sticks make it to the big time" Cinderella story. It's also a tale of a dreary rural community clinging to basketball since, frankly, there's little else left. Above all, though, Hoosiers is a tale of redemption. A washed-up and disgraced coach (Gene Hackman) is ought to prove his mettle, and Dennis Hopper's sports-obsessed town drunk embarks on a quest to prove his self-worth. As our city's teams fall from NCAA glory, it's the promise of next year's second chance that's bound to resonate with Philly fans.
(michael.gold@citypaper.net) (@migold)
Every Wednesday, Chris Brown digs into our listings bin and pulls out a little something-something to do every day of the week. This week: Dive on into a world filled with Morrissey acolytes, win a City Paper Writing Contest prize and get creative with a spud.
Wednesday: Let's be honest, you don't have time to do anything today because you're hard at work putting the finishing touches on your submissions for the City Paper Writing Contest. If anything, you'll swing by the Drexel campus and take part in one of the Free Library's sponsored creative writing workshops just so you'll have everything in order before today's 5 p.m. deadline.
Wed., March 7, 1 p.m., Drexel University, 34th & Chestnut St., 215-895-6485, citypaper.net.
Tempers calmed and egos tucked aside (at least until each show is over) the nearly 38-year-old Van Halen road show made its way to the Wells Fargo Center on Monday night, not as a nostalgia review but as a full-blown opportunity to showcase new material (A Different Kind of Truth) and prove how stealthily healthy its members sounded despite its various ravages, bust-ups and dust-ups.

With this VH.4 (or 5) Van Halen has found its dazzle without a hassle and sans the usual schmaltz that comes with anything attached to Lee Roth, the once-libidinal growler with a tendency toward hamminess. Maybe Roth can't kick and twirl as often as he once did (now he shimmies around on a parquet floor hoisting jazz hands throughout the night) or hit all the scuffed high notes he used to. Instead he relies on a scratchy warbling croon and hacking cackle that made "Runnin' with the Devil" come across as eviler than it once did and "Hot for Teacher" chattily lascivious. Roth showed his six-gun ass tat before his chipper Bowie-like take on "Tattoo" ("hey I'm a Jewish Buddhist" he announced) and did a mean-talking blues on several occasions. Roth's melodious cough sounded strong on the strutting "Beautiful Girls" and VH's crackling cover of "Oh, Pretty Woman," as it tap danced atop new bassist Wolfgang Van Halen's hearty harmonies. "She's the Woman" absolutely soared with that mix of hack-n-harmony — raw silken pop metal at its finest.

Anybody who thought they would miss bassist Michael Anthony's thump-pluck rhythm and high-harmony background vocals should have been surprised to find Wolfie so adept and musical. The kid stays in the picture, not because he's Eddie's son but because his chops are solid. Drummer Alex Van Halen — sure he's thundering. Yet you couldn't help but wish his consistently rumbling tech-heavy thud didn't vary itself, swing more, take to each guitar thrum and finger-tap blister with intuition and sensitivity. Alex's thump didn't help iffy new songs like "China Town" be better and added little to cutting VH classics like "Somebody Get Me a Doctor." On the other hand, he propelled "Panama" with a heavy snare attack. In the same way that its new album sounds like vintage VH re-fashioned for the present with Eddie and David finding up-to-date ways to approach pop metal, so too must Alex catch up.

This leaves me, happily, with Eddie Van Halen. Whether it was the poppy fresh "She's the Woman," the power-punk crunching "You Really Got Me," or the demonic dirge-dancing "Runnin' with the Devil" Eddie Van was epic — economic and inventive during his solos, boldly histrionic during his riffing hard chords. On stage alone, doing his usual near-set-ending solo bit mixing "Eruption" and "Cathedral," Eddie Van Halen was genius, speedily finger-tapping and effortlessly creasing the air with bent and noodling notes that took into consideration Blackmore, Page and Segovia while never forgetting his own six-string legacy. Plus, Eddie never stopped smiling — heck, he even looked happy to see Roth.
SIDE NOTE: Eddie didn't stick around Philly for long. According to TMZ, he was spotted soon after walking around NYC with his pooch.
The first good thing about the VIP pre-party for this year's Philadelphia International Flower Show:
Hawaii: Islands of Aloha — no "Tiny Bubbles" theme music. This wasn't going to be a cornball affair. In reality, March 3's start of the flowery week to follow (March 4-11) was filled with the simplest, most elegant displays of nature, man-made (a giant waterfall dedicated to the goddess of volcanoes) and high-tech (the hovering projection screen-filled wave at the entrance).
Unlike last year's Flower Show dedicated to Paris, with its underground and its stagey sets, Hawaii: Islands of Aloha relies wholly on decorative plant life, like the miniature pressed flower displays and those exhibitions inspired by the musical South Pacific. The show is surprisingly powerful stuff presented in a most giddy fashion. Even when it goes against its own grain with a tribute to machismo in its deigning of a "man cave" space of SugarHouse Casino-sponsored table games benefiting the PHS City Harvest program, it's a sweet and swell affair. For those looking for swells of another kind, the opening Flower Show soiree had its biggest celeb visit yet. Clothing designer Tory Burch hit a Philly Style party in the Kula restaurant space to celebrate her appearance in the mag's newest issue. Everyone left smelling like a rose.
(a_amorosi@citypaper.net) (@ADAmorosi)
Flower photo by Glamorosi
Slideshow photos by Scott Weiner

Each week, Michael Gold breezes past those big-name theater companies to turn a spotlight on Philly's indie stages.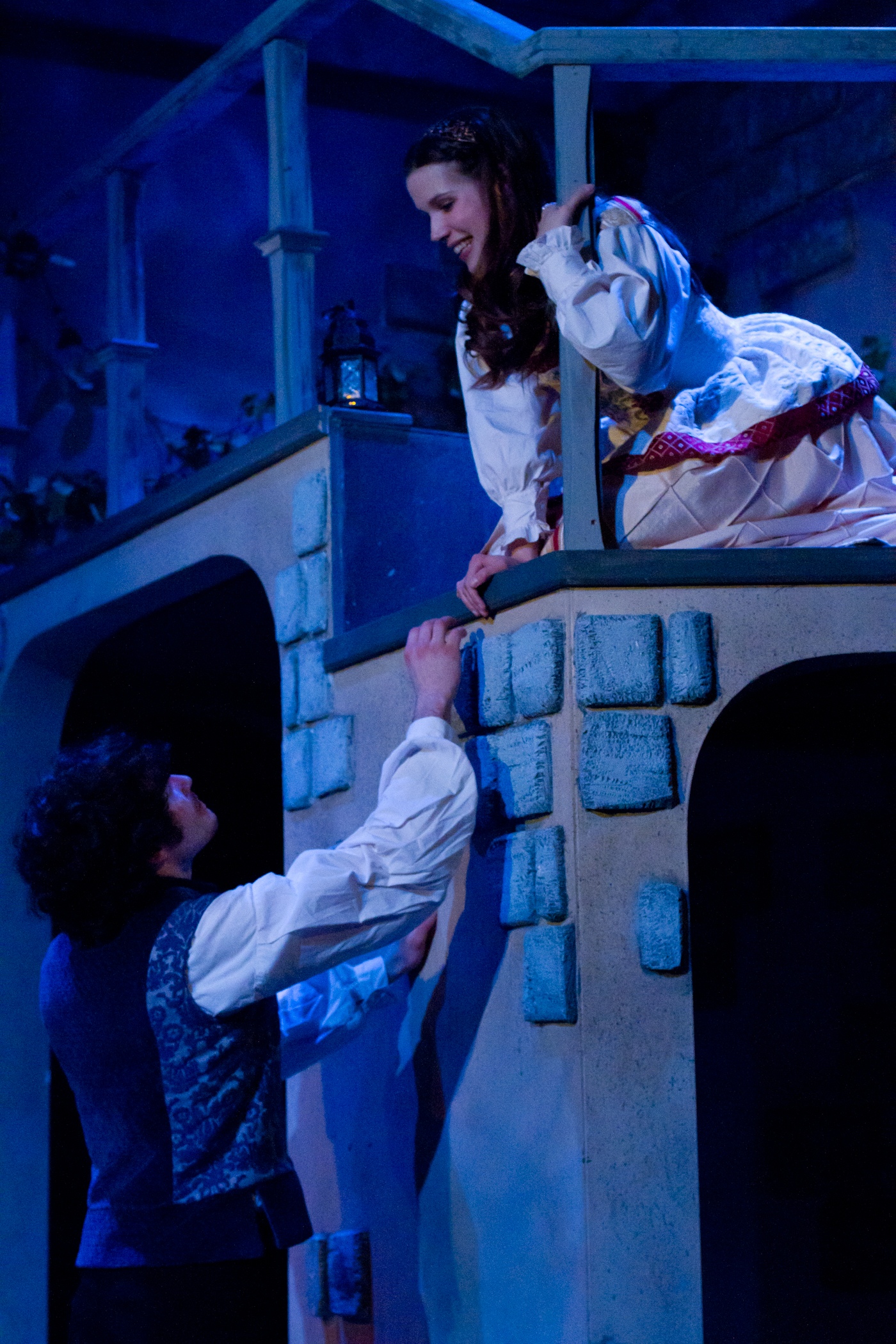 A pair of star-crossed lovers meet by chance, with a violent, bitter feud threatening to tear them apart. It's an oft-told story, but Shakespeare's Romeo and Juliet continues to exert its evocative hold over modern audiences. To Lantern Theater Company's credit, its version eschews the gimmicks too frequently employed to spark contemporary interest in Shakespeare's work (looking at you, A Midsummer Night's Rave). Instead, artistic director Charles McMahon hopes to give theatergoers a fresh perspective by focusing on the play's emotional turn from romantic comedy to tragic drama.
Through April 1, $20-36, St. Stephen's Theater, 923 Ludlow St., 215-829-0395, lanterntheater.org.