Party
schmittenkitten.com
Somebody wants a snowjob ...
Now that you've dutifully attended your work Christmas party – this is under the assumption that you have a job – it's time to kick back, slug a few $4 snowjobs and get into the spirit with a crowd that's a bit more, er, intriguing than your coworkers. The bonus is that no matter how piss drunk you get, come Monday you won't have to deal with office gossip or the awkwardness that goes along with an accidental make-out sesh with the company's accountant. Hosted by the
Shmitten Kitten's
lovely founder Anna Goldfarb, the party serves as a gathering of sweet blog readers under a serious amount of mistletoe. This isn't just an excuse for fans of the blog to hook up at the hand of Goldfarb (though that is allowed), it's her way to meet the readers, the people who enjoy her witty musings on dating. Because the people who already read the blog should be pretty awesome, right? Drink specials will abound, including the aforementioned Shmitten Kitten specialty, a snowjob. Don't ask what it is, just ask for two and make yourself a new friend.
Fri., Dec. 17, 10 p.m., Tattooed Mom's, 530 South St., 215-238-9880, shmittenkitten.com.
Neal Santos
As Lauren F. Friedman told us in this week's Agenda, West Philly's The Rotunda is turning 10, and they've got a whole weekend worth of activities lined up to celebrate. Tonight, for example, features VJ Yakov, Dime Universal and HipHop Poeticz, plus a silent art auction (which ends Sunday) featuring pieces from more than 20 artists.
Here's more from man-about-town Shaun Brady:
Who the hell do you invite to a party that features hip-hop and silent films, screaming experimental rock and a silent auction, poetry and ' live screen printing? Well, the Rotunda's essentially been inviting everyone in West Philly and beyond to that party for 10 years now, so a mash-up of celebratory art-making makes perfect sense. In fact, it's about the only way to honor a decade spent hosting sequin-clad musicians from Saturn jamming with Tuvan throat singers, monthly packed-to-the-gills gatherings of sweat-drenched B-boys and law-abiding graffiti writers, free-jazz freakouts and flea markets, puppets and punks. Happy birthday to a venue that not only embodies a certain funky, communal neighborhood vibe, but has done much to define it.
Rotunda Tenth Birthday Celebration, Fri.-Sun., Sep. 25-27, $3-$10, The Rotunda, 4014 Walnut St., 215-573-3234, therotunda.org.
If you didn't go to Saturday's Mad Decent Block Party, you missed out on one of the most jubilant, sweaty, diverse days of the summer. City Paper's wonder staffer/photographer/videographer/associate Web editor Neal Santos attended and recorded some video. (P.S. I may or may not be in this, looking a hot mess.)
Yesterday, Live Nation had one Phish show listed for a couple of�hours. Then it was gone. "Hmmmm," wondered many a Phish head before they�asked their friends if the bowl was still going or if they needed the�lighter.
Today from Phish.com comes dates for 10 shows in June.
They will be in�Camden June 7, a Sunday, which is great for the lot scene (yeah) but�bad for work the next day (boo).
Here are the dates:
06/04 - Nikon at Jones Beach Theater - Wantagh, NY
06/05 - Nikon at Jones Beach Theater - Wantagh, NY
06/06 - Comcast Center - Mansfield, MA
06/07 - Susquehanna Bank Center - Camden, NJ
06/09 - Asheville Civic Center - Asheville, NC
06/16 - Fox Theatre - St. Louis, MO
06/18 - Post Gazette Pavilion - Burgettstown, PA
06/19 - Verizon Wireless Music Center - Noblesville, IN
06/20 - Alpine Valley - East Troy, WI
06/21 - Alpine Valley - East Troy, WI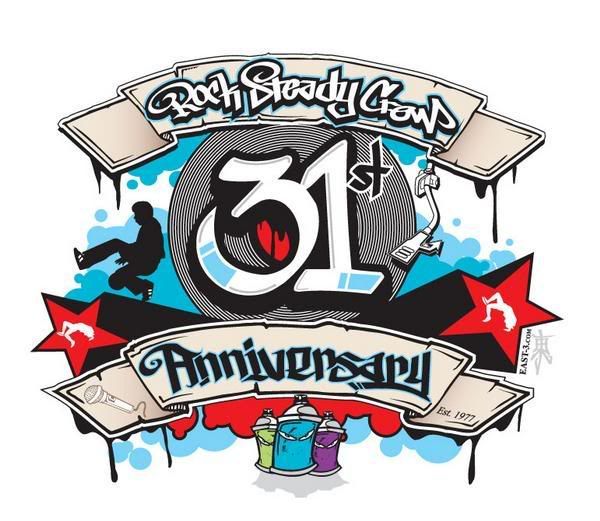 Once again it's on and poppin' (for reals)! The 31st annual Rock Steady Anniversary weekend comes correct with another four-day event filled with music, art, history and culture translated through the limbs of the BBoys and BGirls that flock to the East Coast every July. Organized by the famous hip-hop crew, Rock Steady (of which Philly's DJ Skeme Richards and BBoy YNot are members), the plethora of activities include a celebrity basketball challenge, dance battles and workshops, and of course, some fly ass parties. It all starts tonight. Another connection – in 2004, MC Reef the Lost Cauze won the End Of The Weak (EOW) Challenge at the RSC Anniversary.
As always, the crew will also honor the legacy of those RS members who have passed. This year they pay homage to classic BBoy Frosty Freeze. Seeing that Philly has a definite dope bboy scene (let's not forget homeboys Phresh Select who repped the 215 on MTV) and the fact that Newark (the spot for the all day FREE concert, jam, food drive) isn't that far away, I thought it appropriate to have a little chat with RSC president and original member, Crazy Legs about the 2008 festivities.
In the beginning:
The first one we did was Straight from the Heart. We put that together as a music seminar in 1991 and to honor members of RSC that had passed away. That on top of doing something that was a throwback to things in the park being free. There were the main reasons. Every now and then someone passes away and it makes it more important to honor them - brings awareness to those that may not have heard of them. This year's free concert is a food drive and we are donating it in the name of Frosty Freeze.
On the controversial move of the free concert to Newark:
It has been a rollercoaster road. When it was in NY, it was easier to pullout. At Lincoln Park in Newark the accessibility isn't the same. But if NJ is willing to show love and not put a block on us and give us a venue, we are happy to go out there and do what we do and do it to the best of our ability.
Still putting the CRAZY in Crazy Legs:
A couple of years ago you found me on the floor battling at these events. Although I throw the event, I can become part of it and have fun.
Crazy Legs
Virginia Gazette
Old School vs. New School BBoys:
It takes a lot to impress me. Just acrobatics doesn't do it. Just the fact that these brothers and sisters still come to our event is wonderful. We've been in the game for 31 years. it is impressive that we can achieve that. Relevance is that young brothers and sisters are going to add their element to the game. I won't say, 'back in my day'…I want them to feel accepted by us as well. We can guide them through our history.
Gettin' down with RSC:
Rock Steady family in the 80's, we had like 500 members. We were a big street crew, it was a different approach. Now, we want to go over quality over quantity. There has to be a vibe (between existing members and new members) over everything else. If you aren't vibin' with everyone else, I don't care how dope you are. If you do get into Rock Steady – you have to go through a Right of Passage, which is usually a random battle. The person has to be on their toes. Whatever element you are a part of, you support that and everything that makes hip-hop. RSC is a hip-hop crew, not just BBoy Crew.
RIP Frosty Freeze:
FF and I met in 1980 and I battled him randomly. FF played a big role in bringing other members from Upper West Side to RSC. He was a part of all those things we did like Wildstyle and Style Wars. He was a part of prominent battles. Not to mention he was the protector of the crew as well. It was that type of relationship.
What people can expect this weekend:
A meet and greet weekend. People come from all over the world. They come there to vibe with people, make connections. It is some what of a conference and a great way to bridge the gap between cultures. It is a great summer vacation. They get to see pioneers and different artists. Some people try to make things so elaborate that it ends up failing. We do what we do – present a good hip-hop week for people. This is not meant to be a commercial event that is so extravagant. It's in New York it is always dope!
Rundown of Rock Steady Crew 31st Anniversary Schedule
Eff it - I don't care if he's one of my friends, Imma say it...Reef the Lost Cauze is one of the best MC's to come out of the city in the last 10 years. Hell, as I sit and write this, I'm not really sure I can think of 5 MC's that I've been exposed to that can be put in that category. Read the last part of that sentence again before getting hype...I said "that I've been exposed to."
This week, 215hiphop.com's (who just won best website at the 2008 Philadelphia Hip-Hop Awards) MP3 feature of the week helps solidify my opinion. Produced by Haj (of Dumhi), Reef rhymes it out on "Squeeze". The track is off of his upcoming project, Long Live the Cauze, Volume II: I Am Legend mixtape, which will be released this Friday at the Money Folders Party.
I don't like doing album and single reviews - - especially of people I know, but this is a REVIEW blog, so I'll keep it simple...this song is dope, dope, dope. The lyrics, the vibe, the beat, everything. From the beginning to end, "Squeeze" is fully blasted and perfectly crafted...yes yes! Go listen for yourself, and no matter what you think - I know I'm right (slight sarcasm, mainly truth)! 215hiphop.com tends to change the MP3 often, so don't miss the boat.
"This is therapeutic/this is cherished music/yet animalistic" - Reef the Lost Cauze, "Squeeze"
Respect!
Hey, lookie: Local photog Emily Wren snapped a buncha great pics of Patti Smith, following the Philly Film Festival's screening of Steven Sebring's doc Patti Smith: Dream of Life this past Tuesday.
"She sang 'People Have the Power' and encouraged everyone to get out and vote next Tuesday in this important primary," says Wren.
Check 'em all out, plus more shots of the PFF's debaucherous-looking closing night party, here!
I truly never meant to care about fashion. To be perfectly honest, I find it to be an industry for the rich, snooty and really hungry (I'll take a bagel over a Birkin any day, thanks.) But when you've got someone as charismatic and original as Jay McCarroll in Philadelphia, it's hard not to imagine yourself strutting around in something fabulous. McCarroll, the winner of the first season of Project Runway, is so far from pretentious, it's easy to talk to him about anything fashion or Philly. The after-party for the Philadelphia Film Festival debut of Eleven Minutes, Michael Selditch's documentary chronicling his first fashion show in 2007 since his win on the series (see Monica Weymouth's review of the film here), featured a fashion show from McCarroll, as well as an inspired performance by the always-entertaining Martha Graham Cracker Cabaret.

In Eleven Minutes, McCarroll makes it clear that while he's grateful for what Runway gave him, he's ready to move on from the reality television juggernaut and earn his place in the industry. If anything, the film captures exactly that: Runway gives the winners a helping hand, but it's up to the designer to really make it, well, work (that means you, "Fierce" Christian!) Whether you're a fashion maven or not, Eleven Minutes gives a whole new perspective on how much work goes into that hoodie you're wearing. McCarroll, who seriously may be the hardest-working man in the business, donned a label reading "I'm Tired" (label makers play a fairly prominent role in the movie), but his designs looked anything but. His line, which was inspired by hot air balloons, was shown under the great big stars of the Fels Planetarium. The pieces are even more striking in person than they are on film.

From the classic polka dot dress to puffy skirts to a less-than-conventional rain coat, it's hard work that comes out looking effortlessly cool. "I want [the clothes] to be something for people to think about," said McCarroll after the fashion show. He'll be selling his line at jaymccarroll.com, as well as on QVC this summer, and said he plans to stay in Philly. "A lot of people are so negative about [Philadelphia] because it's not New York. I wish people would stop doing that and make Philly what it could be. I think it's time for us to define this town as a fashion capital," said McCarroll. Quite frankly, I couldn't be happier that he's here.
More photos after the jump.
That's yours truly about 30 seconds in next to Black Thought in a classic b-boy pose. (courtesy ArtOfRhyme
Stupor-Fly On The Wall: This Is Not A Rising Down Review

"...built like a tank/smokin' on dank/walkin' through the Guggenhiem raw like black ink..." -Dice Raw from "Get Busy"

No menacing bouncer-dude or siddity fly-jawn with a clipboard asking 'What the hell are you doing at Larry Gold's Studio for The Roots' Rising Down listening party?' Somehow a slovenly-chic insider like myself was able to breeze right through the lobby adorned with gold plaques, quiet as kept. I fully expected the third degree as we made our way into the inner sanctum of this already-renowned recording space.
That rarefied air is a strange thing. You could walk freely among some of Philly's hip-hop giants (actually, any number of musicians from across the country might have been up in there) but the ubiquitous celluloid-posturing from digital-maggers and jaded scribes was clogging the air with ill-tempered vibes. Not to mention, some looming rapcat with a rucksack (quite possibly housing his teenage brother) kept eye-jammying me every time I took a swig off my scammed Red Stripe (I thought dudes stopped wearing backpacks as party accessories back in '96).
DJ Excel was playing good shit but no one was there to do the wop-baseball-bat to Hiero and Native Tongues tunes, people were fiending for The Roots' latest labor of lovescorn. I spied a couple of Rising Down's leaked cuts cued on Excel's Scratch Serato interface: "75 Bars" and the toxically sharp "Get Busy," a menacing triple-team relay from Black Thought, Dice Raw & Peedi Crakk.
Foreshadowing was now complete and the blunt smoke thickened as the three-headed Philly monster's verses jumped out over ?love's's inspired percussive forays and Jazzy Jeff's minimalist cuts. Philly was in the house now, from the 40-something Kensington crew rocking vintage Tug McGraws to the shapely butter-pecan Phemme Phatales to the white-froed corny/cool types swilling free beer in the corner.
We squeeze into the cozy anteroom as the intro to Rising Down segues forward. The tracks are played in sequence but seemingly at breakneck speed; hard to get a handle on but dark digable-ness was the impression. I get close enough to the fishbowl window of the master studio chambers where the artists and cognoscenti are passing blunts and chanting lyrics. Thought seems to have a new cigar paper in-hand at every odd minute. No one in the control room seems to acknowledge our existence, which is fine; I consider myself lucky just to be there in the heady air.
The mood of the album is gray, brooding and chaotic — much like the city and times we live in; hipsterish rock hooks aplenty (see Game Theory) but raw sounds smacking more of the definitive chaotic-bap they have favored of late rather than the Bad Brains-esque explorations of Phrenology. Unlike many of the lot, I'm not there for quotes or to network, I'm there to soak it all in and blog it on out. I suspect many SigmaPhidelphians this spring and summer shall soon be feeling the same instant viral high that Rising Down induces.
It was cold and rainy, but if you were one of the bazillion people squished in Fluid last Friday to see (or should I say hear) DJ 9th Wonder - you were thankful for that cold air when you left the club. It was hot, but definitely for good reason. In addition to people coming out for 9th, the night dubbed as a birthday party for MC Reef the Lost Cauze , DJ Ultraviolet, and DJ Bo Bliz, who warmed up the crowd with a mix of hip-hop and local grooves. To be fair, Fluid is not that big, so it isn't hard to pack, but this night every crevice and wall space was occupied by beautiful people or just people who thought they were beautiful. I know that I say this is most of my DJ reviews, but 9th REALLY, REALLY HELD IT DOWN. The common factor on the dope DJ coming to town is DJ Ultraviolet. She brings the best to Philly, which should definitely be respected. Okay, back to the party. Some pseudo-celebrities were in the building like Monie Love (who played hostess for a minute) and CBS 3/CW broadcaster, Natasha Brown. In the 90 minutes I was there, 9th presented a blueprint timeline of rap and r&b from the late 80's to the present, even pausing on the New Jack City era. There is no way I can remember all I heard, but some artists were Wu-Tang, Soul 4 Real, Black Moon, Gap Band, New Edition, Redman, Nas, Das Efx, Luther Vandross, Jeru the Damaja, A Tribe Called Quest, Michael Jackson, and Stevie Wonder. Considering that was the age group of the majority of heads in there, 9th got a seal of approval in the form of a packed dance floor 100% of the time. Every few songs, he'd connect with the crowd and smile knowing that he was killin' it on the party vibe. There is just something that makes you feel so good and nostalgic about songs you grew up to and 9th definitely provided some throwback moments that made us all reminisce, reminisce. Sometimes, well most of the time...that is all you need. 9th Wonder MySpace