Archive: November, 2012
Assuming I don't run out, I'll be posting some of the best songs/videos of the year every night at midnight. Or my favorites, anyway. Some of these might be great songs with awful videos. Or vice versa. Some could just be hipster bullshit. Hopefully you'll discover something you like. Today we've got one of Philly's finest.
As Philly becomes more and more of a comedy-farm market for big-industry cities, we continue to say goodbye to beloved acts. One of them, Aaron Hertzog, Helium emcee and host of Philly Improv Theater's "Hey Everybody" showcase (final show tonight at 10 p.m.), emigrates to L.A. this week — but not before a little farewell one-on-one with us.
City Paper: So what's the plan?
Aaron Herzog: This Wednesday, I leave for L.A. [Temple grad] Luke Giordano has offered to let me stay in his apartment for the first month. Then in January, [Philly comedians] Brendan Kennedy and Shannon Brown are moving out and we're all gonna get a happy home together.
CP: What's the career strategy?
AH: I started out with standup, and then gradually got into sketch and improv. So the plan is to hit standup the hardest, because that's what I'm most ready to showcase. I'll do open-mics and try to cash in on any connections I have out there. I think [former Philly comic] Blake Wexler still runs a show out there. I recently opened for Kyle Kinane at Helium, and he told me I could contact him when I get out there, and he will recommend me for some shows.
CP: In terms of paying bills, do you have money saved, or a job lined up?
AH: No, I'm in no position to do this financially. I'm taking a huge leap. I have a few day-job connections that I can possibly cash in on. I have a little money saved up but not a lot at all.
CP: Who's going to be the new editor of your very successful Philly comedy blog, witout.net?
AH: Alison Zeidman. Last spring, I put a message on Facebook that I was going to look for some contributors, and she started writing some articles and show reviews, and everything she did was fantastic. I knew I was moving about four months ago, and I told her that she was my No. 1 choice to take over the site. And she was not smart enough not to accept it. (It's a completely thankless job!) But we've been tag-teaming it together for a little bit now. I had started slacking off a little because I was sort of checked out, but she lit a fire under me to get more new writers, so we've had a lot more content over the last few months.
CP: This is one of the bigger waves of talent leaving Philly. Are we ever gonna attract comedians?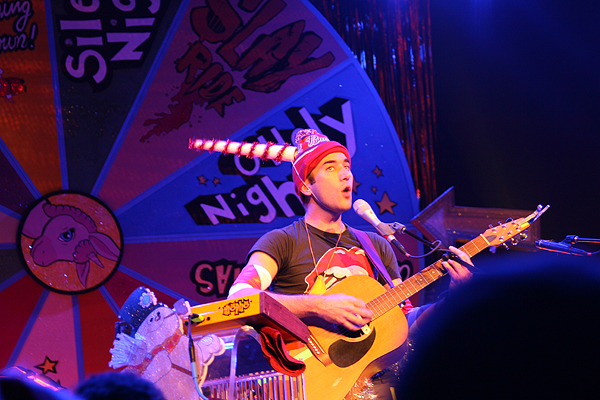 Friday night was the inaugural performance of the "Surfjohn Stevens Christmas Sing-A-Long: Seasonal Affective Disorder Yuletide Disaster Pageant on Ice" — the tour supporting Sufjan Stevens' new five-volume Christmas album Silver & Gold — and the show lived up to every part of its laboriously long name. Minus the ice, that is, as even Sufjan's preternatural powers of whimsy couldn't freeze the stage at Union Transfer.
Assuming I don't run out, I'll be posting some of the best songs/videos of the year every night at midnight. Or my favorites, anyway. Some might be great songs with awful videos. Or vice versa. Some could just be hipster bullshit. Hopefully you'll discover something you like. Let's start off with something pretty.
Tashan publicist and all around gadabout George Polgar told me Tuesday morning that Bob Dylan ordered take out before his Monday night show at the Wells Fargo Center. Not just any old meal but a nosh (a largish nosh at that) from Tashan delivered to his dressing room. Weirdly enough, he used his real name (Robert Zimmerman) after paging through the modern Indian menu from which he got four orders each of gol gapa, goc naan, tandoor shrimp, lamb chops, Afghani chicken kabab and the Mangalorean sausage. That's a big order. I hope he gave some to Charlie Sexton, his guitarist. So skinny that boy.
Greater Philadelphia Film Office doyenne Sharon Pinkenson says the second round of Paranoia shooting is "scheduled for second week December." That's a wrap.
After George Perrier's collaborative dinner with Al Paris at Heirloom the master French chef must have wanted to lighten his load — which is why he unburdened himself of cookware and the like in his still-for-sale Chestnut Hill home according to Craigslist, Curbed and Dan Gross.
If you like happy hours but hate to drink, shame on you. OK, no shame. Sazz and Briar Vintage, the next-door-neighboring girl and boy antique clothier at 60 and 62 N. Third are having big storewide sales with 40-30 percent off of scores of stylish goods on Black Friday, Nov. 23. I buy all my monocles there.
I've always been particularly fond of urban exploration (or even better, rural exploration), but having a young child makes it hard to justify the risk anymore, both from trespassing and health and safety viewpoints. Last weekend, Matthew Christopher of Abandoned America and the folks at Hidden City Philadelphia secured access to two of the abandoned buildings in the Philadelphia Navy Yard for a handful of photographers. I'd categorize it as organized (and legal) exploration. I did miss that little tingle of excitement that comes from being somewhere you're not supposed to be, but that overwhelming curiosity and sense of preservation that comes with this style of photography quickly settled in.
The Navy Yard is an interesting study. As the country's first naval shipyard, its origins can be traced back all the way to 1776. It became an official part of the U.S. Navy in 1801, and moved to its current location at the south end of Broad Street in the late 1800s. The Navy officially closed the yard in 1995, and it has since seen significant transformation (its campus arrangement now serves as the home of companies like Urban Outfitters and Tasty Baking Co.), though quite a bit of its industrial infrastructure remains. One could hazard a guess that given the rapid development there, these old buildings won't remain much longer, at least in their current state. I'm particularly fascinated by the closing year of 1995, the year in which I was a junior in high school. Given the condition of the buildings, it's amazing how fast things can fall apart. Guess that goes for people, too.
More places you can find Dominic Mercier:
Every few weeks, Critical Mass will feature one Philly love note in its collaboration with blogger Emma Fried-Cassorla of phillylovenotes.com.
LOVE NOTE RECIPIENT: Brew (1900 S. 15th St.)
I AM: Sarah Baicker: talker/writer/editor of Flyers content on Comcast SportsNet and csnphilly.com. Master cupcake baker. Creator of little green dinosaurs.
MY LOVE NOTE:
There are many generalizations to be made about those who work in news. My favorite — and the one
that is most often entirely accurate — is that professional journalists require an ungodly amount of caffeine to function, and drink even more alcohol than that.

As a reporter, a coffee addict and a beer snob, it is only fitting that I love Brew, the hybrid coffee shop/beer boutique on the corner of 15th and Mifflin streets in South Philadelphia. Brew is where I grab a much-needed pick-me-up iced coffee before a Flyers game. It's where I transcribe interviews and write stories for csnphilly.com. And, most enjoyably, it is where I shrug off a long week of work on summer Fridays, people-watching with a beer (or two) in hand. There's something to be said for all that. How many places are both conducive to work and suitable for play?

I don't recall how I discovered Brew, but growing to love it has changed my perception of the city and its neighborhoods. Brew opened up the entire Newbold area to me (which then extended across Broad Street to East Passyunk) and eventually led me even farther east to Pennsport. But any bike ride in the direction of the stadiums always involves a stop — or ends up — at 15th and Mifflin. And for good reason: You can drink good coffee. Or craft beer. Or good coffee and craft beer. And you can do it alone or with friends, whatever your mind and soul needs.
Have a favorite spot you'd like to write a love note to? Send it to the author at phillylovenotes@gmail.com or tweet her @phillylovenotes.

Franklin Bruno, one of my favorite songwriters going on two decades, stopped by Kung Fu Necktie to play for a small but appreciative crowd on Sunday night. He and drummer Matt Hauser, bandmates in The Human Hearts, did a tight set from their latest LP, Another (Shrimper), as well as a bunch of songs from Bruno's back catalogue both as a solo artist and with Nothing Painted Blue. "We're an understand-the-words kind of band," Bruno told the sound guy beforehand, but once the set started I was reminded how much fun it is to watch him play guitar. And with Hauser — who used to play with Palomar — pounding away on the drums, the show was surprisingly loud and rocking.
Whether you were one of the guys standing by the bar yelling at the crowd in front of the stage to move up or you were one of the people that foolishly missed Nothing or Heavy Medical, you know one thing: Kung Fu Necktie shows can be detrimental to your hearing.
It might have been Toronto's Metz that made have left your ears ringing all weekend after being pummeled by their post-hardcore grunge Friday. The intensity of their live show is reminiscent of the time you accidentally disturbed that wasp nest and got chased around the backyard by the bees. Most of Metz's set came from their self-titled release on Sub Pop Records. Judging by a few guys moving spastically in place, "Waste" and "Wet Blanket," almost had the ability to start a pit in KFN's small space in front of the stage. Next time they come around may well be in a much bigger venue where you'll have no choice but to dodge flying elbows as like wasps leaving the hive.
"We are Nothing and we're from here," said Domenic Palermo, guitarist and lead singer of Nothing, as if he was a bit shy about being on stage. However, as he and the rest of the band hammered their opening "The Dives (Lazarus in Ashes)," from the forthcoming, Downward Years to Come, which will see the light of day on Black Friday, they weren't afraid of anything. The fuzz Nothing enveloped the crowd in created an ominous feeling rather than focusing on intricate structures and riffs. Walls of hypnotic white noise were built around the crowd that eventually got tore down when the tension grew almost unbearable. The air in the room got replaced with crushing volume that didn't let up through their entire set and it all felt like a long goodbye, right before the end.
Regrettably, I was one of the people that missed Philly's own double-drummer noise rock, Heavy Medical.