Archive: March, 2012
Movie critic (and the guy who compiles our weekly repertory film listings) Michael Gold reviews his favorite Netflix Instant flick of the week.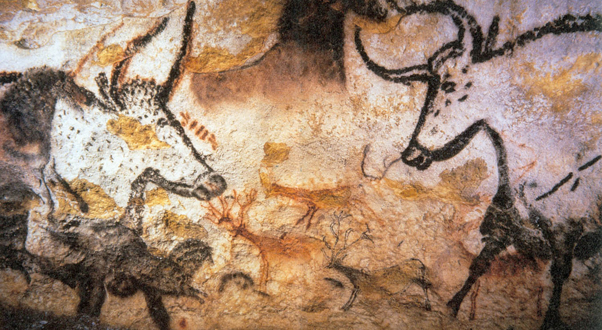 If the pages of TV Guide and Entertainment Weekly are any indication, reality has fallen out of favor. Mirror, Mirror and Wrath of the Titans are high-tailing it into theaters this weekend, complementing a supernatural-studded small screen lineup featuring Once Upon a Time, Grimm, Awake and, yes, Supernatural. As troubling as the still-in-the-tubes economy and tense political climate are, Hollywood has to realize the inherent value in confronting issues head on. Retreating behind a copy of Grimms' Fairy Tales never helped anyone, and neither has a marathon of supposedly unscripted dramas masquerading as insights into the real world.
For now, though, it may be better to retreat to reality in steps rather than plunging in at once, and Cave of Forgotten Dreams is as good a place as any to start. Bizarre pretensions aside, German director Werner Herzog consistently excels at gleaning mystical stories from the world's fringes. In his visually resplendent Cave, Herzog turns his lens on France's Chauvet Cave, which contains the earliest known cave paintings. Originally released in 3D, Cave's sublime shots border on surreal as they capture prehistoric drawings on the cave walls. All the while, in typical dry fashion, Herzog ruminates on the origin of art and the creative process. The end product is decidedly more reverie than reality, but that's what makes the documentary a perfect antidote for fantasy fatigue.
Read City Paper critic Sam Adams' review here.
(michael.gold@citypaper.net) (@migold)
Chris Brown digs into our listings bin and pulls out a little something something to do every day of the week. This week: The Philly Youth Poetry Movement brings art to City Hall, artist Tesugo Hyakutake shakes up PPAC with an exhibit about the recent earthquake in Japan and ... The Avengers!

Tonight marks the beginning of "City Hall Presents," a brand spanking new endeavor that brings performance art to City Hall. The Philadelphia Youth Poetry Movement get the green light for the big debut.
Wed., March 28, 5:30 p.m., Law Library, City Hall, Room 600, creativephl.org.
After fleeing his sleepy boyhood home in the Poconos in 2009, Cesar Fernandez moved to Philly in search of a more-queer-friendly niche. Little did he know this would be the birth of Celia Supernova!. I caught up with Ms. Celia at Tabu Lounge, where she'll be performing in Sinful Sundays on April 1.
City Paper: Tell me how you started doing drag.
CF: When I was 10, my sister had a Repunzel wig she bought for Halloween. I was always wearing it, and I literally have videos of me [wearing it while] lip-syncing to Britney Spears. I didn't realize the significance of what I was doing at the time, but I guess that could be considered my first attempt at drag. Then, in my first year in Philly, my roomate's boss was hosting a cupcake-eating contest and everyone was encouraged to come in costume. She dared me to come in drag, so I went to some store in the Gallery and tried on nine different dresses. It actually felt really natural to shop for women's clothes.
CP: How did you move from cupcake drag to your first live show?
CF: One of my roomates moved ... next door to the queen [Goddess Isis] who runs the Sinful Sundays show at Tabu. On the Fourth of July, I went to a barbecue at their house and I got to talk to the queen himself, who was super-sweet. He invited us to the show, and we loved it. I couldn't stop thinking how I wanted to be up there. When I told Isis, he was such a sweetheart about the whole thing. Any insecurities I had melted away. It was so nice to have someone in the drag community say, "You have my support". It felt like it didn't matter how much I sucked, I had someone who believed in me.
Each week, Michael Gold breezes past those big-name theater companies to turn a spotlight on Philly's indie stages.
For the second production of its Judaism-focused season, EgoPo Classic Theater digs into Jewish folklore with the world première of The Golem. Developed by its eight-person ensemble, EgoPo's show weaves together tales of its title creature, an animated humanoid made of clay that has long been held as a protector of the Jewish people. The theme of guardianship takes on new relevance for the play's characters, who are passengers on a train car leaving Prague in 1940 for an unknown destination. Using Czech-style puppets, live music and shadowy projections, EgoPo blends disparate storytelling mediums to give complex layers to a simple legend.
March 28-April 15, $20-50, Prince Music Theatre, 1412 Chestnut St., 267-273-1414, egopo.org.
The 1920s-themed Mütter Ball is a must for everyone who has ever thanked their lucky stars for electroshock therapy. Differing from previous years' Victorian and 1970s themes, the fourth annual Ball celebrates medical advances made in the 1920s, such as the birth of radiology and the evolution of the X-ray. The festivities, besides a bar stocked with era-appropriate drinks, include a guided tour around the medical marvels of the Mütter. Following dinner and a password-protected speakeasy is the Cat's Meow Dance Party, featuring a performance by Jill Tracy, an offbeat musician who shares the Museum's fascination with the abnormal. The only tickets still available are for the Dance Party, so haste is recommended.
Sat., March 31, 8:30 p.m., $85-$150, Mütter Museum, 19 S. 22nd St., 215-399-2336, mutterball.com.
(abigail@citypaper.net)
Photo by Michael Garlington
I wouldn't dare cheapen my Saturday night with Liza Minnelli and Fiona Apple at the Borgata — separate shows, separate venues within one casino — by calling it an evening of "divas". The word is rife with so many negative connotations that it doesn't do the performers justice. So I'll preface by saying two iconic singers — who happened to be women — rocked the Borgata to its core on Saturday night.
Minnelli sold out the Borgata's Event Center. The daughter of the legendary Judy Garland and director
Vincente Minnelli has long been both a product of her pedigree and an icon hell bound for individualism. It's her dramatic, halting and shushing way with a song (to say nothing of a physicality currently blunted by a bum ankle broken not so long ago), the way she isolates each syllable that makes Liza with a "Z" iconic.
With a small big band of familiars behind her, Minnelli, 66, ran through her usual theatrical classics: the flashily quick paced likes of "Alexander's Rag Time Band" and signature numbers such as "Cabaret" and "Say Liza" with gusto. Occasionally, Minnelli sounded rushed and out of breath on these faster tunes. "I think I swallowed a sequin," she said during one rush preceding the grandly stammering "But the World Goes Round." Those moments were good and necessary hits but luckily, Minnelli stuck to a klatch of slower, more simmering ballads that allowed her to use jazzier elements of her vocal inflection that some of her chosen Broadway standards wouldn't. With longtime accompanist, pianist Billy Stritch, Minnelli played with "I Can't Give You Anything but Love" and turned the medley of "Here I'll Stay/Our Love Is Here to Stay" into romantic banter of the highest order. French composer Charles Aznavour's daring "What Makes a Man a Man" ("After strip-teasing each night the men look so surprised / I change my sex before their eyes") became a chattily icy tango complete with a seductive soprano sax whistling behind her. She waltzed ever-so-slowly through a heartbreakingly breathless (in a good way) "Ev'ry Time We Say Goodbye" and an acapella "I'll Be Seeing You" as her fanciful charmed finale. But her finest moment (other than that Aznavour song) came when she sang "Confessions," the title track from the most intimately recorded album of 2010. Slow, bawdy and bluesy, Minnelli crawled playfully through the wiry witty track, from The Band Wagon musical, as only the best sort of interpretative singer could. Lines like "I never had a taste for wine, now isn't that a sin? / I never had a taste for wine, for wine can't compare with gin" and "I always go to bed at 10 — and then go home at 4" sounded both contemporary and continental in a fashion that would make Noel Coward smile.
Every Monday, James Friel rounds up the week's sure-bet live shows. This week: Nneka, Mason Jennings, First Aid Kit and more.
Monday: Young indie rock band leader Trevor Powers is still driving from the success of Youth Lagoon's (pictured) debut album, The Year of Hibernation. The home-recorded work is a collection of exercises in arrangements that build from hushed melodies to powerhouse anthems. 8 p.m., $13-$15, Union Transfer, 1026 Spring Garden St. 215-232-2100.
Every Friday, Ryan Carey covers the people and events that are giving Philly the giggles.
Troika is an annual Philly improv competition which assembles three-man teams specifically for the
tournament. Teams are required to come up with a show concept and are given about a month to develop it. Some teams go on to be successful within the the Philly scene, such as Pasiónes de Pasiónes. This 2010 Troika winning team (consisting of Andy Moskowitz, Mike Marbach and Ralph Andracchio) performs an improvised Telamundo-style serial drama. Pasiónes de Pasiónes has gone on to be a Fringe Festival and Philly Improv Festival hit. A new winner will be crowned this weekend, with Troika having its final round of the season tonight, followed by the Grand Championship tomorrow at the Arts Parlor.
Teams to check out tonight include Chaperone (Frank Farrell, Meredith Weir and Steve Kleinedler), Pickle (Jen Curcio, Mike Marbach and Scott Hinners), and Virginia Clemm Sideburns (Cara Schmidt, Claire Halberstadt and Dennis Trafny). Says organizer Matt Nelson: "I don't know what the round-three teams are doing tonight. But from some of their production requests, I think that have some crazy stuff in store for the audience — it's going to be a really interesting night."
Art-geek extraordinaire Courtney Sexton presents a weekly selection of Philly's must-see gallery exhibits. This week: Tyler MFAs, nostalgic photography and Vox.

Nadine Rovner and Yuichi Hibi at Gallery 339
I wish I could afford to buy one of the Nadine Rovner or Yuichi Hibi's prints currently on display at Gallery 339 (if any devoted readers are looking to surprise me with a token of gratitude for my weekly guidance…). I can't decide which is more drool-worthy: Rovner's series of archival pigment prints, Somewhere Not Here, or Hibi's gelatin silver prints, 127.
Armed with a Sawyer Mark IV (a Twin Lens Reflex camera that uses 127 film), Hibi hit the streets of NYC to capture a stunning series of black-and-white portraits. While the subjects seem randomly selected, the specifics of the camera, film, and Hibi's composition create the effect of a formal portrait. This element of formality creates a nice contrast with the poses and expressions of the subjects. If you didn't know better, you might think these were images from the turn of the last century. Beautiful.
Rovner, a young photographer who has gained much recognition as an emerging name in her field, uses a very traditional mode for the images in "Somewhere Not Here," a show of staged photography. The effect is powerful, nostalgic and jarring. The sets and subjects in Rovner's images are full of anticipation and tension; you feel like you know the whole story of the subjects' lives, but are waiting for the other shoe to drop on the moment that has been captured. Julie, Unknown Instructions, Part 1 and Someone Knows (pictured above) particularly evoke that sense of subtly urgent suspense.
Through May 5, free, Gallery 339, 339 S. 21st St., 215-731-1530, gallery339.com
Philly Roller Girls are looking for a 2012 season mascot and they'll tapping WIP sports radio team help decide the winner. How can you become a derby mascot? You have to want it. Really want it. Then you have to film a minute's worth of video on your desires and decoration, download it and ship it off to phillyrollergirls@gmail.com by noon on April 10 and include info like your name and DoB, your mascot name and the reasons why you'd make an ideal mascot.
We don't care why and we don't care what happened. We just know that we are powerful mournful that Delilah Winder's Reading Terminal Market soul food stand is officially closed due to bankruptcy. Sob.
Brian Nagele is pinpointing May 5 as the opening date of his newest purchase, the North Shore Beach Club/Havana Room pool and restaurant combo that once a long time ago was known as the Arrow Swim Club.
It's a Gina Lynn type-of-month. The one-time hardcore porn star is gracing the cover of the April issue of Penthouse. She appears in the recently-premiered Philly-filmed Mancation and last weekend stopped by the Penthouse Club for some pole dancing exploits. Next up, she'll be bottling her own vanity liquors under the Curvy Rabbit banner. Good on her. Hey, speaking of the Penthouse Club, there is a music recording/band rehearsal sound studio nearby where a wild speakeasy weekday party occurs after midnight featuring tattooed gals from the club and glam-rockers like Steve Haley. Find flaxen blond haired Haley and ask him about the down-n-dirty details.