Archive: March, 2012
Two events last Saturday night did their best to fund Philadelphia gay-related charities. In both cases, each did their damndest to out-glam and drag things up.
The AIDS Fund 13th annual Black-Tie GayBINGO event at the Crystal Tea Room featured GayBINGO hostess Miss Carlota Ttendent (Michael Byrne from Action AIDS) and her klatch of Bingo Verifying Divas (BVDs) in fabulous glittering gowns. Honorees for the evening included radio maven/community affairs director Loraine Ballard Morrill (Favorite Straight Person of the Year), William Way Community Center's Chris Bartlett (The Founders' Award Recipient) and Garry Stover and Steve Terrill (Volunteer Awards Recipients) for their tireless efforts regarding HIV reacted causes. "I'm happy to tell you that the funds raised were up 25 percent from last year, totaling $40,000" says event rep Cari Feiler Bender.
After that, I headed to Voyeur to the party benefiting Equality PA that starred songstress Erika Schiff, performance artiste Power Infiniti, hostess Sherry Vine, house-music crooner Kevin Avaince and Gunner, the Gunnerworld porn presence whose birthday was the main thrust of the evening. Dancing boys, high hair and trying to maneuver one's way off the swing was the order of the night. No tally yet as to how much was raised for their charity but you can donate here, and be certain that Schiff and Gunner will be doing something similar very soon.
(a_amorosi@citypaper.net) (@ADAmorosi)
Devoted poet/avid concert-goer/nerd-grrrl extraordinaire Jane Cassady's weekly horoscopes run in this space every Friday morning.
Aries (March 21-April 18): It's almost time for the Mad Men premiere! Celebrate with a Don-like tumbler of Scotch and a Sally-like tantrum. The stars are so at the edge of our seats for a Sally Draper spinoff that we named our cat after her.
Taurus (April 19-May 18): "There is nothing you have ever done that is / not innocent and will in any way be judged as / wrong by anyone of true wisdom, / but such knowledge you will not be able to / accept until your and an angel's ways are / more similar. It just works like that." (Hafiz)
Gemini (May 19-June 21): "I'm not searching for cherry lipstick/sparkle valentine baby animal cuddle beams. / Just maybe a sneak preview of / the matinee of your palm. / Maybe a note passed back across the classroom/ scrawled back with HECK YES." (Rob Sturma) (Pssst, you'll get the cuddle beams, too.)
Each week, Nina Willbach puts together a rundown of book-centric events. This week: anarchist authors, man killers, and flower power parties!
Thursday, March 22
Brave Testimony
Traveling to a new land and assimilating to its culture can be challenging. Diasporic communities, however, are often sources of surprising and beautiful cultural hybrids, sites for the creation of new traditions, foods and even languages. Every year, UPenn hosts Brave Testimony, a literary series focusing on writers of the African diaspora. Tonight's featured guest, Christian Campbell, can trace his cultural influences all over the globe: Of Bahamian and Trinidadian heritage, he studied at Oxford as a Rhodes scholar before getting a Ph.D. at Duke. As if this isn't impressive enough, he's been the recipient of several prestigious grants and fellowships, as well as winning the 2010 Aldeburgh First Collection Prize for his poetry collection Running the Dusk.
6 p.m., free, Kelly Writers House, 3805 Locust Walk, writing.upenn.edu/wh
You probably remember her best from the '90s, but since her days as a fashion-challenged teen on Blossom, Mayim Bialik has bloomed in every way possible. This weekend, the PhD-wielding author and mother of two will be the keynote speaker at the National Museum of American Jewish History's celebration of the bat mitzvah ceremony's 90th anniversary.
City Paper: OK, so I have to ask this first. Blossom must follow you everywhere. Can you ever escape it, and do you want to?

Mayim Bialik: It does, but no, not at all! I think it's normal for a lot of women my age to want to get away from things they did [early in their careers]. But Blossom was great. It was the first show of its kind to feature a girl the way that it did, so I think it is something to be proud of.
CP: You didn't really take any of the traditional paths that a lot of child stars do. What was the driving force behind pursing a higher education?
MB: I come from an immigrant background; three of my four grandparents came to America from their native countries, so I was raised with the ethic that you go to college. It's just what you do if you have the opportunity, and it was something I wanted to do no matter what I had done in my teen years.
CP: Why did you choose neuroscience?
MB: I actually fell in love with biology while being tutored on the set of Blossom, and that initial interest in the coursework just took off. For my graduate work, I focused on Obsessive Compulsive Disorder and the specific hormones related to human attachment.
Impressive permanent collections may have put our area museums on the map, but it's the rotating exhibits that keep visitors coming back. Every Thursday, Abigail Minor updates you on the newest and most browse-worthy. This week: bicentennials, earthquakes and mysterious cannonballs.
"The Nature of Discovery" at The Academy of Natural Sciences
The nation's oldest natural history museum is celebrating its bicentennial this year with The Academy at 200: The Nature of Discovery. Themed rooms figuratively set in a Bahamas coral reef, a tent for bird skinning in the middle of a Southeastern Asian jungle, a Mongolian yurt and a soggy Philadelphian marsh immerse visiting explorers in the Academy's past and current scientific strides in avian, paleontological and climate studies. Available for touching is a marine reptile fossil cast, meteorite and brain coral fragment. The opening of this exhibit is accompanied by a two day weekend extravaganza of an outdoor light show, a wandering Barbershop Quartet, and the science tune-singing Diggity Dudes.
Sat.-Sun., March 24-25, 10 a.m.-9 p.m., exhibit through March 2013, $10-$12, The Academy of Natural Sciences, 1900 Benjamin Franklin Parkway, 215-299-1000, ansp.org.
Al Harris on the week's top comedy shows. This week: Todd Glass, Ralphie May, High Dramma and more.

Philadelphia native (and this week's CP cover boy) Todd Glass started his comedy career at 16 and hasn't stopped since. He now lives in Los Angeles and has made frequent television appearances, including his own half-hour standup special on Comedy Central.
Thu., March 22, 8 p.m., and Fri.-Sat., March 23-24, 7:30 p.m. and 10 p.m., $12-$33, Helium Comedy Club, 2031 Sansom St., 215-496-9001,heliumcomedy.com.
An elevator pitch is when you've got about five minutes (the length of an elevator ride, get it?) to explain your great idea to someone else, maybe an investor or an employer. It's a useful skill for high-stress work environments. If you feel like you could use some practice, the Young Architect Forum is hosting Elevator Pitch tonight. Five young designers have five minutes to pitch an idea to the jury, who will share feedback and decide the best pitch.
The jury is a group of established local designers and project managers, including Fishtank PHL LLC founder Louis Chang, architect Julie E. Hoffman and Sean Flannigan, senior art director at Netplus.
The event is free and open to the public, although registration is required. Email yafphilly@gmail.com to sign up, or follow the event at the hashtag #EPitch.
Thu., March 22 6-9 p.m., free, Garden State Tile, 2401 Walnut St., thedesignatedsketcher.com.
For Catholics the world over, Annunciation Day marks the moment when an angel told the Virgin Mary she was immaculately preggers, boosting her popularity and household-name status for years to come. The holiday is celebrated in a variety of ways around the world, but the Swedes do it up in a way we can all enjoy: wolfing down waffles. Legend has it that the tradition came to be because the Swedish phrase "var fru dagen" ("day of our lady") sounds a lot like "Vaffeldagen," or "Waffle Day." Despite the tradition's religious insignificance, it's a lucky linguistic flub for waffle-lovers everywhere. Standing in solidarity with our sweet-toothed Swedes, the American Swedish Historical Museum offers locals a day of religious waffle-eating. One ticket gets you waffles, toppings and a Swedish cup o' joe.
March 25, 11 a.m.-3 p.m., $10, American Swedish Historical Museum, 1900 Pattison Ave., 215-389-1776, americanswedish.org.
Movie critic (and the guy who compiles our weekly repertory film listings) Michael Gold reviews his favorite Netflix Instant flick of the week.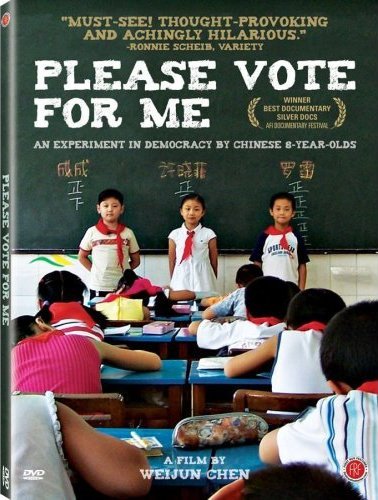 Even though it's been months since the G.O.P.'s finest hit the campaign trail, Decision 2012 remains anything but decided. As frustrating as the drawn-out political process has been — and remember, the actual election is months away — there's something undeniably enthralling about the whole show. The circus-like debates and insidious attacks have made democracy look more like an episode of Toddlers and Tiaras than a C-SPAN broadcast.
Good news: it turns out "government by the people" creates chaos at all levels. As the eight-year-olds at the heart of Weijun Chen's Please Vote for Me demonstrate, manipulation is inherent to democracy. In central China's most populous city, three third-graders are competing in the school's first election for class monitor. It's a small position relative to, say, the scale of Chinese government, but judging by these kids' ruthless campaign tactics, nobody told them. Prompted by goading from their parents (turns out China's one-child policy results in immense familial pressure), Xu Xiaofei, Cheng Cheng and Luo Lei stop at nothing to position themselves for success. It doesn't take long before the candidates' intense focus moves from adorable to astonishing. Well-worn strategies slowly emerge: incumbent Cheng Cheng shamelessly bribes classmates to get votes, while an aggressive Luo Lei launches an emotional attack on Xu Xiaofei that sends her to tears. The situation becomes predictably uglier as Election Day approaches, culminating in an emotional conclusion all the more chilling for its familiarity.
(michael.gold@citypaper.net) (@migold)
Every Wednesday, Chris Brown digs into our listings bin and pulls out a little something something to do every day of the week. This week, behold Casablancas return, skate or die on South Street and Mad Men's back, bitches!
For one night only, cinematic heavyweight Casablanca returns to theaters. Nothing beats the feeling of seeing a classic on the big screen, so go ahead and get your week off to a classy start.
Wed., March 21, 7 p.m., $12.50, Rave Cinemas, 230 S. 40th St., 215-386-9800, movietickets.com.