Archive: March, 2012
Impressive permanent collections may have put our area museums on the map, but it's the rotating exhibits that keep visitors coming back. Every Thursday, Abigail Minor updates you on the newest and most browse-worthy. This week: Avatar art, moth death and steel mazes.
Big congrats to Sharon Pinkenson for not only reaching 20 years at the forefront of Philly cinema-dom as head/creator of the Greater Philly Film Office but for allowing M. Night Shyamalan and his wife Bhava to host an anniversary celebration at their Chester County estate. Who wants to have to pick up all those glasses and napkins at the end of a party? Do No Harm star Phylicia Rashad (shooting between Rittenhouse Square and Philly's School District HQ), Army Wife Kim Delaney, Rebecca Creskoff from HBO's sadly cancelled Hung and Smiths, Jaden and Will, were on hand to fete the doyenne of Philadelphia film.
Turning Violet Violet, Philly's bugged out femme-folksy answer to The Roches (starring Sarahs Gulish and Pisano) head up WXPN's Key party at MilkBoy Philly March 15. They've been holed up in North Philly with producer Brian McTear and are ready to roar. Edgier locals The Fleeting Ends and rugged righteous rapper Chill Moody are also on the bill.
?uestlove tells the AP that he has moved his permanent digs to New York City (closer to his Fallon gig) rather than stay in Philly because he had no social life. I can buy that. Then again, every night he has off from the The Roots or Fallon, he crams a DJ gig into his schedule. Less spinning, more fucking Q.
The 12th annual 102.9 WMGK classic rock art show-n-sale hits the Montgomery Mall starting March 23. Lots of Stones and Springsteen memorabilia, which is fine, but, didn't this used to be at Liberty Place where people from Philly could see all the Jagger lip insignias and, in particular, the work of legendary photographer Baron Wollman whose new book, The Rolling Stones Years, is already a coffee table classic.
If you've yet to be sold on any of our St. Patrick's Day ideas, we've got another one for you: Elliott Brood at North Star Bar. In this week's Agenda section, K. Ross Hoffman writes:
"Elliott Brood (a band, not a person) hail from Toronto, but they sure know how to hit that elusive Americana sweet spot between roots-folk heart and rock 'n' roll muscle. By turns punkish and tender, Days Into Years (Paper Bag) — reportedly inspired by time spent visiting WWI cemeteries and battlefields in France — has its share of banjo and mandolin, but what really hits it home is Mark Sasso's mean, sinewy guitar work and richly gritty (and warmly harmonized) lead vocals."
We have a pair of tickets to give away to the first person who can use as many letters in the name "ELLIOTT BROOD" to spell something hilarious. Bonus points to the one who can tie in St. Patrick's Day. I see something that screams "green"!
Email your answer to josh.middleton@citypaper.net by Fri., March 16 a 4 p.m.
Sat., March 17, 9 p.m., $10, with The Pack A.D. and The Timid Roosevelts, North Star Bar, 2639 Poplar St., 215-787-0488, northstarbar.com.
Al Harris on his favorite comedy shows of the week.

Standup comic Kenny Zimlinghaus got his start as an intern on the Howard Stern Show and has gone on to host a number of morning shows from Charleston to Boston. He's now a co-host of the morning show Wake Up! With Taylor! on XM and Sirius Radio. Fellow New York comic Greg Johnson will join Zimlinghaus.
Thu. March 15, 8 p.m., $18, Tin Angel, 20 S. Second St., 215-928-0978, tinangel.com.
Today we kick off some random links from last month's edition of the annual International Folk Alliance, the last one in Memphis. Next year the conference is in Toronto while the office pulls up stakes and moves to Kansas City.
The Atomic Duo were part of a contingent wryly named Austin Doesn't Really Suck. We knew that. But good of them, in this time of SXSW (South by So What, according to locals) invasion, to point out the hometowners have got real, deep roots. Silas Lowe, the "Little Boy" in this Atomic Duo, is a lively defender of deeply rooted people. It was a joy to watch him taking the FA listeners to task when they were sniffing about proper English usage. Silas asserts people have a right to express themselves as they do in community. The matter of proper English being an affectation of privilege was discussed as well, IIRC. Lowe's partner, "Fat Man" Mark Rubin defends all manner of community expression, reaching beyond plain vanilla English to his days as bass player with conjunto legend Santiago Jimenez Jr. to playing in his own klezmer band (yes, in Austin), traveling the world playing tuba with Balkan brass bands and adding the same to Texas Czech and New Orleans faves, Panorama Brass Band. Rubin grew up in Norman OK, so it's no surprise he also has headed a western swing outfit. You may also recall him from the oldtime-with-attitude group, Bad Livers. The Atomic Duo is the perfect road band, compact for jamming into that well-used town car. Their songs tend to marvel over this country and what is happening/has happened to folks. Mark Rubin intro'd this one saying, well, there are plenty of good songs out there, never felt the need to write one, until it happened to me. Cue, "Keychain."
Each week, Nina Willbach puts together a rundown of book-centric events. This week: A Pynchon marathon, poetry on fire and DAN SAVAGE!
Thursday, March 15
Calling All Literary Cool Cats
Nazi psychiatrists prescribing LSD to California housewives and international conspiracies involving rival postal companies: Welcome to The Crying of Lot 49, Thomas Pynchon's 1966 novella of paranoid psychedelic fantasies that's become a staple of American postmodern literature. A cult classic, the book continues to inspire readers with its vast array of cultural tidbits from Beatlemania to the California Gold Rush. At one point in the story, protagonist Oedipa Maas asks "Shall I project a world?" Tonight, the Kelly Writers House answers the call with an interactive reading of the book, complete with live rock 'n' roll and snacks inspired by Pynchon's story. The book will be read from start to finish, with participants taking turns reading aloud. In order to fully enter the '60s swing, come dressed in your favorite mod boots and faux fur.
4 p.m., free, Kelly Writers House, 3805 Locust Walk, writing.upenn.edu/wh/.
Every Wednesday, Chris Brown digs into our listings bin and pulls out a little something something to do every day of the week. This week celebrate International Women's Day, become "Viisbly Invisible" and spend some time with the audio version of Andy Warhol.

WEDNESDAY: It's easy to say that International Women's Day should be a celebration, but truth be told it can't all be a gas. This lecture/performance night aims to facilitate the conversation about "justice in women's health" while also featuring artists working in a myriad of mediums to hammer home the point.
Wed., March 14, 6 p.m., International House, 3701 Chestnut St., 215-387-5125, ihousephilly.org.
Movie critic (and the guy who compiles our weekly repertory film listings) Michael Gold reviews his favorite Netflix Instant flick of the week.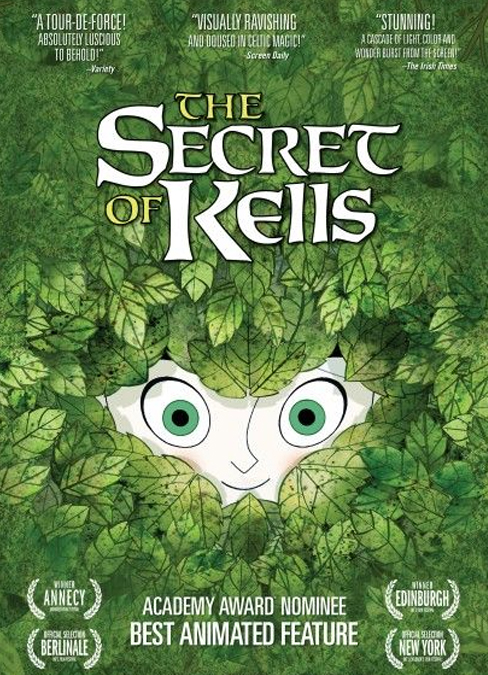 Between parades, pubs and the promise of spring, Saint Patrick's Day weekend typically erases the inertia of even the laziest couch potatoes. Given the dearth of shillelagh-themed fare (paging Garry Marshall) and the Irish film industry's struggle to register on world cinema's seismic scale, celebrating the holiday outdoors might be for the best. Still, after stumbling home from the local battle cruiser on Saturday, an Eire-born flick is bound to be the perfect spark to 24 hours of homegrown hangover restoratives.
Since Guinness and Jameson typically reduce mental faculties to a subadolescent state, earnest kid flick The Secret of Kells (2009, Ireland/France/Belgium, 75 min.) is the way to go. Young Brendan resides in the Abbey of Kells, a monastery threatened by frequent Viking raids, when he's tasked to assist with the completion of the legendary Book of Kells. Though the much-lauded manuscript is replete with Christian imagery, the Irish animators adopt the tome's vibrant patterns and clean geometry to portray more secular content. Characters' sharp forms stand out against an oneiric forest, while precise lines heighten the movie's suspenseful battles. The inebriated masses may struggle to follow a deceptively complex plot, but the flim's visual will be just captivating enough to stave off the headaches.
Read City Paper's review here.
(michael.gold@citypaper.net) (@migold)
✚ Cooking Lesson with Chef Jacquie by Nina Willbach
Between the boozing and the parading, people don't often think of St. Paddy's Day as the time to learn a new skill, but if I told you that South Philly's own Chef Jacquie was offering a free cooking class featuring Irish cuisine, you might be forced to reconsider. She'll dish out some foody folklore and reveal the secret to her famous "Erin Go Brah" soup — a delicious blend of hearty Irish potatoes, bacon and cabbage.
Sat., March 17, noon, free, Williams Sonoma at the Bellevue, 200 S. Broad St., 610-506-6120, taste4travel.net.
Each week, Michael Gold breezes past those big-name theater companies to turn a spotlight on Philly's indie stages.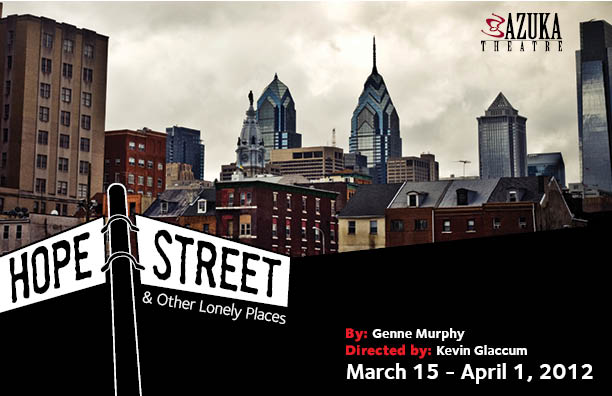 Even with its diverse population and vibrant cultural fabric, brotherly love often feels hard to come by on the streets of Philadelphia. Though native playwright Genne Murphy has since ditched the banks of the Schuylkill for the Left Coast, her play Hope Street and Other Lonely Places is an effective treatise on urban isolation. The struggle to connect with others is a universal theme, but Murphy's five characters exhibit identifiable Philadelphian concerns. Azuka Theatre helped develop Hope Street in 2009, making the company a fitting choice for the play's world premiere.
Thu., March 15 through April 1, $15-27, First Baptist Church, 1636 Sansom St., 215-563-1100, azukatheatre.org.