Archive: April, 2012
Movie critic (and the guy who compiles our weekly repertory film listings) Michael Gold reviews his favorite Netflix Instant flick of the week.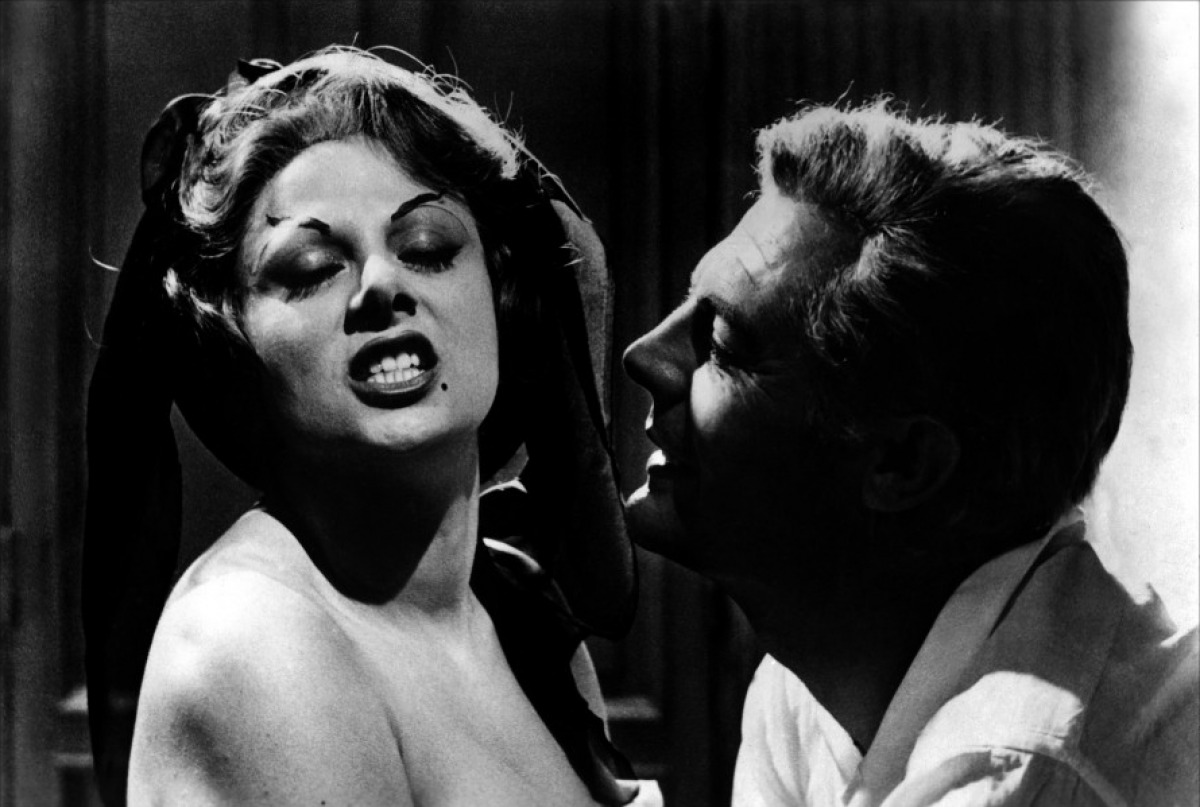 Nothing against my colleagues, but writers tend not to be the most interesting of people. Versatile adjective-wielding skills are about as sexy as the ability to run a fish hatchery, and being a scribe largely involves staring at your computer and resisting distraction. Not to cast aspersions on Hollywood, but most scribes do not fill time by pursuing serial killers or circumventing the delusions of faded starlets. The day a young screen queen spends ten minutes agonizing over the proper use of "bemused" will be the day studio execs capture the authorial experience.
Strangely enough, the movie that best portrays the writing process casts pencil and paper aside. To get past his writer's block, Italian maestro Federico Fellini penned the story of a film director, Guido, who can't get his next effort off the ground. 8 ½, the movie that resulted, is a magically surreal exploration of Guido's subconscious. As he searches for something to say, the director's mind wanders indulgently from fantasy to fantasy. Fellini masterfully blends reality and fiction to show how inspiration can be elicited from the most unexpected sources. Every writer who has struggled to stay on track will relate.
(michael.gold@citypaper.net) (@migold)
Chris Brown digs into our listings bin and pulls out a little something-something to do every day of the week.This time around? Flashlight wars on the Parkway, drunk typing and the death of a superhero.

Flashlight games in the dark don't have to end with your childhood. Gather up everybody in your neighborhood, and head down to the Parkway. The Iroquois Statue is big time in more ways than one, and now the Fairmount Park Art Association is giving you the opportunity to run through and light it up like never before.
Wed., April 25, 8:30 p.m., 24th Street between Ben Franklin Parkway and Pennsylvania Avenue, 215-546-7550, museumwithoutwallsaudio.org.
A lot of artists made a lot of money at the Philadelphia Museum of Art on Monday night and they didn't have to hang things on the wall. The Knight Foundation Arts Challenge, which has already bestowed some $5.4 million in grants, dropped another $2.76 million on local arts organizations on Monday. Thirty-five local winners selected from some 1,200-plus submissions got cash from Donna Frisby-Greenwood, Knight Philadelphia program director.
Some were individual artists with singular goals. Yellow Rage poet/performance artist Catzie Vilayphonh got $25K for "Laos in the House," a Lao-American writing/performance/filmmaking workshop. Installation artist/videographer Sean Stoops got $20K for creating video events and projections on buildings and random stages.
Reporter Meg Augustin takes you inside some of Philly's most fab dwellings to showcase our city's unique grasp on design and architecture.
When Christine Keely opened her Etsy shop, Black Oak Vintage, in 2010 she was an amateur collector
and a budding entrepreneur. "Thrifting and antique shopping has been a hobby of mine since high school," she says, "so [I jump at any] chance I get to make work out of something I genuinely enjoy." Starting with a few items at craft fairs and flea markets, Christine soon realized that the online market was a bit more fitting for her vintage finds. For Christine, her shop began as a runover market from her own collection. "Buying for myself and the shop is synonymous," she notes. Tour her home and you realize that's an understatement. Nearly every other knick-knack sitting on an armoire or table has its picture on Etsy as well. Her partner, Adam, also has an affinity for thrift stores and flea markets and often travels with her to find new items for their home and shop. "Our home is a constant rotation of items we find," he says. "Selling some and replacing others keeps things interesting."
Their West Philadelphia apartment is a gallery of found art, thrift store scores and family heirlooms that reflects the eclectic mix available on Black Oak Vintage. The living room sports cream walls and a high-glossed wood floor that acts as a gallery space for Christine and Adam's collection. One wall highlights several of Adam's father's paintings as well as a few of his own hovering over a found liquor cabinet and piano bench that used to be Adam's grandmother's. Another wall houses their record player (also from Adam's father) and the accompanying music collection. Next to the player sits a conversation-starter from Adam's college days — "a cigarette-covered [mannequin] head," he laughs. "It's really only suited to hold headphones." More suitable is their re-appropriated kitchen light and table, the former being made of an old wagon wheel and string lights and the latter a table stenciled with a honeycomb print that's found elsewhere throughout the kitchen. Open cabinets house a menagerie of glasses and vintage coffee mugs, above which hangs a Philadelphia park map and floral embroidery that is available in her shop.
The title of Car Party's new single, "$", says it all. With tunes recognizable enough for foot tapping yet too cool to be pinned down, the identifiable pleas of Brand New meet the dependable rhythm of Hit the Lights in this Baltimore band. Initiated by drummer Taylor Hughes' Craig's List outreach, this foursome comes to town to deliver their hummable jams at their last stop on tour with Virginian band of powerful rock drive, The Greater the Risk.
Sun., April 22, 7 p.m., $8-$10, Legendary Dobbs, 304 South St., 215-501-7288, dobbsphilly.com.
With the help of City Paper film critics, Josh Middleton counts down this weekend's six new movie releases, from lowest- to highest-graded.
THE LUCKY ONE [ C- ] It's easy to dismiss the schmaltzy romantic drama The Lucky One. After all, it came from Nicholas Sparks' badly chewed ballpoint pen and was directed by Scott Hicks (Shine) with a paint-by-numbers approach to filmmaking. Read the rest of Gary M. Kramer's review here. (UA Riverview)
Every Friday, Ryan Carey covers the people and events that are giving Philly the giggles.
The second annual F Harold Comedy Festival starts next week at Walnut Street Theatre Studio 5. It
will feature six evenings of comedy from many of Philadelphia's best improv, sketch and standup artists. Compared to Philadelphia Comedy Month, which consists of three one-week mini-fests inviting both local and out-of-town talent, the F Harold is a Philly-only venture belonging entirely to members of the local scene.
In addition to many of our hometown 'prov faves like Hey Rube (Tuesday), The N Crowd (Wednesday), Beirdo (Thursday), Iron Lung (Friday), Hate Speech Committee (Saturday), and Nielson (Sunday), there will be smatterings of local standups, sketch groups and brand new Phimprovisers making their stage debut.
Devoted poet/avid concert-goer/nerd-grrrl extraordinaire Jane Cassady's weekly horoscopes run in this space every Friday morning.
Taurus (April 19-May 18): Stop. Take note of everything you've learned so far. Take a deep breath and a few days to let it all sink in. You've come so far.
Gemini (May 19-June 21): "Be vulnerable and ask for your desires. There are only two ways it can go … and never asking ensures only one." (Aiden Fyre) Sometimes, though, you don't know what to ask for until it feels too late. That's OK, you'll know what to ask for next time!
Cancer (June 22-July 23): May your National Poetry Month continue to be prolific — mine your inner wishes, your big leaky mansion of a heart, your pesky childhood. Use everything that isn't nailed down, then pry up that stuff, too.
Each week, Nina Willbach puts together a rundown of book-centric events. This week: boys with strange bones, tea-drinking tours, and the Sister Spit tour comes to Penn!
Thursday, April 19
The Original Sneeze
The first film to ever be copyrighted was a five-second clip of a man sneezing. The man, Fred Ott, was one of Thomas Edison's assistants and his sneeze marks the beginning of the long and complicated relationship between motion picture and copyright law. When Fred Ott's Sneeze was filmed in 1894, Edison—a man obsessed with patenting his inventions—presumably knew that along with the artistic possibilities of motion picture technology was also the reality that it could be copied. By attaching his name to these precious five seconds, he set the copyright precedent for films to come. As technology advanced to create feature-length pictures, copyrighting allowed actors and film crews to benefit from their sales. Over 100 years after Edison's film, it seems technology has now created a world that's arguably surpassed the notion of copyright. Whereas copyright once created an incentive for distribution and sales, today's possibilities for distribution, from youtube to flip-cam, have left copyright concerns in the dust. Peter Decherney's new book Hollywood's Copyright Wars: From Edison to the Internet chronicles this history, examining the ways Hollywood has attempted to control and adapt to changing copyright law. A leading thinker in the study of cinema, Decherney was named an Academy Film Scholar in 2009 and currently teaches cinema studies, English and Communication at UPenn.
6 p.m., free, Penn Bookstore, 3601 Walnut St., upenn.bncollege.com
Looks like Icepack Illustrated started a trend with the notion of spring menu tastings. Last week it was Davio's and this week it's Sansom Street's hottest mod-Greek eatery Opa that unfurled bits of its new seasonal menu from exec chef Andy Brown and owners George and Vasiliki Tsiouris. The zesty oil and wine braised grilled artichoke with shaved bottarga offered one of Opa's sole nods to old world Greek traditionalism with its use of ladolemono sauce. Plump mussels done in a tomato saffron citrus broth were heavenly and the date-n-raisin emulsion surrounding the duck confit was the perfect balance of sweet and savory. And the dessert, a strawberry foam and Greek yogurt cup with crumbled pistachio wasn't even on the menu yet. Brown served it to my wife/photographer Glamorosi and me before he had even presented it to the Tsiouris fam. We were Brown's test subjects for a dessert inspired by Opa's Stacey Lyons who had given the chef a foam maker for his birthday. Here's hoping that strawberry foam jawn made it onto Opa's spring menu. It was perfect.
A night with Rover — Lee Jones' floating Monday DJ jawn — at Liberties reminded me of what I had written ages ago: changes would come sooner than later to the 700 Club's neighbor on N. Second Street.
As we mentioned several weeks back, Southwest Philadelphia gets its own piece of the Philly-filming pie starting next week when the USA Network's Political Animals starring Sigourney Weaver, Carla Gugino and newly-announced costar Ellen Burstyn starts to roll. Gugino and Weaver were already spied supping together at Le Castagne the other night. The series has to shoot fast as it's scheduled for a July start.