Archive: April, 2012
Movie critic (and the guy who compiles our weekly repertory film listings) Michael Gold reviews his favorite Netflix Instant flick of the week.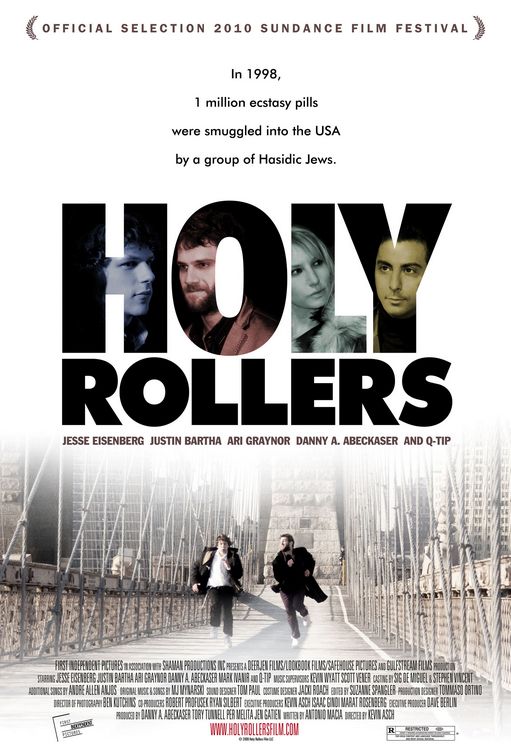 With Passover and Easter on the horizon, it's a busy, religious week for worshippers of the Judeo-Christian persuasion. Whether purging your house from the scourge of carbs or solemnly washing your feet, it doesn't take long for that religious observance to become fairly daunting. Dying eggs and looping "A Rugrats Passover" will certainly lift the mood, but with that comes pangs of guilt for skipping spiritual duties for more mind-numbing fare (same goes for watching Hop).
Firmly splitting the difference between religious reflection and secular entertainment, Holy Rollers is the perfect antidote to the spring holiday blues. Clad in all black and rocking some side curls, Jesse Eisenberg shines as Sam, a naïve orthodox Jew looking to make some extra bucks as a drug mule. The intense stigma the entrepreneurial Sam receives from his community will be a familiar feeling to anyone at the receiving end of scornful looks at family dinners. Eisenberg artfully plays a young man trying to forge his own path, but this coming-of-age story is laced with just enough religion to fulfill the week's spiritual obligations.
(michael.gold@citypaper.net) (@migold)
Philadelphia City Paper is searching for ambitious, dedicated, creative, weird writers who want to make an impact at Philadelphia's premier alternative publication.

We are currently accepting applications for summer 2012 A&E intern positions. This internship requires a familiarity with the Philadelphia area and an interest in contemporary arts and culture. Primary responsibilities include keeping up with a specific beat, and writing preview picks and features for our paper and A&E blog, Critical Mass. Interns typically put in anywhere from 10 to 20 hours per week (scheduling is flexible). Unfortunately, this is an unpaid position.
To be considered, copy the below questionnare, fill it out and email it to Josh Middleton, at josh.middleton@citypaper.net, by Wed., May 2, 2012. P.S. Early entrants get double-fudge brownie points!
1. Everybody's got that one insane story they tell at every party. Tell us yours in 125-150 words. If you haven't racked up anything you feel is appropriately epic, just tell us something funny that happened this one time. This is a judgment-free zone.
Each week, Michael Gold breezes past those big-name theater companies to turn a spotlight on Philly's indie stages.
Even with the apocrypha and lost manuscripts taken out of the equation, Shakespeare produced an extensive body of work. That's why it's always disappointing when theater buffs and literary scholars remain fixated on few of the Bard's plays and sonnets. With its commitment to classic drama, it's no surprise Quintessence delved past Romeo and Juliet to stage Venus and Adonis. Based partially on Ovid's mythologies, the overtly erotic narrative ("Backward she push'd him," pens Shakespeare, "as she would be thrust") focuses on the Roman goddess of love and her hunky mortal lover. Consider it proof culture has been obsessed with the sexploits of beautiful people for centuries.
April 5-7, $15-60, Sedgwick Theater, 7137 Germantown Ave., 877-238-5596, quintessencetheatre.org.
Reporter Meg Augustin takes you inside some of Philly's most fab dwellings to showcase our city's unique grasp on design and architecture.
There's a rustic renaissance happening in Philadelphia décor. A small community of artisans are looking at design in a whole new light, making and finding beautiful items in a natural way. They include popular shops like Three Potato Four and Art in the Age, but there are a bevy of shops and artists that are further adding to local lovers of earthy interior. The collaboration of husband and wife Margaux and Walter Kent, Peg and Awl is the quintessential local shop, creating handmade wood items for the home that are natural, local and beautiful. To supplement our Home and Garden Issue (on stands now!), we sat down with the Mrs. to pick her brain about how their shop retranslates local, natural design.
City Paper: How did Peg & Awl get started?
Margaux Kent: Peg and Awl started when Walter returned from Iraq. I had been making journals (The
Black Spot Books) and letting the last of my old business flitter away. I wanted to do something with Walter, [but] he didn't imagine that we'd be able to make things for a living. There was no plan. Just the name of one of our favourite songs: "Peg and Awl." I asked him to make me a tub caddy (pictured right) before he went to war so I could bathe and read and write ... he didn't. Shortly after he returned he went down into the basement and emerged a few hours later with the tub caddy! I was pretty excited and determined that if I loved it so, I was certain there would be others who would feel the same. We photographed it and posted it online and Peg and Awl began!
CP: How do you imagine the "Peg and Awl" home?
MK: I believe a Peg and Awl home would be one in which everything is carefully selected for its simplicity and usefulness. Everything has its purpose for the present day but not without remembering its past, its origins. Peg and Awl is about this blend of keeping one eye behind while marching forward, celebrating the beauty of days long gone while making lasting objects to be used in our time.
For most people, fishing can be a fun pastime, potential bonding activity and a nice getaway from your everyday life. For Mark Sabaj Perez, the thrill of finding a fish is worth flying halfway around the world. The Drexel scientist has made it his job to seek out strange fish, and he has a special thing for catfish — you know, those hideous bottom dwellers that look like moldy sandpaper with eyes. His most recent adventure brought him to the far reaches of Mongolia, where he and his team of scientists faced hailstorms, faulty transportation and icy rivers in search of the rare Amur catfish. Aside from his fishy discoveries, Perez brought back many a tale about the highs and lows of foreign fieldwork. Whether you call yourself an ichthyologist or you're just now realizing that that big word probably means "fish scientist," Perez's lecture is sure to be a perfect blend of entertainment and education.
Tonight, 6 p.m., free, National Mechanics, 22 S. Third St., 215-701-4883, ansp.org.
Every Monday, James Friel rounds up the week's sure-bet live shows. This week: Of Montreal, Of Monsters and Men, School of Seven Bells, Frankie Rose, Stevie Jackson, and more.
Monday: Of Montreal (pictured) is the brain child of the always sonically adventurous frontman Kevin Barnes, who never fails to put out ambitiously psychedelic and experimental material. Paralytic Stalks, released in February, is just that — trippy rock/pop/jazz fusion that sounds like The Beatles, Bowie, Steely Dan, and Disco wrapped in one juicy eggroll. 8 p.m., $20, Union Transfer, 1026 Spring Garden St. 215-232-2100.
"When someone around me smells good, I notice," said a girl in the crowd. "So I automatically think, wow, this band is good." She stood at the front of a crowd, that did plenty of hairstyle checking and over the shoulder looks to check the scene. Collectively, it looked like a Gap ad. Luckily when the show started, the music made them forgettable.
Delta Spirit's return to Philly, selling out the still sparkling-clean Union Transfer, was a big step up from their appearance at the First Unitarian Church two years ago. Their indie rock rang like anthems and heated the room. Quite literally; it got damn hot in there. The mercury started rising around the time they hit their stride with Ode to Sunhine's, "Strange Vine." Others from that album, "Parade," "House Built for Two" and the closer "Trashcan," were received best. The majority of the set came from their recent eponymous album. Trying to get everyone moving before Delta Spirit's slot was Van Pierszalowski, of the late Port O' Brien, and his new band WATERS. Yeah, all caps. He showed everyone his softer side with "Mickey Mantle," and got a little extra noisy on the riff-driven, "For the One," from their debut, Out in the Light.