Archive: September, 2011
words by M.J. Fine | photos by Chris Sikich
With tickets priced high enough to keep away the merely curious, Glen Campbell's Goodbye Tour drew an adoring, mostly middle-aged crowd that laughed at every corny old line ("I'm happy to be here. … At my age, I'm happy to be anywhere"), responded to each well-worn move, and even clapped for his first few guitar solos.
It's the last of these that counts most; with the 75-year-old back in the spotlight for his Alzheimer's diagnosis, it's a relief to report that his hands knew just what to do with the showy solos on late-'60s hits like "Gentle on My Mind" and "Galveston."
Backed by a band that included three of his kids and two ringers (they doubled as Instant People, the opening act) plus longtime keyboard player T.J. Kuenster, Campbell was content to soak up a career's worth of adulation. His once-smooth voice now sounds pleasantly weathered, and if he seemed more comfortable strutting than strumming, well, so do plenty of singers. If sometimes he had to look toward his daughter or sons to find his way, well, that's what family's for. And if he got a bit confused by the lyrics to Paul Westerberg's "Any Trouble," well, the Replacements frontman certainly confused himself plenty in his own heyday.
Campbell's trademark yearning sound was much in evidence on classics like "Wichita Lineman" and the "By the Time I Get to Phoenix," and on a slow, synthy take on Tom Petty's "Walls," and the audience was happy to help him out on the chorus of "Rhinestone Cowboy." Campbell, too, seemed to derive pleasure from performing, especially when he took on guitar/banjo duel with daughter Ashley, cracked jokes about John Wayne and Elvis Presley, and tipped his metaphorical cap to songwriter Jimmy Webb.
But what made the show more than a recital of Campbell's greatest-hits was a smattering of songs from Ghost on the Canvas, his fine new record. On the title song — another Westerberg contribution — Campbell nailed the conversational, soaring style that built his reputation as a master interpreter of other people's songs. Even a sharp note couldn't take that away from him. ("You don't want to be perfect," he noted afterward, "'cause they'll want it every time.") "It's Your Amazing Grace" took advantage of his band's supportive backing vocals to keep the sentiment from getting too thick. And a two-song encore of the twangy "In My Arms" and "A Better Place" reminded everyone of how much fun a big guitar solo can be, and how gratitude begets gratitude.
Unlike Johnny Cash, who had an extended resurgence at the end of his career, Campbell decided he had just one album left in him, enough stamina for just a few months of farewell shows. Thursday seemed more like a valedictory than a victory lap. But you know both the star and his admirers felt blessed to part ways on such good terms.
The first words of this sibling collaboration make a poetic promise that the 45-minute play fulfills: "My bedtime stories," muses Eric Scotolati as the unnamed storyteller, "were Pharoah's shopping list." His ruminations flow from calculating the labor required to build the pyramids with his grandfather to issues of family, relationships, and, as the fairy tale title reference implies, building a safe home. All through, he toils to complete a project that might balance what's missing in his life. Mesmerizing and moving, Straw, Stick, Brick says much without pontificating.
Runs through Sept. 17, St. Stephen's Theater, 923 Ludlow St. MORE INFO HERE.
Dark Star's inaugural production employs Czech style black light theater to create a lovely pantomimed 20-minute fairy tale set to music. Stephanie Aurora Long's charming production makes magic in A&D's Gallery's tiny black box, as eerily glowing archetypal masked characters, frightening creatures, and seemingly solid objects whirl around us in the dark, creating low-tech, low-budget visual effects that blow that weasily Potter kid away.
Runs through Sept. 17, Always By Design Gallery, 265 S. 10th St. MORE INFO HERE.
Every Friday, Ryan Carey takes a look at who and what's giving Philly the giggles …
"At my resort in Jamaica, there was a bar next to the pool, but there's a type of chlorine they put in the pool that turns red if you piss in it. Don't you think that's a dirty trick? My bracelet said All Inclusive!"
On the spectrum between Bill Cosby and Richard Pryor, Tony Woods is probably at 70/30 on the Pryor side for his debaucherous stories, and occasionally colorful language. But Woods has a unique light-hearted vocal delivery that suits his generally unagressive and universal point of view. He tells stories, for instance, about what a pain it was to be in kindergarden, and the inherent absurdity of the Little Red Riding Hood tale.
While never unaccessably cerebral, Woods has no problem sprinkling some philosophy into his act. "You can't laugh unless you've been hurt before. If I tell a joke about getting tazed, and you've never been tazed, and you've never seen anybody getting tazed, than it doesn't mean [anything] to ya!"
You may have seen Tony's hilarious Comedy Central Presents special or his appearences on VH1's I Love The '90s, the Friar's Club Roast of Chevy Chase, Showtime at the Apollo, BET's Comicview or Conan O'Brien — but this weekend, the D.C. native is playing Philly.
Tonight, 8:30 p.m. & 10:45 p.m. and Sat., Sept. 17, 8 p.m., 10 p.m. & midnight, $20, Laff House, 221 South St., 215-440-4242, laffhouse.com.
Total Fucking Destruction is awesome. They play loud, short grindcore music we don't even know how to write about. When they played Europe in June, we asked them to keep a tour diary. TFD guitarist Dan O'Hare obliged and we've decided to run it now, virtually unedited, in anticipation of the band's performance at tomorrow's Clark Park Equinox Festival gig with Conversations with Enemies, Algernon Cadwalladder and more.
June 9:
Arrive in Brussels Belgium and meet up with Nic and Idiots Parade. Drink beer.
Arrive at Brussels FM. Get stuck in small elevator for 45 minutes until repair person shows up.
Do interview at Brussels FM. Drink beer.
Arrive at Garcio Lorca venue for afternoon show in Brussels. Ryan jumps out of van to piss. Gets lost.
Find Ryan. Search for beer. Find Beer.
Do show. Was awesome.
Go to coffee shop. Ryan gets sick.
Drive to Utrecht Netherlands. Ate Chinese food. Play show. Nic criticizes us for not being as awesome as possible.
Ryan blows up his American fan in a European outlet and shorts the circuit in the house. Hilarity ensues.
June 10:
Arrive in Lille France. Meet up with friends. Discuss English comedy with The Atrocity Exhibit. Drink.
Play killer show.
Drink tons of beer and Slovak alcohol.
Ryan makes Nic pull over multiple times to piss while Dan hurls.
General drunkenness.
Arrive at Nic's house. Everyone passes out. Dan continues to smoke.
June 11:
Nic has to fix the van. Freaks out because we're late and he's French.
Arrive in Paris at awesome squat. Eat awesome vegan BBQ.
Play awesome show.
Guy loses his glasses mid mosh-pit. Everyone stops moshing mid-song to look for dude's glasses.
Guy finds glasses.
Finish killer show.
Smoke.
June 12:
Drive to Switzerland, meet up with promoter and Mumakil.
Dueling grindcore bands upstairs.
Awesome show.
Go to Swiss bomb shelter and party with Mumakil.
June 13:
Play futbol in the morning before failing to find coffee in the middle of nowhere on a holiday.
Drive to Frieburg. Get hassled by German police.
Meet up with German TFD fans and Phillip w/ underage girlfriend.
Play show. Rich invites people to stand behind the drum kit for full "grind-in-the-round" performance.
Phillip passes out mid show.
English guy sidles up to underage girl all night.
Lots of drinking while Ryan shows cat-related YouTube videos to the Slovaks.
June 14:
Drive to Prague. Modra Vopice is a killer venue.
Eat awesome veggie goulash.
Tons of beer.
Awesome show.
Loads of drunk people.
Talk to wasted Czech dude for what seems like hours without understanding a single word.
Party in some dude's small apartment.
June 15:
Arrive in a the small yuppyish town of Jena.
Venue is an old stone building.
Ryan walks around town in Petra's sweater with his nipples in full bloom.
Show is awesome. Promoter pays us more than we deserve.
Vending machine hotel?
June 16:
Arrive at Kombi in Nuenchritz way early.
Hang out, drink, and kebabs.
Awesome show.
Late night disco and foosball.
June 17:
Long drive to Belgium.
Free show in awesome bar.
Belgian pizza.
Nic gets mad because we play too long and because every show features a shout-out to his giant French unit.
Drive to Nic's house. Smoke.
Drive to Hellfest overnight.
June 18:
Arrive at Hellfest.
Soundcheck and play killer show in front of 4000+ people(?).
Meet tons of new TFD fans, Zakk Wylde and Nic's merch dream team.
Party all day, drive all night.
June 19:
Arrive at CDG. Sleep and avoid police with machine guns. Xanax and coffee.
Known for his thrashy dance, seizuriffic live shows and brutal remixes of Kanye, Pink Floyd and, uh, Alan Parsons apparently, Derek Vincent Smith aka Pretty Lights has earned his stripes at the big festivals. It's all glitchy samples, furious synths, flashing strobes, glowing cubes and the guy next to you asking to bum a hit. Check out this ridiculous video of him playing Bonaroo. You could always go home early.
Also playing Popped: The Shins, Rakim, The Hold Steady, Pains of Being Pure of Hearts, Girl Talk, Black Thought and more. Fri. and Sat., Sept. 23 and 24, Single-day tickets $59.50, both days $110, FDR Park, near Broad and Pattison, poppedphiladelphia.com.
Born in 1667 and hailing from Transylvania, Johannes Kelpius held the deep-seeded belief that the world was coming to an end. Inspired by the "Book of Revelations," Kelpius expected a woods-based heaven to emerge at some point in 1694. Rooted in his convictions, Kelpius and a small group of followers set their sights on an up-and-coming province in America, known as Philadelphia. Settling in Wissahickon Creek, Kelpius anxiously awaited the next phase.
What happened after that is, well, history, but you can learn more about it and explore how Philly's hilliest enclave was created when the Spiral Bookcase and Friends of Pretzel Park present The Secret History of Manayunk on Saturday.
"We just want to share another facet of what Manayunk is," says Ann Tetreault of the Spiral Bookcase. Thom Nickels, author of Manayunk as well as Philadelphia Architecture, will be on hand to speak; tour guide Nicholas Bucci will present a Kelpius exhibit; and the Kelpius Society will give a lecture, as well.
It's a lot of Kelpius to handle, but as Tetreault says, "He's kind of a big deal."

Sat., Sept. 17, 2-6 p.m., free, Pretzel Park, 4300 Silverwood St., 215-482-0704, thespiralbookcase.com.
Diana Palmieri recaps last night's episode of Jersey Shore.
Snooki is stressed out and needs to get away from the mundane — you know, the taxing, daily grind of life in Florence. Drinking, sleeping 14 hours a day, not running a brush through the skunk on the back of her head, and drunk dialing her boyfriend have proved to be so brutally draining that she needs a vacation from the current vacation she's paid $100,000 grand an episode to be on.
"Holy Riccione!" Ron exclaims while packing his overnight necessities into a plastic bag, channeling white trash a'la Angelina. Nope, he's not hurling verbal expletives at Sam while simultaneously throwing luggage at her, he's just excited for the gang's trip to the Italian coastal town. After schlepping themselves and their completely reasonable eight bags of luggage strapped to the roofs of the Fiats, they arrive and Pauly is the first to take in the scenery. "It looks like Seaside!"
Lately, all of their outings are conducted similarly to an awkward 6th grade dance, with the boys and girls going their separate ways. The guys decide to site-see, ending up enamored not by the Mediterranean water, but by the look-a-Mike they see at a restaurant, which just means they found a guy with a douchey haircut with the solar system buzzed on his scalp and sunglasses like The Situation's. The girls, guided by Team Meatball, pay homage to Seaside by getting plastered before 5 p.m.
Watching the two try to control themselves in public and pretend to be civilized is like watching Bambi learn how to walk — if Bambi was a compulsive drinker who preferred not to wear underwear. In this train wreck portion of the episode, Deena literally dances her underpants off and flaunts her downstairs lady bits, Snooki runs into a bush for both every reason and none at all, the two eat dinner with food hanging out of their mouths, Deena again flashes her vagina at the club, they both take drunken stumbles, and finally make out on the way home.
"It smells like hot sweat and regret in here," Vinny says, seeing the girls still sleeping. When Deena and Snooki wake up, they try to figure out how they ended up in bed together. After learning that they went at it for hours the night before, Snooki is anxious about telling Jionni about how she was a lesbian for a night. I imagine him shrugging his shoulders like the rest of America when he tells Snooki, "all right" and gives her a free pass for mauling Deena. With that phase most definitely not yet out of her system, Snooki and Deena decide to get back into a routine of going to the gym to balance out their excessive drinking. On their way, they hit a cop car, and there's the episode arc for next week.
All right.
LOW A diversion from the lesbian-centric episode, Pauly expresses his anger/annoyance at Ronnie, who he believes is trying to steal his swag, otherwise known as his tendency to yell "Oh yeah!" after every phrase.
HIGH So, so many to choose from. Up there is JWOWW exclaiming, "This is like the cab ride home!" when Deena and Snooki have a harder time than usual forming a sentence before they even arrive at the club.
First the coffee came, then the bar with the live room — finally the bi-level MilkBoy at 11th and Chestnut is complete and open. Though the coffee house and cozy pub with the glass garage-door walls opened before August's end, it took several more weeks to finish the narrow dark-wood 200-capacity concert space upstairs — a room that sounded warm and accommodating.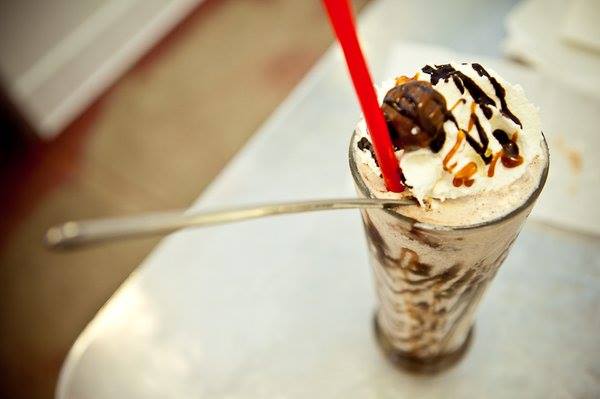 "Actually we were still fixing stuff up before you walked in," said co-owner Tommy Joyner (pictured right between Bill Hanson and Lizzie O'Connor) Monday night. "You can still smell the paint." Joyner and biz partner Jamie Lokoff have been trying to break ground on this, their third coffee shop, since last year. Famously, MilkBoy Center City had troubles with Philly union workers when the property's owners didn't hire all union employees to do the labor. "I understand, believe me — I'm in the musician's union," says Joyner, exasperated by the hurdles jumped in order to open. But now, he and Lokoff would like to move on and rev up for a slate of live shows that start this weekend with a Gang, Hank & Cupcakes and Pink Skull show, and resumes Sept. 21 with Jim Ward of Sparta and Thom McCarthy (buy tickets here).
Meanwhile, on the food-and-beverage tip Bill Hanson (late of Stephen Starr and Jose Garces' restaurant groups) is operations partner and Lizzie O'Connor (from Kraftwork) pours strong MB brand cocktails like the "Hot Spur" (if you have to ask it's too much for you to handle, hoss) and a selection of craft beer cans served in a MilkBoy cozy. Collect the set.
Photo: A.D. Amorosi
If certain much-touted Live Arts shows proved to be inscrutable, disorienting and even painful to sit through, please, don't let that influence your decision about the rest of the fest. There are winners, like 7 Fingers' Traces, an exuberant high-energy event that lives up to its hype. Throughout the show performers talk into a mic and share bits about themselves — a nice touch that establishes a warm camaraderie. The vibe that only gets hotter as these agile acrobats run through contemporary circus feats; tumbling, swinging and otherwise bounding about chairs, poles, huge hoops, skateboards and more. There's quite a bit of very cool derring-do. And it doesn't hurt that the cast of seven are all young and adorable. This is the antidote to alienating art. Go. See. Enjoy.
Through Sept. 18, Merriam Theater, 250 South Broad St. MORE INFO HERE.