Ice Cubes
It's no secret that POPPED! (Electric Factory-approved) and the Philly F/M Fest (Live Nation says hello with events like Deadmau5) take over Philly starting tonight, Sept 22. It's all over our new Music Issue.
But while Joe Lekkas' F/M enters its second year in place with events at the Legendary Dobbs, 2424, TLA and World Café Live, the all-outdoor POPPED! is taking its FDR Park-placed arrangement and moving it all indoors due to possibly inclement weather and flooding.
POPPED's two-day love affair with the likes of Girl Talk, Yuck and cover girl Nikki Jean gets moved up to Temple's Liacouras Center for its two day stretch (1776 N. Broad St., Sept. 23-24). No word yet (and we've asked) on whether POPPED's comedy and food components will get moved to the Temple University sports complex, too. Liacouras has its own concessions, so who's to say? (Check poppedphiladelphia.com for further details.)
And remember, F/M has several outdoors shows (Cheers Elephant, Lady) as well as an outdoor/indoor BBQ with Birdie Busch, Viva Voce and Reading Rainbow, which, according to Lekkas, will go on no matter what the weather is. "All of our outdoor stuff is rain or shine," says Lekkas. Let it snow, yo. (Details at phillyfmfest.com.)
Photo: The Cults play Saturday @ the Liacouras Center
It all seems so long ago that Icepack got the tip on who was buying Spaghetti Warehouse on Spring Garden and what ties it would have to the Philly entertainment community. Better was the reveal: Four Corners' Avram Hornik and Mark Fichera, who had attempted to buy the ex-Jumbo Theater spot (now a thrift store near Johnny Brenda's) along with old friend Sean Agnew of R5 Productions (who we had to track down in Cambodia), would take over the Grasso-owned location and book it in tandem with New York promoters Bowery Presents as Union Transfer. (Check out the impressive first and ever-shifting schedule at utphilly.com.)

Fast forward to opening night: The high, wide space has a ticket window at its front with an immensely large lobby for merchandizing. The chandeliers start there and never stop, not in the first bar and food area, not in the dark wood VIP space watched over by a life-size Jack Daniels statue, not in the dark and regal balcony area bar spotted by stained glass that winds its way into a almost-proscenium seating area fronted by ornately antique brass railings. They certainly don't end on the movable stage-filled main room — and these are grand light fixtures, yet not fussy: the sort that Liberace would have in his summer home in Prague.
The entire spot has an epic modern-meets-Western-banker feel to it — Mr. Drysdale heading up the First National Savings of Deadwood, perhaps? — with some churchiness to the proceedings, too. The VIP area is one large wood, glass and brass bankers' window with cushy seating filling the tellers space. The kinda-Philly-based act Clap Your Hands Say Yeah was its first headliner, and throughout its sound check each ring and click rang clear — blame that new mega-watt state-of-the-art system — even when UT's capacity crowd of 1,000 filled (but didn't stuff to the point of sweating) the room. Bravo, everyone.

Along with Agnew and Fichera, Hornik seemed delighted that UT was finally opening and that all his hurdles had been jumped. Before I could let him rest too happily on his UT laurels, though, I brought up his even-newer acquisition. "Next up is Ortliebs," he said with a smile, referring the legendary jazz haus on Northern Liberties' Third Street that he and Fichera took over earlier this year. Stay tuned.
With but a fleeting few musical heroes left, any opportunity to meet and speak with one is a must. When Glen Campbell announced that he was diagnosed with Alzheimer's disease, that his new album, Ghost on the Canvas, would be his last and that his recent tour would put a cap on his long career, I began to consider
the possibilities of meeting him. And not only because he played on 1960s recordings with Frank Sinatra, Dean Martin, the Beach Boys, and Elvis Presley as a session giant or starred in the original True Grit and his one-time network TV show The Glen Campbell Goodtime Hour.
Campbell — who sold out Irvine Auditorium last week guided by his solidly string voice, finger-licking good guitar picking and a smart intuitive band made up mostly of his kids — has crafted some of the finest songs in history — from Allen Toussaint's "Southern Nights" and Chris Gantry's "Dreams Of The Everyday Housewife" to John Hartford's "Gentle on My Mind" and, one of my five favorite songs of all time, Jimmy Webb's "Wichita Lineman."
I had the chance to interview him when he was holed up at the Embassy Suites at the Philadelphia Airport prior to leaving for the Irvine Auditorium. The story will be in Blurt magazine in October but I wanted to share the snaps photographer Scott Weiner took of us. I've interviewed a lot of people face to face, but rarely was I so engaged and enchanted.
Photos: Scott Weiner
First the coffee came, then the bar with the live room — finally the bi-level MilkBoy at 11th and Chestnut is complete and open. Though the coffee house and cozy pub with the glass garage-door walls opened before August's end, it took several more weeks to finish the narrow dark-wood 200-capacity concert space upstairs — a room that sounded warm and accommodating.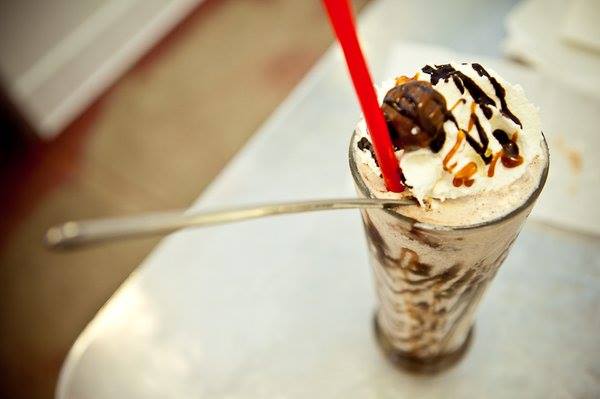 "Actually we were still fixing stuff up before you walked in," said co-owner Tommy Joyner (pictured right between Bill Hanson and Lizzie O'Connor) Monday night. "You can still smell the paint." Joyner and biz partner Jamie Lokoff have been trying to break ground on this, their third coffee shop, since last year. Famously, MilkBoy Center City had troubles with Philly union workers when the property's owners didn't hire all union employees to do the labor. "I understand, believe me — I'm in the musician's union," says Joyner, exasperated by the hurdles jumped in order to open. But now, he and Lokoff would like to move on and rev up for a slate of live shows that start this weekend with a Gang, Hank & Cupcakes and Pink Skull show, and resumes Sept. 21 with Jim Ward of Sparta and Thom McCarthy (buy tickets here).
Meanwhile, on the food-and-beverage tip Bill Hanson (late of Stephen Starr and Jose Garces' restaurant groups) is operations partner and Lizzie O'Connor (from Kraftwork) pours strong MB brand cocktails like the "Hot Spur" (if you have to ask it's too much for you to handle, hoss) and a selection of craft beer cans served in a MilkBoy cozy. Collect the set.
Photo: A.D. Amorosi
Feastival 2011 at Pier 9 on Columbus Boulevard was a fabulous hit and a sweaty mess as thousands gathered wearing far too much clothing to celebrate/charity-ate the Philadelphia Live Arts Festival and Philly Fringe. Lots of aerials from Brian Sanders' crew and circus folk from Montreal's 7 Fingers mingled with hosts Stephen Starr, Michael Solomonov, Audrey Claire Taichman and the night's arts honoree Edward G. Rendell for his role in Philly's cultural community. As for the food and drink, we loved ?uest Loves Food's fried chicken, the voluminous array of pates (those faux "cherries" dipped in pistachio crumbs were the bomb) and the smoked tequila martini. Or three. You bring that tequila back next year and I'll fund Nick Stuccio on any thing he wants.
Philadelphia live hip-hop trio The Trees — really, the most effervescent positive gospel-tinged thing — just got a big boost for their just out eponymous CD. Erykah Badu got a copy rom Tree branch Stone Kawala's ex-girlfriend (Badu's dog sitter — life is weird, huh) and was wildly enthusiastic. "The Trees are very talented and I love this album," Badu was heard to have said.
Hit the friends-and-fam opening of Tashan, the greatly anticipated new Indian restaurant and very spacious lounge over the weekend. Why do we love Munish Narula's 777 S. Broad hot spot? One reason is that I've never witnessed such elegant modern use of black and deep dark brown woods so beautifully. The lounge is separate and spacious, perfect for hanging and listening to DJs. Plus the zestful mod Indian fare — lamb shanks, scallops, crab dishes and pork tenderloins delicately cooked and with Indian sauces on the side of each dish — honestly it was just perfect. Wow.
One-time Main Line dweller David Koechner (well, he spent time here filming Tenure) is doing stand up this weekend at Helium Comedy Club (Sept. 15-17). If you don't know him from that little seen film, he's the bald character actor/comedian in Anchorman and other rude fare. Like the just out A Good, Old Fashioned Orgy.
Speaking of comedians coming here, Curb Your Enthusiasm's Richard Lewis will appear Sept. 22 at the Crystal Tea Room for the benefit of drug and alcohol programs. More info here.
Philly's most style-centric week kicked into high gear on Monday — all before the 18th annual Phashion Phest fashion show at the Shops at Liberty Place (Sept. 21), the fifth annual FBH Philadelphia Fashion Week starting Sept. 21 and Sept. 22's Rittenhouse Row fashion soiree at the Comcast Center. With Philly Style magazine the official media sponsor of The Philadelphia Collection's fashion events, publisher John Collabelli threw a party at The Palm for its autumn cover girl designer Nicole Miller who wound up sitting on motorcycles and posing before her own caricature done recently for the wall of The Palm. The painting was fine. But the cocktail in honor of "The Caricature" (vodka vodka and more vodka) was better. Before Miller hit the Palm, her Philly namesake shop sponsored 19 Fashionable Women of Philadelphia bash at XIX in the Bellevue with shout-outs given to psychologist Bhavna Shyamalan (husband is M. Night Shyamalan), Lisa Nutter (husband is Michael Nutter), Nicole Cashman (her beau is Nigel Richards) and Brown Betty Desserts' Norrinda Brown. Howzat?
Next up is Richards' 611 Trunk Show at the Matthew Izzo shop Sept. 16, tonight's party with Duke + Winston, Denim Habit and Arthur Kade at Valanni, and Sept. 15's event with Fox 29's John Bolaris, state Sen. Mike Stack, NBC 10's Justin Pizzi and MC Dice Raw (currently filming Relasume with director David Powell III in Philly), who will model in the MenzFit fourth annual Celebration Auction and Celebrity Fashion Show, 6-9:30 p.m., Thursday at the Dockside (717 S. Columbus).
Swellegant.
With a handful of Tiffins (sit-in + take-out Indian food) under his direction and a food truck to follow, Munish Narula certainly deserves the play he'll get for opening his long-awaited Tashan at 777 S. Broad St. on Sept 12. With a handful of Eagles, Phillies and their respective coaches living in the tony new 777 condo/apartment complex, the pre-opening event for the lounge/restaurant on Sept. 8 is expected to be the first hot party of the Autumn season. Or, at the very least, the last of the wild summer bashes. Blame in part Narula's desire to make Tashan as much of a rich architecturally evolved lounge for the casual cocktail crowd (he reminds me after upstairs at XIX, there's no beautiful space on Broad Street where you can just sit and have a drink) as it is a regal Indian restaurant with the same warm quality of cuisine that eaters have come to expect from Tiffin. To that end, Tashan's musical program features DJs on the Bhangra-muffin tip as well as the promise of live Indian musicians, both classical and experimentally clubby.
Follow A.D.'s tweets @ADAmorosi
Fans that swarmed Thurston Moore's tour bus outside the First Unitarian Church on Tuesday night were disappointed that the gangly Sonic Youth-er didn't have much time to chat. After supping at Village Whiskey and playing an elegant winning set at the Sanctuary — with Philadelphia harpist Mary Lattimore by his side — Moore and company had to get to NYC to hit the Ed Sullivan Theater by their assigned call time (7 a.m.) for Wednesday night's Late Show with David Letterman. Not only did Letterman seem to genuinely love the Moore song "Benediction" (who wouldn't?), at set's end, he asked Lattimore to demonstrate a harp-solo freakout. Check it above.
Follow A.D.'s tweets @ADAmorosi
While South Philly audiences and snap-happy photogs hovered around the Wharton and Passyunk garden/kitchen shooting locale for The Rachael Ray Show's Great Philly Grill-Off, my photog Scott Weiner, his daughter Mariel, my dog Django and I hung back by the trailers and chilled with locals ("go aheaaaad, kiss huh," one local said to her child when Patti Labellle popped her head from her trailer) and the stars.
Mostly, they stayed cooped inside, but on occasion peeked outside to greet their fans. All-around house guru Ty Pennington (Extreme Makeover Home Edition), the men of Boyz II Men and a handful of neophyte Philly chefs clung to Ray like a brie rind after the diminutive host ate at Famous 4th Street Deli. Look for this episode to run late in September on Channel 6 WPVI.
Photos: Scott Weiner
As stated in Icepack several weeks ago, the Rachael Ray Show crew earmarked Aug. 30 for the date of its Great Philly Grill Off and the opening of a lush community garden on the corner of Passyunk and Wharton. And despite literal hell and high waters, they stuck to the date. NOTHING STOPS RACHAEL RAY. Before the storm, her production crew stapled day-glo green posters to trees that have since fallen. They've spent the days since the rains ceased nailing down and putting up the last bits of board and metal and, as of this morning, is welcoming crew members and studio trucks into a parking lot next to La Veracruz Taquiteria on Washington between 9th & 10th streets. Joining them are the limos of potential guest starts such as Patti LaBelle, Boyz II Men, and very possibly ESPN's Erin Andrews. Haven't seen any of the marquee names yet. But will report back in the next Icecube Illustrated on Thursday.