Archive: June, 2008
She don't have to know, John.
blogs.knoxnews.com
Every Monday, the Showdown tells you who to see and where to see 'em.
Monday: Straight outta Austin, psychedelic sextet the Black Angels play evocative jams that "might make you feel trapped in some existential, cobwebbed corridor of your subconscious, but you'll pump your fists and demand more." Sounds good to us. With the Warlocks, at Johnny Brenda's, doors at 8 pm, tickets are $12.
Tuesday: It's all about crazy-named boys and their quiet acoustics: Clem Snide leader Eef Barzelay (his real name!) and Ferraby Lionheart (half his real name!). At the World Cafe, doors at 6 pm, tickets are $12.
Wednesday: Never underestimate the power of good dental hygiene: Rapper Jake Lefco celebrates his recently de-gapped chompers and new record (awesomely titled Missing Trooth with "an old-fashioned performance party." First 25 get a free DVD of Lefco's new video "Comfort Zone" and the first 50 get free dental floss. With DJ Kwestion and DJ Panek, at Silk City, doors at 9 pm, tickets are $10.
Thursday: The Black Crowes end their three night stand at the TLA, touring behind their new record Warpaint. Come for '90s nostalgia, stay to see if the brothers Robinson ending up kicking each other's asses. At the TLA, doors at 8 pm.
Friday: What better way to celebrate the awesome-ness of America than with Philly's former son? John Legend not only has one of the most natural voices in current pop music, but he went to Penn when he was but a wee 16-year-old, is the ebony to Stephen Colbert's ivory and (let's face it, ladies) is a dreamboat. Part of Sunoco Welcome America! Show starts at 8:30 pm, followed by fireworks.
Saturday: Don't lie, you still cherish your "I'll Make Love to You" cassingle. Boyz II Men rounds out America Birthday Madness. At Great Plaza, show is from 7:30 - 9:30 pm, followed by fireworks.
Sunday: After all that soul, you're gonna need some new wave. That's where Void Vision comes in. With Julieanne Dous, Dave Alexander and the Philly Area Cabaret, at the M Room, tickets are $8.
Photo: Matthew Brady
Picked up this green garlic ($2) at the Sunday Headhouse farmers' market a few weeks back. The ridiculously nice folks at Queens Farm — Ed and Xiuqin Yin — sell it in too-much-for-one-person bunches, along with beautifully arranged shiitake and oyster mushrooms, edamame and Chinese dill.
Green garlic, which is basically just garlic harvested early, tastes much milder than its grown-up counterpart. It looks like a scallion, only with a cute little pink bulb (and equally adorable tufts of straw) at the bottom. Ed suggests eating the whole thing, stem and all, in a stir-fry. Just to warn you, the stem gets a little limp and brown-ish after a couple days in the fridge, so have a garlic party! This New York Times article from May offers all sorts of recipes like linguine with green garlic clam sauce and artichokes with green garlic dip, none of which I tried. Instead, I added a few babies to a recipe (miso stew packed with sea veggies) that calls for regular old garlic. Amazingly, the stuff did not leave its trademark room-clearing scent on my fingers or knife, and the meal was quite yummy, if a little sweet.
Get the recipe — adapted from Alexandra Jamieson, vegan chef and wife of Morgan Spurlock, who was probably too busy searching for Osama to try her delicious stew — here.
Things We See happens when we take pictures of weird things with our cellphones. Not to be confused with Jeff Deeney's "Today I Saw," which has actual societal value.
Corin, Carrie, Janet
Photo | Brian Howard
Deacon left, Deacon right.
Photo | Brian Howard
I realize I'm a little late on posting these pics from Popped! two weekends ago, but I was on vacation last week, so shut up. Above you'll see what is very nearly the coolest bag ever: Sleater-Kinney rendered as Lego figures (photo was snapped near the front of the stage during the Mates of State set).
At right is freak-out electronicat Dan Deacon (in the blue T-shirt) entering the human tunnel he instructed crowd members to create. He says, sadly, he was told he had to cut his set short by about 10 minutes which prevented him from closing with crowd favorite "Wham City." (which you can hear here as performed at his Starlight Ballroom set last year). Attentive viewers will spot Inquirer music critic Dan DeLuca at right preparing his Popped! reports.
Summer Games
Simon & Schuster, 479 pp., $26.9
David Maraniss' Rome 1960: The Olympics that Changed the World chronicles the Eternal City's games on and off the field that hot summer, with the historical scope of Suetonius and the sweaty details of Dick Schaap.
Maraniss, a Pulitzer Prize-winning Washington Post reporter, punctures any exercise in nostalgia with an Olympian exposé of the global politics at play in a culturally pivotal time. He spikes any misty-eyed portraits of athletes with the realities of their lives and the nations they symbolize.
At the time, these athletes were required to maintain their amateur status, just trying to hang in for a date with Olympic destiny. Peerless sprinter Wilma Rudolf has to conceal that she was a mother at age 16 to secure her Olympic berth; and Muhammad Ali (then known as Cassius Marcellus Clay) was so terrified on the flight to Rome that he talked the whole way and couldn't even be knocked out with a sedative.
Titanic decathlete Rafer Johnson, who fought back from a career-ending injury, was to be the first black American to head the U.S. delegation and carry the flag at the opening ceremonies. The performances and the backgrounds of the top athletes from 80 nations are brilliantly framed by Maraniss' consummate research and fleet prose.
Rome 1960 not only relives the ephemeral glory and mythic competition, it also delves into the geopolitical snake pit that engulfs the games. The oppressive backdrop to the Rome games was the Cold War, protesting Chinese delegations, South African Apartheid and even Vatican intrigue.

Idealistic athletic competition on the field is jeopardized by the scabrous political competition behind closed doors. The International Olympic Committee that year had to deal with Mao's China, which withdrew from the Rome games because Taiwan's Chiang Kaishek was sending a separate delegation, for instance. Meanwhile, Soviet Premier Nikita Khrushchev, who privately despised sports, made it a propaganda boon for Cold War politics.
As the Beijing summer games are about to commence amid our current volatile global environment, Rome's themes resonate.
Maraniss' good, bad and ugly history of the Olympic Movement dwells on the humanity of it all in pursuit of incorruptible excellence. His prosaic achievement has raised the bar in the field of sports literature and is one of the nonfiction titles of the year.
Run, Dino, Run!
I've got a thing for nostalgia. I grew up with a Colecovision and an Atari 5200, and it's everything I can do not to dig them out of my parents' basement closet from time to time. That's probably why I loved Dino Run from the get go, given it looks like it came straight from an 8-bit system or the guys who do Homestar Runner.
Dino Run is a bit like Sonic the Hedgehog, since pretty much all you do is run, jump over stuff, and collect eggs, all while running away from the big meteor and pending extinction. Stepping into the role of what I'm guessing is a velociraptor, you've got to dodge dopey triceratops and rocks and pitfalls, and the faster you reach the end of each course - and with a good number of eggs in tow - you'll get more DNA to spend on better abilities.
Let's just hope Dennis Nedry turns up in time.
Go play Dino Run here.
The soft-spoken members of Per Square Metre sit perched on the stoop outside their exhibit at Rarebreed graffiti shop and gallery. You would never guess from their unassuming appearances that they're the perpetrators of the confrontational work inside.
The artists, who go only by their tags — Myla, Dabsone, Dvate and Askem — traveled from Australia to represent themselves at four simultaneous exhibitions — in L.A., St. Louis, North Jersey and Philly. During their time here, they collaborated on a sprawling (legal) mural at 13th and Christian.
The Rarebreed work is, at a glance, a muddle of darks and splashed graffiti text, something that wouldn't look out of place on a brick wall in a back alley. But upon closer inspection, the pieces pop with vibrant color and the complex layering — the type of finesse best achieved in a well-lit studio, which PSM runs in their hometown of Melbourne.
A small on canvas depicts the traditional vase of flowers, akin to a still life you might find stashed in a box of garage sale detritus. But before you can get too comfortable, heavy, black lines splash from the corner in shards of indecipherable cursive, piercing through petals and curling around a disembodied, anatomical heart. This sort of winsome perversion is the norm for the group, whose other works feature doe-eyed, round-headed cartoon characters, devil horns sprouting from foreheads and dead birds.
There are ink-on-paper works composed like archetypal movie posters, including one that looks like it could be a graf writer's interpretation of Star Wars meets Romeo and Juliet . Up close, however, the heroine bleeds from her eyes while the dashing youth foams at the mouth and flips off the viewer.
Indeed, nothing is quite what it seems, and all the works have this type of "look closer" feel in common. If you like your graffiti thought-provoking and not quite mainstream, drop by Rarebreed to see PSM go off the wall.
10,320 Miles from Melbourne runs through July 14 at Rarebreed, 530 S. 15th St., 215-545-1807, rarebreed215.com.
More photos after the jump.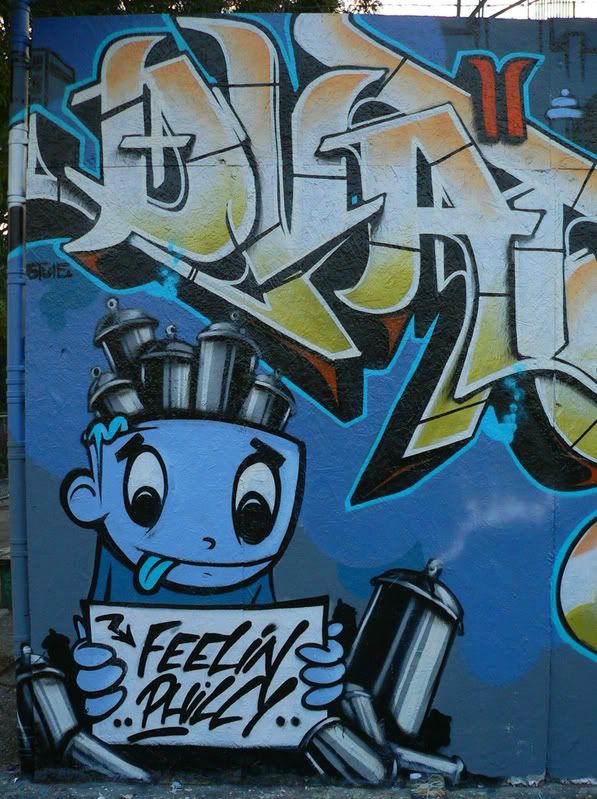 Ladytron: Equal parts icy cool and smoke-ring steamy
electricroulette.com
Monday: As A.D. so eloquently put it in this year's Ultimate Summer Fun Guide, "Ask them: In 1967 your parents were fucking like bunnies to Sergio Mendes and Brazil 66's pop samba sound." Um, rather not but that doesn't mean you shouldn't get yourself an education on this Brazilian master. We promise no old people sex. At the show, at least. At the World Cafe, doors at 7:30 pm, tix are $50 with a $20 food and drink minimum (take a gander at the menu — worth it).
Tuesday: Kiwi superstar Brooke Fraser tours behind her sophomore disc, the understated, yet catchy Albertine. At the Tin Angel, doors at 8:30 pm, tix are $15.
Wednesday: Philly transplant Alexandra Day pimps her debut No Castles No Moats, which is filled with "oozing, nervy, jazzy affair with strikingly sensitive vocals and admirable poetic lyrics." That's all well and good but supporting Day is Ben Carroll, whose parents were in the Starland Vocal Band! That alone makes this show worth it. At the Tin Angel, doors at 8:30 pm, tix are $10.
Thursday: Check out Ladytron — the inventors of sexually ambiguous chill-pill electronica. At the TLA, doors 9:00 pm, tix are $18-20.
Friday: Older, wiser but still just as awesome: Original indie rockers Mission of Burma play their debut EP Signals, Calls and Marches, released way back in '81, in its entirety. Don't miss openers Versus, who are to Google. At the First Unitarian Church, doors at 8:00 pm, tix are $18.
Saturday: You could check out the Paul Green School of Rock Festival but, damn, that's a lot of boys. Let's give it up for the ladies tonight, shall we? Sugartown hosts a benefit for Girls Rock Philly! with Public Record, the Rarebirds, the Novenas and Girl About Town DJ's. At Tritone, doors 10:00 pm, tix $5-10 (pay what you can). Must we say it? We must: You go, girls.
Sunday: Nikka Costa, daughter of legendary producer Don Costa and goddaughter of Sinatra, is both too smart to be a one hit wonder and a t-and-a pop star. Find out why at the World Cafe, doors at 6:00 pm, tix are $25-35.
Let me start by saying that this is not a Pearl Jam review. It's more of a Pearl Jam experiential reflection.
I'm a '90s baby, but I never got down with Pearl Jam. I don't know why. I don't hate them or anything. They just never really captured my attention or admiration. And just to be clear, I never found myself on either side of the "Cobain v. Vedder" debate, either. It skipped over me altogether and I'm not really sure how. I blame Gangstarr and Nas.
When my good friend John asked me if I wanted to take an extra ticket for this past Friday's show in Camden, I said sure. Maybe I'll get swept up in the live experience and start 'getting it,' I thought.
So I went.
I had a generally fun time. But I still don't understand.
CP webmaster Marc Steel, our ride and a dedicated member of the so-called "Jamily," informed me that the Boy Scout shirt-clad Eddie was "flubbing lyrics left and right" during the performance. I could not tell. I'm obviously not the first person to make this observation, but I really can't understand what that guy is saying. And it's not for lack of trying. I was listening really hard.
From my less-than-qualified perspective, though, it doesn't seem like Eddie has lost a step. His singing voice is as leonine as his locks. And he's got the charisma to convince hordes of writhing, fist-pumping people to chant his name repeatedly. That's clout, especially considering these guys and these songs have been around forever. But I'd be lying if I said I was captivated by the hit parade. They played many songs I recognized, including "Alive," which I amateurishly recorded during the second encore (see above; that's John at the end commenting on face meltage.) They did not do "Jeremy."
Jesus, the guitar solo during "Evenflow" was so long. I stood there chainsmoking and repeatedly checking the time on my cellphone after the fourth or fifth minute of Mike McCready shredding and posturing. The rolling sea of entranced PJers, meanwhile, swayed and cooed like they'd just been shot in the neck with mess of low-dosage tranquilizer darts. I tread water and passed the time by drinking a very expensive warm beer.
I kept waiting for a moment that would help me turn the corner and plunge me deep into what everyone else was experiencing. It never came. The dudes are icons, plain and simple. I guess I'm just inept when it comes to interpreting their iconography.
Crystal Castles
Photo | Patrick Rapa
I went to see Mates of State and they sounded great. Dan Deacon was good, as good as a guy who doesn't actually play music but does make people get all sweaty and run around in tight circles. Nightcappers Vampire Weekend won me over with their preppy upbeatness and easy listening rock. (Yeah I missed the Ting Tings, but I have the [Pipettes] CD. So.) The highlight of the day turned out to be Crystal Castles who rocked the crowds like the Yeah Yeah Yeahs used to. High effin energy. Kicking, jumping, crowd surfing, spazzing out.
Photo | John Vettese
Exclaimation points. Capital letters. Living life, this instant. Just a few overarching themes to chew on from R.E.M.'s spirited set at the Mann Center last night. I mean, bam, two songs in, there was the voiciferous new rocker "Living Well is the Best Revenge," echoed later by the dreamy swirly pallate of "Imitation of Life" and "Life and How To Live It." And then the pop art projections of lyrical interjections flickering behind the band - "WOW!" "NOW!" "YEAH!" That stuff crops up all over songs on Accelerate, the new record that everybody is calling a "return to form" for Athens, Ga. college rock royalty.
It's kind of a trite, meaningless phrase that gets chucked around by critics and rock nerds in lieu of saying "return to the sound of that one great album before our fickle asses got bored and decided the band now sucked." Usually it translates to a safe, unadventurous return to a banal, commercially viable earlier sound, the stuff the bigger audiences want to hear, moreso than the stuff that's interesting. Not so here.
Photo | John Vettese
Photo | John Vettese
Sure, cynics say (as Paste surpringly has) that the new record is a rote delivery of Life's Rich Pagent-era riffs, arpeggios, tempos and structures designed for pure marketability. That's a fair argument to be made. Hearing the band open with the classic "These Days" immediately followed by "Living Well" was a bit head-spinny.
But what makes the stuff from Accelerate different is that there seems to be no sense of going-through-the-motions about it. Calculated or not, commercially marketable sound or not, there's no denying the venom in Michael Stipe's delivery as he spits about manipluative mass media in "Man-Sized Wreath" or the distress he pours into the post-Katrina memorium "Houston." Or the pure exhuberence of the silly, celebratory closer "I'm Gonna D.J."

There's this sense of piss and vinegar and immediacy, like they're still the twentysomethings gigging and squatting in a old church in a southern college town. It's resolute defiance: we're not going to go quietly into the night just because a lot of folks found Around the Sun (or any album since original drummer Bill Berry left in '97) to be a snoozer.
Photo | John Vettese
Photo | John Vettese
So it goes with watching R.E.M. onstage last night. Openers Modest Mouse seemed tremendously uncomfortable in the vast amphitheater space and plodded their way through the set without much excitement (or apparent interest in their own performance); they seemed like they'd much rather be in a club. R.E.M., on the other hand, rocked the amphitheater like it was a club by dancing, jumping, leaping, smiling. Actually seeming as though they cared. Like they liked playing music. Like there was nowhere at that moment that they'd rather be.
It sure was nice of Jerry Garcia to rise from the grave and join R.E.M. on tour...oh no wait that's Scott McCaughey.
Photo | John Vettese
...who looks not unlike Mike Mills in this shot.
Photo | John Vettese
Eddie Vedder, in town for a couple Pearl Jam shows, made an impromptu appearance onstage to growl along to "Begin the Begin." Johnny Marr jammed along to "Fall on Me" and "Man on the Moon." Stipe and Mike Mills followed a riser out into the crowd, strutting for outstretched arms and laughing at one another. Peter Buck did splits in front of his amp, which was lined with toy dinosaurs.
That's flexible for 51!
Photo | John Vettese
Photo | John Vettese
And for however much listeners distance themselves from the cuts that don't sound like IRS Records outtakes, R.E.M. thankfully still embraces it's gentler, prettier, more esoteric side, including in the set "Walk Unafraid," "Find the River" and "Electrolite." They hit all eras of their career with equal aplomb, playing along with a wink and a grin. Is an affirmation, an energization. It's part of their life, and they're still living. Wow.
Photo | John Vettese
Photo | John Vettese
Photo | John Vettese
Photo | John Vettese
Photo | John Vettese
Photo | John Vettese