5 o'clock somewhere: The Industry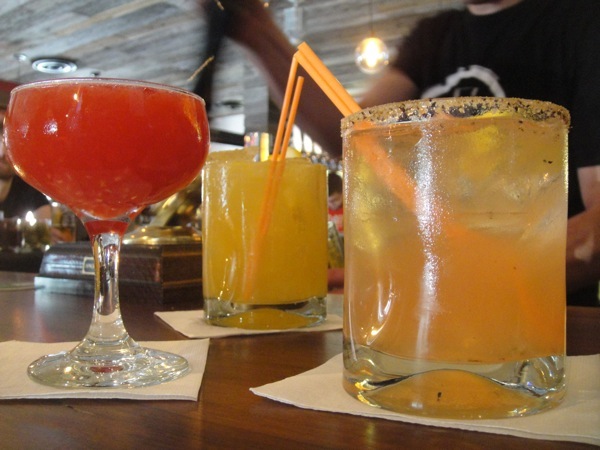 The Web site for the award-winning alternative weekly, the Philadelphia City Paper.
5 o'clock somewhere: The Industry
It's barely been a month but the buzz surrounding Pennsport's The Industry (1401 E. Moyamensing Ave.) is pretty serious. And with good reason. Both cocktail and food menus are an ideal blend of innovative and approachable, a fine balance that keeps The Industry in a zone that's both creative and entirely comfortable.
British barkeep Bob Achilles has designed a cocktail list that reflects this balance. The Industry's list of eight specialty drinks takes inspiration from classics and spins them with Achilles' deft touch. There's a refreshing lightness that runs through the menu, each cocktail seemingly created for the express purpose of warm weather sipping. Here's a look at a few Industry favorites.
The Ghost of Mary ($10) replaces that heavy, meal-in-glass bloody mary with a much welcomed lighter take that subs in a cucumber-spiked tomato water making for a goes-down-a-little-too-easy brunchtime drink with a spiced salt rim.
With a nod to the classic Sidecar, the Secret Girl ($10) blends brandy, Grand Marnier and Cointreau with seedy-sweet raspberries and lemon. Served in a coupe, this cocktail carries the delicate elegance of summer berries.
The Jackie Boy ($10) is Achilles' ode to the cobbler, a tumbler full of Jack Daniels muddled together with honey, orange, lemon and pineapple, and finished off with Cointreau. This drink goes to show that pineapple and whiskey should be spending way more time together.
If you're planning on checking out the cocktails at The Industry, it's certainly worth a mention that they run a dollar-off happy hour Monday to Friday from 4 p.m. to 7 p.m. and Saturday and Sunday from 3 p.m. to 6 p.m. And be sure to follow @theindustrybar for impromptu specials.