Afternoon Snacks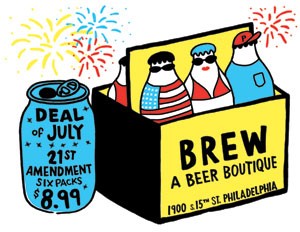 The Web site for the award-winning alternative weekly, the Philadelphia City Paper.
Afternoon Snacks
In the market for Olde City lunch options? Newly opened pizza and cocktail den Barra (139-141 Chestnut St.) is offering a lunchtime pizza promotion for the month of July. Coal oven pizzas are half price with the purchase of a salad every day from 11:30 a.m. to 3 p.m.
Brew (1900 S. 15th St.), Newbold's favorite beer and coffee one stop is running a special on 6-packs of 21st Amendment cans all month long. Get your hands on a cold sixer of IPA, Bitter America, Back in Black or summer fav Watermelon Wheat for $8.99.
Fancy pants Italian steakhouse Davio's (11 S. 17th St.) is dressing down for the warm weather with a new Summer Burger. Beginning with naturally raised Brandt beef, the burger is topped off with onion rings, cheddar, sweet pickles and steak sauce and served on brioche.
Mark your calenders and save up those singles, the Baltimore Avenue Dollar Stroll is making a comeback. On July 19, August 16, and September 20 West Philly restaurants and businesses will be giving away everything from beer and tofu skewers to yoga classes and theater tickets for the bargain basement price of one measly dollar.