Announcing the 4th Annual Mémé Pork Dinner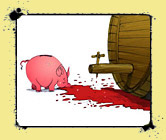 The Web site for the award-winning alternative weekly, the Philadelphia City Paper.
Announcing the 4th Annual Mémé Pork Dinner
Lucky seat holders will begin the evening with charcuterie courtesy of Southwark's Nick Macri, plus a suckling with and hors 'oeuvres from the Mémé crew. Suckling pig counts as an amuse, right?
Dinner will be a six courses of pork paradise prepared by an all-star cast including Bistro la Minette's Peter Woolsey, Michael Solomonov of Zahav fame, Terence Feury formerly of Fork, Concrete Blond Jennifer Carroll, John Taus from The Corner, with Monica Glass heading up dessert.
Katz is bringing in sommelier Michael Madrigale down from Bar Boulud in New York to pair the pair the affair with some mind blowing bottles.
All of this porky magic can be yours for the bargain basement price of $200.
Seats are going to go quick so get on the horn and reserve at (215) 735-4900