Coming Soon: Palm Tree Market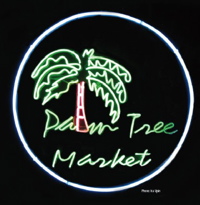 The Web site for the award-winning alternative weekly, the Philadelphia City Paper.
Coming Soon: Palm Tree Market
The empty space on the southeast corner of 20th and Pine will soon be home to another outpost of Palm Tree Market. With locations in Northern Liberties and Queen Village, this up-market mini-chain of grocery-delis is popular with sandwich fiends all over the city.
Served on bread from Metropolitian, Midtown Lunch Philly loved the P11, stacked with turkey, ham, bacon, mozzarella, tomatoes, artichoke hearts, and Russian dressing, pressed on the panini grill. Their vegetarian sandwich options have gotten raves as well.
There's a zoning sticker on the door so we're thinking that Rittenhouse residents will be enjoying Palm Tree Market sandwiches sometime in the next few weeks.