Free Samples: Hipster Dust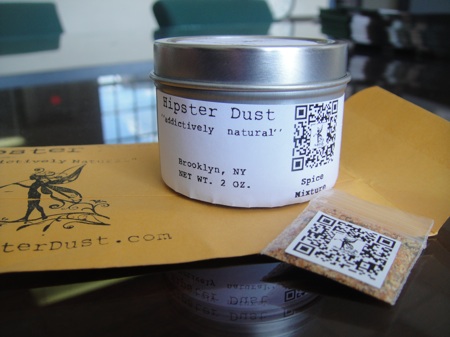 The Web site for the award-winning alternative weekly, the Philadelphia City Paper.
Free Samples: Hipster Dust
Last week it came to Meal Ticket's attention that there's a spice blend on the market called Hipster Dust. Obviously it was imperative that we get our hands on a sample immediately and share our findings with all of you loyal Meal Ticket readers.
Contrary to what one might imagine, this Williamsburg blended seasoning is not made of fixed gear bikes, cigarettes and Navajo prints.
Hipster Dust is a kicky mix of cayenne, chile, salt, seaweed, orange zest, garlic, and a handful of other undisclosed spices and seasonings. The site advertises the vegan Dust as an all-purpose flavor enhancer that can be used on anything from vegetables to soups, noodles and everything in between. If we had to liken Hipster Dust to another seasoning, we'd go with a garlickier shichimi togarashi. We're thinking it would make a nice addition to a bowl of ramen or udon.
So there you have it, Hipster Dust. You can request a sample for yourself for one penny on facebook.