HAPPY HOUR HOPPER: Stateside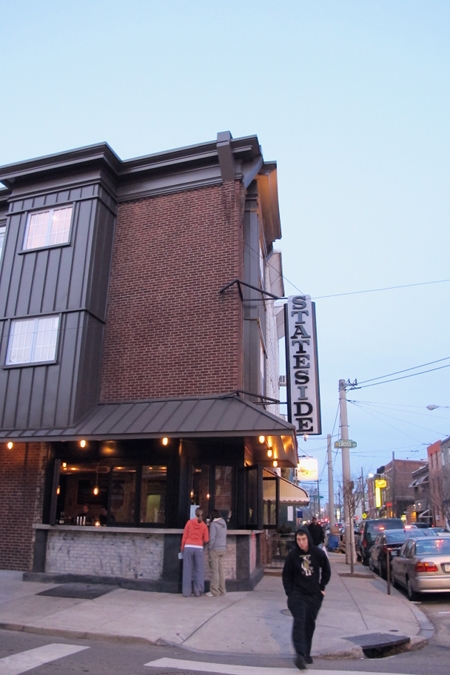 The Web site for the award-winning alternative weekly, the Philadelphia City Paper.
HAPPY HOUR HOPPER: Stateside
WHERE YOU AT? I stopped at Stateside (1536 E. Passyunk Ave.) during that unseasonably warm spell a couple weeks ago. The bartenders had flung the windows wide open and the steady din of cars stopping, starting and rumbling around the Passyunk Fountain provided some good ol' South Philly background noise as a friend and I chatted over half-price drafts.
WHAT'S THE SCENE? Business was already at a steady hum when I arrived at 5 p.m., and about half of the teeny restaurant's seating was already occupied. Tea lights were scattered everywhere … chalkboards, black wood, buck-a-shuck specials … everything about everything pleased me. Low lighting tends to up the sex appeal of just about anything (exposed hanging bulbs cast an artful glow over the bar seats), so I appreciated that somehow, on a Thursday afternoon, 10 steps away from honky Passyunk traffic, Stateside was able to make me feel just a little more sleek than I did on the opposite side of the door.
Stateside's crowd is noticeably younger, with lots of groups of two and three (like my girl and myself). When we asked a question about the cheese plate, our bartender had ample notes to share; the folks who ordered dollar oysters next to us were audibly pleased with their ice-filled dish studded with half-shells, cocktail sauce and little lemon wedges. The ambience is such that I might feel a little out of sorts if I were to walk in after working out at my gym across the street. In other words, it's quite a contrast from the avenue's many neighborhoody bars.
WHAT'S THE DEAL? All of Stateside's draft beers, except those priced at $7, are half off from 5 to 7 p.m. Monday to Friday, and the strictly domestic tap options are pretty tempting. I chose the Southern Tier Choklat, an order to which my bartender warned me: "Just so you know, this beer is served in a 10.5-ounce glass and is 10 percent ABV." Oh, I was ready. Maybe he gets a lot of blondes at the bar who confuse big chocolate stouts with frappucinos?
Red and white wines from Cali are $5 by the glass, and they do those buck-a-shucks during happy hour, too. That's the only food special, but Stateside's sizeable whiskey selection has a built-in HH feature, as well: Enjoy two ounces of the evening's featured whiskey any way you like — neat, on the rocks, in a classic Manhattan — for $9. Lately they've been pouring old-school Rittenhouse Rye, but that changes regularly.