More spots at Starr's Tiki Pop-Up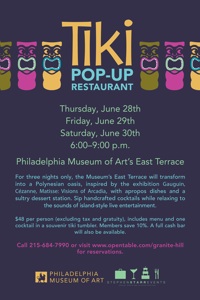 The Web site for the award-winning alternative weekly, the Philadelphia City Paper.
More spots at Starr's Tiki Pop-Up
Sipping a frosty pina colada under a shady palm sounds just about perfect right now and today's tropical temperatures make Stephen Starr's Art Museum Tiki Pop-Up all the more appealing.
Inspired by the works of Gauguin, Matisse, and Cezanne, the pop-up Tiki dinner is a $48 prix fixe featuring a menu of seafood laulau, whole roasted pig, Molokai sweet potatoes, and pineapple upside down cake amongst other island-inspired dishes. Also included is your choice of tropical cocktail (think rummy Mai Tais, Volcanos, and Pink Flamingos) and live steel drum tunes.
Starr and company have decided to expand this Polynesian oasis to seat 50 additional guests this weekend. Here's hoping that Mr. Starr takes note of the draw of the Tiki bar and does something about this town's serious lack of Don the Beachcomber style cocktails.
To reserve a Friday or Saturday night spot on the tiki-fied East Terrace call 215-648-7990 or head over to Open Table.