Pizza nomad Joe Beddia finds at home on Girard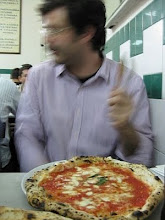 Intel on Joe Beddia's upcoming Girard pizzeria.
Pizza nomad Joe Beddia finds at home on Girard
Joe Beddia's long awaited pizza project has officially found a home at 115 E. Girard Avenue. Meal Ticket had a chance to talk to pizza geeky Beddia about his plans for the space, pie inspiration and the beauty of pizza simplicity.
Having spent time at Madison's Pizza Brutta and Zavino and Osteria here in Philly, Beddia's experience is of the wood-fired variety. At at Pizza by Joe the pies will be coming from a deck oven. He's focusing his efforts on putting out simple pizzas, 18 inchers that veer more towards New York-style rather than Neapolitan.
Simple is the key word in Beddia's pizza philosophy. He's going for mom-and-pop pizzeria pies made with top quality ingredients like organic artisan bread flour and locally sourced produce whenever possible. Beddia is entertaining the idea of making his own mozzarella and currently experimenting with curing pancetta. The key to Beddia's pizza will be attention to detail and not just cranking out pies.
When asked about favorite pizzerias Beddia responded with a more than solid list including Brooklyn's legendary DiFara, Pizzeria Bianco in Phoenix, Anthony Mangieri's New York to San Fran transplant Una Pizza Napoletana and our very own La Rossa located at just south of Snyder on Broad.
If all goes as planned, Beddia is aiming for an early 2013 opening date.