Update: Fire at Lorenzo's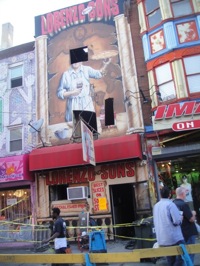 The Web site for the award-winning alternative weekly, the Philadelphia City Paper.
Update: Fire at Lorenzo's
After Wednesday morning's fire at South Street sliceria, Lorenzo and Son's, the scene is looking pretty grim. The good news is that injuries were kept to a minimum, one firefighter with an injured knee was rushed to Hahnemann. Owner Guiseppe Pulizzi managed to make it out of the building the safe and sound, along with all of his crew and his dog. The bad news is that the damage is extensive, extending to all three floors of the building.
The air surrounding Lorenzo's was quite smoky, even hours after the blaze was extinguished. A clean up crew was on duty clearing out debris and boarding up the building yesterday evening. It's pretty clear that late night slice action is going to have to happen somewhere else, at least for the time being.
While the cause of the fire is still under investigation, Pulizzi is determined to have the iconic pizzeria back on its feet sooner rather than later. Say what you will about the slices at this 25 year old institution, pizza has a tendency to taste better after last call.