Northern Exposure: Restaurant Week in the river wards
The Web site for the award-winning alternative weekly, the Philadelphia City Paper.
Northern Exposure: Restaurant Week in the river wards
Tomorrow kicks off Restaurant Week in Kensington, Fishtown and Port Richmond.� Take a peek at the article I wrote for Keystone Edge on the newest and hippest of the Restaurant Weeks.
To the young newcomers who have flocked north of Center City Philadelphia in search of affordable housing, Fishtown, Kensington and Port Richmond seem like real estate prayers answered. These post-industrial, car-friendly communities still retain the grit of the Irish, German and Polish immigrants who settled them in the early 19th century, but have been lent an edgy credibility by artists and craftsmen seeking warehouse live-and-work spaces. Following the last decade's wave of gentrification are the restaurants and caf�s who feed and entertain these locals old and new.
From Friday, May 1 to Wednesday, May 6, twelve restaurants in the river wards will feature specials designed to attract diners northward and out of their comfort zones. This Restaurant Week is a collaboration between local restaurant owners and the New Kensington Community Development Corporation (NKCDC), an organization seeking to grow the community by supporting sustainable business.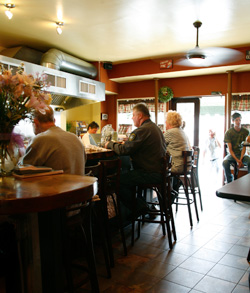 The three distinct 'hoods now known as Kensington, Port Richmond and Fishtown were collectively designated the Kensington District in 1820. The precise borders of each are still a topic of dispute today, with the only inarguable lines at Girard Avenue to the south and the Delaware River to the east.� Though the official northern political border is Norris Street, York Street divided the two Catholic parishes of Port Richmond and defined neighborhood identities since the earliest years of the 20th century.
Neighborhood identities still have the power to inflame passions in these historically working-class neighborhoods. Attending grade school in the mid-eighties, Port Richmond native Rob Cooper was taunted as a "Kenzo" by his classmates, since he lived on the wrong side of York Street. Kensington was always seen as the toughest and roughest of the river wards, dominated politically by the K&A Gang, known as the Irish Mob. After textile, fishing and metal working industries fled the area in the 1950s, K&A (Kensington and Allegheny Avenues) became well known as the corner to score heroin and pick up prostitutes. Philadelphia filmmaker David S. Kessler documents Kensington's continuing struggle with poverty and addiction in Shadow World, his hypnotic series of encounters with strangers under the elevated train tracks.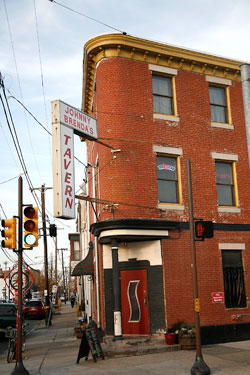 Such dark associations still dog the steps forward by the river ward neighborhoods, although organizations like the NKCDC are putting forth a huge efforts to support economic development through revitalization of abandoned buildings into affordable housing, greening vacant land, microloans to small business owners and community organizations. Restaurant Week in the river wards showcases their improving conditions and highlights what makes them tempting places to live--walkable, family-friendly caf�s, a growing art and gallery scene and like-minded neighbors bent on beautifying streets.
Keeping residents' discretionary dollars in the neighborhood is a priority for NKCDC, and in recent years it's been paying off; nine new eateries have opened in the river wards since January 2007. William Reed and Paul Kimport, owners of bellwether gastropub the Standard Tap in Northern Liberties, turned their attentions to the underserved corner of Frankford and Girard Avenues when they purchased and renovated the 40-year old Johnny Brenda's Tavern in 2003. Since then, Johnny Brenda's (1201 N. Frankford Ave., 215-739-9684) has served as the anchor of the expanding neighborhood, serving simple but exceptional food, an all-local, all-draft craft beer selection and adding an acclaimed music venue in 2007. For Restaurant Week, their kitchen celebrates shad--once the mainstay of Philadelphia's colonial fisheries and the creature that gave Fishtown its name--with a three-course, $30 shad-centric special that includes an appetizer, entr�e and dessert.
The strength of the river wards has always come from ordinary people, and the new wave of restaurateurs has wisely played to working-class wants. Sketch Burger (413 E. Girard Ave., 215-634-3466) crafts the classic American sandwich for every eater--try sirloin, American Kobe, turkey, chicken, vegan or smashed onion burgers, washed down with a dairy or vegan milkshake. During Restaurant Week any non-Kobe burger with two toppings, fries and a shake is just $15.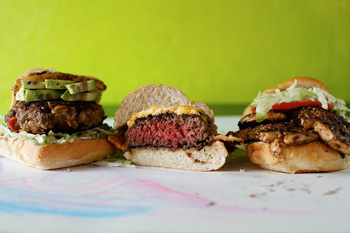 Jovan's Place (2327 E. York St., 215-634-3330) has been the destination for Yugoslavian home cooking since the 1990s. The family-run bar serves classics like goulash, stuffed cabbage and schnitzel; even the menu takes a parental tone, admonishing you to "be patient" while your food is made to order. During Restaurant Week, $25 buys a three-course meal that will barely leave room for the complimentary quaff of homemade brandy.
When a lavish brunch is in order, the signature Irish Breakfast at Ida Mae's Bruncherie (2302 E. Norris St., 215-426-4209) fills the void in home-style. Stop by Mercer Cafe (2619 E. Westmoreland St., 215-426-2153) for generous Restaurant Week breakfast and lunch specials; NKCDC economic development assistant Kathryn Doherty-Chapman recommends the tuna nicoise salad and French toast. Art classes for children, a live music venue and upstairs gallery add flavor to the offerings at Hinge Cafe (2652 Somerset St., 215-425-6614), with Restaurant Week multi-course choices for three daily meals.
Visit riverwardrestaurants.wordpress.com for details and a complete list of participating eateries.
Photos:
Interior shot of Ida Mae's
Johnny Brenda's Tavern
Veggie, Kobe, and Chicken burgers at Sketch Burger
All Photographs by Michael Persico