Archive: February, 2012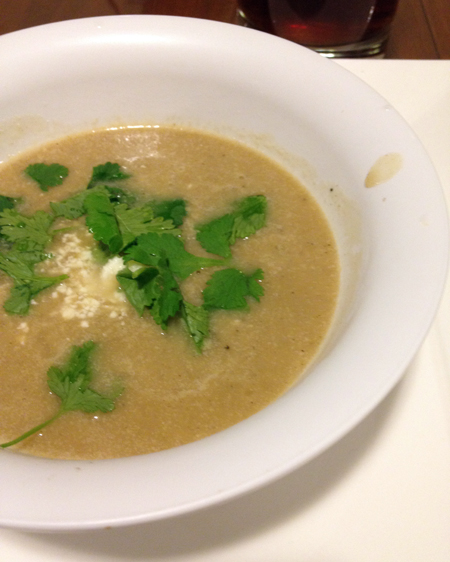 Change-of-weather woes, allergies, whatever's going around — my house caught it this week. When I'm under the weather, I take a doubled-up approach: first with meds, second with food, like a steaming pot of liquid gold. One of my favorites, roasted cauliflower soup, takes a little advance planning — you've gotta roast the florets, then simmer them in stock — but in terms of ease, it's absolutely entry-level. I usually give this soup a Mediterranean flavor profile, but since I had a bag of crumbled cotija I wanted to use up, I made it Mexican and wound up stumbling across my favorite variation yet.
Monday's post on the serious movie screenings at Nomad Pizza (611 S. Seventh St.) — Amelie tonight — got us thinking about a query more than a few people have tossed our way since the Jerseyites opened in Philly three weeks ago: Why aren't their pies cut into slices? Order a pizza here and you'll get your baby on a plate, blistered, steaming, telling you all the wood-fired things you want to hear. But, 10 out of 10 times, it will arrive as one big bubbling round, with nary a convenient cross-cut to be found. Some people seem to be kinda peeved by this, but get used to it — Nomad ain't changing for nobody.
Robert Amar, whose last post saw him running front-of-house at Fare in Fairmount, has pulled a professional 180 with the opening of Underdogs (132 S. 17th St.), a subterranean paean to locally sourced forcemeats in what was the Moroccan restaurant Argan.
Though it's easy to contrast the organic- and calorie-conscious cooking of Fare with a concept as comfily meaty as Underdogs, Amar's approach to this concept reminds us that not all wiener setups are nitrate death bombs. The hefty 100 percent beef Dietz & Watson dogs he's using as a base frank run 170 calories a pop, the Cacia's rolls he's using to stage his "haute" dogs and sausages are fresh-baked and preservative-free, and all his toppings and fry-dip sauces are made in-house. He's working with Philly sausage landmarks like Fiorella's, Czerw's and Martin's to provide links for options like the "9th Street" (Fiorella's hot Italian, sautéed peppers and onions), the "Warsaw Packed" (Czerw's kielbasa, sautéed onions, spicy mustard) and the "Brats" (Martin's pork sausage, kraut, horseradish mustard). Combos, which include a dog, house-cut fries with dipping sauce and a drink, top out at $8.25. Full menu after the jump (click to enlarge).
Underdogs is open daily from 11 a.m. to 9 p.m. right now, with plans to introduce late-night service (to 4 a.m.!) on Friday and Saturday in a few weeks.
It seemed pretty simple for Bridget and Albert Coccia back in January. The couple, married 21 years, worked together at Albert's family's Frankie's Seafood Italiano and had just opened their own breakfast/lunch nook, The Cup and Saucer (743 S. Eighth St.). The banner was raised, the menu finished. Then, one morning, about two weeks ago, a sign appeared on the door of C&S that informed customers they were closed for a "death in the family." Seemed a shame that they had to deal with such tragedy after so soon after launching a new business.
We didn't know just how deep the tragedy ran until the owners, who have since reopened their café, sent out a note detailing the loss: It was Albert's 24-year-old niece, Tiffany Gillespie, who was killed in the basement of a home on Mildred Street. Gillespie, a mother of two, allegedly told Aaron Fitzpatrick, 19, that she was pregnant with his child, and he allegedly shot her out of anger. She was pronounced dead on the scene. Fitzpatrick was arrested, charged with murder, murdering an unborn child and weapons violations.
The note in full:
When Jeanne Chang settled into her West Philly domicile last March, Unitea was on the brink of closing, the physical location of Honest Tom's was nonexistent and the Lil' Pop Shop existed only in her mind. One year later, she's attending zoning board hearings, jumping through the last bureaucratic hoops before she can open her gourmet popsicle shop at 265 S. 44th Street, the former address of Unitea, sometime in April. (It's a busy West Philly block, already featuring Tampopo, Local 44 and L44's forthcoming bottle shop.)
Originally from California, Chang lived for a few years in Durham, North Carolina before moving to Philly. It was in here she bumped into Locopops, a popular shop for popsicle-loving locavores. Inspired by the concept, Chang is working on flavors that reflect local, seasonal ingredients whenever possible, and the varieties will be as distinct as Philadelphians are from Carolinians. She is definitely "interested in hearing what flavors folks want to eat," and for now has a few ideas of her own for the opening menu:
Can Graduate Hospital, a 'hood that already boasts a solid roster of downmarket bars and pubs with good beer and stuff to eat (Sidecar, Grace Tavern, Resurrection Ale House, Doobies), sustain a new entry to the rotation? Partners Nancy Law and Troy Barton are banking on a "yes" with the opening of SoWe (a realtor-style abbreviation of "Southwest Center City"), which they're bringing to the former Divan Turkish Kitchen at 22nd and Carpenter by April.
They're currently overhauling the interior of the space (the bricks are still owned by Divan's Ilker Ugur) to install reclaimed wood flooring, a weathered-oak bar and new lighting; room for 50 heads overall. Self-IDing as a bistro, they'll serve a straight-up menu (burgers, mussels, roast chicken) seven days a week, with Saturday and Sunday brunch. Booze-wise, they want to do craft beer and wine, plus "creative" cocktails. Law, a South Jersey native, teamed with Florida-bred Barton in 2003 to found Essential Media Partners, a firm that creates marketing strategies for hospitality clients.
About three weeks back we received an mysterious package at Meal Ticket HQ containing a T-shirt emblazoned with cryptic Toynbee tile-inspired phraseology about ... gelatin. We were a bit flummoxed at first but then realized there really could be only one origin for such an on-message piece of apparel. Yes, this is the handiwork of Mo Sheehan and Cory Kete, the twosome behind the amazing My Jello Americans Jell-O Shot blog. CP profiled them in 2010.
The crew at Northern Liberties' Random Tea Room (713 N. Fourth St.) is throwing a party this coming Thursday, March 1 in honor of their four-year anniversary. Owner Becky Goldschmidt will be pouring tea-infused cocktails and passing around some sample bites of their upcoming menu. "We do offer some food now, like muffins and fruit, but we're expanding the menu to something more substantial," says Tea Room herbalist Danielle Dwyer. The specifics of the food and drink will remain a secret until it's party time, but we do know there is a cocktail that will feature their housemade chai. The space is small, so they're opening up the back yard for guests to mingle and warm up around a bonfire. Food and booze are complimentary, but the regular tea menu will be available for purchase, too.
Photo: Random Tea Room on Facebook
Mike Stollenwerk has quietly augmented the happy-hour at Fish (1234 Locust St.) we told you about early this month. The weeknight dealage, which originally range from 5 to 6 p.m. only, now extends to 7 p.m., and includes the offer of 99-cent oysters for the duration. Buck-a-shuck rules now also apply to Fish's late-night happy hours, which go down from 11 p.m. to midnight on Friday and Saturday. Three-dollar crafft beers, $5 wines and a $6 cocktail of the day still apply.
Photo: Courtesy of Fish
Notes from the Weekend is a feature that sees the members of Team Meal Ticket compiling all the food/drink highlights uncovered during prime eatin' time, Friday to Sunday. Consider this a place for good deals, great dishes, wicked cocktails, recipe triumphs (and tragedies), bizarro conversations and more. We're eager to share our notes, but especially excited to read yours.We encourage you to leave notes from YOUR weekend in the comments. Have at it! (View past NFTW installments at citypaper.net/notes.)