Field Trip
Today, Thursday, May 28, is the official opening of� Greensgrow Farm Market!� From 2-7 p.m.� Thursdays and 10 a.m.-3 p.m. Saturdays you can head up to Kensington for an all-local lineup of veggies, fruits, grass-fed meats, cheese, bread, eggs, coffee, soaps, hot sauce and more.
Greensgrow has� invited other local food artisans and farmers to vend at their own tables in the market, so there will be an even larger diversity of products than last year.� Look for tasty treats from Meal Ticket crushes Vrapple, Gilda's Biscotti, Patterson Farms Maple Syrup and Blue Water Coffee.
On Saturdays, the Kensington Community Food Co-op Project will be selling bulk grains, dried goods, spices and other pantry staples; all proceeds will go towards their efforts to open a co-operative grocery store in the neighborhood.
After the jump, the produce and product lineup for Thurs., May 28 and Sat., May 30.� Just don't touch the strawberries, they're mine.
Greensgrow Farms, 2501 East Cumberland at Gaul St., 215-427-2702, greensgrow.org
RELATED: In Bloom: Philly's neighborhood food co-ops are dreaming big.� [6May09]
LOCAL PRODUCE:
Asparagus
Beets
Leeks
Radishes
Scallions
Spinach
Greenhouse Tomatoes
Yams
Strawberries
Spring Mix
Baby Arugula
Baby Spinach
Red Leaf Lettuce
Green Leaf Lettuce
Romaine Lettuce
Radishes
Alfalfa Sprouts
Pea Shoots
B+B Garden's Organic Produce (Saturday only): Radishes, Pac Choi, and a variety of greens
LOCALLY PRODUCED GOODS:
Fruitwood Farms' Honey
Patterson Farms' Maple Syrup
Blue Water Coffee
Lilith's Apothecary
C.O.P.A. Soaps
Metropolitan Bakery Granola
Antonia's Pierogis
Nature Soy Tofu
Ray's Wheat Meat
Vrapple
Hot Sauce
Apple Butter
Greensgrow's Pesto
Slowrise Breads
Tony Rolls' Baguettes
'Baked' Coffee Cake + Scones
North Port Fishington Vegan Cookies
MyHouse Cookies Scones + Brownies
Gilda's Biscotti
Spelt Flour + Noodles
and much more....
AS ALWAYS, you can also find local meats, cheeses, eggs, and milk from humanely raised, grass-fed animals in our fridges and freezer in the greenhouse.
All photos l Felicia D'Ambrosio
Tuna tartare on a fried wonton, Cape May Salt
oyster with watermelon and carbonated Meyer
lemon, smoked salmon with cr�me fra�che.
On Friday we previewed Blackfish Stone Harbor, the coastal efforts of James Beard-nominated chef Chip Roman. Friday's soft opening, featuring tiny versions of the dishes on the a la carte menu, gave guests a chance to see the transformation of the formerly dark and dingy space and try out Roman's progressive cooking.
Meal Ticket was especially stoked on the separate bar menu, featuring classics like French onion soup, steak frites, a hefty "beach burger" and clams casino.
General Manager Kip Phelps�was gearing up for the intense Saturday night ahead � for their first dinner service, they already had 125 on the books and had closed reservations.
Peep the interior, and more importantly, the food, after the jump.
Blackfish Stone Harbor, 9628 Third Ave., Stone Harbor, N.J., 609-967-9100,� blackfishrestaurant.com
L to R: Amanda Roman, manager Kip Phelps, partner/owners Dr. John & Denise Sprandino,
manager Ashley Hess, chef/owner Chip Roman.
The center dining room of the only white-tablecloth restaurant in Stone Harbor.
Asparagus soup
A shiny shortrib
From the bar menu: NY strip steak frites
Beignets with raspberry sauce and coconut
cr�me anglaise
Tomorrow kicks off Restaurant Week in Kensington, Fishtown and Port Richmond.� Take a peek at the article I wrote for Keystone Edge on the newest and hippest of the Restaurant Weeks.
To the young newcomers who have flocked north of Center City Philadelphia in search of affordable housing, Fishtown, Kensington and Port Richmond seem like real estate prayers answered. These post-industrial, car-friendly communities still retain the grit of the Irish, German and Polish immigrants who settled them in the early 19th century, but have been lent an edgy credibility by artists and craftsmen seeking warehouse live-and-work spaces. Following the last decade's wave of gentrification are the restaurants and caf�s who feed and entertain these locals old and new.
From Friday, May 1 to Wednesday, May 6, twelve restaurants in the river wards will feature specials designed to attract diners northward and out of their comfort zones. This Restaurant Week is a collaboration between local restaurant owners and the New Kensington Community Development Corporation (NKCDC), an organization seeking to grow the community by supporting sustainable business.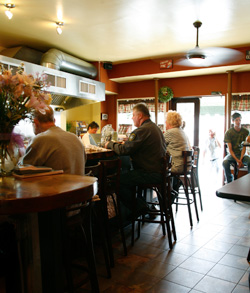 The three distinct 'hoods now known as Kensington, Port Richmond and Fishtown were collectively designated the Kensington District in 1820. The precise borders of each are still a topic of dispute today, with the only inarguable lines at Girard Avenue to the south and the Delaware River to the east.� Though the official northern political border is Norris Street, York Street divided the two Catholic parishes of Port Richmond and defined neighborhood identities since the earliest years of the 20th century.
Neighborhood identities still have the power to inflame passions in these historically working-class neighborhoods. Attending grade school in the mid-eighties, Port Richmond native Rob Cooper was taunted as a "Kenzo" by his classmates, since he lived on the wrong side of York Street. Kensington was always seen as the toughest and roughest of the river wards, dominated politically by the K&A Gang, known as the Irish Mob. After textile, fishing and metal working industries fled the area in the 1950s, K&A (Kensington and Allegheny Avenues) became well known as the corner to score heroin and pick up prostitutes. Philadelphia filmmaker David S. Kessler documents Kensington's continuing struggle with poverty and addiction in Shadow World, his hypnotic series of encounters with strangers under the elevated train tracks.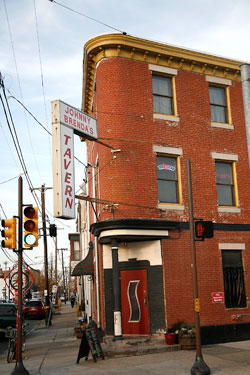 Such dark associations still dog the steps forward by the river ward neighborhoods, although organizations like the NKCDC are putting forth a huge efforts to support economic development through revitalization of abandoned buildings into affordable housing, greening vacant land, microloans to small business owners and community organizations. Restaurant Week in the river wards showcases their improving conditions and highlights what makes them tempting places to live--walkable, family-friendly caf�s, a growing art and gallery scene and like-minded neighbors bent on beautifying streets.
Keeping residents' discretionary dollars in the neighborhood is a priority for NKCDC, and in recent years it's been paying off; nine new eateries have opened in the river wards since January 2007. William Reed and Paul Kimport, owners of bellwether gastropub the Standard Tap in Northern Liberties, turned their attentions to the underserved corner of Frankford and Girard Avenues when they purchased and renovated the 40-year old Johnny Brenda's Tavern in 2003. Since then, Johnny Brenda's (1201 N. Frankford Ave., 215-739-9684) has served as the anchor of the expanding neighborhood, serving simple but exceptional food, an all-local, all-draft craft beer selection and adding an acclaimed music venue in 2007. For Restaurant Week, their kitchen celebrates shad--once the mainstay of Philadelphia's colonial fisheries and the creature that gave Fishtown its name--with a three-course, $30 shad-centric special that includes an appetizer, entr�e and dessert.
The strength of the river wards has always come from ordinary people, and the new wave of restaurateurs has wisely played to working-class wants. Sketch Burger (413 E. Girard Ave., 215-634-3466) crafts the classic American sandwich for every eater--try sirloin, American Kobe, turkey, chicken, vegan or smashed onion burgers, washed down with a dairy or vegan milkshake. During Restaurant Week any non-Kobe burger with two toppings, fries and a shake is just $15.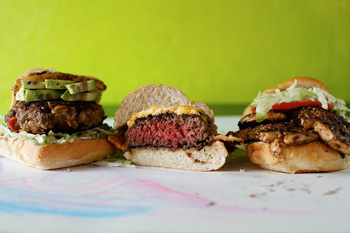 Jovan's Place (2327 E. York St., 215-634-3330) has been the destination for Yugoslavian home cooking since the 1990s. The family-run bar serves classics like goulash, stuffed cabbage and schnitzel; even the menu takes a parental tone, admonishing you to "be patient" while your food is made to order. During Restaurant Week, $25 buys a three-course meal that will barely leave room for the complimentary quaff of homemade brandy.
When a lavish brunch is in order, the signature Irish Breakfast at Ida Mae's Bruncherie (2302 E. Norris St., 215-426-4209) fills the void in home-style. Stop by Mercer Cafe (2619 E. Westmoreland St., 215-426-2153) for generous Restaurant Week breakfast and lunch specials; NKCDC economic development assistant Kathryn Doherty-Chapman recommends the tuna nicoise salad and French toast. Art classes for children, a live music venue and upstairs gallery add flavor to the offerings at Hinge Cafe (2652 Somerset St., 215-425-6614), with Restaurant Week multi-course choices for three daily meals.
Visit riverwardrestaurants.wordpress.com for details and a complete list of participating eateries.
Photos:
Interior shot of Ida Mae's
Johnny Brenda's Tavern
Veggie, Kobe, and Chicken burgers at Sketch Burger
All Photographs by Michael Persico

Make your reservations now for what the Philadelphia Inquirer has called "the busiest restaurant night of the year." More than 200 restaurants across the Delaware and Lehigh Valleys are participating in Dining Out For Life, an annual fundraiser that benefits men, women and children living with AIDS.
Participating restaurants donate up to 33 percent of Thursday's food sales to seven organizations that assist people living with HIV and AIDS.� See a list of beneficiaries here. At a few select restaurants, making an additional $25 donation earns you a card that entitles you to 20 percent off your food bill every Tuesday for one year.
You can check out the list of participating restaurants here, and search which are participating in the 20 percent Tuesday special. The choices run the gamut from super-high end to humble. The local superstars are setting a good example by throwing all of their restaurants into the mix � all four of Jose Garces' places, all 12 of Stephen Starr's, both of Jon Myerow's Trias, Mark Bee's Silk City and N. 3rd and Steve Cook's Marigold Kitchen, Xochitl and Zahav.
Check out some of the bold names participating:
Amada
Alma de Cuba
Barclay Prime
Beau Monde
Bindi
Butcher & Singer
Cochon
Fork
Izumi
James
Marigold Kitchen
Matyson
Mercato
Mrs. Tootsie's Soul Food Cafe
XIX (Nineteen)
N. 3rd
Parc
Positano Coast
Silk City
Southwark
Tattooed Mom's
Time
both Trias
Vintage
Xochitl
Zahav
Zinc Bisto a Vins
Shad was once so plentiful in the Delaware River that our forefathers caught them by the hundreds simply dipping nets into the cold April waters.� With our shad from local rivers completely overfished, most of the creatures cooked at tomorrow's Shad Fest in Penn Treaty Park have been caught on the West Coast.
Saturday's festival features a Grasshopper boutique pop-up shop, bike rides, arts and crafts vendors, a moon bounce for the kids, the shad-run 5K,� free kayaking open to the public, tours with local historian Kenneth Milano and, most exciting of all,� shad sandwiches by Paul Kimport and Carolynn Angle of Johnny Brenda's and the Standard Tap.
The Fishtown Shad Fest Web site cites shad's economic importance to colonial Fishtown, and quotes Kenneth Milano:
In 1686 William Penn described Shad �Shads are excellent fish and of the Bigness of our Carp: They are so plentiful, that Captain Smyth�s Overseer at the Skulkil, drew 600 and odd at one Draught; 300 is no wonder; 100 familiarly. They are excellent Pickled or Smokt�d, as well as boyld fresh; they are caught by nets only.�
As William Penn says, there are more than one way to treat this notoriously bony fish.� Its roe pods, rolled in crumbs and pan-fried, make for an unforgettable nugget of salt and savory richness. Chef Brian McBride of D.C.'s Blue Duck Tavern shares his recipe with The Washingtonian here.
Long, slow cooking melts the soft bones of the shad; try a traditional Virginia slow-baked recipe from About.com.
If cooking over an open fire sets your colonial imagination afire, try a planked shad recipe -- if you don't care to flout zoning laws with a campfire, a grill does the job as well.
Fishtown Shad Fest, Saturday, April 25, 11 a.m.-5 p.m., Penn Treaty Park at Delaware Ave. & Columbia St.; fishtownshadfest.org
Photo l Felicia D'Ambrosio
Through the service window
It's hard to believe that the overachieving Memphis Taproom, that salt-of-the-Earth Port Fishington pub, is only one year old.
Tomorrow at 5 p.m., partners in business and marriage Leigh Maida and Brendan "Spanky" Hartranft will throw open their doors to the rabble who have flocked to the taproom in the last year.� Complimentary bites will be passed around (the kitchen isn't open for the regular menu) and some seriously fly kegs will be tapped -- check out the party list:
St. Pieter's Taras Boulba (a house favorite)
Schlenkerla Fastenbier
Cantillon Vigneronne (a tart lambic with muscat grapes)
De Dolle Dulle Teve� (rare on tap; sure to make the beer geeks damp)
Bear Republic Racer X (a contender for Best IPA Of The Moment)
North Coast Brother Thenlonious
PBC Fleur De Lehigh
Fuller's ESB
Uerige Doppelsticke
Sly Fox Instigator
Stone Russian Imperial Stout
In order to make room for all these goodies, Memphis is offering deep discounts on draft beer tonight ater 7 p.m. -- so do your part and help them kick the kegs!� Check out your mission-beers on their Web site.
Wednesday, April 22, 5 p.m., Memphis Taproom, 2331 E. Cumberland St., 215-425-4460, memphistaproom.com
Photo | Drew Lazor
I recently made my way across the country to Los Angeles for a few days of vacation. No, I didn't see any celebrities. But I did gain like five pounds. Pictures and recap of my trip after the jump.
On my first night in town, the girl and I landed an early table at Pizzeria Mozza, the brick-oven pizza parlor from chefs Nancy Silverton and Mario Batali and NY restaurateur Joe Bastianich. The hype surrounding this one was thicker than one million vertically stacked Little Caesar's crusts � Meal Ticket's Felicia D. had tried it and loved it. The L.A. Times gave it a three-star review. And pizza scholar Ed Levine of Serious Eats � who quite literally wrote the book on the topic � said in 2007 that the Highland Avenue restaurant might be "where you'll find the best pizza in the world right now." I half-expected to see the reincarnated corpses of Pope John Paul II and Frank Sinatra high-fiving each other behind the counter when I walked in.
The spot was packed for early Wednesday night, which I took as a good sign. We ended up getting shoehorned into a teeny two-top next to a table of middle-aged gay guys who all resembled Brian Grazer. Our server, a tall, sleepy-eyed dude who had the look of a collegiate volleyball player, was as pleasant as can be as we tossed in our order � a marrow plate with accompaniments of roasted garlic, toasted baguette and a sea salt; baby peppers topped with tuna; a beast of a meat pie topped with tomato sauce, mozz, sausage, salami, bacon and guanciale (pig cheeks); and a sauceless pizza with mixed mushrooms and taleggio and fontina cheeses.
My opinion? Starters were tasty. The pizza? It was ... good. The meat lover's was rich in all the right places, and a subtle hand with the sauce and cheese ensured the deep flavors of all those greasy, amazing toppings (housemade fennel sausage was my pick) weren't overwhelmed. The mushroom pie was aromatic as hell, but I couldn't help but wish that some sauce had been applied here � the salty bite of the taleggio quietly begged for an off-sweet accompaniment. The dough, Silverton's canvas � she's a lauded baker � was perfectly crackly and light in the middle, but I found the framing crust heavy and bready, not unlike a wheat-based hula hoop.
So Mozza's pizza is good. I would definitely go back and try more. But did the face of Christ appear in the crema of my double espresso, as I was basically promised? Naw.
On Night 2, the girl somehow finagled us a table at The Bazaar by Jos� Andr�s, inside the way-outside-my-pay-grade SLS Hotel in Beverly Hills. (Peep game: No one is better at talking her way into a supposedly impossible-to-land reservation than this girl. Get like her.) The Philippe Starck-designed restaurant, which looks a bit like what would happen if Salvador Dali, Tarsem and the cast of characters from Ray Bradbury's Something Wicked This Way Comes had a really sterile orgy, is the hallucinogenic magnum opus of chef Andr�s, the renowned elBulli alum best known for his successful Latin spots in the D.C. area.
There are two dinner menus at The Bazaar: One's traditional Spanish tapas, while the other's straight-up crazy molecular nutso stuff. Though I hit up some deliciously recognizable items � fat kumamoto oysters floating in olive oil like high-style sardines, tissue-paper-thin jamon iberico de bellota (ham from black Iberian pigs that feed only on acorns) � we focused most of our energy on consuming science experiments. Some truly odd (and intermittently amazing) things on offer here. Cotton candy-wrapped foie gras. A baby ice cream cone filled with flying fish roe. Buttery slabs of toro draped atop watermelon (in place of rice in a nigiri setup) with a potent jalapeno slice and Don King-like poofs of some type of, ahem, "air" (I forget what kind precisely). In a truly innovative coup de grace to Joey Vento and his ilk, a "Philly cheesesteak" (hollow "air bread" filled with melted cheese and topped with decadent thin-sliced rich-person beef) and a "Hilly cheesesteak" (same thing, but with mushrooms instead of steak). And perhaps the nerdiest dessert on the planet � a nitro coconut floating island, with liquid nitrogen-dunked meringue resting atop bananas and passion fruit drizzle like a cream-colored pith helmet. Crack that helmet with a spoon and it shatters like an egg from outer space, spilling its whipped meringue guts all over the fruity battlefield. So very cool and so very good.
I had fun, but did the experience as a whole "arrive like fireworks bursting in the night," as L.A. Times reviewer S. Irene Virbila recently wrote in her criticism-free four-star coronation? Not precisely. I found myself chuckling at the sheer silliness of it all throughout the meal. I know that's the point � stuff like this is supposed to be playful � but at the end of the day, I realized I was laughing more at the Fosse-ian hand movements our various servers used while describing Brussels sprouts and the sunburnt European businessmen strutting around sockless in $900 loafers sipping "Magic Mojitos" than the inherent whimsical novelty of Andr�s' crown jewel.
We ate normal person food for the remainder of the trip.
The next day, we took a drive out to Orange County � Laguna Beach, specifically � to visit my dude Chris Boucher. Despite your nasty notions of this town thanks to the MTV show, know that it's actually a very quaint, peaceful and beautiful place � kinda like a Left Coast New Hope. Boucher took us up the road from his place to Taco Loco, a sick little Mexican counter where we grubbed out on carnitas, calamari and fish tacos. I sipped on a decent Hemp Ale from Humboldt Brewing.
That evening, made our way back to L.A. to meet up with some old friends and quickly became drinkdrankdrunk at a handful of different bars. You know what that means � junk food! A stop-in to a 7-Eleven to get beer (be jealous, PA) ended with armfuls of munchies, including El Sabroso Pork Cracklins (holler) and a too-weird-not-to-buy tallboy of Budweiser with Clamato � literally that beer mixed with tomato and clam juice. It tasted exactly how you might expect it to taste. (That's my L.A. resident friend Jenelle wielding and sampling it in the photos.) Laterlaterlater that night, I paid my first-ever visit to the famed In-N-Out Burger, where I was instructed to order a double-double (double burger, double cheese) "animal style," which means they smother your grub in a Thousand Island-like relish-y dressing and fried onions. My memories of this experience are admittedly fuzzy, so the only thing I can really tell you about it was that I ate all my food in about 5 seconds and enjoyed the shit out of it. It was so incredibly satisfying and made the whiskey in my tummy go to sleep.
On our last day in the city, we drove down Santa Monica Boulevard to check out Point Point Joint, a Filipino eatery with several locations. I grew up with Filipino grub, but since there's but one Pinoy restaurant in Philly � Manila Bay in the Northeast �I wanted to check out what L.A. had to offer. Ooh right: The place is called "point point" ("turo turo" in Tagalog) because you do just that � a bunch of sneeze guard-protected steam trays await you, and you let your friendly spoon-wielding attendant know what you'd like with a gentle thrust of the finger. I ended up ordering lechon (roast pork with super-crispy skin), fried bangus (milkfish) and pancit (a lo mein-ish noodle staple). The girl, who eats only seafood and no meat, had a bit of trouble here, as every Filipino dish in the history of ever has some sort of animal in it. She eventually landed on salmon belly and fried rice. Sorry about that!
For our final dinner in Los Angeles, we hit up Real Food Daily, an organic veg restaurant in Hollywood that'd been recommended to me by quite a few people. My first experience with tempeh left something to be desired, so I decided to give the stuff another shot here by ordering "Vivas Las Pasta," a tempeh spaghetti and meatballs type of thing. Yeah ... I don't like tempeh. I gave it a fair shot, my vegan friends! I really did! I just don't like that stuff. I sampled some of my companions' dishes, though � the Tac-O' the Town, with seasoned seitan and amazing chunky guac, was particularly yum � and thought everything else was solid.
Looking back on it, I think I should attribute my occasional disappointments in L.A.'s restaurant scene less to the hype around specific restaurants (The Bazaar) than to the all-pervading buzz attached to pretty much everything in the City of Angels. As far as I can tell, it's just part of the natural machinations of the place, and perhaps I was just hypersensitive to this coming out from the East Coast. I wish I had a few more days to delve into some of the time-honored institutions (Pink's Chili Dogs, Roscoe's Chicken and Waffles, El Cholo, etc.) I missed � meaning I'll definitely be back. Here's hoping I'll see Justin Bobby or somebody next time.
Foodies have the luxury of plenty of good food. We spend hours thinking about and preparing the best bites, including lots of fresh, local produce and nice grass-fed meat, while thousands of folks right here at home go without even the basics. Since guilt is an unproductive emotion, add your energy to hunger relief by donating your time.
PhilAbundance has been working to fight hunger since 1984, and is the largest food bank and hunger relief organization in the region. A new initiative, Fresh For All, is seeking volunteers to aid in the distribution of fresh produce to people in the neediest neighborhoods. Volunteers can donate time to answer phones or post mailings, or sort and hand out produce at six pick-up sites in the Delaware Valley.
With the cost of fresh fruits and vegetables rising, increasing numbers of people will find these critical food groups unaffordable. Contributing time to PhilAbundance's efforts ensures that more than just foodies are able to access the natural bounty of the Delaware Valley.
To volunteer or donate, contact Tunisia Garnett (215-339-0900 ext. 238 or tgarnett@philabundance.org). For more information, visit philabundance.org
Thanks to Daily Candy Philadelphia for sending out this volunteer opportunity.
Once Upon a Nation
Franklin Square
By the time warm weather is no longer a welcome novelty, you will be able to chow down on a Stephen Starr-approved hot dog and Capogiro gelato after taking a spin on the whimsical Philadelphia Park Liberty Carousel at the prettiest playground in the city.
Starr announces today in a press conference at Franklin Square that he will be partnering with Historic Philadelphia Inc., who manages the family-friendly park, to set up a permanent food vending operation in the Square.
By mid-April, a temporary Starr stand will be up and running, selling burgers, hot dogs, pretzels, drinks and ice cream. When construction on the permanent stand is completed (estimated by mid-summer), the offerings will expand to include specialty burgers, shakes, salads and Capogiro gelato.� Cafe tables and chairs, as well as picnic benches, will be scattered throughout the park for visitors to better enjoy an al fresco snack.
Franklin Square features two playgrounds, one scaled for little kids under two,� and another complete with centrifugal force rides, climbing structures and swings that can keep the biggest kids amused for hours. The park is also home to the only carousel in the City of Philadelphia, a miniature golf course complete with scaled-down local historical monuments and a restored vintage marble fountain. The park, which is one of William Penn's original five squares, was named in the Top Ten Best Playgrounds in the U.S. by Dream On Travel.
Franklin Square, 200 N. Sixth St., 215-629-4026, historicphiladelphia.com/franklin-square
Driving through Strasburg on the way to Lancaster one pretty spring day, my sister begged me to stop at a small coffee shop, Merenda Zug. Our grandparents had often treated us to a homemade ice cream at the Strasburg Creamery down the street in our younger days, but I had never been inside this particular storefront.
Once inside, my sister ordered a Lebanon bologna sandwich from the Mennonite girl behind the counter. "Ew," I whispered to her. "I thought you hated bologna."
"This is different," she said firmly. "You're going to like it. A lot." As the counter girl removed mustard, white American cheese and deli-sliced meat from a 1970s avocado-colored refrigerator, I wondered what could transform the slimy, mystery meat of childhood into a sandwich worth stopping for.
The young woman paused from carefully layering wheat bread with cheese and slices of the dark red Lebanon bologna. "Potato chips, ya?" she inquired. "Yes, please," my sister quickly responded.� On went thickly cut potato chips, and the sandwich was topped with another slice of bread and wrapped in wax paper.
Outside, we divvied up our halves and sat on a bench to eat. The first bite through the layer of familiar American cheese, spicy mustard and sweet, smoky meat all topped with a salty layer of potato chips was a seriously satisfying moment. Oscar Mayer made no unwelcome appearances.
Lebanon bologna is a regional specialty native to the Lebanon Valley of Lebanon County, Pennsylvania. It is an all-beef, cured, smoked, fermented, semi-dry sausage that is much closer in style to salami than bologna. Slow-curing gives the sausage a strong smoky flavor, while fermentation provides a distinct tang.
If a trip to Strasburg isn't in your immediate future, several vendors in the Reading Terminal Market sell Lebanon bologna, including Hatville Deli in the Pennsylvania Dutch section. Fair Food Farmstand is offering packages of Gap's Green Meadow Farm grass-fed, nitrite-free, all natural beef Lebanon Bologna that has a round, smoky flavor and pleasant sweetness.
Merenda Zug, 11 E. Main St., Strasburg, 17579; 717-687-8027
Hatville Deli, Reading Terminal Market, 12th and Arch streets, 215-925-5065
Fair Food Farmstand, Reading Terminal Market, 12th and Arch streets, 215-627-2029