Snack Time
- By now you must know I love Epic Meal Time. It's disgusting and yet I can't stop watching. Luckily, the guys behind Kids React had the good sense to show one of the videos to a group of kids, aged 5 to 14. As you may have guessed, they reacted and that reaction magnifies the joy of Epic Meal Time about a hundredfold.

- Don't you wish sushi was easier to eat? All that picking it up and putting it in your mouth is so unpredictable. Good thing someone thought of the Sushi Popper, a "portable tube with fresh pre-sliced sushi that is pushed up from the bottom and eaten from the top." It's a sushi Push Pop. Forget electricity, forget modern medicine. This is by far the greatest invention of all time.

- Pork is so much more than the other white meat. It's also the target of a new kind of criminal: the pork thief. On July 14, a man in New York City stole a pig leg out of Bev Eggleston's truck. Eggleston, creator of EcoFriendly Foods, chased the guy down First Ave. until a group of policemen saw it happening and got in on the action. Eggleston opted not to press charges. All he really wanted was his pork back.

- A question that's constantly asked in America is "Why are we so fat?" There's gotta be some reason why we have one of the highest obesity rates in the world. Hyperthyroidism? Slower metabolisms? Environmental peptide mutations (thx, Howard Dean)? Actually, it's cause we eat too much and too big. Go figure.
- On multiple occasions I've declared that I am suffering from a food coma. You probably have too at some point. It sounds funny, but it's for real. Post-prandial somnolence is the result of your body using blood and energy for digestion, taking away from other functions like muscle exertion and exercise and causing you to fall asleep.

- VH1 is rolling out a new and promising reality show called Canz. The title establishment is a Long Island sports bar specializing in wings, beer and breasts, and now you can find out what really goes on behind the scenes in this classy establishment. My guess is it's not much different from what goes on in front of the scenes.
- Holy beef patty, America! First Lady and healthy-food advocate Michelle Obama went to Shake Shack. As if that wasn't enough, her meal cost her 1,700 calories. How could such a vegetable champion have a burger once every 14 months? Hypocrite! In other news, Shake Shack is frickin' delicious.
- Crooner Dean Martin, famous for such songs as "That's Amore" and "Ain't That A Kick In The Head," may have had the greatest burger recipe of all time. Seriously, it's two ingredients. Sure, there's a lack of culinary sophistication there, but that didn't stop him from getting tons of tail.
- We all know the recipes for romantic comedies (boy meets girl, boy and girl love, conflict, resolution), horror films (all peaceful, killer emerges, lots of running/dying, killer is defeated), and BBC British dramas (long dramatic speeches, so much pent-up sexual tension). Alfred Hitchcock films are no exception. He's the Julia Child of the suspense thriller — and the recipe is perfect every time. Hitchcock, also a "part-time gourmet," may have cooked it over and over, but did you ever get bored? No.
- Mick Vuick, owner of McDain's Restaurant and Golf Center in Monroeville, Pa., has banned children ages 6 and under from his restaurant. His reason? They're loud. Parents all over Monroeville are outraged by the injustice.
- Ooooh Marmite, how I loathe thee. Growing up, there was always a jar of the stuff in our cabinet, but I would never eat it, mainly because it's gross. According to this new marketing campaign by the company (titled "Hate Cuisine"), I've been missing out. They've hired this completely real frog and snail to tell you that "oat cwezeen" is pretentious and unnecessary — all ya really need is a bit of Marmite and your food will be heavenly.
Note: I'm not really patriotic. That's not to say I'm a bad American, but can you blame me? My mom's British and my dad's a misplaced Swiss German. I have no real past in America besides my relatives, who came over during WWII. So this is my way of commemorating America — just a few days after July 4 — with articles about the beginnings of America's food origins. And some other stuff.
- Thomas Jefferson, America's original food dude, traveled extensively to research other cultures' food, as detailed in this Salon piece. While I admire him to the fullest for his food expertise and activism, I call into question his hypocritical feelings toward his slaves — after all, they're the ones who did all his actual growing, cooking and brewing.

- Apparently, America owes its independence to the food eaten by the soldiers during the war, as provided by local farmers. Without them, we'd still be shit out of luck/still a colony. Granted, the food they ate wouldn't be great for commemorating July 4 (mmm, dried meat and flour cakes), but at least we've got modern-day barbecue and hot dogs to supplement.
- It's called "gourmand syndrome," and it's for real, just like restless leg syndrome. The disorder is characterized by "a preoccupation with food and a preference for fine dining." That's all of us, right? Wrong: The syndrome can apparently cause obsession so great that it can lead to career change (not so bad) or eating disorders (bad). Still, it'd be cool to get your health insurance provider to cover all your food expenses, wouldn't it? "No, seriously. I need to eat all this expensive cheese. Doctor's orders."

- A Clifton Heights grandmother sat on her grandson and sprayed him full-on in the face with a garden hose for eating too much bacon at breakfast. We all know bacon is delicious, amazing and peculiarly versatile, but it is worth torturing your loved ones?
- South Koreans can now do all their grocery shopping while waiting for the subway. Huh? Home Plus (the British supermarket chain Tescoe) has created virtual grocery stores in subterranean SK. All customers gotta do is scan product barcodes with their smartphones and the groceries are delivered straight to their doors. It's funny: the west is advocating for slow food and the east is all about getting it done fast. Will we ever reach a happy medium?

- Wendy's has sold off Arby's to a private equity firm. To this I say: good. Has anyone else noticed a decline in the quality of Arby's roast beef since Wendy's acquired them in 2008? The stuff's become so flimsy. Hopefully the quality will come back. I miss original Arby's. Sadface.
- I love Nutella as much as the next fatty, but I ain't got skillz like this: This dude eats a whole jar of Nutella in a little over 2 minutes. No liquids to wash it down, just a spoon and a can-do attitude. The beginning is slightly reminiscent of EpicMealTime until he starts making faces that scream "OH MY GOD I JUST KNOCKED 30 YEARS OFF MY LIFE."
- Remember that Weeds episode where there's a butter sculpture contest? Well, we have one less butter sculptor in the food art world. Butter sculptor extraordinaire Norma Lyon died on Sunday at the age of 81. She carved everything from life-size cows to "The Last Supper." Food sculpture is one of my favorite forms of art and Norma will be sorely missed.

- We all know the Japanese make some weird snacks (meat-flavored ice cream, anyone?), but poop meat? That seems a little far-fetched. Looks like it is: Turns out that Fox News, in addition to many other media outlets, didn't check facts before publishing a story about Japanese scientists creating edible meat from human feces. Not only was the basis of the story an unverified YouTube video, but the exact same report surfaced in the news back in 1993. Fox should probably review its journalism techniques.
- Austin, Texas, home of Whole Foods, is opening the very first no-packaging grocery store in America, called In.gredients. All food is in bulk and customers are encouraged to bring their own reusable storage containers to purchase food items. The store also plans to take on the role of a community center for cooking classes, art shows and gardening workshops.
- Barcodes are such an eyesore. If only someone would do something about this increasingly unsettling problem! We're in luck: Smaller companies are beginning to design their own "vanity barcodes." There are New York skylines, school busses, even waterfalls. Nestle is trying out the new barcodes on its smaller brands and Bear Naked granola (a subsidiary of Kellogg's) has added a blade of wheat grass to their barcode already. Looks like your fancy food just got fancier.
- What, the Double Stuf wasn't enough for you cookie monsters? Look at this baby: the TRIPLE DOUBLE OREO, with a layer of classic cream over a layer of chocolate cream, said to be released this summer. I'm waiting for a Quadruple Triple Neapolitan Oreo, with an added layer of strawberry cream. Are you reading, Nabisco? ($$$$$)

- The archaic reign of PLCB over the way we buy our booze may be fading - with a particular permit, probably at quite a cost, all Pennsylvania beer distributors could be able to stock wine and liquor, if the bill is passed. DelCo Times reports the hopeful logistics.

- Fewer troops in Iraq means less Burger King (and other brands of familiar fast food) stands to feed them. Esquire explains the effect on general morale these comfort foods have for soldiers at war, among other anecdotes and examples of what and how they eat.

- Eatocracy wants you to know why you should eat squirrel, cough, the "chicken of the trees."

- Good news that PA might loosen its hold on us, but what's up with North Carolina? Illegal to order your burger rare or medium rare? Because their idea of safe differs greatly between ground beef and a steak, ordering the latter bloody is still a go.
Photo: bites.today.com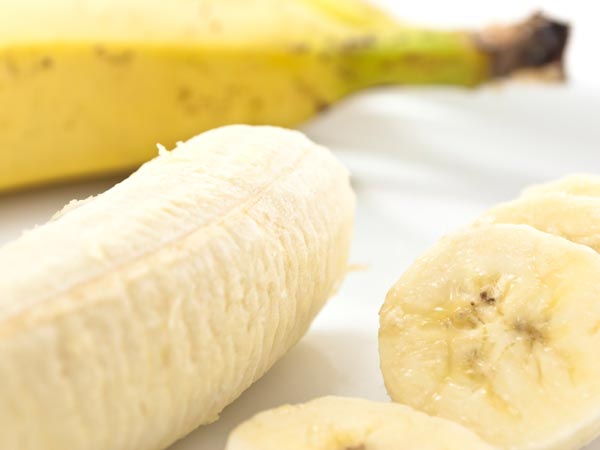 - Oh, my, god. Japanese artist Keisuke Yamada whittles human faces into the meat of a banana before he eats them. His friends are lucky. I have a bunch of bananas and I'd really like the face of Marilyn Monroe or my chihuahua carved into one. Check out the rest here.

- Ian Knauer, a contributing writer for Bon Appetit's blog, has a farm in Knauertown, Pa., pretty close to us. He just started sharing morel-hunting stories, photos of his cute baby chicks and recipes for compote made from his rhubarb, which he explains how to care for in his blog feature, Farm to Table.

- The government in the UK is looking to cut some costs, and the most relieving solution they've come to is reforming their ages-old cellar of finer-than-fine wines (worth millions and millions of pounds) by selling off the old stock and relieving taxpayers' burdens by hundreds of thousands. Can we get some?

- The San Francisco Food Adventure Club is into "rarefied food and experimentation." So, they recently chose placenta as their food-loving challenge, which some members politely declined. Thoughts? I was raised by hippies, and my dad planted the placenta from my home birth by the railroad tracks.

- Alton Brown's over-the-top cheesy yet still-informative food show Good Eats has met its end after almost 250 episodes of dropping serious food knowledge in tandem with slapstick humor. Check out Chicago Tribune's list of every single topic he ever covered. Bravo, son!
Photo: dailymail.co.uk
- Ramps are synonymous with early spring produce, but overharvesting has botanists and research scientists worried about the long-term integrity of the delicious plant, New York Times reports.
- On Monday, President Obama hosted a Passover seder at the White House, and one of the eight dishes served came from Michael Solomonov of Zahav. Solomonov presented a carrot and apple salad with pine nuts. Zahav's Passover Mesibah is being offered through Tuesday, so don't miss out on that brisket with coffee and morels.
- Capogiro always delivers rich gelatos and fruit-based sorbet flavors with playful innovation. I remember having a watermelon variety recently, and this week I came across an old Saveur recipe for a Sicilian watermelon pudding that sounds similarly refreshing and DIVINE and suitable for summa summatime!
- Easter is this weekend, if you weren't reminded by the endless varieties of Cadburies and Peeps and jelly beans. Just remember you could be in big trouble if you happen to smuggle a Kinder Egg into that basket, because the hollow egg contains a toy inside (hey, Weekly Candy). It is a health hazard and we can't have any. People are getting stopped at borders and their Kinders and being confiscated. Europeans have all the fun.
- Heineken bottles just got a really sexy aluminum makeover, and they glow in the dark, too.

- We really love stumbling upon beautiful blogs written with an insufferable passion for food. On Food and Baking, the sweetie behind it a Philly girl, is one of those sites. Sifting through recipes like grape-and-rosemary foccacia, vanilla bean challah and lots of seasonally appropriate jam, we couldn't choose just one to share, though we can't wait to make our own almond milk. See for yourselves. Thanks, Emily!
Photo: cheeryobservations.com
- Easily one of the most disturbing confections one of the most disturbing things I have ever seen: the marzipan baby. Yes of course, use one as a cake topper for a baby shower or something. Naturally, a yawning baby is appropriate. But, they have hair. I can't deal. These look like real infants.
- Now we've got the option of making wine more portable than ever. If you don't care about pairing and just want your vino on the go, Flasq wines are packaged in eco-friendly recycled aluminum and provide two full glasses.

- Humans just go mad about bacon, and now, humans can smell like it. A chic eau de toilette dubbed Bacon (obvs, but pronouced "bay-cohn," you know, to sound tres Parisienne) has been released by Fargginay, who seems to only make who seems only to make bacon cologne. From the essential oils of bacon. OK …
- While Cool Ranch is always appreciated, why aren't we so lucky to experience international Dorito varieties like yuzu, sesame chicken, seaweed, peking duck or gourmet sausage? Now That's Nifty exposes 102 such options. This is feeling a little like when we shared those endless Kit Kat flavors enjoyed in Japan. Envy.

- I don't know about you, but I'm tired of the traditional pizza cutter. The old rolling metal wheel. It's also something that just gets lost in the kitchen. These pizza scissors (with built-in spatula!) seem like a much more convenient and civilized option.

- A very rare eating disorder called Pica causes sufferers to desire certain non-nutritive, inedible foods like plastic, batteries and soap. It occurs mostly with children and pregnant women. A woman out there was profiled this week by The Daily Mail regarding her uncontrollable 21-year-old addiction to foam sofa stuffing.
- Honest Tea has done something good. Not that their line of iced teas aren't good, but they've one-upped every competitor out there by adding chocolate. Their CocoaNova line better live up to my expectations, as tea and mint and chocolate should blend harmoniously, right? Serious Eats seems on the fence. I can't wait to get my hands on these YooHoo-y beverages.

- Chinese researchers have found a way to genetically alter cow's milk into a near-exact replica of human breast milk to help mothers who have trouble producing. The product even includes some of the hormones that aid in infant immunity and development. I thought this was an April Fool's joke, much like the Camembert lip balm that Whole Foods promised. It's not. What does everyone think of this?
- Ew. A young man from Washington finished his Monster Energy Drink, only to find that the can still felt "heavy." Disgusting. Ew. Someone's getting hit with a lawsuit. I'm saying nothing more. Click here to see what he found.

- Have you seen what happens when you salt fresh frog's legs prior to cooking? Totally weird and creepy ... but intriguing? Absolutely!

- Monks in Germany have a centuries-old practice of consuming solely beer and water to cleanse. An Iowa man has decided to take this as his Lenten sacrifice, and he is almost finished with his month of living entirely on a diet of beer, which he justifies as "liquid bread." Keep up with his progress on his blog.

- The salt tastes like bacon. This lip balm tastes like bacon. These envelopes taste like bacon. THIS AIR TASTES LIKE BACON EVERYTHING TASTES LIKE BACON. You can buy so many different things that taste like bacon here.
Photo: Robyn Lee | seriouseats.com
- You want these. You want these really badly: crunchy little Cheetos dipped in chocolate. The Cereal Baker can take the blame. Enjoy keeping the orange off of your fingertips in the best kind of way!

- Several familiar fruits, veggies, and spices we mindlessly imbibe on a daily basis are actually lethal. Lethal, deadly weapons. I mean, it's really just about what part of the tomato you eat (stay away from those fragrant leaves), or the amount of time you cook your lima beans (less than 10 minutes and you could be consuming cyanide!). Read Foodista's breakdown and inform yourselves.

- I back this. I back this hard. Some resident in Waco, Texas are deeply offended by — while others are flocking to — a new burger stand indiscreetly named Fat Ho Burgers. Every sandwich be a ho, too, with cheese or without, but always supa fly. Have a sense of humor.

- ALLERGIC TO PEANUTS? Oh my goodness, there is finally hope for you! CNN reports that there is a still-in-the-works patch — much like a nicotine patch — to desensitize, and possibly cure, your intolerance. PB&Js for all. It's just a little weird that these researchers are testing it on their allergic children.

- Philadelphia's sugary baby, Tastykake, has gone gluten-free. They've released chewy — and, according to Gluten Free Philly, "pretty good" — chocolate chip cookies. There are also chocolate chocolate chip. Let us gluten avoiders chant together in anticipation of the unveiling of a GF peanut butter Kandykake or butterscotch krimpet.

- Um, friends ... rats are running amok in Center City restaurants. Don't be so surprised; we live in a city where filthy rodents swarm. Let's just hope these particular unfortunate joints take care of the issue.

- Turn that frown upside down and watch this video right now. The whole thing.