Vegetarian
Tomorrow kicks off Restaurant Week in Kensington, Fishtown and Port Richmond.� Take a peek at the article I wrote for Keystone Edge on the newest and hippest of the Restaurant Weeks.
To the young newcomers who have flocked north of Center City Philadelphia in search of affordable housing, Fishtown, Kensington and Port Richmond seem like real estate prayers answered. These post-industrial, car-friendly communities still retain the grit of the Irish, German and Polish immigrants who settled them in the early 19th century, but have been lent an edgy credibility by artists and craftsmen seeking warehouse live-and-work spaces. Following the last decade's wave of gentrification are the restaurants and caf�s who feed and entertain these locals old and new.
From Friday, May 1 to Wednesday, May 6, twelve restaurants in the river wards will feature specials designed to attract diners northward and out of their comfort zones. This Restaurant Week is a collaboration between local restaurant owners and the New Kensington Community Development Corporation (NKCDC), an organization seeking to grow the community by supporting sustainable business.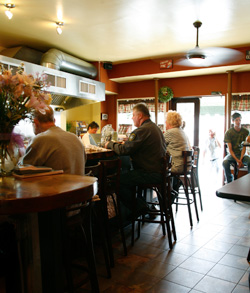 The three distinct 'hoods now known as Kensington, Port Richmond and Fishtown were collectively designated the Kensington District in 1820. The precise borders of each are still a topic of dispute today, with the only inarguable lines at Girard Avenue to the south and the Delaware River to the east.� Though the official northern political border is Norris Street, York Street divided the two Catholic parishes of Port Richmond and defined neighborhood identities since the earliest years of the 20th century.
Neighborhood identities still have the power to inflame passions in these historically working-class neighborhoods. Attending grade school in the mid-eighties, Port Richmond native Rob Cooper was taunted as a "Kenzo" by his classmates, since he lived on the wrong side of York Street. Kensington was always seen as the toughest and roughest of the river wards, dominated politically by the K&A Gang, known as the Irish Mob. After textile, fishing and metal working industries fled the area in the 1950s, K&A (Kensington and Allegheny Avenues) became well known as the corner to score heroin and pick up prostitutes. Philadelphia filmmaker David S. Kessler documents Kensington's continuing struggle with poverty and addiction in Shadow World, his hypnotic series of encounters with strangers under the elevated train tracks.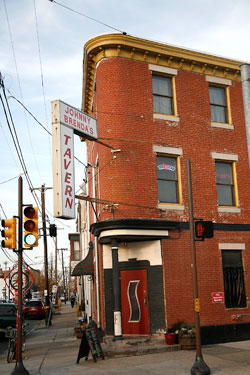 Such dark associations still dog the steps forward by the river ward neighborhoods, although organizations like the NKCDC are putting forth a huge efforts to support economic development through revitalization of abandoned buildings into affordable housing, greening vacant land, microloans to small business owners and community organizations. Restaurant Week in the river wards showcases their improving conditions and highlights what makes them tempting places to live--walkable, family-friendly caf�s, a growing art and gallery scene and like-minded neighbors bent on beautifying streets.
Keeping residents' discretionary dollars in the neighborhood is a priority for NKCDC, and in recent years it's been paying off; nine new eateries have opened in the river wards since January 2007. William Reed and Paul Kimport, owners of bellwether gastropub the Standard Tap in Northern Liberties, turned their attentions to the underserved corner of Frankford and Girard Avenues when they purchased and renovated the 40-year old Johnny Brenda's Tavern in 2003. Since then, Johnny Brenda's (1201 N. Frankford Ave., 215-739-9684) has served as the anchor of the expanding neighborhood, serving simple but exceptional food, an all-local, all-draft craft beer selection and adding an acclaimed music venue in 2007. For Restaurant Week, their kitchen celebrates shad--once the mainstay of Philadelphia's colonial fisheries and the creature that gave Fishtown its name--with a three-course, $30 shad-centric special that includes an appetizer, entr�e and dessert.
The strength of the river wards has always come from ordinary people, and the new wave of restaurateurs has wisely played to working-class wants. Sketch Burger (413 E. Girard Ave., 215-634-3466) crafts the classic American sandwich for every eater--try sirloin, American Kobe, turkey, chicken, vegan or smashed onion burgers, washed down with a dairy or vegan milkshake. During Restaurant Week any non-Kobe burger with two toppings, fries and a shake is just $15.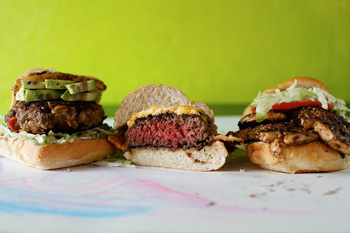 Jovan's Place (2327 E. York St., 215-634-3330) has been the destination for Yugoslavian home cooking since the 1990s. The family-run bar serves classics like goulash, stuffed cabbage and schnitzel; even the menu takes a parental tone, admonishing you to "be patient" while your food is made to order. During Restaurant Week, $25 buys a three-course meal that will barely leave room for the complimentary quaff of homemade brandy.
When a lavish brunch is in order, the signature Irish Breakfast at Ida Mae's Bruncherie (2302 E. Norris St., 215-426-4209) fills the void in home-style. Stop by Mercer Cafe (2619 E. Westmoreland St., 215-426-2153) for generous Restaurant Week breakfast and lunch specials; NKCDC economic development assistant Kathryn Doherty-Chapman recommends the tuna nicoise salad and French toast. Art classes for children, a live music venue and upstairs gallery add flavor to the offerings at Hinge Cafe (2652 Somerset St., 215-425-6614), with Restaurant Week multi-course choices for three daily meals.
Visit riverwardrestaurants.wordpress.com for details and a complete list of participating eateries.
Photos:
Interior shot of Ida Mae's
Johnny Brenda's Tavern
Veggie, Kobe, and Chicken burgers at Sketch Burger
All Photographs by Michael Persico

The National Cattlemen's Beef Association has spent $1.5 million and the last five years trying to figure out new ways to slice up a cow, all in the hopes of teaching customers to buy unfamiliar cuts of meat.
The New York Times reports today on this project, financed by the Beef Check-off program, which will debut five new cuts from the familiar chuck steak, and four new cuts from the round. Some seasoned butchers are skeptical of these new cuts, stating that the "Denver," "Petite Tender" and "Sierra" are just the same old pieces trimmed in different ways.
The interesting part of the article is what it doesn't say, which is that the average home cook knows only how to cook steaks and roasts, and cannot be bothered to learn how to cook more flavorful and cheaper off-cuts.�� The Cattlemen's Association therefore has a huge financial interest in identifying cheaper cuts that can be grilled like a steak or stuck in the oven surrounded by carrots and onions.
Writer Kim Severson notes that Americans spend $15.5 billion a year at the supermarket buying beef. In 2008, 1.12 cows were slaughtered every second in America � Mark Bittman linked to this pretty amazing graphic on Herbiv.org that illustrates the rate of slaughter of cows, chickens and pigs.
My question to the Cattlemen: how much more beef can we eat? Elke Stehfest of the Netherlands Environmental Assessment Agency and colleagues have studied the carbon impact of animals raised for slaughter. From NewScientist.com:
Climate-change experts have warned of the high carbon cost of meat for several years.

Beef is particularly damaging. Methane, a potent greenhouse gas, is released from flatulent cows and by manure as it decays. Furthermore, to produce a kilogram of beef (2.2 pounds), farmers also have to feed a cow 15 kg of grain and 30 kg of forage. Grain requires fertiliser, which is energy intensive to produce.

If eating habits do not change, Stehfest estimates that emissions would have to be cut by two-thirds by 2050, which is likely to cost around $40 trillion.

If, however, the global population shifted to a low-meat diet � defined as 70 grams of beef and 325 grams of chicken and eggs per week � around 15 million square kilometres of farmland would be freed up. Vegetation growing on this land would mop up carbon dioxide. It could alternatively be used to grow bioenergy crops, which would displace fossil fuels.
Shifting the argument for reducing meat consumption from the shrill cry of animal rights to a sober environmental analysis is a brilliant approach. Much like casting alternative energy as the way to stop giving hostile nations billions of dollars for fossil fuels, it allows a different segment of the population to latch on to the cause.
Though a $5.99 "Denver" steak could tempt a thrifty home cook into trying a new cut, it's still the same high-cost beef, no matter how you slice it.
Photo l Elizabeth D'Ambrosio
Ricotta cheese gets sweet.
Simple, creamy and classic, ricotta pie is an Italian dessert that can tempt even non-sweets eaters. My father's mother makes this in the spring for family parties, along with her benchmark pound cake, and we fight for the leftovers. Citrus zest and juice adds brightness to the subtly sweet ricotta, and a sprinkle of cinnamon adds just enough spice.
Buying prepared pie crust tones down the prep work and speeds the process, and even Mom-Mom approves store-bought crust � try Keebler Ready Crust.
Mom-Mom's key tips:
Eggs must be room temperature. Skip this step and she makes no guarantees to good results.
After blending egg mixture and ricotta cheese, ladle from the bottom of the bowl between the two pie crusts.� This ensures an even distribution of cheese and egg mixture.
Mom-Mom's Ricotta Pie
Recipe yields two 9-inch pies
Go Get This:
9 eggs, room temperature
1 c sugar
1/4 c orange juice
zest of 2 oranges
zest of 2 lemons
1 tsp vanilla
3 lbs ricotta
2 prepared 9-inch pie crusts (Keebler recommended)
Now Do This:

Preheat oven to 325 degrees Fahrenheit.
Beat eggs with sugar, juice, zest and vanilla until well blended.� Add ricotta and blend well.
Place prepared 9-inch pie crusts on a cookie sheet or broiler pan.� Ladle the ricotta mixture from the bottom of the bowl, alternating between crusts until mixture is all doled out.
Protect crust by gently covering edges with foil.� Place cookie sheet with filled pie crusts in oven and bake for 35 minutes.� Remove foil and bake for 25 more minutes. Turn oven off and allow pies to rest in oven for five minutes.� Remove and cool.
Dust with cinnamon generously just before serving.
...so they're selling their stuffed pita sandwiches for 1/2 price this Tuesday, April 14.� Get on the mailing list today to take advantage of the deal, or drop your business card at their Sansom Street location.
Choose from a huge array of fillings, including barbecued chicken, Philly steak, souvlaki or traditional veggie-and-falafel numbers, all half price with purchase of any beverage, every second Tuesday of the month.� Get yours tomorrow from 8:30 a.m. to 10 p.m.
Pita Pit, 1601 Sansom St., 215-564-1080, phillypitapit.com.
Photo l Elizabeth D'Ambrosio
A classic 4-Bean Salad, all from cans.
I don't really get Easter food. The fluorescent pink ham, the marshmallow ambrosia � these things are fine, but they don't inspire excited anticipation like a whole prime rib at Christmas, or Thanksgiving mashed potatoes.
One thing I look forward to is my stepmother's mom's 4-Bean Salad. Fran mixes this one up the old-fashioned way � that is, straight from cans. It takes 5 minutes from opening the cans to sticking the whole bowl in the fridge to marinate overnight, and comes out delicious, crisp and refreshing with apple cider vinegar.
If you turn your nose up at canned veg, feel free to soak, cook and cool the cannelli and kidney beans before mixing them with snipped and chopped green and yellow wax beans. If you want to get really fancy, Rancho Gordo has been getting serious foodie press as the elite grower of American heirloom beans. Check out their stunningly photogenic selection here.
After the jump, a fast recipe for 4-Bean Salad, infinitely modifiable to your personal proclivities.
Bean Salad
Adapted from Pamela Mathieu, RN, CHD, from Successful Operations in the Kitchen, a cookbook compiled by the O.R. Staffs of Kennedy Memorial Hospitals, University Medical Center
Go Get This:
1 (16 oz can) can green beans, drained
1 (16 oz can) can yellow wax beans, drained
1 (16 oz can) can white cannelli beans, drained
1 (16 oz can) can red kidney beans, drained
1/2 cup green bell pepper, minced
2 tbsp onions, minced
� cup sugar
2/3 cup apple cider vinegar
1 tsp salt
1/2 tsp black pepper
1/3 cup extra light olive oil
Now Do This:
Drain all beans and combine in bowl. Mix remaining ingredients in a quart jar, shake to combine.
Pour dressing over beans, cover and refrigerate overnight. Makes 10 servings.
If only there was an easier way
to eat these!
April is official Grilled Cheese Month, dubbed so by grilled cheese scientists and the president of Wisconsin. The rainy-day staple is perfect for recession dining � comforting, economical and infinitely variable according to whim and what's hanging out in the fridge.
I used to flip grilled cheese on Phish tour on occasion. I'll give you a chance to groan, right now. Now that that's out of your system, I will say that hippie entrepreneurship made me a grilled cheese expert. Below, tips on making every grilled cheese a legendary one.
- Temper, temper. Whack a stick of butter in half and let it sit on the kitchen counter for a few hours before cooking. Cheese can temper for just half an hour.
- Butter the bread, not the pan. This is crucial. The tempered butter should be thickly spread on the outside of the bread, all the way to the edge, to ensure a crisp and toasted exterior.
- Apply flavors. You can use any old cheese you want if you add flavoring elements to your sandwich. Once your butter is tempered, mix in dried herbs and spices like garlic powder, dried parsley or basil, cayenne or paprika. Keep in mind cayenne and paprika are the main ingredients in blackening spice and will burn quite dark, so go easy.
- Keep it low and slow. A perfect grilled cheese requires an evenly heated pan over a low flame. Since you have buttered your bread, you have plenty of time to toast after melting the cheese thoroughly.
- Think outside the box. Aged cheddar and bacon is nice; or avocado and a squeeze of lime with queso fresco. Caramelized leeks go well with a spicy Gorgonzola dolce, or gruyere with caramelized onions and a pinch of brown sugar and sea salt. Add a layer of thin-sliced apples and mustard for a twist, or melt together mozzarella, basil and sun-dried tomatoes for an Italian version. Go wild.
Last week, I was laid low by a mystery microbe.� I don't know if it was food poisoning or flu, but whatever its name, it tried to kill me.� No drop of liquid or nibble of toast could pass my lips without being express-trained out the way it came in. In Anansi Boys (Harper Perennial), Neil Gaiman unleashes a comparable misery on his innocent protagonist, Fat Charlie Nancy:� "Anything louder than the gentle Brownian motion of air molecules drifting softly past each other was above his pain threshold. Also, he wished he were dead."
I was as helpless as Fat Charlie, but no one will ever write a novel about it.� By the time I could pick my head up off the pillow on Thursday night, I was as dehydrated as a sun-dried tomato without any of the pleasant sweetness.� Since all fluids had been a no-go,� I pondered the contents of the refrigerator for watery edibles that might stay in my stomach for longer than five minutes.
When you are already sick or nauseated,� drinking water can induce vomiting because it is absorbed too quickly across the membranes of your stomach (osmosis).� That's why ginger ale, with its absorption slowed by sugar, has long been a home remedy.� Ginger also alleviates nausea.� Once your stomach can tolerate it, food with a high water content can help rehydrate you.
Hello, crisper.� Out of the fridge came a cantaloupe, a grapefruit, green grapes and a cucumber.� Sliced down and mixed together, they saved my life.� They also tasted amazing, especially after two days of eating nothing.� For just a moment, I understood the raw foodists and vegans who promote fresh and pure plants as the best way to nourish your body.� The next time a born-again prostelytizer asks me if I've heard the Good News, I'll look them right in the eye and say, sure have.
I have seen the Truth, and its name is Melon.
Everyone who missed Foie Gras Week's $5 plates will get a second shot at liver love this Sunday, April 5, when The Foie Gras Wars (Simon & Schuster) author Mark Caro visits London Grill for an evening meet-and-greet, complete with foie, beer and sauternes specials and representatives from controversial producers and sellers Hudson Valley Foie Gras and D'Artagnan.
London Grill owner Terry Berch McNally and chef-owner Michael McNally led the charge against Philadelphia animal-rights protesters, who began picketing restaurants that serve foie gras in mid-2007. Hugs for Puppies and Nick Cooney, who originally took credit for forcing restaurant owners to remove fattened duck liver from their menus, have renamed themselves Humane League of Philadelphia and no longer use public protest as their main tool. This year's Foie Gras Week, compared to the first iteration in 2008, was quite peaceful.
The hotly contested issue has since cooled in Philadelphia, and Caro's book devotes two full chapters to the charged debate of 2007-08. Simon & Schuster's Web site describes Caro's book and how he was thrown into the maelstrom:
In announcing that he had stopped serving the fattened livers of force-fed ducks and geese at his world-renowned restaurant, influential chef Charlie Trotter heaved a grenade into a simmering food fight, and the Foie Gras Wars erupted. He said his morally minded menu revision was meant merely to raise consciousness, but what was he thinking when he also suggested -- to Chicago Tribune reporter Mark Caro -- that a rival four-star chef 's liver be eaten as "a little treat"? The reaction to Caro's subsequent front-page story was explosive, as Trotter's sizable hometown moved to ban the ancient delicacy known as foie gras while an international array of activists, farmers, chefs and politicians clashed forcefully and sometimes violently over whether fattening birds for the sake of scrumptious livers amounts to ethical agriculture or torture.
Chicago has since reversed the ban. Whether you're for, against or simply curious, meeting the author of The Foie Gras Wars should add a little spice to an already hot pot.
Sun., April 5, 6-8 p.m, London Grill, 2301 Fairmount Ave., 215-978-4545, londongrill.com
RELATED: Foie Gras Week scheduled for March 13-19 [9Mar09]

Photo l Felicia D'Ambrosio
Foodie-ism is a condition both pleasurable and perilous.� The more interested you get in food, the more you eat.� The more you eat, the more you realize you eat way too much.� Though everyone in my family is a great cook and I was always well fed, I didn't think much about food until I began working in restaurants.
In a few short months, I went from being pleased with my daily lunch of dry turkey Wawa hoagies to begging the garde manger for the ends of rare tuna loins, hoovering up the scraps of torchon of foie gras and asking if the staff meal potatoes could be cooked off in duck fat.
In other words, I transformed from an indifferent American teenager into a fat-crazed foodie.� Though I'll always be mad for butter and amorous to the egg, I will admit you can't eat so richly without ending up working a late-stage Marlon Brando look.
The best thing to cut through the jiggle is a massive heap of raw vegetables.� In the same way just a scrap of clothing is sexier than the full monty, just a touch of dressing brings out the best in raw, crunchy red cabbage and daikon sprouts.� A fast gastrique of apple cider vinegar, sugar and red chili flakes punches up the flavor factor without adding major calories.
Simple recipe for Red Cabbage and Sprouts in the Raw, after the jump.
Photo l Felicia D'Ambrosio
Red Cabbage and Sprouts in the Raw
(makes 6 servings)
Go Get This:
Half a head of red cabbage, sliced thin
Two or three handfuls daikon sprouts
1/4 cup sugar
1/2 cup apple cider vinegar
1 teaspoon red chili flakes
Sea salt, to taste
Now Do This:
In a small, heavy saucepan, dissolve the sugar in a tablespoon of water. Turn the heat to medium, and bring the syrup to a boil, without stirring. Brush down the sides of the saucepan with a wet pastry brush. DO NOT STIR. Boil for five minutes, until the sugar is amber-colored.
Add the apple cider vinegar all at once. DO NOT INHALE VAPORS.� Mixture will bubble wildly.� Add chili flakes.� Stir mixture until all crystallized sugar bits are dissolved back into mixture.� Remove from heat and set aside to cool.
Slice the root end off the cabbage head.� Slice in half and then quarter.� With a long, serrated knife (or on a mandolin) slice the cabbage as thin as you can.
Place sliced cabbage and sprouts in a large bowl.� Pour gastrique over vegetables, season with sea salt.� Toss to coat.� Taste for seasoning.� Add more salt if desired.
Eat. Detox.
Photo l Felicia D'Ambrosio
But will they explode in the microwave?
Today I just noticed Just Born Sugar-Free Peeps in the hyper-pastel Easter candy aisle at CVS.� The diatetic treats are made with Splenda, and carry the appetizing warning that "excessive consumption may cause stomach discomfort and/or a mild laxative effect." Good times! Anyway, since that the female half of Meal Ticket is a card-carrying candy fiend, the sugarless marshmallow chicks had to be put to the test in a side by side comparison with traditional, corn-syrup filled Peeps.
PEEP
SMACKDOWN
MATRIX

Traditional Corn-Syrup Peeps
Sugar-Free Splenda Peeps
Looks
Slightly mashed and misshapen,
these are less than gorgeous,
even in spring green
Packaged in a wasteful but effective plastic box, these chicks get the star treatment and wind up� looking cartoonishly perfect

Price to
Serving Ratio

$1.50 for 10 Peeps,
two 5-Peep servings

$1.50 for three larger-than-average
Peeps, equaling one serving
Taste & Texture
Crispy sugar exterior provides a
subtle crunch to the very soft, fresh
Peep marshmallow. Very sweet.
No sugary crunch or texture contrast. Marshmallow is still soft,
but does not spring back when bitten. Less sweet than regular
Peeps, with a slight chemical off-flavor characteristic of sugar alcohols.

Microwave
Explodability,
30 sec on High


Behaved in the predictable manner, blowing up
and tilting over, revealing a burnt, stiff sugar
interior

Swelled into a hostile blob-like MegaPeep.
Yellow coating melted off and formed a toxic lake.
Interior turned brown and taffy-like, very chewy.

Calories per

Serving

140 calories per 5 Peep serving, 0g fat,
34g sugar

60 calories per 3 Peep serving, 0g fat,
0g sugar

Conclusions

Gold-standard Easter basket filler.

Cheap, unhealthy and way sweet.
A classic.

Lacks the crispy outside/soft inside texture
contrast that
makes original Peeps so
well-loved, but if you can't eat sugar, these
are a
decent substitute.
Visit Just Born's Web site, marshmallowpeeps.com, to find stores that carry Sugar-Free Peeps, or to take a tour of the Just Born factory in Bethlehem.