Archive: November, 2011
- Ever found yourself perusing food choices in a convenience store and thinking about how much better life would be if you could get meat out of a vending machine? Lucky you, there's one of those in Alabama. Apparently the steaks are pretty good.

- Here's a pork roast molded into the shape of a pig.
- Now here's a turkey breast compressed into the shape of a turkey.

- Philadelphia's restaurant scene is extremely diverse — we have everything from upscale French to cheffy fried chicken and doughnuts. There's something for everyone, and it's all thanks to hipsters, at least according to The Atlantic Cities. Please thank each and every one of them for molding our "small" city's dining experience into a diverse playground of food.

- Congress has declared pizza a vegetable, kind of. The tomato sauce on school lunch pizzas now counts as a full serving of vegetables. Swedish Fish count as seafood too, we're guessing.

- Someone better let presidential candidate Herman Cain know about the sauce-as-veg thing STAT. He's gonna want to take it off his favorite food pizza because he thinks "vegetables are for sissies."

- Wanna shoot things? Wanna drink lots of tequila? Wanna do both at once? Well, you can't. But you can buy this Living Social deal that gets you a visit to a shooting range followed by a tequila tasting at Cantina Los Caballitos.
Photo: consumerist.com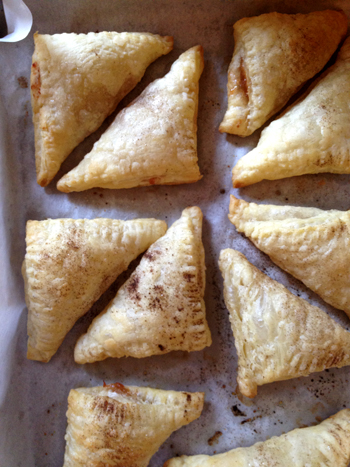 For brunch on Sunday, I baked up a batch of these triangular pastries filled with the beguiling, gotta-cook-it-first fruit called quince. With its distinct flavor (like a blend of apples and pears) and natural pectin content, quince is a natural in these treats. You would not believe how easy they are to make, especially with a little assistance from the grocery store.
With leaves matting the damp pavement and a bony chill in the air, July feels like forever ago. That was when we first told you Jessie Prawlucki, pastry maven of Fond (1617 E. Passyunk Ave.) was opening Belle Cakery at 1437 E. Passyunk. How time flies. Today, after filming a segment on homemade hazelnut brittle with Channel 6, Prawlucki let us poke around the wee white-brick bakery.
"Lee [Styer, Fond chef, her business partner and fiancé] and I were up till 1:30 in the morning last night putting things together," Prawlucki explained, hauling brown boxes of product on the spiffy new stainless-steel worktables. She'll be doing all the baking and dessert for Fond out of the narrow, cream-and-crimson atelier, as well as truffles, tarts, homemade candies and other goodies for eat-in (about a dozen seats) and takeout. Look for Belle to open after Thanksgiving. Meanwhile, follow the cakery on Twitter at @bellecakery.
Photos: Adam Erace
Food52, created by food writers Amanda Hesser and Merrill Stubbs, is dedicated to bringing together great recipes from talented home cooks across the country. Every week, the site challenges contributors to submit their best recipes for a given dish, which Hesser and Stubbs test out and rank based on crowd-sourcing the Food52 community; 140 of those recipes made their way into the new Food52 Cookbook. The authors, currently on tour, are stopping by Delicatessen (703 Chestnut St.) tonight to toast chef Ali Waks, who has three recipes in the book. The event, which begins at 6:30 p.m., is $25, which nets you a signed copy of the cookbook (a $35 value), a presentation by Hesser and Stubbs, beer from Yards and renditions of Waks' winning dishes — smoky fried chickpeas, which won "Your Best Recipe with Paprika"; cowboy-rubbed ribeye with chocolate stout pan sauce, which took the "Your Best Broiled Steak" category; and Luciana's porchetta, winner of "Your Best Roasted Pork shoulder."
Meal Ticket took over the print edition of City Paper this week for a package that's all about cooking. Peep game:
- Always-adventurous home cook Felicia D'Ambrosio took on the challenge of preparing a traditional holiday goose, which is much more difficult than it may seem. The biggest challenge from the gun? Netting the friggin' bird in the first place.
- Team Meal Ticket forms like butter-melting Voltron to provide you with hands-on reviews of the biggest cookbook releases this holiday season — we tested recipes from Marc Vetri, Ferran Adria, Andrew Carmellini, Heston Blumenthal, Anita Lo, Paula Wolfert, Lidia Bastianich, Jennifer McLagan, Joe Beef and Eleven Madison Park.
Within this week's food section:
- Adam Erace loves the drink, feel and service at The Farmers' Cabinet but finds that the food is still playing catch-up.
- New Yorker writer and Philly native Adam Gopnik chats with Carolyn Wyman about his new book The Table Comes First. He's at the Free Library tonight.
- In Feeding Frenzy: Word on Ela, Yogorino, M Kee, Route 6 and more.
- In What's Cooking: Details on this weekend's stout and chowder fest, a last chance for 'cue at The Corner, Beaujolais dinners at Bistrot La Minette and more.
Photos: Neal Santos and Jessica Kourkounis
CP staff writer Isaiah Thompson frequently stops at little shops in Chinatown to acquire cooking ingredients, but this particular item, which he purchased at the memorably named Grocery Market at 10th and Cherry, has both he and I flummoxed. Thompson says he bought this product, identified only as "meat," on the belief that it was beef tongue, as it was "long and had similar-looking surface"; he planned using it to recreate Han Dynasty's beef and tripe in chili oil at home. After opening up the packaging, however, he came to the conclusion that this was not tongue — no, not at all.
That didn't stop him from eating it.
After a friends-and-fam soft open this Friday, the Green Eggs crew and chef George Sabatino will officially premiere Stateside (1536 E. Passyunk Ave.) this Saturday, Nov. 19. We've got the full menu after the jump (click to enlarge), but here's a few teasers from the ex-Barbuzzo chef de cuisine: house-made goat cheese with charred escarole, oysters with pomegranate mignonette, house-smoked trout and Bourbon-brined chicken. (Glad the butternut squash/foie mousse we were stoked on at the pop-up made the final cut.) Saturday will be walk-in only. With just 28 seats inside the intimate, industrial-chic space, plus 12 at the concrete-topped bar, we suggest you get there at 5 p.m., when they'll open for dinner service.
Get the flash player here: http://www.adobe.com/flashplayer
Tapestry (700 S. Fifth St.), the beer-centric redo redux of Adsum from Kar Vivekananthan and his new partner, Rich Rivera (of Manayunk's Belvedere Restaurant Group), opens tonight at 5 p.m. We swung through for an industry-night preview yesterday evening and snagged a few quick photos.
Really enjoyed ourselves at a little open house for Rich Landau and Kate Jacoby's Vedge (1221 Locust St.) last night, so it's cool to hear via Twitter that the ambitious vegan restaurant from the owners of Horizons are opening to the public tonight at 6 p.m. — well ahead of the Nov. 21 date we initially marked. The couple's liquor license is not yet in place, so they'll be pouring one complimentary beer or wine per guest for the time being. For more on the restaurant, check out our Sept. 7 background feature and our Oct. 4 menu post.
Photo: Drew Lazor
Open about a week is Tea Shake Fusion, a pastel boba hut perched on the corner of 11th and Snyder. Furnished with a granite slab counter, barstools, ATM and froyo-fave mosaic glass tile, the spot specializes in milk and bubble teas, smoothies, slushes, snows and all other manner of fanciful Asian beverage. Yesterday's unseasonably warm weather lured me into the cheery, immaculately clean cafe for the avocado shake pictured; it was smooth and refreshing, not to mention decorated with an anime maternity-ward nurse.
There's food, too, banh mi and the like, though according to the Philly Speaks message board, there's been some drama about licensing variances in regards to fried foods and "ghetto Chinese take-out." Very enlightening stuff. Tea Shake Fusion has a petition posted for neighbors inclined that want to show support. I signed. I like having cantaloupe smoothies, taro boba and fresh carrot juice a few blocks from my place.
Photos: Adam Erace