Archive: March, 2012
We didn't see this one coming: Partners Mike Solomonov and Steve Cook will open Citron and Rose (sounds like a Federal Donuts flavor, no?) in Merion this summer. Well, technically, a dude named David Magerman will open it, since the Zahav boys already own some non-kosher enterprises you may have heard of (hi, ribs at Percy Street) and can't be official proprietors. Oy.
Though unlisted among the mixers for the Early Riser, the Clover Club, the Movie Star, the cocktails at Stateside (1536 E. Passyunk Ave.) all feature one important ingredient: patriotism. "We feature only American-distilled spirits," says Jenn Conley, who designed the drink list for the restaurant. The gin is Bluecoat and Tub, the vodka Death's Door, the absinthe Vieux Carre, so on and so forth. But "about a month ago, the owners approached me to do an additional nine classic cocktails for the menu," says Conley. "As I started compiling the list and figuring out the menu, I began to really realize the limitations we had."
For starters, Conley wanted to add a Negroni. "[It] has made such a comeback," she says, but the bracing, bittersweet Italian tonic's principal ingredient, Campari, is not made in the U.S. "I didn't want to leave it out, so I decided it would be really cool to follow what our kitchen is already doing and make whatever possible in-house," says Conley. "Doing some research on the internet, I found some recipes, tried, failed and tried a few more times before getting the result I wanted."
With the Spanish night-loving lifestyle in mind, Marcie Turney and Valerie Safran will debut a new late-night specials menu at Jamonera starting on Monday, March 19. Night owls will enjoy a $2 rotating tapas menu that features fried chorizo-stuffed olives and sheep's milk cheese with membrillo, as well as $3 beer, $4 sangria, $5 glasses of wine and a $15 sherry tasting. Turney will also be offering "kitchen staff snacks," $5-to-$10 dishes she makes for her employees after the hustle/bustle has died down. Dishes include desayuno ("breakfast"), Spanish fried egg, ibores cheese, papas fritas and a choice of house-ground chorizo or grilled veggies; "jamón & waffles," Serrano ham-studded waffles with smoked mahon ice cream, maple syrup and crispy pork belly; and Marcie's Kitchen Snack Fries, Serrano-wrapped fries with aged sheep's milk cheese and truffled sea salt. The late-night eats will be available Sunday through Thursday from 10 to 11:30 p.m.
Photo: Courtesy of Jamonera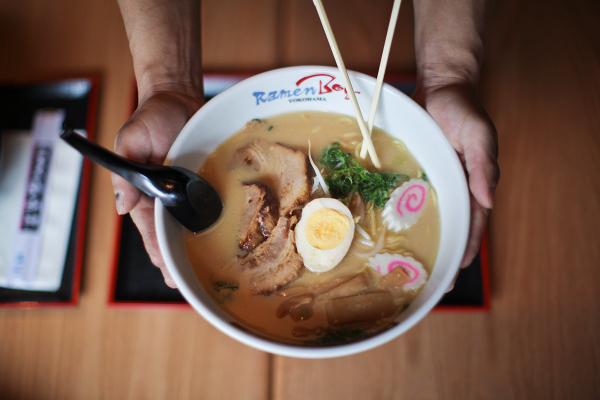 Team Meal Ticket took over the print edition of City Paper this week, and we're excited to share everything here with you online! Let's see ...
- Ramen, and all the hand-wringing and histrionics surrounding it, has long been a "thing" in other cities, and it's suddenly coming into sharp focus here in Philadelphia. We talk to chefs, brothmakers, academics and more about the insane popularity of the Japanese noodle soup and why it garners such passionate reactions.
- South Philly restaurant Le Virtù takes its name for a traditional and complex Abruzzese soup that celebrates the arrival of the spring season. Adam Erace snags a home cook-friendly recipe from chef Joe Cicala so you can turn your pantry-cleaning into dinner.
As far as outdoor spaces go, they don't get more Edenic than the lush, fruit tree-fringed courtyard at Talula's Garden (210 W. Washington Square). Just in time for this spate of unseasonably warm weather, the Stephen Starr/Aimee Olexy Starlexy restaurant will launch brunch this weekend. Chef Sean McPaul is going beyond eggs Benny and waffles with dishes like seared scallops with farro; kielbasa and biscuits; and tiny doughnuts with coffee-spiked Chantilly cream. Us? We're into the Sunday Best, a hand-picked seasonal foursome of Olexy's masterfully curated farmstead fromages. Brunch will be served every Sunday from 10 a.m. to 2 p.m., rezzies recommended.
Photo: talulasgarden.com
Gordon Ramsay descended upon Philadelphia last November to film his Fox show Kitchen Nightmares, and he recruited two Drexel students as his right-hand men. The chef came to University City's Zocalo (3600 Lancaster Ave.) to shoot for KN, in which the Scot storms into a restaurant and overhauls tired menus and bad habits in an effort to help places reinvent themselves. (Zocalo wasn't the only one getting the Ramsay treatment; South Philly's Chiarella's was another "lucky" recipient of a Ramsay house call.)
As if The Trestle Inn (339 N. 11th St.) didn't already provide you with enough incentive to dance about it, they're adding tonight's festivities with Jim (Beam) and James (Brown). Starting at 7 p.m., you can git up offa that thing and shake your gravy boat to the tunes of the Godfather and his colleagues while sipping Beam specials. You'll have your choice of Jim Beam Black or Jim Beam Rye in the form of shots, Manhattans, Old Fashioneds and other staple cocktails to release the pressure.
Remember back in January, when Trader Joe's brand Speculoos Cookie Butter was so scarce in the 215 that my buddy Adam Riff ended up FedEx-ing me some from Cali? In that "Delicious or Suspicious?" experiment, it was scientifically determined that Flemish cookies transmogrified into Jif-like storebought butter was a great fucking idea. Looks like the aloha shirt-wearing life lovers at TJ's agree, so much so that they're now carrying SPECULOOS-FILLED CHOCOLATE BARS. You sick bastards. Obviously I bought one.
I guess it's the candy preparation process, but the dark choco-enveloped cookie butter in this particular treat is not as oily and creamy as its spreadable compadre — think more the consistency of Reese's peanut butter, which has also long been available in a jar. Oh man America is doomed.
Photos: Drew Lazor
There was a time Barclay Prime (237 S. 18th St.) was the finest steakhouse in Philadelphia. And not only fine, but interesting, different, more than typical meat and potatoes. Sometime between now and our last steak dinner there (toward the end of James LoCascio's term), things fell off, at least according to Inquirer critic Craig LaBan, who demoted BP in February to two lukewarm bells. Chef Stephen Wambach left soon after, destined for Azure at the upcoming Revel in AC, and Jeff Froehler is now in charge. The 32-year-old was born in Jersey and grew up in Miami, came back north and attended the Restaurant School. Froehler was the original sous chef at Barclay Prime when the steakhouse first debuted. Here's hoping he brings back some of that opening mojo.
Photo: barclayprime.com
In honor of everyone's favorite irrational number, Supper (926 South St.) is celebrating Pi Day with ( what else?) pies. Chef Mitch Prensky has put together two pie-filled menus for tomorrow, March 14, one savory and one sweet. Served with a side salad, savory slices will include crab-and-Ritz pie and pork pies. The sweet list will include Mississippi Mud, peanut butter and pecan. Dessert selections can be made a la mode with housemade vanilla, bitter chocolate, caramel swirl or buttermilk ice cream. Each serving of savory pie will be $16, with sweet slices running $8. If you can't decide and want one of each, Prensky is offering a two-course pie dinner (!) for $20.