Archive: May, 2011
IN QUESTION: Dredging a weeks-old Easter basket for snacks, I came up with this Cocoa Pebbles Treat by the lovely people at Post. Cemented with sticky marshmallow and striped with chocolate, it's the same principle as the classic Rice Krispie Treat, only made with a far, far better cereal (one of my bad-for-you favorites), begging the question: Why have I not thought of this before?

WHERE TO BUY: This was a gift (presumably for a child) so while I can't say for sure, I'd wager Target has them by the box.

HOW MANY DO WE TYPICALLY EAT IN ONE SITTING: At only 90 calories each, polishing off two to three would be permissible, but unfortunately, Cocoa Pebbles Treats have the same weird ... something as pre-packaged Rice Krispie Treat. You know what I mean. The boxed version never tastes the same as homemade. I suspect it has something to do with Post's dumb use of hydrogenated vegetable oils instead of the good ol' fashioned butter.

FINER POINTS: Brilliant idea, poor execution befalls Cocoa Pebbles Treats. Good news is you can make 'em at home, or stop by Shop 543, Urban Outfitters' swank cafeteria, where I've seen Pebbles Treats in both Cocoa and Fruity form.
Photo: Adam Erace
Our Flyers have their hockey backs against the hockey wall (both technical terms) tonight, down 3 games to none to the Boston Bruins in the East Conference semis. Since Game 4 goes down in Boston, it seems like a good evening to wrangle up the crew and order in. SeamlessWeb, a delivery-and-takeout online hub/iPhone, Droid and BlackBerry app that works with some 250 restaurants in Philly, has tossed Meal Ticket a $50 gift card to give away to our readers.
Want the goods for tonight's game? Real easy: Between now at 4:30 p.m. today, leave a comment on this post describing which SeamlessWeb restaurant you'd order from, and why. Full list of Philly spots that accept SeamlessWeb here. We'll pick our favorite answer and inform the winner via email. Good luck, and go Flyers!
UPDATE [12:58 p.m.]: Just to clarify, you don't have to spend the $50 tonight. You can use it anytime.
UPDATE [4:37 p.m.]: Check out the winning comment, from Andy B, below.
I would order from Sang Kee, so that by the third period I'll be in a hoisin sauce coma with duck fat all over my face instead of watching the Flyers' third goalie of the night flailing around on the ice.
Esposito's Meats (1001 S. Ninth St.), a fixture in Philly's Italian Market for a century, is celebrating its 100 years in business in the most apropos way imaginable — pumping out a 100-foot-long Italian sausage on May 14, the first day of the Italian Market Festival. Though the easy way to pull off this feat would be to commission a 100-foot-long synthetic sausage casing to hold the behemoth realization of his secret family recipe, Louis Esposito II is a purist through and through — thus he and his butchers have developed a way to create an all-natural casing 100 feet in length.
The Esposito clan is further honoring the butcher shop's 1911 birthdate by donating $1911 to Bucks County's Comprehensive Learning Center for Autism. Festival attendees need only toss $1 into the pot and they'll receive a pound of sausage in thanks. (They'll clearly have enough to go around.)
Photo: Courtesy of Esposito's
We've got word that Tuesday, May 17 will mark the unveiling of Frankford Hall (1210 Frankford Ave.), the Fishtown bierhall from Stephen Starr. Accommodating 400 inside and out (160 within, 240 in the outdoor gravel courtyard), the Hall's nine-tap system will be mostly Teutonic, with choices like Bitburger Pils, Radeberger, Hacker-Pschorr Munich Gold. (Three bars total here, one inside and two out.) Food will be distributed via a walk-up counter — expect satisfying, beer-drinker-friendly fare like Bavarian bread dumplings, pretzels, schnitzels, rotisserie chicken and a selection of German sausages. Frankford Hall will be open weekdays from 4 p.m. to 2 a.m. and on weekends from noon to 2 a.m.
Debuting this evening is Campo, the outdoor patio space at Le Virtu (1927 East Passyunk Ave.), which will stay open for outdoor feasting and food-centered parties through summer and into autumn. Tonight's unveiling (from 6 to 10 p.m.) is a celebration of sorts, with a whole suckling pig among an enormous array of Abruzzo-style hors d'oeuvres and drinkables.

For $45 a person, get yourself some of that pork, but save room for the butlered plates, including chef Joe Cicala's famed housemade sausages; skewers of lamb, calamari and shrimp; pork-stuffed fried olives; pizza fritta; traditional arancini, stuffed with a ragu of beef and peas; marinated flank steak and pork belly; and several varieties of bruschette. An artisanal Italian wine tasting will take place too, alongside tastes of seasonal craft beers from Sly Fox, Ommegang, and Weyerbacher. Combined with today's weather, this sounds kind of irresistible, and there are still spaces available. Call 215-271-5626 to snag a spot.
Photo: Courtesy of Le Virtu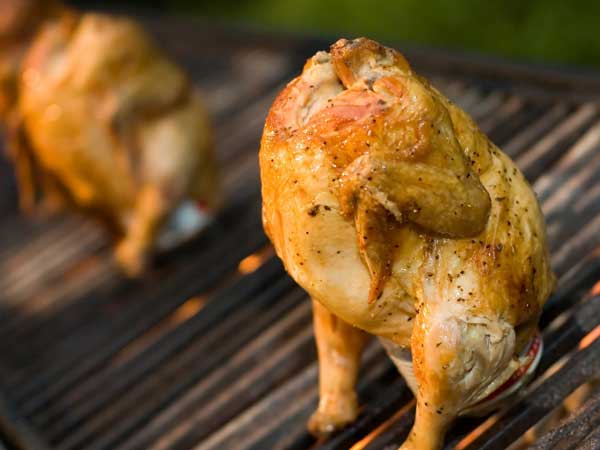 Last week, we told you about the very convenient Kitchen at Penn, which closed the other day as founder Nate Adler readies for graduation. But don't cry for former KaP chef Jordan Miller — he's already found a new gig as the chef at Roost (4529 Springfield Ave.), a takeout chicken-and-biscuits operation coming "very, very soon," according to Annie Baum-Stein, who owns Roost (as well as Milk & Honey Market around the corner) with hubby Mau Daigle.

The sitch couldn't be more convenient for Miller, as he'll be Southern-frying and rotisserie-roasting local, organic Bell & Evans birds in the very same kitchen as KaP. (Baum-Stein and Daigle hold the lease on the space, you see.) Local cream he curdles in-house forms the base for the flaky biscuits that come with every order. Roost will sell the clucks by the quarter, half or whole, with a vegan option on the way. For sides, think mashed potatoes, coleslaw and greens, while desserts fall into the cookie/brownie realm and come from Milk & Honey house baker Tracy McGinnis, most recently the pastry part of star-crossed Speck.
Photo: Drew Lazor
Aaron Ultimo, who two years back opened his first eponymous Counter Culture-brewing cafe in Newbold (1900 S. 15th St.), tells Meal Ticket he's in the early stages of opening a second location at 22nd and Catharine. No official signature on the lease yet, but Ultimo's plans are part of a development project that calls for the complete demolition of an existing structure on the Graduate Hospital corner (2149 Catharine). Though the uberbarista's goal is to be in the space by September 2011, he feels spring 2012 is probably a more accurate time assessment. "If all goes according to plan," Ultimo says, "our second location will be everything you love about Ultimo Coffee currently, with a few more exciting aspects, including different brewing devices, sexy machinery and great design."
Photo: Drew Lazor
- Adam Erace visits Mark and Eric Plescha, the undercover brothers who run the modern BYOB Charcoal in Yardley. The self-taught chefs, who took the restaurant over from their father, are using modern techniques to their best advantage. "Family and rebirth are the themes of Charcoal's story," says Erace, "and from the open, come-say-hi kitchen to the down-to-earth service, that sense of togetherness colors the dining experience."
- Author Jennett Conant — who's at the Free Library in Philly tonight — chronicles Julia Child's pre-cooking exploits in WWII espionage and black propaganda in her book A Covert Affair: Julia Child and Paul Child in the OSS. Though the book is far more political than culinary, it does offer some amazing insights into Mrs. Child — she was an experienced opium slinger, for example.
- In Feeding Frenzy, there's word on Spread Bagelry and a new Center City Saxbys Coffee, plus all sorts of other little vittles.
- Over in What's Cooking, Laurel Rose Purdy shares details on a jam-packed food/drink week: Check out details on a high-grav "beer goggles" dinner at Varga Bar, next week's Meal Ticket panel event (more on that here!), some Mother's Day ideas and more.
Photo: Neal Santos
Need Cinco de Mayo plans, Mexiphiles excessive drinking fans? Glad you're here. Hit up the jump for our Cinco de Mayo picks, toast to those brave Mexicanos who whupped the huitlacoche out of the French at the Battle of Puebla, take two of these and call us Friday morning. Or afternoon, whenever you're feeling better.
To mark the anniversary of their first year in business, Seth Russell (left) and Harry Stormes of NoLibs' Dapper Dog cart are hosting a high-stakes dog-eating contest this Friday, May 6, in the patio area of the former Arbol Café and Second and Poplar. (The have been calling this space, now known as Garden Variety, home since the city cracked down on Second Street vendors; it'll soon host Nikki Hill and Claire Wadsworth's La Copine, too.)
For the contest, competitors must pay $5 to register by 9:30 p.m.; around 10, after the band Ryat wraps up, they'll set up what Stormes calls a "pretty traditional, Nathan's-style contest" — potato buns, boiled franks, ketchup, mustard. The first contestant to wreck 10 hot dogs, or the contestant with the most food consumed at the end of 5 minutes (like Nathan's, you can drink/dip stuff into water), earns one free hot dog a day for an entire calendar year. (The runner-up will win free dogs for a month.)
Photo: Drew Lazor