Archive: May, 2011
Ah, Ashley Primis, Director of Special Projects for Stephen Starr Restaurant Organization (SRO), we hardly knew ye. Actually wait, we knew ye for quite some time, as the food editor of Philadelphia magazine, until you left that pub 14 months ago to start working for SRO. Once there, Primis talked to the press about upcoming Starr ventures like Route 6 on North Broad Street, the quiet buildup of the beer garden Frankford Hall (opening tomorrow), Talula's Garden and Il Pittore and kept food fans breathless at the thought of a New Year's Eve opening of The Dandelion. She built up momentum. She gave me the recipe for smoked trout paté. Now Primis is leaving her post at SRO — quietly, as she isn't ready for any grand statement, pronouncement or major press release — at the end of this week. Who'll take her post at SRO is anybody's guess, as the spot seemed designed just for her. Where she'll land is the Philadelphia Inquirer's food section, where she'll tackle mostly non-restaurant, non-critical food coverage, like recipes and entertaining stories. Here's to a happy landing.
Excited to announce that the Meal Ticket print magazine CP dropped this past Thursday is now online! Head right here to flip through the virtual pages, checking out pieces from Adam Erace, Brion Shreffler, Felicia D'Ambrosio and excellent photography from Neal Santos and Mark Stehle.
There should still be hard copies in CP honor boxes throughout Philly, but you can also snag a mag this Friday, May 20, inside any issue of Philadelphia Business Journal.
Before opening their BYOB Fond (1617 E. Passyunk Ave.) with partner Tory Keomanivong, chefs Lee Styer and Jessie Prawlucki cooked together at Walnut Street's gilt French colony, Le Bec-Fin (1523 Walnut St.). Last year, the betrothed hosted a collaborative dinner that included former LBF chef Pierre Calmels; on Monday, May 23, they'll bring in Le Bec's current top toque, Nicholas Elmi, as well as The Man Himself, Georges Perrier. (Considering Fond's teensy-weensy quarters, we hope Georges keeps the screaming to a minimum.) The dinner is five courses for $75 and includes springy things like fluke crudos and cherry tarts. Peep the menu in its entirety, after the jump.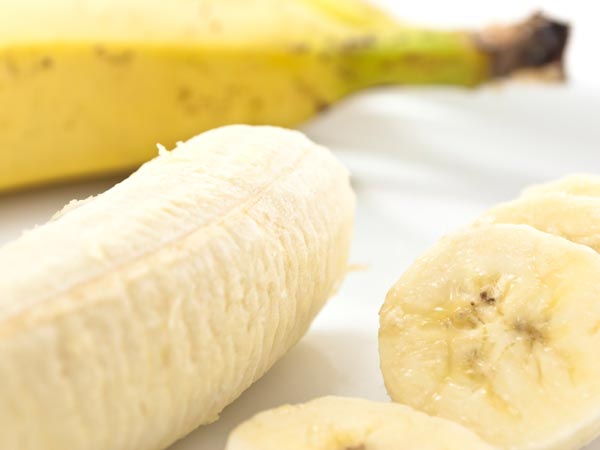 - Oh, my, god. Japanese artist Keisuke Yamada whittles human faces into the meat of a banana before he eats them. His friends are lucky. I have a bunch of bananas and I'd really like the face of Marilyn Monroe or my chihuahua carved into one. Check out the rest here.

- Ian Knauer, a contributing writer for Bon Appetit's blog, has a farm in Knauertown, Pa., pretty close to us. He just started sharing morel-hunting stories, photos of his cute baby chicks and recipes for compote made from his rhubarb, which he explains how to care for in his blog feature, Farm to Table.

- The government in the UK is looking to cut some costs, and the most relieving solution they've come to is reforming their ages-old cellar of finer-than-fine wines (worth millions and millions of pounds) by selling off the old stock and relieving taxpayers' burdens by hundreds of thousands. Can we get some?

- The San Francisco Food Adventure Club is into "rarefied food and experimentation." So, they recently chose placenta as their food-loving challenge, which some members politely declined. Thoughts? I was raised by hippies, and my dad planted the placenta from my home birth by the railroad tracks.

- Alton Brown's over-the-top cheesy yet still-informative food show Good Eats has met its end after almost 250 episodes of dropping serious food knowledge in tandem with slapstick humor. Check out Chicago Tribune's list of every single topic he ever covered. Bravo, son!
Photo: dailymail.co.uk
South Jersey native Keith Garabedian, who's cooked locally at Voorhees' Little Café and Collingswood's Tortilla Press and put in time in NYC at Tom Colicchio's craftbar, is about a month out from opening Hot Diggity!, an all-hot dog restaurant at 630 South Street. Garabedian, who's teamed up with three of his best friends from high school to launch the spot, tells Meal Ticket the menu will consist of around 10 hot dogs inspired by regional styles — think the classic Chicago Dog, dressed with pickles and celery salt on a poppy seed roll; a Seattle-style frank topped with garlic cream cheese, shredded red onion, tomato and scallion; or a "Saigon Dog," playing off the flavors of banh mi. They'll do hand-cut fries, too, with dipping sauces like roasted garlic rosemary aioli, chipotle mayo and black peppercorn ranch. Philly artist Hawk Krall, who handles the excellent "Hot Dog of the Week" column on Serious Eats, has been commissioned to design the restaurant's visually driven menu (click image to enlarge).
Photos: Courtesy of Hawk Krall and Hot Diggity!
Though whiskey-sipping purists might cry foul at the apparent Buffett-ization of the American South's most cherished cocktail, I say lighten the hell up — it's getting sticky outside, and this new staple at Khyber Pass Pub (56 S. Second St.) is here to help. Masterminded by Khyber GM Diana Coble, the process behind these icy wonders is simple — bourbon, mint-infused simple syrup, water and a little lime juice commingle in the silver slushy machine behind the bar, which gently churns out the classic version, plus flavors like white peach, raspberry, blackberry and strawberry (they'll rotate as more fruit comes into season). There are no frosted julep tins here, but you won't miss them much.
Drink this immediately!
Photo: Drew Lazor
Get the flash player here: http://www.adobe.com/flashplayer
The kegs have yet to be tapped and not a single sausage has hit the grill at Stephen Starr's Fishtown beer garden, but Frankford Hall (1210 Frankford Ave.) looks to be on serious pace to hit its May 17 debut date. Right up the street from Johnny Brenda's, the Stokes Architecture-designed space is large, industrial and mostly open-air, with communal tables along Frankford leading back into the gravel-scattered outdoor biergarten area that accommodates 240. Done up with trees, string lights and walk-up beer and food counters (brats, weisswurst and käsekrainer from Buxco's Illg's Meats are the centerpiece), this area will play host to jovial drinkers (nine beers on tap, mostly German), live music and Phillies games projected onto the yard's southern wall. Frankford Hall will operate from 4 p.m. to 2 a.m. on weekdays and from noon till 2 a.m. on weekends.
For those of us with unstoppable weekend brunching compulsions (please refer to each and every edition of Notes from the Weekend for the gory details), a joyous moment is upon us: Chef Jose Garces will be debuting a brand-new brunch menu this weekend at his flagship Amada (217-219 Chestnut St.) in Old City.
- First things first: Be sure you snag a print copy of City Paper today to get your hands on our first-ever full-color Meal Ticket magazine! The publication, whose debut we celebrated last night with a great event at Trust (pics from that to come), features long-form pieces from Felicia D'Ambrosio, Adam Erace and Brion Shreffler, awesome photography from Neal Santos, an up-to-date guide to Philly's farmers markets and more. The mag will be online soon (we'll update with a link), but in the meantime, be sure to snag a hard copy!
Elsewhere in the CP food section:
- Our resident supermarket product expert, Carolyn Wyman, takes a hard look at Tastykake products, comparing them to comparable snacks from Mrs. Freshley's — a brand owned by Georgia corp Flowers Foods, which recently purchased Tastykake outright. Will Flowers change our native sweets for the better or for the worse? Read on to find out how Tasty stacks up.
- Adam Erace visits Danny's Café on Snyder Avenue, a quaint breakfast/lunch spot that offers a mix of American and Southeast Asian specialties. Big endorsement for their Cambodian stews, hot weather notwithstanding.
- What's Cooking? Laurel Rose Purdy sums up a busy week in eats, from La Minette's French movie nights and a Collingswood restaurant crawl to this weekend's big ol' Italian Market Festival.
Photo: Neal Santos