Archive: May, 2011
Notes from the Weekend is a Monday feature that sees the members of Team Meal Ticket compiling all the food/drink highlights uncovered during prime eatin' time, Friday to Sunday. Consider this a place for good deals, great dishes, wicked cocktails, recipe triumphs (and tragedies), bizarro conversations and more. We're eager to share our notes, but especially excited to read yours.We encourage you to leave notes from YOUR weekend in the comments. Have at it! (View past NFTW installments at citypaper.net/notes.)
Sly Fox Brewery (they of the delicious canned beers) is teaming up with West Philly's White Dog Cafe (3420 Sansom St.) this Wednesday to serve up a beer-paired tasting menu. Brewmaster Brian O'Reilly will be swinging by to host the event, which starts with a reception (featuring hors d'oeuvres like a Pennsylvania cheese plate, flatbreads and pretzel bites with a Sly Fox pilsner) at 6:30 and feeds into dinner at 7 p.m. Look for pairings like stinging nettle ravioli and Saison Vos, Maryland softshell crab with Sly Fox IPA and a strawberry sampler with Black Raspberry Reserve. Tickets run $50 per person (without tax or gratuity) and space is limited; you can make a reservation at 215-386-9224.
Adam Erace spotted this amazing advice at a recently opened restaurant that's been covered here on Meal Ticket. He'll be reviewing it later this month, if that gives you any indication of its freshness ...
The 2011 James Beard Foundation Awards go down tonight in NYC, and we here at Meal Ticket would like to wish the best of luck to Zahav's Michael Solomonov (up for "Best Chef: Mid-Atlantic"), Marc Vetri and Jeff Benjamin (their flagship Vetri is up for "Outstanding Restaurant") and Dogfish Head founder Sam Calagione (up for "Outstanding Wine & Spirits Professional"). Get 'em, gents.
UPDATE [10:10 p.m.]: HUGE congratulations to Zahav's Michael Solomonov for taking home the "Best Chef: Mid-Atlantic" win! Here's a shot of him chillin' backstage, via the Beard Foundation's blog. He represents the Philly region's sole victory of the evening. The "Outstanding Restaurant" award went to Danny Meyer's Eleven Madison Park, while Dogfish Head's Calagione was beaten out by Julian P. Van Winkle III of Old Rip Van Winkle Distillery for "Outstanding Wine & Spirits Professional." Cheers to all the nominees for the honor, regardless.
Real estate developer Bill Creagh tells Meal Ticket he's about two months away from opening his first Sumo Steaks location at 2805 N. 22nd Street, right behind the old Connie Mack Stadium grounds. Creagh, who comes from a restaurant family — the Creaghs in the past ran Halfway House in the NEast and Lucky 7 Tavern in Absecon, New Jersey — will serve cheesesteaks, chicken cheesesteaks (on Liscio's rolls), fresh-cut fries and buffalo wings; the Sumo name, Creagh says, is a lighthearted nod to the sumo athlete's practice of packing in massive amounts of food to prepare for competition (slogan: "Train like a Sumo...EAT!").
Creagh, a proponent of social media, encourages folks to follow Sumo Steaks' progress on Twitter and on its blog, where you can provide feedback on the shop's branding (hats, cups, sandwich wrappers, etc.). "We're inviting fans of the idea to follow us along as we create a brand, and an actual fast-food chain," says Creagh. Sumo's second location is slated for the fall on the 1600 block of Cecil B. Moore Avenue.
Chef Scott Schroeder of South Philly Tap Room (1509 Mifflin St.) is teaming up with meat man Nick Macri of Southwark (701 S. Fourth St.) to roll out Scott Dogs, a hot dog cart that'll be tapped for farmers markets, festivals, gatherings and special events — including SPTR's May 21 Wheat Beer Festival, the tentative launch date for the operation. Macri is making franks — with a snappy bite, like the ones Schroeder grew up eating in Detroit — strictly from scratch. The plan is to boil up the links in Kenzinger, and then offer up a simple array of toppings, stuff like beef heart chili (another Detroit staple), cheese sauce, homemade relish and other go-tos. Though the May 21 date is not yet set in stone, Schroeder has hopes to roll Scott Dogs out to happenings like the Food Trust Night Market and the Phoenixville farmers market this summer.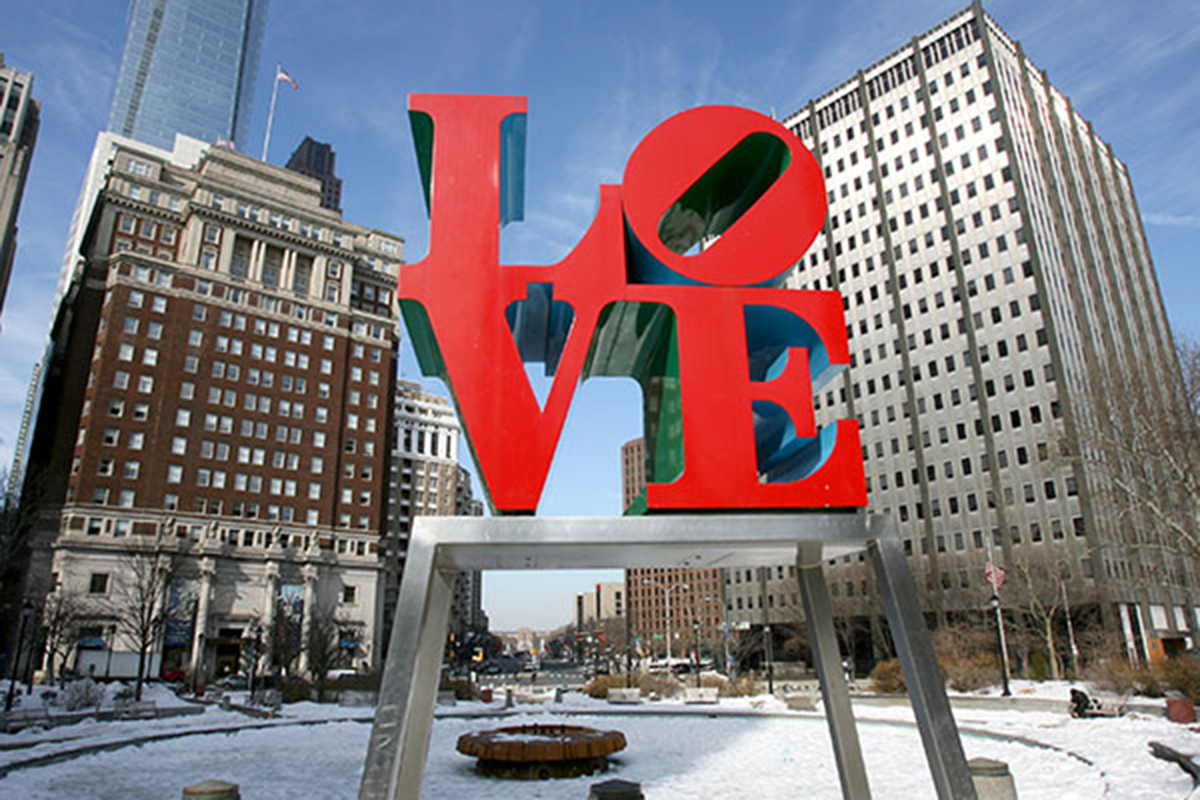 Larry Comroe and Wade Smith's Far From Home Cafe is the cornerstone food truck of LOVE Park's new "Lunch at LOVE" program, which brings a permanent, daily-changing array of mobile vendors to 15th and Arch. Far From Home, which operates at LOVE Monday to Friday from 11 a.m. to 3 p.m., has had much success at this spot, so much so that Comroe and Smith have expanded their menu to accommodate the lunch rush. Others have taken notice — today (and every Monday), Jose Garces' Guapos Tacos and the West Philly-based Sugar Philly truck will hold it down at LOVE. Tomorrow, May 10, will see the official debut of Gretchen Fantini's Sweetbox truck; the baker will hand out free mini cupcakes from 9:30 to 3. Wednesday to Friday sees Buttercream joining the fray.
Photo: travel.usnews.com
Daniel Stern's high-in-the-sky R2L (Two Liberty Place, 37th floor, 50 S. 16th St.) launches an 11-to-2 Sunday brunch this weekend, on Mother's Day. Peep what Sternie's serving (three courses, $45) after the jump (we would like a crab-stuffed avocado, yes we would). On Sundays moving forward, R2L will introduce an a la carte brunch menu, as well as Bloody Mary and mimosa bars.
Stopped into James (824 S. Eighth St.) and snagged a pair of stools last night — though Jim and Kristina Burke originally planned to call it a day at this location in June, they announced earlier this week that this Saturday will be their final night of service. Get on it — I hear they're pretty booked up for tonight, but there are still some Saturday slots; regardless, you can always show up and hold it down at the bar like us.