Archive: July, 2011
The South Philly location of Santucci's (901 S. 10th St., 215-825-5304) officially opened for business this morning, as we noted last week. Though their OG square pies, available in personal, medium and large sizes, are the main attraction, third-generation owner Alicia Santucci (grandparents Joseph and Philomena founded the biz) is hoping to make the 10th-and-Christian space more of a sit-down attraction. That means there are starters, sides and salads (an antipasti board; flatbreads; wings), burgers and sandwiches (peep the porchetta, with sharp provolone apple slaw and caramelized shallot jam) and a few signature options (wild boar, beef and veal meatballs). They're also doing pretty much everything in-house, cutting their own potatoes and sweet potatoes for fries, making their own desserts and even curing their own pancetta. In more good news for Italian Market denizens — this Santucci's delivers, and it'll also offer Sunday brunch, beginning tomorrow. Opening hours — Mon.-Thu., 10 a.m.-10 p.m.; Fri.-Sat., 10 a.m.-11 p.m.; Sun., 9 a.m.-9 p.m.
Photos: Drew Lazor
Get the flash player here: http://www.adobe.com/flashplayer
Yesterday we shared all the menus for The Twisted Tail (509 S. Second St.), the "bourbon house and juke joint" from bartender-about-town George Reilly and chef Michael Stevenson. It opens tonight at 4 p.m. but swung by a little earlier this afternoon for a few photos.
Reilly's taken the bilevel space, formerly Kildare's, and brushed everything up with some polished rock 'n' roll touches (check out Stevie Ray, Janis and the other luminaries looking over you in the downstairs dining room). Upstairs level features another bar (the bourbon barrels bolstering each corner are a cool touch), a rec-type room (with shuffleboard!) and a small stage, complete with drum kit and operational guitars on the walls for visiting musicians who might've forgot their ax at home.
Get all the info on booze and food (Stevenson will focus on the grill in Twisted Tail's kitchen) via yesterday's post, or check out the opening dinner menu, opening beer/wine list and opening whiskey list (PDFs).
Shout in the comments if you recognize this outside-the-city institution.
Fans of pastry chef Jessie Prawlucki's desserts have a reason to be happy today. This fall, she'll open a sweet shop and pastry atelier called Belle Cakery at Passyunk and Dickinson, right across from the P.O.P.E. and down the street from her BYOB Fond (1617 E. Passyunk Ave.). "I really needed a lot more space for me to be able to do what I do," says Prawlucki, and if you've ever seen the tight kitchen quarters she shares nightly with fiance/chef Lee Styer, you know she's not exaggerating.

Belle will give Prawlucki a place to produce all of Fond's desserts, as well as elaborate cakes and custom confections that will be available for special order. "We'll also have a few cafe tables in the front, so people can come, sit down, have a little dessert and an espresso." Expect mini cakes, mousses, custards, jars of cookies and an October opening, after the one-time doctor's office undergoes a heavy makeover.
Jim Burke, whose restaurant James has been sorely missed since it closed in May, has a new project lined up for the fall. It'll be Italian — "modern, simple, elegant," says Burke, who's drawing inspiration from cicchetti bars of Venice for the venture. "And we're going heavy on the pasta and risotto." Which means a resurrection of James faves like truffled gnocchi, risotto alla Kristina and the famed tagliatelle in chocolate-and-orange duck ragu, a serious coup for the tweakers suffering withdrawal. There's just one catch: For their fix, they'll have to head to New York.
More specifically, they'll have to head to 77th Street and Central Park West. The ooh-la-la intersection is home of the New York Historical Society Museum, an institution in the midst of a top-to-bottom renovation that will add a full-service public restaurant on the building's 77th Street side. How'd the museum get on board with Burke? Stephen Starr, a former boss of Burke's from his Angelina days, recently won their catering contract.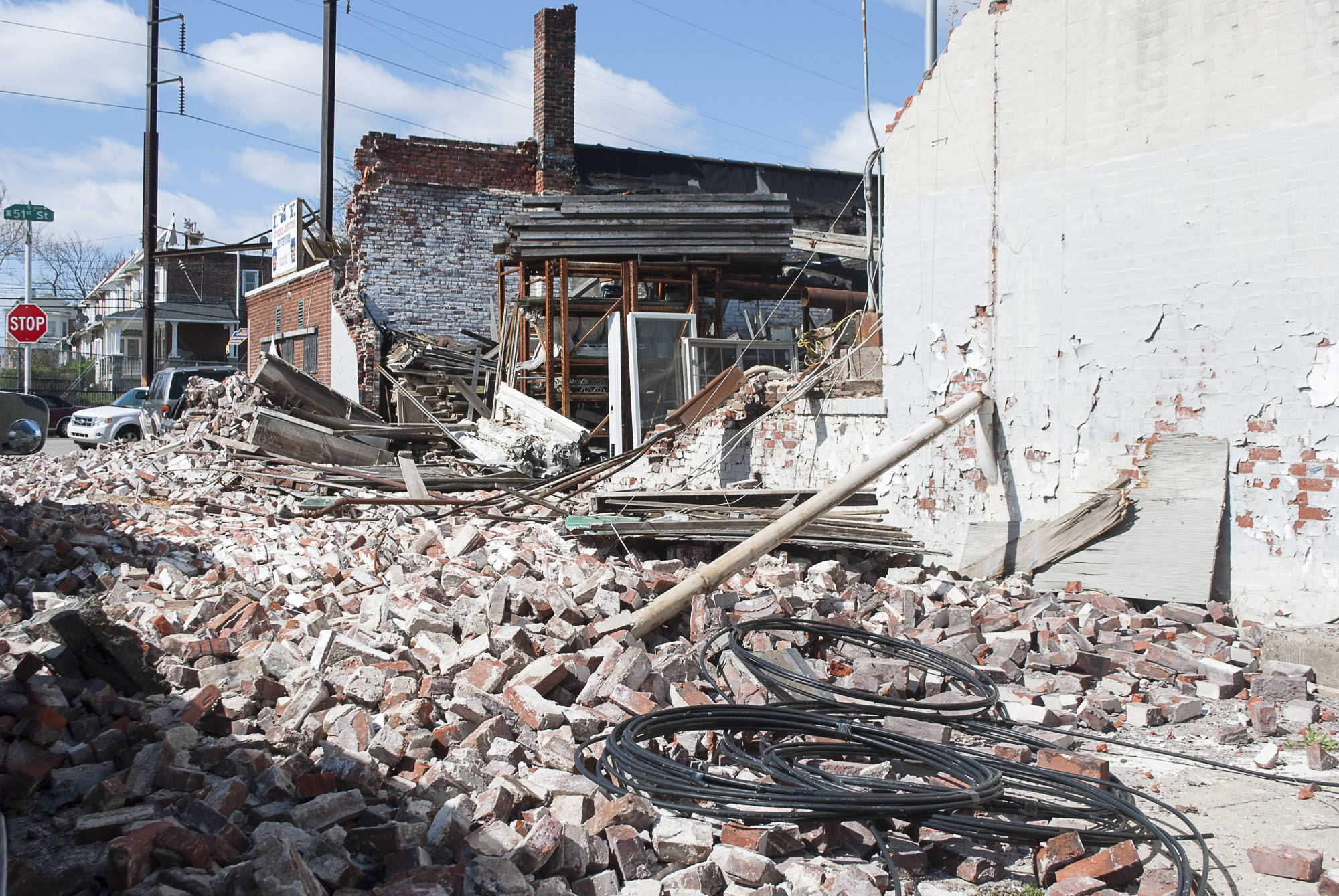 - Local blogger à la Alison has posted a tasty recipe for seafood pasta with a garlic white wine sauce. The recipe sounds delicious, but the photos are what make the post. I warn you, don't read while hungry. It has dangerous consequences (like realizing you''e still at work and can't have dinner until eight hours from now and oh my gosh I'm so hungry right now).
- Everyone has had at least one awful job. You're lying if you say you haven't. And all you really want is to go out with a bang — kinda like this guy. A recently ex-employee of Whole Foods sent out a 3,200-word email to the entire company "explaining" why he quit. He's sort of an ass, calling out individual employees, but it sure is amusing.

- It would be a crime for me to not share at least one Harry Potter food post. There have been a few foodies going around detailing Harry Potter sweets and cocktails, but none so exciting as this: It's Guy Fieri at Hogwarts. He's there to observe as Snape makes a batch of Polyjuice Potion. But watch out, Guy — Snape's always got something up his magical sleeve …

- I'm a terrible host. I don't know how to amuse people or what to feed them. I get worried that whatever is on their plates is not good enough. So throwing a cheese tasting would pretty much scare the crap out of me. If you're the same way, here's a step-by-step instruction manual from Madame Fromage that should make your dairy-queen life a little easier.

- Here's how to pose like a chef. I've already tried the Dude Brood and the Criss Cross. I look awesome.
Photo: alaalison.com
The Twisted Tail (509 S. Second St.), George Reilly's bar/restaurant/blues joint we talked about back in June, will open to the public tomorrow evening. We'll have plenty more details soon but in the meantime get your browse on with the following opening menus (all PDFs):
- LUNCH
- BRUNCH
- DINNER
UPDATE [29jul11]: Here's a photo tour inside The Twisted Tail.
Eyal Aranya, who just opened Burger.Org on South Street with partner Yoni Nadav, hopes to have Chicken.Org, in the former Jim's Soft Pretzels space at Fourth and South, flappin' its wings before the end of next week. The restaurant, similar in setup and branding to their burger joint, will offer fried, grilled and rotisserie chicken, a slew of side options and house-baked baguette for chicken sandwiches. "Not only is it going to be organic," says Aranya," we chose to make it glatt kosher, as well, at this location." Accordingly, Chicken.Org will be closed on Friday and Saturday nights. When it is open, it'll run shorter hours than its late-night-friendly sister restaurant — figure out 11 to 8ish Sunday to Thursday.
UPDATE [3:03 p.m.]: Aranya just checked back in — the kitchen team wants to do some more test-cooking before they open the doors, so as of now you should count on an August 15 or 16 opening.
Great piece today by Jen Colletta of the Philadelphia Gay News profiling local same-sex couples who are taking advantage of New York state's recent legalization of same-sex marriage. One of those couples? MaryAnn Brancaccio and Maria Vanni, owners of South Philly's August (1247 S. 13th St.), who have been together for 40 years.
The couple exchanged rings on their 25th anniversary but never had an actual ceremony since Pennsylvania wouldn't recognize the union. When the opportunity in New York arose, however, they decided to take the plunge to coincide with their upcoming anniversary.

Earlier this month they put their names into the lottery that was opened for couples to get married in New York City on July 24, the first day marriage equality was legalized, and received a call Thursday night that they were one of the approximately 800 couples randomly selected.

The Manhattan slate was full, so Brancaccio and Vanni elected to get married in Queens. The couple brought along Vanni's goddaughter and another friend to serve as witnesses and used their bands from their 25th anniversary.

"We didn't have much time to get ready, but we held it together," Vanni said.
August, in case you were wondering, is named in honor of the month Brancaccio and Vanni first got together. CONGRATULATIONS!
Photo: epgn.com; h/t @wtzgoodPHL
A second restaurant is on deck for Steve and Jennifer Wagner, owners of jewel-box Lansdowne BYOB Sycamore (14 S. Lansdowne Ave.), run by chef Sam Jacobson. Located in an old hair salon on 24 N. Lansdowne Ave., the 60-seat spot will be more casual than Sycamore, with a small-plate Mediterranean menu and pizzas cooked on the grill, in the style of Providence, R.I. and Friend of Meal Ticket Mike Persico. "The dough goes directly on the wood-burning grill," says Jacobson. "It's fantastic."

Greg Dooner, current Sycamore sous, will move down the block to be chef de cuisine at the as-yet-unnamed restaurant, while Jacobson will oversee both operations. They've got plenty of time to hammer out the details. "It's not going to be opening anytime soon," says Jacobson. "I'd be surprised if it were open before the end of this calendar year." We'll be waiting.