Eat This Immediately
Tomorrow kicks off Restaurant Week in Kensington, Fishtown and Port Richmond.� Take a peek at the article I wrote for Keystone Edge on the newest and hippest of the Restaurant Weeks.
To the young newcomers who have flocked north of Center City Philadelphia in search of affordable housing, Fishtown, Kensington and Port Richmond seem like real estate prayers answered. These post-industrial, car-friendly communities still retain the grit of the Irish, German and Polish immigrants who settled them in the early 19th century, but have been lent an edgy credibility by artists and craftsmen seeking warehouse live-and-work spaces. Following the last decade's wave of gentrification are the restaurants and caf�s who feed and entertain these locals old and new.
From Friday, May 1 to Wednesday, May 6, twelve restaurants in the river wards will feature specials designed to attract diners northward and out of their comfort zones. This Restaurant Week is a collaboration between local restaurant owners and the New Kensington Community Development Corporation (NKCDC), an organization seeking to grow the community by supporting sustainable business.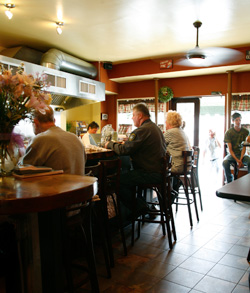 The three distinct 'hoods now known as Kensington, Port Richmond and Fishtown were collectively designated the Kensington District in 1820. The precise borders of each are still a topic of dispute today, with the only inarguable lines at Girard Avenue to the south and the Delaware River to the east.� Though the official northern political border is Norris Street, York Street divided the two Catholic parishes of Port Richmond and defined neighborhood identities since the earliest years of the 20th century.
Neighborhood identities still have the power to inflame passions in these historically working-class neighborhoods. Attending grade school in the mid-eighties, Port Richmond native Rob Cooper was taunted as a "Kenzo" by his classmates, since he lived on the wrong side of York Street. Kensington was always seen as the toughest and roughest of the river wards, dominated politically by the K&A Gang, known as the Irish Mob. After textile, fishing and metal working industries fled the area in the 1950s, K&A (Kensington and Allegheny Avenues) became well known as the corner to score heroin and pick up prostitutes. Philadelphia filmmaker David S. Kessler documents Kensington's continuing struggle with poverty and addiction in Shadow World, his hypnotic series of encounters with strangers under the elevated train tracks.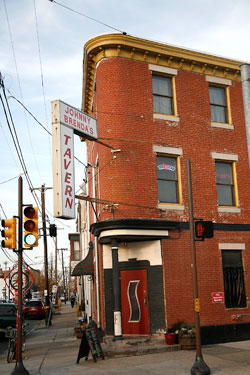 Such dark associations still dog the steps forward by the river ward neighborhoods, although organizations like the NKCDC are putting forth a huge efforts to support economic development through revitalization of abandoned buildings into affordable housing, greening vacant land, microloans to small business owners and community organizations. Restaurant Week in the river wards showcases their improving conditions and highlights what makes them tempting places to live--walkable, family-friendly caf�s, a growing art and gallery scene and like-minded neighbors bent on beautifying streets.
Keeping residents' discretionary dollars in the neighborhood is a priority for NKCDC, and in recent years it's been paying off; nine new eateries have opened in the river wards since January 2007. William Reed and Paul Kimport, owners of bellwether gastropub the Standard Tap in Northern Liberties, turned their attentions to the underserved corner of Frankford and Girard Avenues when they purchased and renovated the 40-year old Johnny Brenda's Tavern in 2003. Since then, Johnny Brenda's (1201 N. Frankford Ave., 215-739-9684) has served as the anchor of the expanding neighborhood, serving simple but exceptional food, an all-local, all-draft craft beer selection and adding an acclaimed music venue in 2007. For Restaurant Week, their kitchen celebrates shad--once the mainstay of Philadelphia's colonial fisheries and the creature that gave Fishtown its name--with a three-course, $30 shad-centric special that includes an appetizer, entr�e and dessert.
The strength of the river wards has always come from ordinary people, and the new wave of restaurateurs has wisely played to working-class wants. Sketch Burger (413 E. Girard Ave., 215-634-3466) crafts the classic American sandwich for every eater--try sirloin, American Kobe, turkey, chicken, vegan or smashed onion burgers, washed down with a dairy or vegan milkshake. During Restaurant Week any non-Kobe burger with two toppings, fries and a shake is just $15.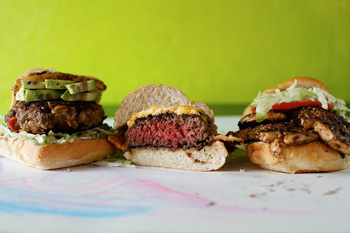 Jovan's Place (2327 E. York St., 215-634-3330) has been the destination for Yugoslavian home cooking since the 1990s. The family-run bar serves classics like goulash, stuffed cabbage and schnitzel; even the menu takes a parental tone, admonishing you to "be patient" while your food is made to order. During Restaurant Week, $25 buys a three-course meal that will barely leave room for the complimentary quaff of homemade brandy.
When a lavish brunch is in order, the signature Irish Breakfast at Ida Mae's Bruncherie (2302 E. Norris St., 215-426-4209) fills the void in home-style. Stop by Mercer Cafe (2619 E. Westmoreland St., 215-426-2153) for generous Restaurant Week breakfast and lunch specials; NKCDC economic development assistant Kathryn Doherty-Chapman recommends the tuna nicoise salad and French toast. Art classes for children, a live music venue and upstairs gallery add flavor to the offerings at Hinge Cafe (2652 Somerset St., 215-425-6614), with Restaurant Week multi-course choices for three daily meals.
Visit riverwardrestaurants.wordpress.com for details and a complete list of participating eateries.
Photos:
Interior shot of Ida Mae's
Johnny Brenda's Tavern
Veggie, Kobe, and Chicken burgers at Sketch Burger
All Photographs by Michael Persico

Make your reservations now for what the Philadelphia Inquirer has called "the busiest restaurant night of the year." More than 200 restaurants across the Delaware and Lehigh Valleys are participating in Dining Out For Life, an annual fundraiser that benefits men, women and children living with AIDS.
Participating restaurants donate up to 33 percent of Thursday's food sales to seven organizations that assist people living with HIV and AIDS.� See a list of beneficiaries here. At a few select restaurants, making an additional $25 donation earns you a card that entitles you to 20 percent off your food bill every Tuesday for one year.
You can check out the list of participating restaurants here, and search which are participating in the 20 percent Tuesday special. The choices run the gamut from super-high end to humble. The local superstars are setting a good example by throwing all of their restaurants into the mix � all four of Jose Garces' places, all 12 of Stephen Starr's, both of Jon Myerow's Trias, Mark Bee's Silk City and N. 3rd and Steve Cook's Marigold Kitchen, Xochitl and Zahav.
Check out some of the bold names participating:
Amada
Alma de Cuba
Barclay Prime
Beau Monde
Bindi
Butcher & Singer
Cochon
Fork
Izumi
James
Marigold Kitchen
Matyson
Mercato
Mrs. Tootsie's Soul Food Cafe
XIX (Nineteen)
N. 3rd
Parc
Positano Coast
Silk City
Southwark
Tattooed Mom's
Time
both Trias
Vintage
Xochitl
Zahav
Zinc Bisto a Vins
Shad was once so plentiful in the Delaware River that our forefathers caught them by the hundreds simply dipping nets into the cold April waters.� With our shad from local rivers completely overfished, most of the creatures cooked at tomorrow's Shad Fest in Penn Treaty Park have been caught on the West Coast.
Saturday's festival features a Grasshopper boutique pop-up shop, bike rides, arts and crafts vendors, a moon bounce for the kids, the shad-run 5K,� free kayaking open to the public, tours with local historian Kenneth Milano and, most exciting of all,� shad sandwiches by Paul Kimport and Carolynn Angle of Johnny Brenda's and the Standard Tap.
The Fishtown Shad Fest Web site cites shad's economic importance to colonial Fishtown, and quotes Kenneth Milano:
In 1686 William Penn described Shad �Shads are excellent fish and of the Bigness of our Carp: They are so plentiful, that Captain Smyth�s Overseer at the Skulkil, drew 600 and odd at one Draught; 300 is no wonder; 100 familiarly. They are excellent Pickled or Smokt�d, as well as boyld fresh; they are caught by nets only.�
As William Penn says, there are more than one way to treat this notoriously bony fish.� Its roe pods, rolled in crumbs and pan-fried, make for an unforgettable nugget of salt and savory richness. Chef Brian McBride of D.C.'s Blue Duck Tavern shares his recipe with The Washingtonian here.
Long, slow cooking melts the soft bones of the shad; try a traditional Virginia slow-baked recipe from About.com.
If cooking over an open fire sets your colonial imagination afire, try a planked shad recipe -- if you don't care to flout zoning laws with a campfire, a grill does the job as well.
Fishtown Shad Fest, Saturday, April 25, 11 a.m.-5 p.m., Penn Treaty Park at Delaware Ave. & Columbia St.; fishtownshadfest.org
Spring fever must be going to David Ansill's head, because he is waiving corkage fees for dining room guests who bring their own bottles Tuesday through Friday nights.
Try a bright, lemony cremant d'Alsace (Champagne's less-spendy cousin) to accompany oysters on the half shell with mignonette, or Ansill's signature steak tartare with quail egg and purple mustard.
Pick up one of Ansill's Stimulus Plan Coupons while you're there to receive 50 percent off your second entr�e the next time you dine.
Before our fleeting spring turns into summer sweat and chef comes to his senses.
Ansill Food & Wine, 627 S. Third St., 215-627-2485, ansillfoodandwine.com
Photo | Felicia D'Ambrosio

Homemade pizza with ricotta and white anchovies

Yesterday, the imperial
New York Times
Food section laid their blessing on a food item many people hesitate to attempt at home: pizza.
In an article wittily entitled Crust Fund, Sam Sifton peels away the mystique of pizza. All you need to make crackly, melty and aromatic pies at home is a baking stone and a peel, which can be had for less than $50 at any restaurant-supply store or online. (Try Fante's or Kitchen Kapers 'round these parts.)
With a stand mixer's hook attachment, dough is prepared in just seconds, left to rest, punched down once and ready for shaping in an hour. If you don't want to attack dough yet (and truly, it is very easy), buy it from one of Philly's best bakeries. Sarcone's and Faragalli's both sell one-pound dough balls for $1.50.
Mitch Mandell at Fabulous Foods has a dough recipe that works every time for me � you can substitute sugar if you don't have honey on hand.
Now fire up your stone and get tossing.
Sarcone's Bakery, 758 S. 9th St., 215-922-0445, sarconesbakery.com
Faragalli's Bakery, 1400 S 13th St., 215-468-5197
While local strawberries have not yet appeared, millions of California's little jewels are flooding markets right now.� Pick up a few cheap quarts -- one to eat straight out of the carton, and one to macerate with a little booze for a fresh and sophisticated dessert.
Macerate means simply to soak, and usually refers to the soaking of fruits in liqueur.� This treat can be made with port, as I used here; substitute what you like or have on hand.� Excellent swaps would be dessert wine, champagne, amaretto or a liqueur like Grand Marnier.
Cr�me fra�che adds a tangy element and richness to the freshness of strawberries that yogurt and whipped cream lack.� Different brands of cr�me fra�che offer different flavors -- some are very creamy or buttery, some are more cheesy.� I used Vermont Butter & Cheese Company brand, $5 at both DiBruno Bros. locations, which has a soft nutty flavor and can be whipped into peaks for use in topping desserts.
After the jump, the technique for strawberries in port with cr�me fra�che.
Strawberries in Port with Cr�me Fra�che
(Serves 4 as a light dessert, or as a topping for pancakes or french toast)
Go Get This:
One quart strawberries
6 tbsp port (or champagne, amaretto, Grand Marnier or dessert wine)
1 and 1/2 tbsp sugar (any kind)
4 heaping tbsp cr�me fra�che
Now Do This:
Wash and hull the strawberries (slice off the green tops).
Halve the strawberries lengthwise, quarter very large berries.
Place halved berries in a Tupperware container, add port and sugar.� Stir well to combine. Cover tightly.
Refrigerate at least 6 hours or overnight, shaking container or stirring occasionally.
To Serve:
Spoon berries into 4 stemmed glasses, pour over some of the port liquid.
Top each portion with a heaping spoonful of cr�me fra�che.
Serve with a small glass of port or champagne.
...so they're selling their stuffed pita sandwiches for 1/2 price this Tuesday, April 14.� Get on the mailing list today to take advantage of the deal, or drop your business card at their Sansom Street location.
Choose from a huge array of fillings, including barbecued chicken, Philly steak, souvlaki or traditional veggie-and-falafel numbers, all half price with purchase of any beverage, every second Tuesday of the month.� Get yours tomorrow from 8:30 a.m. to 10 p.m.
Pita Pit, 1601 Sansom St., 215-564-1080, phillypitapit.com.
Driving through Strasburg on the way to Lancaster one pretty spring day, my sister begged me to stop at a small coffee shop, Merenda Zug. Our grandparents had often treated us to a homemade ice cream at the Strasburg Creamery down the street in our younger days, but I had never been inside this particular storefront.
Once inside, my sister ordered a Lebanon bologna sandwich from the Mennonite girl behind the counter. "Ew," I whispered to her. "I thought you hated bologna."
"This is different," she said firmly. "You're going to like it. A lot." As the counter girl removed mustard, white American cheese and deli-sliced meat from a 1970s avocado-colored refrigerator, I wondered what could transform the slimy, mystery meat of childhood into a sandwich worth stopping for.
The young woman paused from carefully layering wheat bread with cheese and slices of the dark red Lebanon bologna. "Potato chips, ya?" she inquired. "Yes, please," my sister quickly responded.� On went thickly cut potato chips, and the sandwich was topped with another slice of bread and wrapped in wax paper.
Outside, we divvied up our halves and sat on a bench to eat. The first bite through the layer of familiar American cheese, spicy mustard and sweet, smoky meat all topped with a salty layer of potato chips was a seriously satisfying moment. Oscar Mayer made no unwelcome appearances.
Lebanon bologna is a regional specialty native to the Lebanon Valley of Lebanon County, Pennsylvania. It is an all-beef, cured, smoked, fermented, semi-dry sausage that is much closer in style to salami than bologna. Slow-curing gives the sausage a strong smoky flavor, while fermentation provides a distinct tang.
If a trip to Strasburg isn't in your immediate future, several vendors in the Reading Terminal Market sell Lebanon bologna, including Hatville Deli in the Pennsylvania Dutch section. Fair Food Farmstand is offering packages of Gap's Green Meadow Farm grass-fed, nitrite-free, all natural beef Lebanon Bologna that has a round, smoky flavor and pleasant sweetness.
Merenda Zug, 11 E. Main St., Strasburg, 17579; 717-687-8027
Hatville Deli, Reading Terminal Market, 12th and Arch streets, 215-925-5065
Fair Food Farmstand, Reading Terminal Market, 12th and Arch streets, 215-627-2029

Caf� Loftus, located on 15th Street between Walnut and Sansom, is celebrating its third anniversary this April.� To celebrate, owner Chris Gabello has instituted Free Coffee Fridays for the entire month.� From 7 - 10 a.m. every Friday, cups of La Colombe drip coffee are on the house.
�It�s just our way of giving back,� says Gabello, who is a photographer and photojournalist in addition to owning Caf� Loftus.
Caf� Loftus, 136 S. 15th St., 267-334-1875; cafeloftus.com
... and you've got the limited-time Benito Juarez dinner at Xochitl, ending tomorrow night.� Chef/owner Dionicio Jimenez's pre-Hispanic menu honors the guy who kicked the French out and became united Mexico's first president. Meal Ticket previewed the menu in February, and it knocked our gringo socks off.
The $45 prix-fixe gives you choices, including grasshopper tacos, breaded and fried veal brains and frog legs, among other, more familiar options.� General Manager Sergio Ruiz created coursed cocktails that harmonize with each item, but one of Xochitl's staple drinks, tequila chased with sangrita, works brilliantly as well.
Sangrita, which means "a little blood," is a blend of fresh tomato, orange, lemon and lime juices spiked with hot chilies. A sip of sangrita follows a sip of tequila, the spicy, refreshing juice smoothing the liquor's way.
Sangrita can also be blended with tequila, ice and a bit more lime juice to create a Vampiro, the bastard baby of Bloody Mary and Margarita.
Ruiz takes a precise approach to bartending � he always uses jiggers to ensure his cocktails are perfectly balanced -�but Meal Ticket works in a more offhand style.� A splash of this, a dash of that; it's all about modifying things to your own taste. Easy recipe after the jump.
Xochitl, 408 S. Second St., 215-238-7280, xochitlphilly.com
Meal Ticket's Take on Sangrita
Go Get This:
Three parts tomato juice
One part lemon juice
One part lime juice
One part orange juice
Lots of your hot sauce of choice
Cayenne pepper
Then Do This:
Blend well in a pitcher. Taste after the first addition of hot sauce, add more if desired, and add cayenne pepper a tiny dash at a time. That stuff is powerful. Rim shot glasses in a mixture of salt and cayenne, if desired. Serve with neat shots of good tequila. We like Siembra Azul Blanco.