Food Books
Sometimes things land in our inbox that are just to good not to share. Take this press release for the upcoming Fifty Shades of Kale for example. "Fifty Shades of Kale introduces kale as an enticing seductress whose nutrient powers and mouth-watering flavor make her one sought-after vegetable." Enticing seductress? Really?
If you're not already seduced by kale's nutritional prowess, perhaps you might want to sample a few of the enticing recipes included in Fifty Shades of Kale like a round of Kalejitos (you know, life a mojito but with KALE) or Cherry Kale Camparis (basically a kale smoothie with cherries and Campari) or maybe a batch of Chocolate Chip Kale Cookies.
Local artist and self proclaimed carnivore Dominic Episcopo is embarking on a pretty unique photo project: recreating American iconography in meat form for his upcoming coffee table (or should that be butcher block) book, Meat America.
Episcopo is off to a great start with steak silhouettes of Lincoln and Elvis, ribeye in the shape of the great cattle raising state of Texas, an ode to Robert Indiana's iconic Love sculpture in the form of styrofoam packed ground beef and a Gadsen flag that no one will tread on due to the fact that it's made out of sausage.
Episcopo needs a little help to make sure that this meaty manifesto sees the light of day so if you'd like to help out head over to his Kickstarter page and donate to the carnivorous arts. Donating gets you plenty of great perks like signed first editions of Meat America and original art.
And while you're feeling generous, might as well hop over to Lucky Ant and kick in a couple of bucks to Hot Diggity's food truck fund.
High Times is releasing its first-ever cookbook (!) later this month, and Meal Ticket has an advance copy we'd love to give away. Written by marijuana cooking expert Elise McDonough, The Official High Times Cannabis Cookbook "provides tasty recipes that go beyond the brownie, making cannabis a culinary experience." Featured recipes include Kind Bud Bruschetta with Pot Pesto, Cream of Sinsemilla Soup and Chicken/Andouille Ganja Gumbo. Tongue-in-stoned-cheek dish names aside, the on-record purpose of the book is to provide creative cooking alternatives for medical marijuana users, making it of particular interest to our New Jersey readers. (Pennsylvania's Governor Raymond Shafer Compassionate Use Medical Marijuana Act is still pending.)
You want? Simply leave a ONE-SENTENCE COMMENT ON THIS POST, BETWEEN NOW AND 5 P.M. TOMORROW, MARCH 8, convincing us why you deserve it. Make it funny, make it snappy, make it thoughtful. Most importantly, MAKE IT ONE SENTENCE. We'll pick our favorite and ship the book on out to you. For new commenters, be sure to register with an email address you check frequently, as that's how we'll notify the winner. Good luck! Hopefully there is a big plate of Grandma Purp's Laidback Latkes in your immediate future.
UPDATE [09mar12]: Commenter daniela_meow wins with this: "I can't believe learning how to cook at the age of 22 is finally going to happen how i've always dreamed." You've got your whole weed-cooking life ahead of you!
Frédéric Morin of Montreal's Joe Beef will be joining pal Marc Vetri for a cookbook dinner next Wednesday, Dec. 7 at Osteria (640 N. Broad St.). Morin will be conjuring up plates from his new "cookbook of sorts," The Art of Living According to Joe Beef, which was recently reviewed by Adam Erace in our Nov. 17 food issue. The five-course dinner — $150, a price that includes, tax, tip, alcohol and a signed copy of the book — will feature staples from the restaurant, including Hot Oysters on the Radio, lobster-stuffed squid and duck steak au poivre. Full menu after the jump; make your reservations here.
Photo: Neal Santos
In last week's CP we gave you the rundown on Celebrate Vegan, a new holiday-themed vegan cookbook from local author/blogger Dynise Balcavage. Although Turkey Day is out of our collective system, there's still plenty of festive cooking left to accomplish before the end of the year — that's why we want to give away a poppin'-fresh copy of Balcavage's book. To win: Simply leave a ONE-SENTENCE COMMENT on this post explaining what you plan on doing with the book. Make it noteworthy! We'll choose a winner at noon on Wednesday, Nov. 30. Have fun.
UPDATE [05dec11]: Congrats to commenter capasshl, who vows to use the book to make vegan treats for her kids. Aw!
Food52, created by food writers Amanda Hesser and Merrill Stubbs, is dedicated to bringing together great recipes from talented home cooks across the country. Every week, the site challenges contributors to submit their best recipes for a given dish, which Hesser and Stubbs test out and rank based on crowd-sourcing the Food52 community; 140 of those recipes made their way into the new Food52 Cookbook. The authors, currently on tour, are stopping by Delicatessen (703 Chestnut St.) tonight to toast chef Ali Waks, who has three recipes in the book. The event, which begins at 6:30 p.m., is $25, which nets you a signed copy of the cookbook (a $35 value), a presentation by Hesser and Stubbs, beer from Yards and renditions of Waks' winning dishes — smoky fried chickpeas, which won "Your Best Recipe with Paprika"; cowboy-rubbed ribeye with chocolate stout pan sauce, which took the "Your Best Broiled Steak" category; and Luciana's porchetta, winner of "Your Best Roasted Pork shoulder."
This Sunday, Nov. 13, David Katz's Mémé (2201 Spruce St.) hosts Marissa Guggiana, the Cali-based butchers' advocate and food writer (and editor of Meal Ticket fave Meatpaper) who's just released Off The Menu: Staff Meals From America's Top Restaurants. The book highlights the tradition of the simple meal that restaurant employees sit down and share pre-service; Guggiana features spots from around the country, highlighting Katz (plus Marc Vetri and Jose Garces) here in Philly. Expect family-style portions of meatloaf with macaroni, egg, reggiano and black pepper (from the book); spinach/potato/gruyere frittata; potato gnocchi with lamb neck ragu; Canuck-style pork pie with prunes; and Katz's dessert "secret weapon," jelly doughnut bread pudding with coffee cream. Seats are $55, which includes a signed copy of Off The Menu but excludes tax, grat and booze (though they will be selling $20 bottles of wine); 215-735-4900 for tables.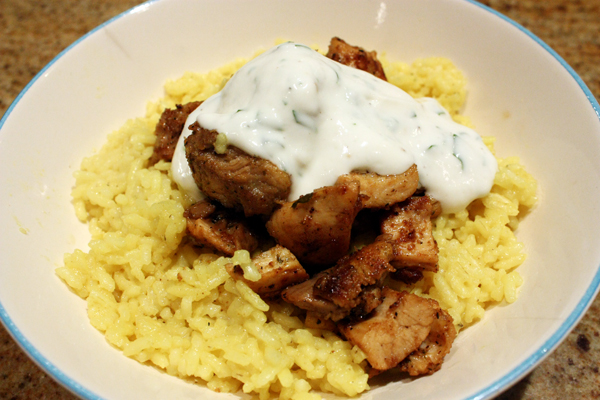 In this week's CP we blurbed the new book from the team at Serious Eats, which combines hungry American travel tips and best-of lists with pretty photos and a bunch of original recipes. We cooked and enjoyed one dish — SE contributor J. Kenji Lopez Alt's halal cart-style chicken and rice — so much that we wanted to share it here with y'all. Quite pleased with how out-of-a-Styrofoam-container-for-$5 it tasted (that's a compliment!).
Photo: Drew Lazor
With seats are filling up quickly for classes at Cook (253 S. 20th St.), it may prove difficult to snag a spot, but Audrey Taichman is making it easy to get your hands on reads, treats and gifts from local artisans and chefs. The demo kitchen venue features a collection of food-centric cookbooks and memoirs, including tomes from Philly's own Jose Garces, Marc Vetri and Georges Perrier. If you need something more edible, opt for John and Kira's gourmet honey caramel chocolates, or strawberry balsamic jam, orange marmalade and spicy Dijon from La Copine, all made exclusively for Cook. They're also hawking hand-crafted kitchen gadget-inspired necklaces from Maggie Huth's Bathtub Jungle (she's also a server at Audrey Claire), custom screen-printed bags and tea towels from Kaye Rachelle Designs and potted herbs/plants, like rosemary and scallions, from Grace Wicks, owner of Graceful Gardens. Tools like whisks, spatulas, colanders and Cook-branded salt and pepper shakers round out the boutique's stock. The shop side of Cook is open Tuesday to Sunday from 11 a.m. to 5 p.m. and by appointment.
Photos: Nicole Rossi
This coming Wednesday, Fork (306 Market St.) kicks off its very own Sustainability Dinner Series. Chef Terence Feury will team up with authors Bruce Weinstein and Mark Scarbrough to prepare dishes from their most recent cookbook, Goat: Meat, Milk, Cheese. While most may not be aware of this, goat is the most-consumed meat on the planet and one of the most sustainable choices out there, and the book addresses the animal's influence and versatility, providing recipes along the way. Join Feury, Weinstein and Scarbrough as they create a three-course, $45 tasting menu that highlights goat in every way. The meal will feature dishes like hand-rolled gnocchi, grilled/braised goat and goat yogurt panna cotta. Here's the full menu; call 215-625-9425 for reservations.