In Print
- Old City's Reserve makes some mis-steaks during Adam Erace's meal, from burned potatoes and stale breadsticks to entrée problems of the follicular persuasion.
- In Feeding Frenzy: Hip City Veg, Spiga, Vernick, the Boot & Saddle reboot and The Food Trust's popular Headhouse market.
- In What's Cooking: IPA crazy at Hawthornes, the second annual Burger Brawl, an Artisanal beer dinner at P&K and Taste of the Nation.
Photo: Neal Santos
- Adam Erace rolls along the hills of Roxborough to visit Phu Fha Thai, a mom-and-pop cranking out both classics and atypical specialties from the city of Chiang Mai.
- In Feeding Frenzy: Rittenhouse Tavern, SoWe, Quaker Steak & Lube, a new restaurant for Chris Kearse and first word of Bainbridge Street Barrel House.
- In What's Cooking: Italian-grown French grapes at Mémé, a cupcake-off for a good cause, Dining Out For Life and more.
- In Agenda: Fishtown's ever-popular Shadfest goes down this Saturday at Penn Treaty Park.
- In Icepack: A.D. Amorosi touches on two restaurants coming to the 200 block of Walnut.
- In News: Bell Curve addresses the extremely controversial Steak 'Em Up vs. Steak-umm conflcit.
Photo: Mark Stehle
- With every smokers' favorite holiday on the horizon, Felicia D'Ambrosio talks to some local food pros about the possibilities of cooking with weed. This informal, mostly anonymous survey finds professional chefs and brewers sharing their THC-manipulating tips and tricks. Also, a recipe for weed ice cream!
- Adam Erace was geekd on the idea of a seafood-centric Vietnamese restaurant, but he finds the food at Grill Fish Café, an offshoot of Benny Lai's Vietnam empire, to be too tame.
- In What's Cooking: Spring sneak-peeks at Sbraga, a citric cocktail fundraiser, shuck-off at Oyster House, an Armenian party and more.
- In Icepack: A.D. Amorosi had an interesting tidbit on the future of The Latest Dish and Fluid.
Illustration: Evan M. Lopez
- Adam Erace reviews Russet, the new BYO from husband/wife chef team Andrew and Kristin Wood. He leaves impressed with the couple's thoughtful seasonal sourcing and cooking, from his gorgeous stinging nettle chittara (pictured) to her salted caramel sundae with local (!) bananas.
- In Feeding Frenzy: Square Peg, Blue Belly BBQ, expanded hours for Nom Nom Ramen, the return of Ortlieb's and a new Divan.
- In Icepack: A.D. Amorosi drops food-scene rumors on Jennifer Carroll's movements (scoping a space on Chestnut?), a potential new partner for bartending couple Phoebe Esmon and Christian Gaal and more.
Photo: Neal Santos
- Adam Erace's Afro-Francais lingual game is not that strong, but he was still able to get it in at Le Bercail, a small West Philly eatery specializing in food from the West African nations formerly controlled by France. Plenty of flavor to be had here, whether it's yassa-smothered whole fish or house-brewed hibiscus punch.
- In Feeding Frenzy: Local 44's new bottle shop, Insomnia Cookies for Center City, ramen, late-night hot dogs and a new vegan event space on the way.
- In What's Cooking: Cheu Noodle is popping up, more Philly on Kitchen Nightmares, an all-star duck dinner at Bistrot La Minette and more.
- In News: Theresa Everline reports on how Philly farmers markets are attempting to become more accessible for those who in the Supplemental Nutrition Assistance Program (SNAP).
Photo: Neal Santos
- Adam Erace somehow manages to find parking Fairmount and visits Lemon Hill, the neighborhoody collaboration between The Franklin and Supper. "The concept could easily come across as grandiloquent," writes Erace of the corner space's thoughtful cocktails and "surgically wrought" menu, "but the crew keeps it anchored in the innate promise of serving its neighborhood."
- In Feeding Frenzy: Popolino, Rex 1516, Square Peg and Machi Sushi are now open.
- In What's Cooking: Dumpling-eating bonanzas, Philly Stake, Greek independence, more.
- In Icepack: A.D. Amorosi has tidbits on a new project for the Farmers' Cabinet people and Stephen Starr drama in NYC.
- Emily Guendelsberger has more on the ice cream-centric Bruce Springsteen tribute happening at Johnny Brenda's this weekend. We told you about it yesterday.
- Jiro Dreams of Sushi opens in Philly this weekend. You gotta see it.
Photo: Neal Santos
Thank you for all the great feedback I've received so far on this week's piece on ramen on Philadelphia. It was certainly one of the most fun food articles I've written in a long time. I did so many interviews and so much research and ate so much soup that a bunch of fascinating/funny tidbits, thoughts and quotes ended up not making it into the piece. Here are some in no particular order.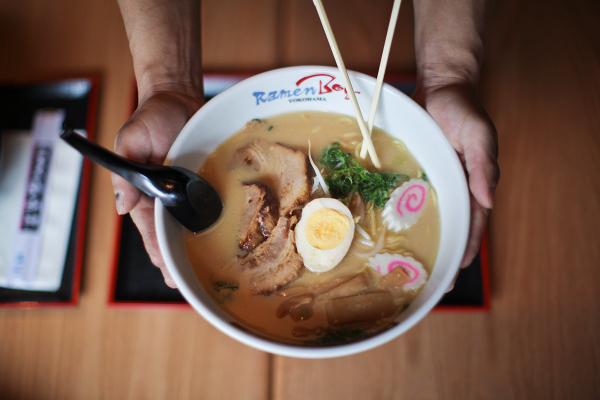 Team Meal Ticket took over the print edition of City Paper this week, and we're excited to share everything here with you online! Let's see ...
- Ramen, and all the hand-wringing and histrionics surrounding it, has long been a "thing" in other cities, and it's suddenly coming into sharp focus here in Philadelphia. We talk to chefs, brothmakers, academics and more about the insane popularity of the Japanese noodle soup and why it garners such passionate reactions.
- South Philly restaurant Le Virtù takes its name for a traditional and complex Abruzzese soup that celebrates the arrival of the spring season. Adam Erace snags a home cook-friendly recipe from chef Joe Cicala so you can turn your pantry-cleaning into dinner.
- With its pretty DIY aesthetic, The Pickled Heron is easily Fishtown's best-looking restaurant, writes Adam Erace. But how does the food from chefs Todd Braley and Daniela D'Ambrosio stack up? The dishes he does like, including their creative updates on classics, show promise, but other issues need to be buttoned up.
- Harry Baker, aka "Bakeowski," has been organizing Philly events commemorating Charles Bukowski's March 9 death day for the past three years. In 2012, he's borrowed Occupy tactics to bolster a full day of heavy drinking in honor of one of the great alcoholics in literary history.
- In What's Cooking: bourbon and raw chocolate at 1 Shot, stouts like crazy at Johnny Brenda's, a local pastamaking class and more.
- In Agenda: Preview of a March 13 reading with Philly author Michael Levy, whose new book Kosher Chinese chronicles a Jewish guy's time spent living and eating in China. Price of admission includes a glatt kosher Chinese meal.
Photo: Neal Santos
- Adam Erace is not much of a "must-have-burger" person, but he's flipping over the one at Fairmount's Hickory Lane. Matt Zagorski's new restaurant does right by one of his signatures, blending filet tips, brisket and beef deckle for his customized meat blend. But the all-day bistro cooks much more than posh patties.
- In Feeding Frenzy: the newly revamped Chick's Social, Marc Vetri's new Alla Spina and new Old City steakhouse Reserve.
- In What's Cooking: BigBite's Philly Chili Bowl, an Allagash dinner at Chifa (tonight), a b-day party for Random Tea Room (also tonight) and more.
Photo: Neal Santos