On Wheels
A few weeks back we told you about supper club concept La Copine from former Barbuzzo sous chef Nikki Hill and girlfriend Claire Wadsworth. That's still happening, Hill reports, with June dates being set for al fresco dinners at Garden Variety (Second and Poplar), the outdoor event space formerly part of the defunct Arbol Cafe. Meanwhile, the girls have already launched a mobile arm of the L.C. brand, La Copine Brunch Cart.
"We had our soft opening of the cart last Sunday," Hill says. "It was a perfect day to get our bearings and help us make some small changes before the real public opening this coming weekend." The La Copine Brunch Cart will be parked at Garden Variety alongside the Dapper Dog dudes every Saturday and Sunday from (approximately) 10 a.m. to 4 p.m. throughout the summer. Peep the menu after the jump (click to enlarge); suffice to say, we're already dreaming about the homemade hash brown with spicy ketchup and the prosciutto/fig flatbread streaked with lavender honey gastrique.
"It is a great opportunity for La Copine to demonstrate what we are about," says Hill. "Cooking outdoors is totally exciting, something completely different than what I'm used to in a restaurant kitchen."
Photo: Courtesy of La Copine
Chef Scott Schroeder of South Philly Tap Room (1509 Mifflin St.) is teaming up with meat man Nick Macri of Southwark (701 S. Fourth St.) to roll out Scott Dogs, a hot dog cart that'll be tapped for farmers markets, festivals, gatherings and special events — including SPTR's May 21 Wheat Beer Festival, the tentative launch date for the operation. Macri is making franks — with a snappy bite, like the ones Schroeder grew up eating in Detroit — strictly from scratch. The plan is to boil up the links in Kenzinger, and then offer up a simple array of toppings, stuff like beef heart chili (another Detroit staple), cheese sauce, homemade relish and other go-tos. Though the May 21 date is not yet set in stone, Schroeder has hopes to roll Scott Dogs out to happenings like the Food Trust Night Market and the Phoenixville farmers market this summer.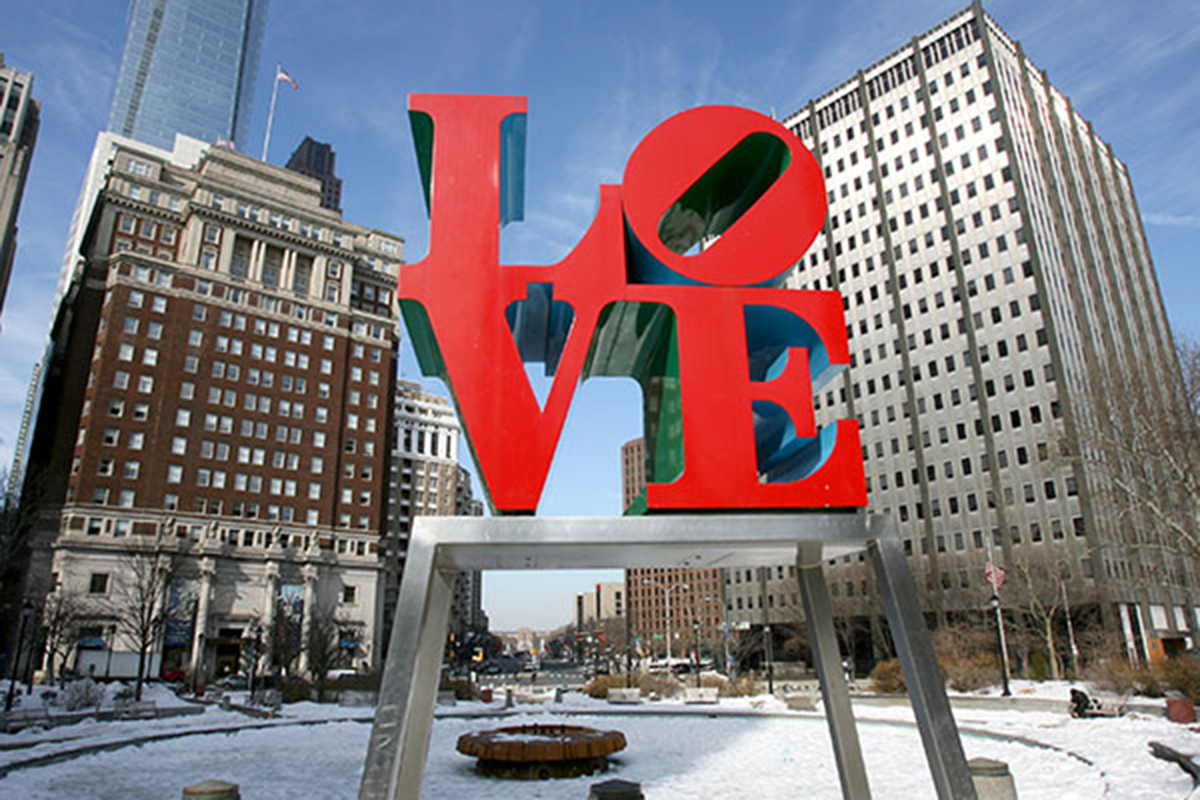 Larry Comroe and Wade Smith's Far From Home Cafe is the cornerstone food truck of LOVE Park's new "Lunch at LOVE" program, which brings a permanent, daily-changing array of mobile vendors to 15th and Arch. Far From Home, which operates at LOVE Monday to Friday from 11 a.m. to 3 p.m., has had much success at this spot, so much so that Comroe and Smith have expanded their menu to accommodate the lunch rush. Others have taken notice — today (and every Monday), Jose Garces' Guapos Tacos and the West Philly-based Sugar Philly truck will hold it down at LOVE. Tomorrow, May 10, will see the official debut of Gretchen Fantini's Sweetbox truck; the baker will hand out free mini cupcakes from 9:30 to 3. Wednesday to Friday sees Buttercream joining the fray.
Photo: travel.usnews.com
After six months overhauling the kitchen at Fergie's (1214 Sansom St.), barbecue maestro Mark Coates of the sorely missed Bebe's is making good on a promise to enter the food truck race. "I stepped to the side because I had some other stuff I wanted to work on," Coates says of Fergie's, which will still be serving the smokehouse staples that first won this Louisiana transplant local acclaim. "And I've been wanting to do a food truck forever." That desire has been chronicled here on Meal Ticket, and now it's confirmed that a mobile operation is indeed on the way.
With Jose Garces' Guapos Tacos creeping around town, summer staple Honest Tom's returning to Drexel (and, with any luck, back in Center City by the time the season is in full swing) and a handful of muy
authentico South Philly trucks whose selections are nothing to sneeze at, Philly pretty much has the mobile taco game on lock. Now Whole Foods is bringing its own contender to the rooftop of the grocer's Plymouth Meeting location in the form of the brand-new Blue Route Taco Truck.

Blue Route makes its debut with a grand opening fiesta kicking off this Friday, April 15 at noon — follow the sound of Latin jazz upstairs and take your pick of carne asada, carnitas, Tecate-battered fish, spiced chicken or grilled veggie tacos (menu developed by the store's prepared foods team and executed by chef Chris Brusch). Don't forget your koozies, as ice-cold canned beer will be available to keep you chilled. The truck will be open for lunch and dinner daily (weather permitting), from 11 a.m. to 7 p.m.
Gretchen Fantini's Sweetbox Truck just started slingin' scratchmade cupcakes two days ago at 3500 Market Street, in front of the Monell Chemical Senses Center. The truck (above) is not yet wrapped/branded — that's because it's been selected for a custom design job by the Mural Arts Program, which was responsible for the badass looks of Honest Tom's and other mobile operations around town. The Monell spot will be Sweetbox's permanent digs; they're feeling out business this week before setting a permanent schedule. Check the truck out on Facebook and Twitter, and peep a sampling of Fantini's cupcake varieties after the jump.
Memphis Taproom (2331 E. Cumberland Ave.) first shared plans for an adjacent beer garden with Meal Ticket last May, and it's looking like owners Brendan Hartranft and Leigh Maida are getting very close to officially debuting the open-air space — Maida says they'll host a combo grand opening/third anniversary party on April 23, which'll also see the literal rollout of the blue-green badboy above. The truck will serve as a stationary kitchen for Memphis' beer garden, serving hot dogs, fried pickles and canned beer. No official plans to have the truck roam the city as of now, but last night we had a really awesome dream about hearing "The Entertainer," frantically digging change out of the couch, sprinting outside in slippers and chasing the truck across Fishtown for a Dale's Pale Ale.
Courtesy of Little Baby's
Cute Idea Alert: This spring will see longtime friends and scoopers-in-arms
Pete Angevine
,
Martin Brown
and
Jeff Ziga
pedaling/peddling small-batch ice creams on a tricked-out tricycle. (Don't you just wanna pinch the chubby cheeks of that neotenous ice cream cone above?!) The man-powered mobile business, officially
Little Baby's Ice Cream
, will patrol summer concerts, markets and festivals (Angevine mentions First Fridays on Frankford Ave.) with 12 gallons of four to six flavors served by the cone and biodegradable, compostable cup. "Our goal is to be zero-waste," says Agnevine, who's also sourcing local, grass-fed milk and cream for the "unusual, surprising" flavors like earl grey Sriracha, balsamic banana, birch beer-vanilla bean (want!) and grilled peach. "And one or two non-dairy options will always be available, whether sorbets or almond-or rice-milk-based." The trio's industrial-desginer friend is working on Little Baby's multimedia trike right now; it'll be outfitted with a hand-pumped water system, freezer hooked up to a portable generator and electronic music box salvaged from an old ice cream truck. The tricycle is the first phase of the LBIC, with plans on deck for a CSA-like delivery subscription and a proper bricks-and-mortar parlor in Kensington, Angevine's turf for the last eight years. We can't wait. Stay tuned to Little Baby's
Facebook
and
Twitter
for details.
Photo | Michael Persico
Meal Ticket first told you about
Jose Garces' Guapos Tacos truck in May 2010,
and we snuck a peek at the 45K-count bottlecap-laden, tortilla-slingin' ride
back in September at Amis Industry Night.
Now that the weather's juuuuustttt starting to break a little, Garces (right) and restaurant designer
Jun Aizaki
(left) have announced their intention to roll Guapos back out in Philly. The truck will serve primarily at private events (call 215-625-2920 to book), but there's also plans to have it shoot around the city a bit. Hit up the jump for a partial preview of the grub Guapos Tacos will dish out (prices will range from $3 to $7).
Guacamole
Tamales
Mission-style Veggie Quesadilla
Adobo Chicken: white onion, radish, cilantro, cotija and lime
Carnitas: smoky black beans, pineapple-habanero salsa
Mahi-Mahi: pickled red cabbage
Desayuno: scrambled eggs, chorizo, poblano rajas and salsa Mexicana
Duck Barbacoa: radish kimchi, togarashi aioli
Larry Comroe
and
Wade Smith
's food truck,
Far From Home
, will make its Philadelphia debut tomorrow, Feb. 17. The formerly Virgin Islands-based operation, which
Meal Ticket first mentioned in September,
will serve at
LOVE Park
between 11 a.m. at 3 p.m. —
here's their opening menu,
consisting of burgers, dogs and various international snacks. We want the Brazilly-Philly-Cheesesteak Dog!