Recipes
In this week's In Season, I told you all about kale, and talked to Kennett chef Brian Ricci, the man credited with kicking off Philly's kale salad craze. (I think it even preceded the New York kale salad craze.) Below is the recipe for the two-step bowl o' green that started it all; in cheffy fashion, the measurements are in grams. To convert to ounces, multiply by 28.349. A little arithmetic with your dinner.
Perhaps you've heard? IT'S RAMP SEASON! Cue the cheers (from lovers of the wild onion's garlicky flavor) and jeers (from jaded "foodies" and preservationists who insist foragers are committing allium genocide across the country). Should you fall into the latter category, I suggest you stop reading, because I'm about to drop word on one of the most delicious ways to execute some rampage.
In this week's City Paper, Francis Cratil Cretarola, co-owner of S.P. cucina Le Virtù (1927 E. Passyunk Ave.), gave us the skinny on the spoonable Abruzzese ritual from which his restaurant takes its name. Made in the eastern-central Italian region every May 1 from a few early spring vegetables and a lot of dried goods left over from winter, the le virtù recipe that chef Joe Cicala prepares on Passyunk was way too long for the paper. We published an abridged version, but thanks to the magic of the internet, we can also provide the full formula in all its 35-ingredient splendor. Intrepid enough to try it at home? As they say in South Philly, God bless.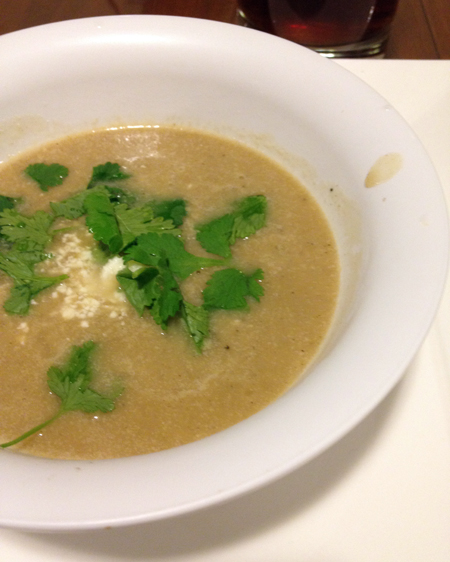 Change-of-weather woes, allergies, whatever's going around — my house caught it this week. When I'm under the weather, I take a doubled-up approach: first with meds, second with food, like a steaming pot of liquid gold. One of my favorites, roasted cauliflower soup, takes a little advance planning — you've gotta roast the florets, then simmer them in stock — but in terms of ease, it's absolutely entry-level. I usually give this soup a Mediterranean flavor profile, but since I had a bag of crumbled cotija I wanted to use up, I made it Mexican and wound up stumbling across my favorite variation yet.
A few weekends ago, I encountered a culinary artifact while brunching at Santucci's (901 S. 10th St.) — the brûléed grapefruit. The halves of citrus sat on chef Bobby Saritsoglu's "Italian Breakfast" plate of speck, candied nuts, fresh bananas/blueberries and ricotta, their thin, torched-sugar tops looking like the frozen surface of a citric lake you'd be wary of skating on. Shattering the brûléed barrier and excavating segments of bittersweet fruit one by one, I relished the retro joy of it, feeling very much like a first-class passenger aboard the Titanic. What a civilized way to energize for racquetball below the poop deck.
It's peak season for citrus in Texas, California and Florida, and grapefruits right now are heavy, ripe, juicy and fragrant. White, pink or ruby red, any variety will stand up to the broiler or blow torch in this recipe, which I've been tinkering with since brunch at Santucci's. I've seen formulae that call for butter and others that incorporate spices, but this is the one I like best. Concentrated bursts of blue flame from a crème brûlée torch is the best method for even sugar-browning, but no need to run to Fante's; you can also just turn your broiler up as high as it will go and get your oven rack into the uppermost slot for a comparable effect.
I recently told you all about the fancy-shmancy Cuisinart soup blender, and since I know the story was so compelling you all went out and bought one, I figured I'd provide the recipe for the fiery sweet potato soup I made with it. Actually, you don't need this gadget to bang out this velvety peach-hued purée; any blender will do. Just be sure to cool the soup down before blending. Unless you want sweet potato soup all over your walls.
New Year's Eve is always pressure cooker, but for some reason, the culmination of 2011 feels like it's arriving with the speed of a runaway train, transporting a side order of stress in its caboose. The rush to plan, plan, plan to be somewhere special when the clock chimes 12 can be a killer. So consider the alternative: staying in this Saturday. Chill down a bottle or two of Prosecco and cook up this easy, expensive-sounding menu of oysters, lobster and exotically spiced bread pudding. It's a helluva lot more relaxing than scrambling for plans, and a helluva lot cheaper too.
If you have ever read any of my cooking-related articles you know that, despite my general enthusiasm, I am very good at fouling everything up immensely, whether it is half-raw pizza dough or an entire crappy meal sullying the legacy of Auguste Escoffier. That's why I am happy to share this moron-proof chicken thigh "recipe" with you. I make this on the reg and recently typed the process out for a friend, so I figured I would share here, too. All you need is some pollo, a couple pantry ingredients, an oven and a pan that can go into it. Here's to a gloriously non-fucked-up dinner.
Photos: Drew Lazor
Thanksgiving has come and gone, and if your fridge is looking anything like mine, baggies and containers of leftovers are threatening to take over. Here's a way to kill two leftover birds with one stone: turkey tacos with chipotle-cranberry salsa. Just swing by your nearest Mexican grocery, or Tortilleria San y Roman (951 S. Ninth St.), where you can score a kilo of fresh corn tortillas for a couple dinero, for the Latin essentials necessary to transform your all-American leftovers into an easy Spanish-speaking dinner.
Photo: Adam Erace
I'm not Thai, but if I was, this is how I imagine I'd incorporate Southeast Asian ingredients into an American holiday. Lemongrass and the incomparable kaffir lime leaf (both available at 11th and Washington's Hung Vuong or your favorite Asian supermarket) add exotic citrus-y tones to this Thanksgiving staple, while a single split chili provides a sneaky undercurrent of heat. Is your family picky and ethno-phobic? You can make this recipe sans-exotica and it'll still be miles better than anything you'll find in a can.