Recipes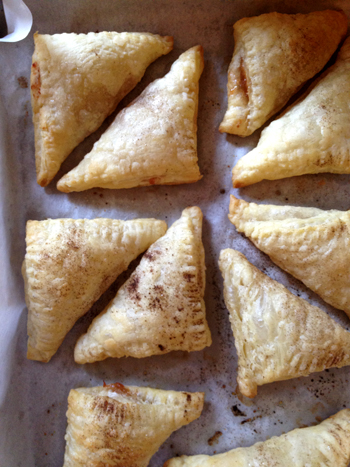 For brunch on Sunday, I baked up a batch of these triangular pastries filled with the beguiling, gotta-cook-it-first fruit called quince. With its distinct flavor (like a blend of apples and pears) and natural pectin content, quince is a natural in these treats. You would not believe how easy they are to make, especially with a little assistance from the grocery store.
Shoutout to seminal Internet art critic Hennessy Youngman (aka Jayson Musson) for sharing a drink that "you don't gotta be Tom Cruise in Cocktail" to put together. Peep the how-to for the Sun Over North Philly, a real back-to-basics two-ingredient beverage in these heady academic drinking times.
Above is my bubbling, spice-laced junior effort at baking pie, my all-time favorite dessert. In the summer I made a meh sour cherry pie you read about here, followed by a pretty great peach pie you didn't. This week, I tackled apple, the falliest of fall treats, and while I haven't tasted it yet (it's for a party tonight) it looks and smells damn good.
I'm still using store-bought crust (shhh!), a shortcut I figure I'll graduate from someday but not today. For the fruit: six large, sturdy Stayman-Winesaps, which stand up well to baking and possess a good balance of sugar and acid. Grab at the Three Springs farmstand at Headhouse Square. All the apple pie recipes I looked at called for a variety of fillings enhancers, everything from apple jelly to grains of paradise, so I just wound up making my own: cinnamon, allspice, cloves, nutmeg and vanilla bean, whisked into whole-wheat flour (for nuttiness) and white and brown sugars.
One last note before the recipe: Latticing a pie crust looks complicated. This slideshow from Bon Appetit's "Prep School" series makes it not so much.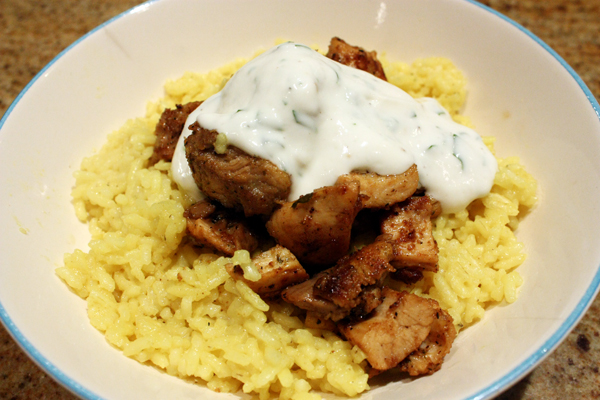 In this week's CP we blurbed the new book from the team at Serious Eats, which combines hungry American travel tips and best-of lists with pretty photos and a bunch of original recipes. We cooked and enjoyed one dish — SE contributor J. Kenji Lopez Alt's halal cart-style chicken and rice — so much that we wanted to share it here with y'all. Quite pleased with how out-of-a-Styrofoam-container-for-$5 it tasted (that's a compliment!).
Photo: Drew Lazor
It was my fiancée C's birthday a few weeks back, and I had a whole elaborate dinner planned. Lentil soup with vadouvan-spiced apples. Roasted peppers stuffed with fig-and-scallion couscous. A four-pound striper I had Ippolito's fillet. I planned and planned and planned, then realized I'd forgotten dessert. I saw pears. I saw cider. I made this, a classy five-ingredient fall dessert that comes together in a flash.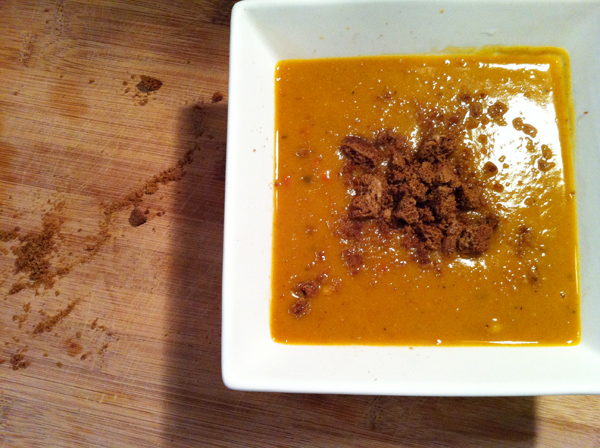 We were really enjoying this fall weather, all crisp air and pleasant breezes, but that was before the Indian summer intruded on our autumn weekend. Now that the chill's coming back, put on a big pot of this velvety butternut squash-apple soup. It makes use of two of fall's favorite crops and hums with fragrant, warming spices like smoked paprika, curry powder and five spice.
In the latest Notes from the Weekend, I promised you my recipe for buffalo chili — which I normally refer to as bison chili when circa-1988 videos of Neneh Cherry are not involved. What ground bison lacks in fat (most blends are a lean, mean 90/10) it makes up for in rich, wild, free-grazin' flavor, and the meat has the added benefit of being way lower in saturated fat and calories than chili's traditional protein, ground beef.
If you can't get your hands on bison, this recipe will work with ground chicken, turkey, beef or lamb. The powerful mole spice blend is the more important element. Think of it as an abridged, powdered version of dozen-ingredient sauce from Puebla; I don't claim it to be authentic, but it'll make the whole house smell like you've got a Mexican granny in the kitchen.
We here are Meal Ticket are having a bit of a love affair with Zeppoli (618 Collings Ave., Collingswood, N.J.). Ex-Vetri chef Joey Baldino is absolutely crushing homespun Sicilian cooking from an unassuming location across the bridge. I ended a recent meal there with a trio of sick sorbets: melon, pineapple and hot-pink prickly pear. Having spotted the cactus fruit, known in Italian as ficchi d'India ("Indian figs") and, colloquially, bastardi ("bastards," for their inconvenient habit of cropping up everywhere in Sicily) at the supermarket Sunday, I decided to recreate a batch of Zep's sorbet at home. Here's how.
Chicken, shrimp, eggplant, potatoes of the Russian banana fingerling variety. This is the motley crew I had to work with for dinner the other night. The solution? Cioppino, the San Fran invention whose whole reason for being is using up random ingredients (seafood traditionally) by "chip"-ing them into a big ol' pot. Think of cioppino as the brash American cousin of bouillabaisse. Find out how to make my version after the jump.
Get the flash player here: http://www.adobe.com/flashplayer
In this week's food section I talked a bit about zha jiang mian, a popular northern Chinese dish that resembles bolognese in appearance (meat sauce over noodles) but definitely not in taste. (Swap that tomato base for jarred soybean goop, mmm.) As noted in the piece, there are a million variations on this dish, but the principle is steadfast — mild meat base (ground pork) flavored with pungent fermented bean pastes that, when mixed in smart proportion, produce a sauce with that distinctive, satisfying ability to warm you the hell up. This is a sticky-chinned slurping dish through and through.