Snack Time
A poor, defenseless hedgehog almost experienced death by carrot this past Sunday in Norfolk, UK. The wild hedgie was found with his head stuck in an empty can of carrots by a local couple, who called the RSPCA to help. The bottom of the can was cut open so the critter could breathe; he was eventually removed from the can and suffered only minor injuries. The little guy should really reconsider his standards and go raid Beatrix Potter's garden or something.
Maybe it's because they got cocky after airing the commercial, but Rita's has been coming up with some ridiculous new flavors. Smores? That's the opposite of water ice. PB&J? That's a sandwich, come on. But, you have to give Rita's credit; the flavors taste almost exactly like their namesakes. Phoodie.com blogged about their experience eating the new-but-now-defunct PB&J ice. It sounds very Wonka-esque.
- This past Sunday, an earthquake measuring 6.0 on the Richter Scale rattled Northern Italy, causing much destruction. Cities like Bologna and Verona, known for the production of Parmesan and Grana Padano cheeses, were left with approximately $230 million worth of ruined fromage by the quake. That's about 300,000 cheese casualties. Six people tragically died due to the quake.
- Andrea Kay wrote this list for Thought Catalog, opining on five European guilty-pleasure snacks. Some, like bratwurst, are tame, while others are downright extravagant. Francesinha ("little French girl") is a Portuguese baked sandwich that involves five different meats, cheese, ketchup/whiskey/Tabasco sauce with an egg on top. That's like five sandos and breakfast all in one.
- Picking up where Jim's Pancakes left off, Nathan Shields has begun blogging the pancake art he makes for his children. On Saipancakes, he posts pics of each batch of themed pancakes. A few of the many cool ones: bugs, dogs, dinosaurs and mythological monsters. The former math teacher has also made some educational flapjacks (above), like fractals, protozoa and mathematical constants. Nathan's kids are lucky. Maybe we'll invite ourselves over the Shields house for breakfast sometime.
- Mental Floss posted this article on what is actually being served in elementary school cafeterias around the world. France clearly wins with roast guinea fowl and vanilla flan on kid's lunch menus. U.S. and U.K. lunches seem to be hit-or-miss and the caboose of this train is the Eastern Bloc.
- CP food critic/pizza connoisseur Adam Erace dishes on his favorite pies for Eater Philly. Foreshadowed by several NFTW posts, Santucci's unsurprisingly makes the cut. Erace also reminisces about his childhood, noting Mack & Manco's in Ocean City as one of his faves.
- Following up on last week's Snack Time, Tuesday's vote to BYOB-ify O.C. resulted in no change in policy. A referendum was up for vote last November, but was removed from the ballot because the allowable amount of alcohol wasn't specified. Guess it's still take out from Mack's and drinking at home. Pizza's on Adam Erace.
- Here's a whole website of celebrities as food called Foodlebrities.com! Just to name a few, there's Pita Frampton, Surge Gainsbourg, Bill Nye the Science Fry, Goldie Prawn and The Adventures of Beet & Beet. (Pictured above: Flan-a Del Ray.) There's also a link to a photo editor so you can submit your own. Don't even think about doing Kevin Bacon, though. Come on.
- Because everything Ashton Kutcher does is cool, here are some spots he did for Popchips. The ads parody video dating profiles, in which Kutcher plays Darl, a "diva," a biker named Swordfish, a British hippie called Nigel and Raj, a Bollywood producer. Of course, Raj offended everyone so his ad was pulled. In my professional opinion, I'd say the ads are very effective, if Popchips' goal is to not sell any of their products and reinforce the fact that Ashton Kutcher is irrelevant.
- You know that thing when you have a bag of chips and you're trying to open it but you just can't and then finally after tugging on it forever you can but then the chips fly everywhere and the bag rips in half and it's just such a mess and you're so frustrated but then you eat the chips anyway including the ones that fell on the floor because you put in so much effort opening the bag? John Spevacek is the man to talk to about that extremely taxing scenario. Spevacek has written an essay, using words like "variable," "polymer" and "feasible," explaining why bags of chips are so difficult to open. It's all his fault.
- Perhaps it's a jab at Molson Coors for that gross tea-flavored beer we posted about last month, but Anheuser-Busch has recently debuted something called a Lime-A-Rita. Danya Henninger of The Drink Nation fills us in on this new hybrid beverage: "...[T]he general opinion thus far has been positive. Beer enthusiasts are not convinced, however. Early reviews say the drink sips very sweet, with one user exhorting, 'Dumb. Drink a beer and grow chest hair.'" I agree with user.
- Since it's common knowledge that everyone loves sriracha, Lollyphile.com has created sriracha lollipops. You can purchase them from their site in a pack of four, 10 or 36. They're cheapest in bulk, so maybe these spicy guys should be party favors at your next soiree.
- Remember when we posted about Magpie Artisan Pie Bakery & Boutique? Owner Holly Ricardi reminisces about shoofly pie and shows us how to make it. The vid is just as sweet as you'd expect. You know, I bet if you watch the vid enough times, you'll get all Pavlov's dog about shoofly pie every time you hear Nick Drake. BRB, going to listen to some Nick Drake. Want pie.
- Eating pizza is usually a very fun event, but this guy makes it even more exciting. The vid feels a little voyeuristic, but man, does kid know how to seduce a slice. You know, I bet if you watch the vid enough times, you'll get all Pavlov's dog about pizza every time you hear Prince. BRB, going to listen to some Prince. Want pie.
- Zack Morris and A.C. Slater Jason Cichonski and Chip Roman (we've officially determined that Ela chef de cuisine Billy Riddle to be Screech) document their trip to the forest for some ramp hunting. They share some tips and tricks for ramp-picking and locations to find some of the much-sought-after veggie. Don't overpick and leave some for the rest of us, will ya?
- After some smack talkin' via Twitter (that's how everyone fights these days), ?uestlove went leg-to-leg with Momofuku's David Chang in a high-stakes fried chicken battle. (Questo recently launched his own food imprint, Quest Loves Food.) Jimmy Fallon refereed on his show, and Tina Fey, John Slattery and Steve Higgins were the official judges. Does ?uest have the chops to beat out Chang? Watch the vids! I'm not going to tell you who won, come on.
- Several beekeepers in Red Hook, Brooklyn have reported their bees yielding red honey. Unsure of how this was happening, one beekeeper speculated that the bees must've been pollinating an odd plant source, perhaps sumac. Turns out, they've just been hanging out at Dell's Maraschino Cherries Co.
- Brad Podray, the poet behind the Han Dynasty rap, has penned yet another ode; this time, he's professing his love to Federal Donuts. Podray loves FedNuts so much that he says he would lick [chili garlic glaze] off a chainsaw that's on in front of [his] mom." Yo, that is some serious dedication right there.
- Since 2007, high levels of iodine have been found in water treatment facilities in the Philadelphia area. Experts have been trying to figure out what's causing the spike and have crossed the most likely possible sources, like nuclear power plants or large medical centers, off of their list. That leaves who? Thyroid patients, who "sweat or urinate iodine that is not absorbed by their bodies after they take it for treatment." Suggestions from local hospitals on how to minimize iodine exposure to water include cleaning showers and toilet seats after use and having separate sets of silverware. The issue is serious, but last I checked, thyroid patients weren't lepers.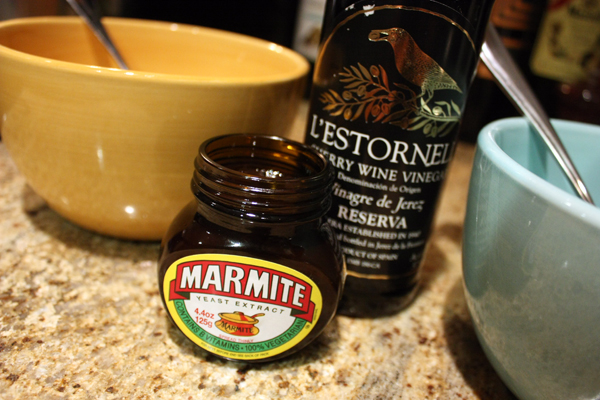 - You know how Anthony Bourdain has featured virtually every city in the world on his shows except Philadelphia? Well, it looks like our time might be coming soon. Perhaps sparked by a tweet from Marc Vetri last year, Bourdain is considering filming here. Though his quote from Eater seems to imply he's hard-pressed to figure out what he could actually feature on the show. Hmph.
- If you've ever wanted to find out what Metallica tastes like, a food truck in L.A. has got you covered. Grill 'Em All, a culinary goof on Kill 'Em All, features a Jump in the Fryer burger to honor the band. It seems James Hetfield and Co. taste like fried chicken, burger meat, cheese, maple syrup and sriracha on waffle buns.
- Uncrate posted about an outdoor oven/stove combo, released by Coleman, for campers who aren't into cooking over an open fire. The thing is pretty much a toaster oven with a range on top. Uncrate says: "Yes, it kind of defeats the purpose behind camping, but if 'reconnecting with nature' isn't your thing, you'll be glad to reconnect with a frozen pizza."
- I don't think I need to explain Pizza Brain to you guys, considering you're reading this post and if you're reading this post that means you read Meal Ticket and Meal Ticket <3s Pizza Brain. But here's a cool interview with Brian "Brain" Dwyer himself.
- What do you think of when you think of New Zealand? Dead Alive, Flight of the Conchords and Marmite, right? Cross Marmite off your list because the country is running out of it. An earthquake shook NZ last year, putting the Marmite factory out of commission. People are now taking advantage of the rare commodity and selling it online for exorbitant prices.
- Videogum writer Kelly Conaboy posted an article about an alleged ghost haunting an Australian supermarket. Need evidence? The market's security cameras caught a Fruit Roll-Up fall off the shelves, seemingly unprovoked. The ghost is thought to be that of a man who was shot and killed outside of the supermarket in 1998. Maybe he's one of those mean ghosts who takes all the Marmite.
Photo: Drew Lazor