Snack Time
- Some students at UC Berkeley, a school that's basically synonymous with bleeding-heart activism and standing up for human rights, are raging against the flaming-lib machine: College Republicans there recently organized a bake sale with fluctuating prices based on race and gender. The goal was to bring attention to admissions policies that favored minorities. The result? People were pissed.

- A vegan strip club is opening in Portland, Oregon (of course). About half the dancers are vegan or vegetarian, which as we all know is the main thing clubgoers stress about while watching naked ladies display their charms. Quinoa burger with a side of pasties, anyone?
- At the other end of the spectrum, here's an "infoodgraphic" that maps out complementary flavors for your favorite meats.
- Serious Eats did a round robin of Philly, picking out their favorite cheesesteak places. I was prepared to be appalled at the lack of Tony Luke's — until I noticed the inclusion of Sammy Chon's K-Town BBQ.

- A long time ago, Snack Time featured The Hamburger Bed. The bed was a work of art, fully functional — and depressingly not for sale. (It eventually was sold, however, and now calls the Hamburger Museum home.) If you're still lamenting over the dearth of plush food décor in your home, rejoice: Designer Todd von Bastiaan has created pancake floor pillows with butter-pat accents. It's only $600 for the set, which is a small price to pay for owning giant flapjacks upon which to recline.

- It's fall, which means pumpkins. Here's a guide to puréeing your own pumpkin and a recipe for a pumpkin milkshake.
Photo: unicahome.com via superpunch.blogspot.com
- Food artist Alexandre DUBOSC has created a series of zoetropes — cylindrical pieces of art that create super-cool kinetic visual effects when rotated — using almost entirely edible materials. The video is hypnotizing, particularly the chicken cake at the end.
- Actor Rainn Wilson has a bone to pick with McDonald's. When the head office asked everyone how they were doing through Twitter, Wilson responded with "Fighting diabetes from obesity." McDonald's took the bait and tried to lead Wilson toward "healthier" McDonald's choices.
- A man in Illinois broke into a Mr. Beef & Pizza last week because he was hungry. After waking up at 3 a.m. and realizing he could really use something to nibble on, he headed to the fast-food joint, smashed a window, climbed inside and made himself some chicken fingers and fries. He's being charged with burglary. His bail for having the munchies is set at $5,000.
- A New Jersey woman is in trouble for spiking her boyfriend's dinner with lines of cocaine. After some thorough research, it looks like no one knows why.
- There's a pumpkin shortage in the United States. Because of hurricanes and tropical storms, most of this fall's crop got washed out. What's left will cost more than usual, so your carving parties might get pricey. I would also suggest picking up your Libby's Pureed Pumpkin in advance for pumpkin pie making. Last time there was a pumpkin shortage, supermarkets were completely out of the stuff before Thanksgiving. It was rough.
Photo: Alexandre DUBOSC via Laughing Squid
- Henry Phillips, musician and comedian, has created a series of cooking videos with absolutely no clear instruction or appetizing food. But gosh darn it's hilarious/depressing.
- Goose is pretty tasty. So how about goose fattened up with two years' worth of discarded Dunkin' Donuts? A DD employee in Collingswood, N.J. has been dumping trash bags full of old doughnuts and bagels in Newton Lake Park because he wanted to feed the birds. Long-standing South Jersey mystery solved.
- As if obnoxiously marketed light beer wasn't already bad enough, here comes Chick Beer, emblazoned with a pink label and a little black dress. Even the six-pack looks tacky. How appallingly ridiculous.
- Fruit can never get worse, but fruit could certainly get better (or more interesting). Hybrid fruit farmers are putting all their efforts into breeding new and exotic species of fruit the old-fashioned way: by hand.
- Why do men feel the need to steal food products by sticking them down their pants? And doesn't dropping a live lobster down your trousers seem like the worst idea of all time?
- Please make this chocolate cake and give me a piece. Russell van Kraayenburg, expert baker and a personal obsession of mine, offers up creative recipes for just about anything. He's also a "Bake-By-Weight" fan. High five!
Photo: eater.com
- Mexico is probably second only to Japan as far as interesting ice cream flavors go. You can get the best in Kennett Square, but if you can't make that hike, Midtown Lunch discovered a place right in South Philly that has some: El Pueblo offers up elote, guaya con crema, and arroz con leche.

- Be still my heart: Laudrée has opened up a store in New York City. The legendary pastry shop now offers Madison Avenue shoppers a place to pick up some of the most celebrated pastries in the world. Macarons, tartes and gâteaux of astounding beauty stare out at you from irresistible window displays. If I've started to sound like an obsessed pompous snot, it's because I've just turned into one.

- Wouldn't you just love to smear some on some UMP (unidentified meat product) to soothe your poor chapped lips? Hormel is now offering a Spam-flavored lip gloss, as well as other doodads such as air fresheners and beachballs.

- Stop judging The Cheesecake Factory — they're just trying to feed the common man. Founder David Overton, who has shockingly not suffered a fatal heart attack yet, claims that he's giving Americans what they want: enormous portions of over-salted, over-sugared food. He also claims to understand the taste of the common man and is not the least bit humble.

- The 10th anniversary of September 11 is this Sunday. (See Critical Mass for a roundup of local tributes and events.) If you weren't sure what wine to drink to commemorate this, Lieb Cellars in Long Island has just the bottle for you. They're selling wine made with grapes grown 90 miles from the site of the World Trade Center. Not only that, they came up with the idea mere days after the tragedy. Talk about opportunistic.

- Forget Muppets in space — it's gardens in space! NASA is developing a way to grow food on space shuttles in anticipation of five-year round trips to Mars. It will provide the astronauts healthy, fresh food as well as producing oxygen and removing carbon dioxide.
Photo: latimes.com
- The Happy Hot Dog Man! Producing edible wiener humanoids guaranteed to give you night terrors for life!
- What is it with people and stealing pork? I told you before about a guy who stole a pig leg right out of a meat truck, and now a guy from Carlisle, Pa. is stealing racks of ribs. Donald Noone, while highly intoxicated, tried to pilfer ribs from a Giant by sticking them down his pants. Worst part: This was the second time he was caught doing it. Are those dry-rubbed or are you just happy to see me?

- Last week, the Philadelphia Daily News published an awesome article about the development of the Philadelphia restaurant scene. Use the PDF chart (I love charts!) to track the paths your favorite restaurants and chefs took on their journeys to food-filled glory.

- I am sharing this with you because I had to see it, so it's only fair that everyone else sees it, too. Plus, who knows? You might really want to learn how to cook placenta.

- Way to go Hershey's, marring our fondest chocolate memories with your unfair labor conditions. After a huge walkout, a Hershey's packing plant is being investigated for taking advantage of hundreds of international exchange students. When they complained about strenuous work and low pay, the company threatened to deport them. You'll never look at your candy bars the same way again. (More about this story on the Naked City blog.)
- Think Zen rock gardens are cool but crave something meatier? How about a Zen Meat Garden? Ranjit Bhatnagar has created these contraptions to keep on your living room coffee table. Nothing like raking a fork through ground beef to settle one's soul.
- Collin Flatt breaks down one of the city's niftiest products: ZIP Code Honey. Annie Baum-Stein partnered with Trey Flemming (a beekeeper whose home base is Two Gander Farm in Fleetwood) to set up apiaries all over the city and harvest the honey for lucky locals.

- What kind of heathen would destroy a Waffle House? One who wants to kill his wife. This dude drove his truck into a Panama City Beach Waffle House in an attempt to murder his better half. Why he couldn't wait for her to get home from her tasty job is beyond me.

- Johanna Kindvall has one heck of a blog: She's a designer who loves to cook, so each of her entries is illustrated. This particular entry is a guest post, but definitely take a look around her site and marvel at the creativity. The shortcuts for topics on the side are my favorite.

- It's about time. Burger King is retiring its creepy "King," who's been haunting the dreams of children for way too long. Why are they dropping him? To focus more on their products.
Photo: moonmilk.com
- Peaches are one of the greatest parts of summer, but Philadelphia is luckier than most. We have Three Springs Fruit Farm, purveyors of the greatest peaches known to man. Ben Wenk, who you'll see at Headhouse Market on Sunday mornings, gave Collin Flatt at The Feast six reasons why Three Springs has the best peaches on earth (I added the "on earth" part).

- Speaking of Snack Time, Michael Ian Black and Tom Cavanagh have started a weekly 40-minute podcast about snacks, where they eat them, discuss them and rate them.

- The munchies: one of the most dangerous side effects of weed smoking. The desire to eat the strangest and potentially dangerous food combinations known to man. Here is one woman's guide to navigating the munchies (don't eat sausage). Speaking of marijuana …

- Things to watch while stoned: this. http://eyewhatyoueat.com

- This is sure to be a blow to food-snob haters everywhere. Food Day, which will be something like Earth Day, is scheduled for Oct. 24. The event encourages local restaurants to partner with hunger and sustainable-agriculture groups to inform the masses about their food.

- OMIGOSHLOOKATTHESEADORABLEKITTYDOUGHNUTS! *cuteness overload*
Photo: @floresta_mama on TwitPic via Serious Eats
- As you are all aware, there's been intense rioting going on in England. In the midst of all this mayhem and violence, some have gone out of their way to protect others, like the staff at The Ledbury, a 2-Michelin-Star restaurant in Notting Hill. When looters swarmed the place, the kitchen pretty much said "Oh no you di'nt!" and chased them out. Kudos, valiant restaurant staff.

- The amount of times my friends and I have geeked out about one fantasy novel or another is innumerable, especially A Song of Ice and Fire (the series of books on which the HBO series Game of Thrones is based). Now I can geek about the food, as well. Serious Eats has started a blog that chronicles the journey to cook all the dishes mentioned in the series (horsemeat sausages, anyone?). Be careful, though. The blog contains spoilers.

- Hey mom-to-be. Want your kid to eat vegetables? You best start eating them, too. Philly's Monell Chemical Sense Center, located in Philadelphia, claims your child's food likes and dislikes develop while still in the womb. Julie Mennella, who studies taste in infants at Monell, says that the amniotic fluid surrounding the baby is flavored by the foods and beverages the mother takes in.

- Japanese food iPhone cases (pictured above). I cannot begin to emphasis how inconvenient these are. Or how much I want one.

- Alton Brown has always been skeptical of Twitter, but when someone impersonated his wife and even used a family picture as their avatar, it was one step too far. He deleted his account, but not before calling the imposter a "sick, low life scumbag."

- On a far more serious note, the food crisis in Somalia was officially labeled a famine by the UN in July. Now Anderson Cooper is saying the crisis was preventable. Here's a short piece explaining his reasoning as well as clip of him reporting from Kenya.
Photo: toxel.com
- Are you a fan of found objects turned awesome? Here's a great one. Chris Dimino created this typewriter turned waffle iron for group exhibit at the School of Visual Arts. It's not for sale and there aren't directions to make it, but it sure is pretty.
- OMG it's a Harry Potter cookbook. Swoon. Recipe for Daniel Radcliffe to love me, please.
- I've read 'em, you've read 'em, we've all gotten sick of 'em — food writers overuse certain words. The number of times I've read "delicious"or "decadent" or (shudder) "flavorful" is obscene. I disagree with a few on this list (you gotta say something is vegan if it's vegan), but most are dead on. And infuriating, even out of context.
- Reading Terminal Market is getting a makeover. The basement is becoming storage, and the storage area around "Avenue D" is becoming space for five new retailers. It's going to be a big shuffle and the market plans to stay open through the renovations, which should be finished mid-February. The most exciting part? The bathrooms will be expanded. Women everywhere, rejoice.
- Alexis Siemons writes primarily about tea, but occasionally throws in a post about her adventures in macarons, further fueling my longtime obsession with them. Here's her short report on some pistachio and salted caramel macarons from Miel Patisserie (204 S. 17th St.). I suggest reading her posts in a quiet room with soft lighting and a good cup of something hot.
- On a slightly less calming note, here's a trained "mushroom suit" that will eat you when you die.
Photo: Chris Dimino on Coroflot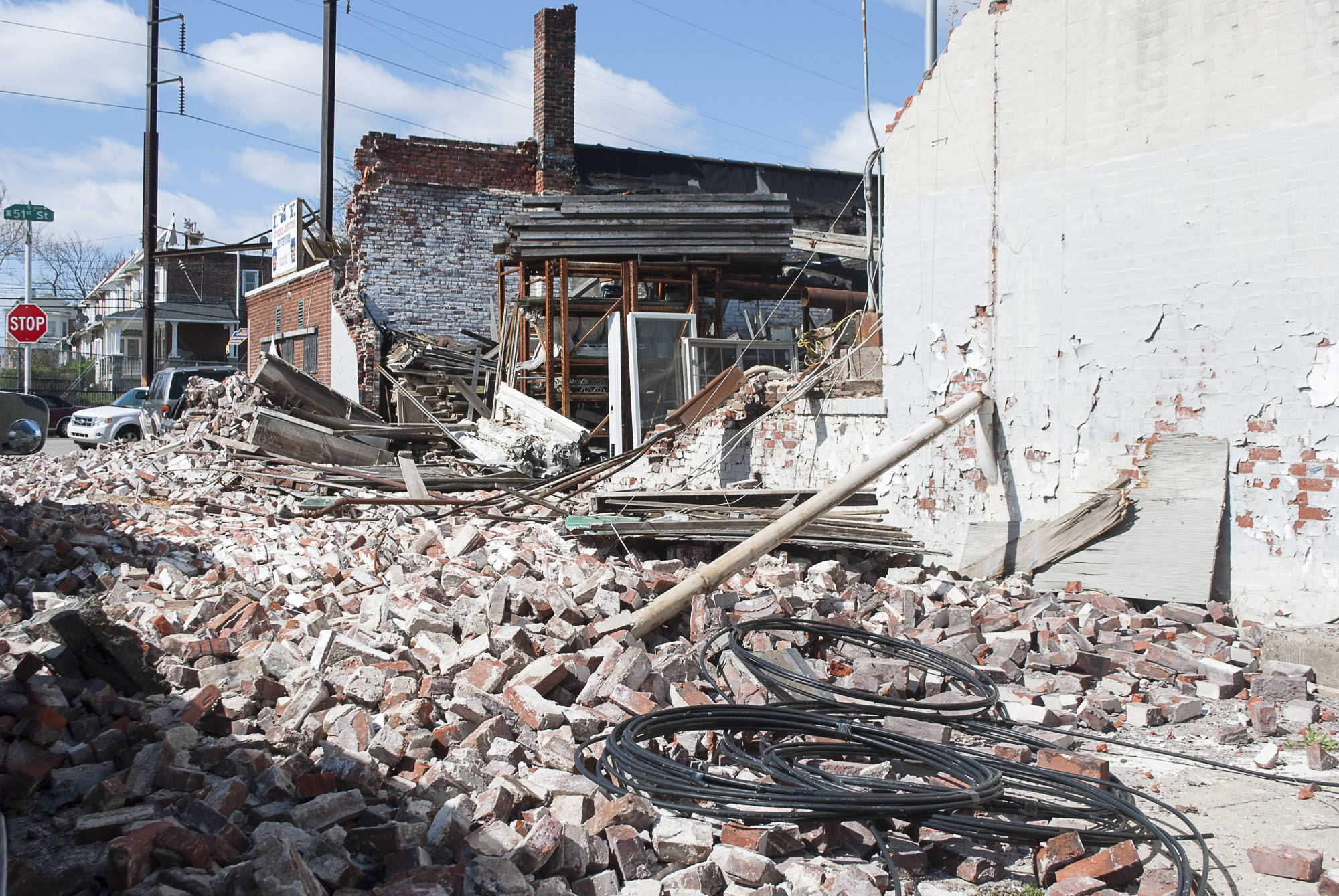 - Local blogger à la Alison has posted a tasty recipe for seafood pasta with a garlic white wine sauce. The recipe sounds delicious, but the photos are what make the post. I warn you, don't read while hungry. It has dangerous consequences (like realizing you''e still at work and can't have dinner until eight hours from now and oh my gosh I'm so hungry right now).
- Everyone has had at least one awful job. You're lying if you say you haven't. And all you really want is to go out with a bang — kinda like this guy. A recently ex-employee of Whole Foods sent out a 3,200-word email to the entire company "explaining" why he quit. He's sort of an ass, calling out individual employees, but it sure is amusing.

- It would be a crime for me to not share at least one Harry Potter food post. There have been a few foodies going around detailing Harry Potter sweets and cocktails, but none so exciting as this: It's Guy Fieri at Hogwarts. He's there to observe as Snape makes a batch of Polyjuice Potion. But watch out, Guy — Snape's always got something up his magical sleeve …

- I'm a terrible host. I don't know how to amuse people or what to feed them. I get worried that whatever is on their plates is not good enough. So throwing a cheese tasting would pretty much scare the crap out of me. If you're the same way, here's a step-by-step instruction manual from Madame Fromage that should make your dairy-queen life a little easier.

- Here's how to pose like a chef. I've already tried the Dude Brood and the Criss Cross. I look awesome.
Photo: alaalison.com