Crowd swells as Occupy Philly begins: photos and report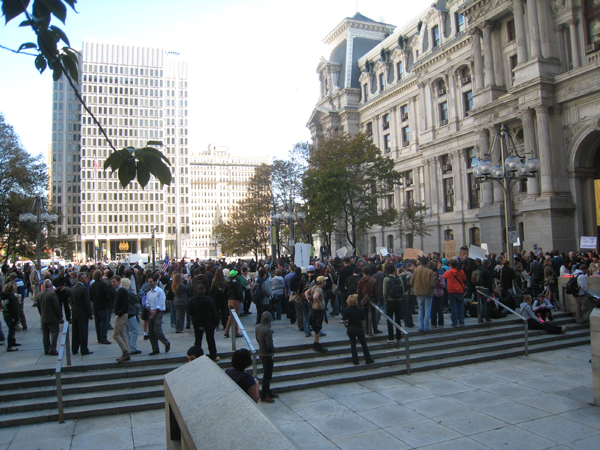 People stream into plaza in front of City Hall as Occupy Philly encampment, in solidarity with Wall Street protests, begins.
Crowd swells as Occupy Philly begins: photos and report
Two hours in at Occupy Philly, the protest against financial exploitation and economic inequality that was sparked by mass protests on Wall Street, a growing crowd of more than one thousand people had gathered in front of City Hall.
One man yelled, "Speculators are not job creators!" One woman held a sign reading, "Bail out students, not Wall Street."
Norris Simon, a member of Steamfitters Local 638, traveled from New York for the first day of Occupy Philly. Yesterday, labor unions and other community groups came out in the first major show of institutional support for protesters on Wall Street.
"We had this big demonstration yesterday. A lot of unions are pushing to help out any which way we can," said Simon, who argued that the country should be spending money on rebuilding our crumbling infrastructure. "It's tough out there. A lot of people are losing their houses. A lot of people with families that can't afford to have families. And it's sad that we're spending money on this war."
There was little visible police presence save for plainclothes civil affairs officers, but access to City Hall's courtyard had been shut down over night. Numerous police were gathered on the east side of the building, and a few blocks away at Independence Hall.
Republican candidate for mayor Karen Brown made a surprise appearance at the protest against economic injustice. Mitt Romney, the leading Republican candidate for president, has called the Occupy Wall Street demonstrations "class warfare."
"I believe in this. This is what I'm fighting for," she told City Paper, adding that she was a supporter of organized labor. "We're too corporate friendly here. The people that work here, vote here. Corporations don't live here. So why are we bending over backwards for them?"
Brown has had trouble getting her campaign taken seriously in this one-party town, and she herself was until recently a Democratic committeewoman.
A member of her entourage looked impressed as they walked away from the protest.
"Man, this is gonna' get crazy over the next few days."