ElectionEar
NOW VOTE FOR REAL.
FIND YOUR POLLING PLACE HERE. POLLS CLOSE AT 8.
YOU'RE STILL REGISTERD AT THE SAME PLACE IF YOU VOTED OBAMA/MCCAIN
AND YOU DON'T NEED ID. MORE VOTER INFO HERE.
OK?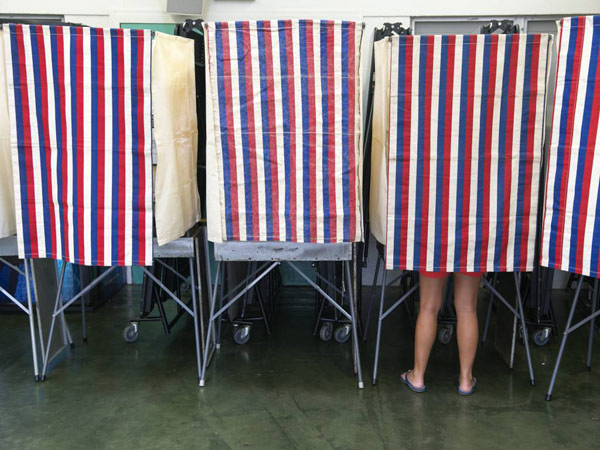 City Paper's ElectionEar presents ...
The ElectionEar is a good listener; send tips here.
CORRECTION: This article incorrectly stated that Councilman Wilson Goode, Jr. had not filed his Cycle 2 campaign finance report. Councilman Goode did file, under the Committee "Forum 2007." We apologize for this error.
UPDATE: Councilwoman Blondell Reynolds Brown filed her Cycle 2 report on May 12, 2011.
UPDATE: 2nd District Candidate Verna Tyner's campaign told CP her report had been filed on May 6, but due to a "computer glitch" was not available. It is now online.
According to Board of Ethics Director Shane Creamer, no less than 21 candidates for city offices failed to submit required campaign finance reports last Friday — a breach of the city's campaign finance law, which requires all candidates and candidate committees for city office to file pre-primary "Cycle 2" reports electronically with the Board of Ethics.
Because failure to submit the reports could possibly result in an enforcement action, Creamer said, he could not give CP the names. Creamer said that letters have gone out to those in violation of the law.
But thank God for electronic campaign finance reporting (a feature the city's Board of Ethics offers but which the City Commissioners, who oversee far more campaign finance information, do not), which let CP figure out who culprits were anyway!
According to CP's own review of electronic campaign documents, the following candidates (all of whom are still on the ballot) failed to submit campaign finance reports on time:
Vern Anastasio (1st Council District, D)
Suzanne Carn (5th Council District, D)
Bobbie Curry (9th Council District, D)
Michael Jones (Council, At-Large, D)
Humberto Perez (Council, At-Large, D)
Blondell Reynolds Brown (Council, At-Large, D) *(Submitted May 12, 2011, see above note)
Damon Roberts (2nd Council District, D) *(Roberts has announced his withdrawal)
Lamont Thomas (9th Council District, D)
Verna Tyner (8th Council District, D)* (now available online; see above note)
Jacque Whaumbush (Sheriff)
It's election time, folks!
For four weeks, the ElectionEar has brought you (increasingly hard to find) coverage of this year's primary election, in which nothing less than the future of the fair city of Philadelphia is at stake.
For a list of all candidates on the ballot, go to the Board of Elections website. For extremely helpful voting information (including polling places and a list of who you'll get to vote for) visit the Committee of Seventy.
And for fun, exciting, amazing City Paper coverage, read this week's cover story by Holly Otterbein and Isaiah Thompson — and don't forget the special edition of ElectionEar, which looks at the battles behind the battles.
And now: Dozens of candiates are running for a slew of offices — Mayor, City Council, Sheriff, City Commissioner, Register of Wills, and city and state and judicial races.
But who are these candidates? And why should you vote for them?
To find out, read the candidates' responses to ElectionEar's 2011 Ultimate Primary Candidate Questionnaire below. You'll find out their thoughts on everything from the city's biggest weakness to the Philadelphia School District — and even whether or not they can spell.
Big news: Former Mayor John Street is going to endorse Verna Tyner in the 8th Council District race, sources tell City Paper.
This is the second high-profile endorsement that Tyner has secured today: Earlier, incumbent Councilwoman Donna Reed Miller announced her endorsement of Tyner, saying she "knows what it takes to make things happen in city government."
Tyner is one of the percieved front-runners in the race, along with Cindy Bass, who's been racking up big political endorsements for weeks now — from Mayor Michael Nutter, District Attorney Seth Williams, state Rep. Dwight Evans, and, just announced today, Montgomery County Commissioner Joe Hoeffel.
Tyner's two new endorsements surely change matters — though in what capacity, we won't know until May 17's election. It's also worth noting that Tyner has vowed to not support a DROP-enrolled official for the next Council president — i.e. Marian Tasco, who is Nutter's presumed choice. Councilman Darrell Clarke — a Street protégé — is also expected to run for president.
Bass, meanwhile, has declined to say who she'll support for Council president — and, as mentioned before, has been endorsed by Nutter, who ran for office as the "anti-Street."
Just now, Councilwoman Donna Reed Miller endorsed Verna Tyner in the fierce 8th Council District race.
You can read her reasons in the statement below:
Today, after months of consideration, I decided to publicly endorse Verna Tyner for the Eighth Council District race in the May 17th Primary election. My decision was based on Tyner's fifteen years of enthusiastic dedication and work that she has put into the community; and the commitment to those she represented while working for two other Council members.

Verna Tyner has a wealth of knowledge in regards to the operation of City Council and city government; and I know she has the necessary experience to represent the Eighth Council District. While so much has been accomplished, there is still a lot to be done. Verna Tyner brings with her the kind of pragmatic leadership that is required to continue this task.

While many Eighth District candidates are bogged down in idealism, they offer no real solutions. Verna knows what it takes to make things happen in city government. Furthermore, she has the requisite relationships to effectively serve the constituents of the Eighth Council District. I ask you to join me in support of Verna Tyner's candidacy.
Look for more on what this means from ElectionEar later.
Hot on the heels of success from his campaign video likening Philly to the Libyan dictatorship — which made it onto the Drudge Report — GOP mayoral candidate John Featherman has released another ad.
In this one, he yet again pokes fun at the city's political machine — in particular, the allegedly cozy relationship between leaders of the Democratic and Republican parties — as well as his opponent Karen Brown. For folks in the 8th Council District, you might want to tune in: Germantown Settlement is mentioned.
Watch below:
The ElectionEar is a good listener send tips here.
The Board of Elections' Tim Dowling informed CP that 2nd Council District candidate Damon K. Roberts will appear on the ballot in this primary election, despite having announced his intention to drop out of the race a few days ago and throwing his support behind candidate State Rep. Kenyatta Johnson.
To officially drop out of the race, Roberts needs a court order, which he still hasn't obtained, as far as Dowling knows.
But according to Dowling, the ballots are sealed and can't be changed, even if he gets the court order — "It's impossible," says Dowling.
If Roberts does officially drop out, Dowling says, "There will be a thing on the website saying this candidate was removed by court order," but voters will still be able to push the button for Roberts.
Another question now is whether Roberts will bother to get that court order or not.
The ElectionEar is a good listener; send tips here.
Both the Daily News and the Inquirer have begun making their endorsements for this year's primary election — before, that is, candidates have disclosed basic campaign finance information.
Trying to figure out who's up to what is hard enough as it is: Candidates for city office only file campaign finance reports once before the primary — the last reporting cycle ended on Monday, but reports don't have to be submitted until Friday. That leaves reporters and the public just over a week to review a mountain of information potentially more revealing than any questionnaire or debate.
(The Inquirer, by the way, began making its endorsements even earlier, before its own reporters had had the opportunity to report on several races and before those candidates had had the opportunity to debate in public).
This info is vital to understanding who the candidates are beholden to — and, perhaps, who they'll be inviting into their offices first if elected.
Yet both the Inquirer and Daily News have already made many of their endorsements — sending a mesage to their own reporters, it seems to me, that whatever muckraking, investigative, money-following journalism they might be ready to deploy in that tiny week doesn't matter.
Worse, it sends a message to the public that newspapers — just like unions, PACs, and political kingmakers — are part of the inside game.
Stay tuned, by the way, for City Paper's own endorsement information.
The Daily News' Philly Clout and Inquirer's Heard in the Hall are reporting that lawyer Damon K. Roberts is expected to drop out of the race for the 2nd Council District, currently occupied by Councilwoman Anna Verna, who is retiring.
The 2nd District is roughly split between black and white voters but currently has three black candidates — Tracey Gordon, State Rep. Kenyatta Johnson, and Damon Roberts — and only one white candidate — Barbara Capozzi — in the running.
Roberts' leaving the race will likely tip it farther toward Kenyatta Johnson.
You've heard the Committee of Seventy bag our city's row offices, but do you still have nary a clue what they are — or which row office candidates to vote for in this month's upcoming election?
Then consider going to tonight's forum, aptly titled "What Are These @!#? Offices & Why Do We Vote For Them?" featuring candidates for Sheriff, City Commissioner and Register of Wills. It starts at the Free Library at 6:30, and will be moderated by Ben Waxman, who's written for the Philadelphia Daily News and WHYY.
Two particularly uncoventional Sheriff candidates, John Kromer and Cheri Honkala, have confirmed that they'll be there. Kromer says that upon election, he'd abolish the Sheriff's position altogether. And Honkala, a longtime activist and Green Party candidate, says she'd suspended all sheriff's sales and refuse to evict families from their homes.
ElectionEar's @hollyotterbein will be live-tweeting the event, a-duh — follow along starting at 6:30!
And click below to see which candidates have confirmed attendance for tonight.