It's just soup. It's just soup. It's just soup.
I find myself repeating this dullard's mantra to myself every time I'm swept into what I've started to refer to as "The Ramen Conversation" — which consists mostly of declarative yelling.
This broth is horrible!
That is not authentic!
You're calling this pork belly?
These noodles are store-bought!
For many reasons, some obvious and some not, the craved-by-humanity category of Japanese noodle-and-broth soup known as ramen has the ability to incite zealotry in anyone physically able to lift chopsticks. Our city has long lacked a ramen identity, but more and more local options are presenting themselves each day. Couple this burgeoning "scene" and its combative constituents with Philly's propensity for tearing down pretty much everything, and the city's become a ramen battleground ahead of the armies even arriving.
We've been bombarded by high-end burgers and pelted by artisanal pizza, but ramen is new here. It's shown up, but sporadically, like that errant raindrop that strikes your cheek so lightly you can't tell if it's raining or not. It's about to pour. Get a spoon.
For all the hand-wringing and histrionics surrounding it, the basic definition of ramen is so straightforward it's almost annoying. Like any Asian soup, it's just flavored broth, noodles and toppings. Variations on those pillars, of course, can get ultra-nerdy and confusing.
Originally infiltrating Japan from China in the mid-19th century, when the Japanese began cooking and serving shina soba, or "Chinese-style" soup, ramen in the intrinsic format we recognize today — meaty broth, chewy wheat noodles, roasted pork, various vegetables — began showing up as street food in the 1920s. Ramen secured eternal international recognition in 1958, when former banker Momofuku Ando invented instant ramen and founded Nissin Foods. (Just add water, son!) It might not seem this way, but it's a relatively contemporary addition to Japanese food culture. "If you see people in an old-timey samurai movie eating ramen, you know there's a problem," says Frank Chance, associate director of the Center for East Asian Studies at UPenn.
Over the past 100 years, ramen (theorized to be a linguistic appropriation of the Chinese term "la mien," hand-manipulated noodles) has been enthusiastically adopted as the go-to budget dish of the Japanese, and the island nation is rapaciously protective of it. "There's a ritualized affection for any kind of eating in Japan," says Chance, who's lived, worked and studied in Japan and travels there yearly. "[Ramen] is a food that generates a lot of passion. It's a very simple food, but it's the kind of simple that people just love."
Neal Santos
"It has this mystique," writes New York chef David Chang in his 2009 autobio-cookbook Momofuku, named for the noodle bar many credit with kickstarting intense neo-interest in ramen on the East Coast. (The noodle bar itself? Named for Ando.) "But it's soup with noodles in it, topped with stuff. That's it. I love ramen, but the sanctimony that's often attached to it is a bit too much."
Of course, Chang possesses the cred to make such whatev-who-cares proclamations, then turn around and release a fanciful 174-page full-color periodical centered entirely around the topic. "There's nothing comparable in America to the Japanese obsession with ramen and its variations," he says in the 2011 debut issue of Lucky Peach. "Not the burger craze, the pizza craze, the barbecue craze. They don't even come close to the ramen craze here in Japan."
Indeed, every region in Japan lays aggressive claim to its own style of ramen, and listing them all here would likely cause you to get frustrated and go nuke a Cup Noodles in dorm-room defiance. But there are a handful of extremely common umbrella ramen categories worth digesting — shoyu, or soy-based; shio, a lighter, prettier style flavored with salt in lieu of soy; miso, clouded with fermented bean paste that can range from delicate to intense; and tonkotsu, with a stock derived from hard-boiled pork meat and bones and aromatics. Examples of each of these soups are either currently available in Philly or soon will be. From what I've seen, Americans seem to rhapsodize the most about tonkotsu, probably because We the People love us some fatty shit.
The particulars of the venues where ramen is distributed to the audibly slurping masses — called ramen-ya — vary wildly. "In Japan, [ramen-ya] range from the street-side shanty to upscale places where they play only Miles Davis on the stereo and the cook is dressed like an artist," says Chance. "But the best ones always seem to be the little shop around the corner that doesn't look like anything from the outside."
My recent frigid experience waiting for a stool at the minuscule Totto Ramen, stuffed into a low-ceilinged, amazing-smelling subterranean broom closet in NYC's Hell's Kitchen, lent brothy credence to Chance's claim. As I stood inside the temporary weather enclosure framing the steps leading down, a silent member of a frostbitten Greek chorus, I kept catching judgmental fragments of pedestrians' conversations as they power-walked by. I mean, it's OK. Is it really that great? Waaaay too hyped. Ugh, that stuff is bad for you. I wanted to roundhouse them all in the face but I didn't want to lose my place in line. One hour and 45 minutes later, I was at the bar, thawing out my brain with an amazingly precise chicken paitan soup topped with blowtorched-to-order pork-belly slices the size of playing cards. Badass noodles with unapologetic al dente bite. And a sand-tan boiled egg, the kind that crumbles into pieces with a lazy nudge, filling the bowl with silky yolk shards that scatter across the surface of the broth like breath-blown dandelion seeds.
Really simple. Really fucking good.
Crushing that tremendous bowl, and dozens of others, has left me wondering: How long will it be until our city is overtaken with fully realized ramen-ya experiences like this? If the rabid local reactions to ramen-centric pop-ups, the choleric dialogue surrounding the soup and the insatiable demand for new options count for anything, the audience is there, and the audience is hungry. But early dissatisfaction and harsh rebukes among area ramenheads suggest aspiring soupmeisters should proceed with caution.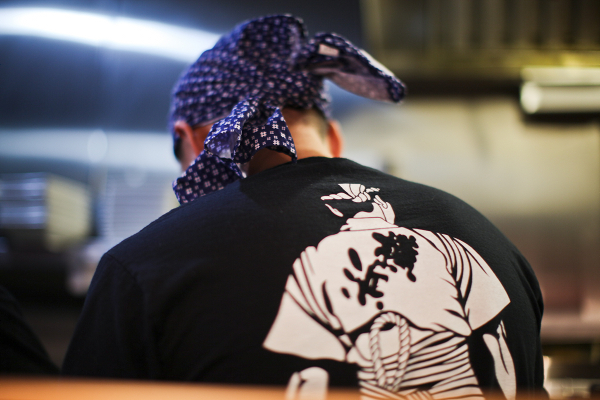 "There are 100 million people in Japan, right?" asks Yuichi "Ben" Watanabe. (For what it's worth, it's more like 126-ish million.) "Well, 100 million of them eat ramen. Everyone loves it."
Watanabe, the former chef of Aoi Sushi (now Aki) on Walnut Street, is the stone-faced kitchen capo at Ramen Boy, Philadelphia's first dedicated ramen restaurant. Making soup for 20 years, Watanabe is a native of Yokohama, which also happens to be home to Japan's only dedicated ramen museum. Open since Feb. 10, his two-years-in-the-making Chinatown parlor fielded huge crowds the moment it began filling bowls with broth and chewy housemade alkaline noodles. "We just opened the door, didn't tell anyone we were open," says Ramen Boy co-owner Nelson Tam, also a partner in the nearby Yakitori Boy. "But people just started coming."
It's a populist dish for sure, but so is spaghetti and meatballs. What the hell is it about ramen that makes it so magnetic, especially in a place like Philly, which has long lacked comparative material?
The soup's unique standing within the Japanese cooking canon might have something to do with it. "Traditional Japanese flavors are very simple and elegant, and ramen is a counter to that," says Stephen Simons, who's aiming to open Royal Izakaya & Sushi with partner Dave Frank and chef Todd Dae Kulper before the summer. "Ramen is a dish full of complexity and layers, and it's often muddy and delicious." In early 2011, they hosted a pop-up centered around Kulper's hakata-style tonkotsu ramen at their Khyber Pass Pub and were surprised by the hardcore turnout. They opened the doors at 5 p.m.; by 5:05, every seat in the place, including at the bar, had been commandeered.
Despite its Far East pedigree, ramen's undeniable comfort-food status translates to steadfast nostalgia with stateside eaters, especially those of Asian descent. "Ramen is something very natural for me," says Alan Su, a Chinese-American restaurant vet and self-proclaimed ramen obsessive who's opening Nom Nom Ramen in Center City by the end of this month. "When you talk about noodles, you're talking about something that we eat. It's very familiar and hits home."
Matyson chef Ben Puchowitz, who has run two pop-up events under the name Roundeye Noodle, is philosophical about his connection to soup. "When I eat [it], it's therapeutic," he says. "It's almost like meditation. I feel so good afterwards. I feel like some people don't even recognize that in themselves — they leave there feeling good, but they don't recognize why. I recognize why. It's almost like sex."
Morimoto chef de cuisine Chris Greway, trained in the subtleties of ramen by Masaharu Morimoto himself, has a slightly more pragmatic take on Philly's hunger for the stuff. "The market was so dry [and] expectations are just set so high," says Greway, whose lunch menu features both a tonkotsu bowl and a refined, consommé-like alternative combining shanton stock (chicken, pork, beef) with shredded chicken, hard noodles and tare, the ultra-concentrated liquid seasoning agent used in most ramens. "It just goes to show you there's a real need. You can have a great business here if you're doing ramen the right way."
"I opened the door at like 4 o'clock, and I was like, 'Are you serious?' I went back to the kitchen and was like, 'Ben, you're about to get your ass kicked,'" says Shawn Darragh, recalling the first time he laid eyes on the city-block-consuming line for the inaugural Roundeye Noodle pop-up he ran with Puchowitz on Jan. 29.
Puchowitz, who indeed got his ass handed to him by the demanding dining room of broth-sippers, looks back on the evening with the grizzled comportment of a gnarled-nose prizefighter. "I didn't have enough broth. I didn't have enough anything," he recalls. "We did not anticipate any of this happening." (A second pop-up, on Feb. 26, went more smoothly.)
The twosome, friends since high school, also didn't anticipate that their name — Roundeye, a seemingly self-deprecating reference to the Caucasian partners' non-Asian status — would cause a national stir with Asian-advocacy groups. They're currently in the process of rebranding (one fake moniker on the short list: "PC Noodle") while they hunt for a permanent space for their operation.
It won't be a ramen-ya. "People keep calling us a ramen shop, but it's noodles," laments Puchowitz, who's also ladled out duck pho, mushroom miso and coconut curry soups at the pop-ups. "We're going to have a ramen, but I plan on changing the menu very frequently." His nontraditional (roundeye?) broth is lighter and clearer than most fat-forward tonkotsu bases, made with smoked pork shoulder bones and brightened with apples. "Apples?! That ain't ramen!" purists will cry. Puchowitz and Darragh don't care, because that's not what they're going for.
"People have their opinions," says Darragh of some of the nastier feedback he's received from pop-up attendees. "They're being so critical, even down to the finest ingredient. They're ramen supremists."
Neal Santos
Those so-called supremists came out in chopstick-wielding force the second Chinatown's Ramen Boy began serving. The ramen-ya hadn't yet reached a week in business before its Yelp page was overrun with intense complaints. A perusal reveals criticisms about everything from broth ("bland") and noodles ("the noodle is al dente but tasted like it was boiled in water" — uh, they were?) to stools ("the chairs/seats sacrificed comfort for style") and lack of coat hooks (they've since installed some).
Ramen Boy is still working its way through that perceived stutter-start, and, in my opinion, the soup has grown considerably tastier since they opened. "He lived and grew up [in Japan], ate ramen his whole life," says Tam of his chef, who scrapped 14 from-scratch noodle recipes before landing on the right one. "So in his mind he knows what ramen is. For younger generations, it takes time. You need more education."
What's fascinating to me about the ramen-ya's Yelp presence is the incredible variety of moans about their soup. Some claim the broth is too fatty; others say it's not rich enough. Some people claim the noodles are too soggy; for others, they're undercooked. Tam and Watanabe speculate that this is because no two noodle-eaters' standards are the same. "Different areas have different signature soups, so in their mind, they think this is ramen, it should be like that,'" says Tam. "But our chef is not like that. He's from Yokohama. He's bringing his own recipe."
Watanabe, who can often be seen using a refractometer to gauge the composition of his broth, is serious about preparing the ramen style specific to his city, cutting chicken and pork together and skimming fat for a result that is more subtle than other tonkotsu variations. "With Yokohama style, we try to balance it," says Watanabe. "It's a more elegant ramen."
Hometown pride aside, Tam recognizes that providing soup fans what they want is job one. Since it's not exactly clear what that is, he offers customers the option of strictly chicken broth, strictly pork or the Yokohama-style admixture of the two.
"I'm not complaining, but some people eat it too slow — and a-one, and a-two ..." admits Watanabe, mimicking bringing a spoon to his lips at a snail's pace. "Japanese people eat it in 10 minutes. It's lunchtime."
Ramen's Philadelphia profile, now just a few steps past nascent, is only going to swell from here. And that means even higher standards and harsher public criticisms will cast over each bowl served. "I can easily judge a soup," says Darragh. "Everybody's had soup. You know what you like."
Su, who will soon debut Nom Nom, Philly's second ramen-ya, feels he'll fill a gaping hole in the food scene. "I wasn't able to find anything remotely close to what I've tasted elsewhere in Philly," he says. He'll do hakata-style soup, with custom-commissioned noodles.
"Now is the time to do it," says Zento Contemporary chef/owner Sam Ho, who has spent several years developing soon-to-launch miso and tonkotsu bowls for his lunch menu. He and partner Darin Picorella are also in the early stages of developing a standalone concept called Ramen Room.
Ho, unlike others, prefers not to get caught up in nitpicky arguments over ramen's merits and authenticity. He's focused on good soup. (I got to sneak a taste recently, and they are indeed serious.) "Eat it. Like it. Come back," he says. "That's all I care about."
(drew.lazor@citypaper.net) (@drewlazor)
Check out our food blog Meal Ticket for notes, quotes and tidbits that didn't make it into the story.